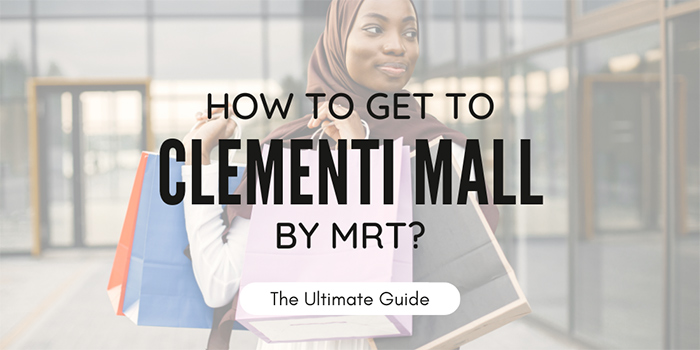 Get to The Clementi Mall super fast and affordably via MRT with these steps.
Welcome to the step-by-step guide on how to get to Clementi Mall by MRT in Singapore. 
By the end of this article, you should have no problem reaching Clementi Mall using public transportation from pretty much anywhere in the city.  Singapore is extremely well serviced by multiple MRT lines all over the city, and even more lines are in development. 
One of the clear benefits of taking the MRT to Clementi Mall is that you won't have to worry about paying for parking when you arrive.  The MRT is efficient, affordable and an extremely popular mode of transportation for Singaporeans and visitors from abroad.
Fortunately, Clementi Mall is conveniently close to the nearest station, which should eliminate the need for bus and taxi connections to get there. 
---
Shopping at Clementi Mall in Singapore 
Clementi Mall is officially called 'The Clementi Mall'. As you might expect from its name, it's located in Clementi – a planning area and residential town located at the easternmost fringe of the West Region of Singapore. It opened in January 2011.
When shopping at Clementi Mall, you can enjoy a six-storey retail experience featuring approximately 191,000 square feet of retail space. There are approximately 135 retail outlets and 16 food and beverage outlets to choose from. It is surrounded by residential towers and serves as a popular venue for weekly shopping and dining trips for people staying close by. 
Aside from a large selection of shops and restaurants, you can find several convenient services at Clementi Mall, such as:
ATM Machines (Level 3)
Banking Services (OCBC Bank/Standard Chartered Bank – Level 4)
Information Concierge (Level 5)
AXS Station (Level 3)
Library (Level 5)
Post Office Level 5
Money Changer (Basement 1)
Laundry Services (Basement 1)
Clementi Mall tends to be quite busy because it is conveniently located near the MRT but also has a bus interchange. 
---
Getting to Clementi Mall using MRT
Step 1: Walk to the nearest MRT station.
Regardless of where you are starting your trip in Singapore, you must access the closest station to get to Clementi Mall.  If you do have the choice, try to stay at a hotel within walking distance of the nearest station. 
You will avoid all taxi and parking fees by staying close to the metro.
When you consider Singapore's intense afternoon heat, we suggest staying within two to three minutes of walking distance of your hotel or hostel.
Here are two examples of hotels that routinely receive positive review scores right near MRT stations:
Marina Bay Sands Hotel – 2 minutes from Bayfront Station
The Fullerton Hotel Singapore – 2 minutes to Raffles Place Station
Some of the most popular areas to stay include Sentosa, Chinatown, Little India, Marina Bay, Bugis and Geylang.
---
Step 2: Plan your MRT trip to Clementi Mall – Lines, Transfers and Closest Stations.
When you're ready to visit Clementi Mall via MRT, find a metro map and plan your trip in advance. 
There are maps in stations throughout the city. 
The most convenient station for accessing Clementi Mall is easy to remember because it's called Clementi Station (EW23).  
It is located on the East-West Line, which is shown in Green colour on the metro map. 
---
Step 3: Buy a Singapore Tourist Pass or a Stored Value Card for the MRT.
You have two main card choices for your trip to Clementi Mall in Singapore:
Stored Value Cards
We have used both stored-value cards and Singapore Tourist Passes to get around the city. But we used a stored value card while figuring out how to get to Clementi Mall by MRT. 
Both cards function in a very similar manner. 
Once you buy one, you must tap it to enter and exit the MRT. They are both suitable to use on buses as well.
Stored value cards have a running balance. Every time you use the MRT or go on a bus, your balance will be automatically deducted from your account.
Singapore Tourist Passes are designed for short-term guests visiting the city. 
They are valid for 1-3 days and can save you a lot of money if you have a busy itinerary going to many different areas.
---
Step 4: Ride the MRT to Clementi Station (EW23).
Once you have your card and route planned, ride the MRT to Clementi Station (EW) on the East-West Line. 
It's wise to plan your transfers in advance if you are not starting your trip on the East-West Line.
For example, if you were staying in Marina Bay, you could transfer to the East-West line at Raffles Place or City Hall Station. Then, simply travel along the East-West Line to Clementi Station.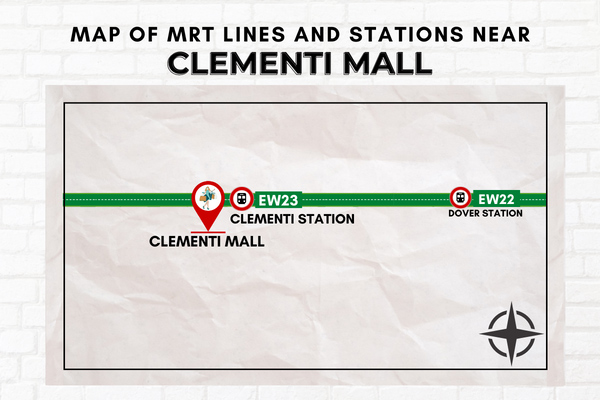 ---
Step 5: Get off the train.

Alight from the train when you arrive at Clementi Station. 
Bring all your personal items with you! 
---
Step 6: Walk from the train platforms to Exit D.
Once you're off the train at Clementi Station, refer to the station signs.
Clementi MRT Station (EW23) is built above ground near the Clementi Central and Clementi North planning subzones. It is directly northeast of Clementi Mall, so it's super easy to access from the station.
Clementi Station has a total of three levels.
Level 3 – Train Platforms
L2  – Concourse
Level 1 – Street Level
You will arrive at the Level 3 train platforms.
There is a pedestrian crossing over Commonwealth Avenue West. 
Take Exit D and cross the road directly into Clementi Mall.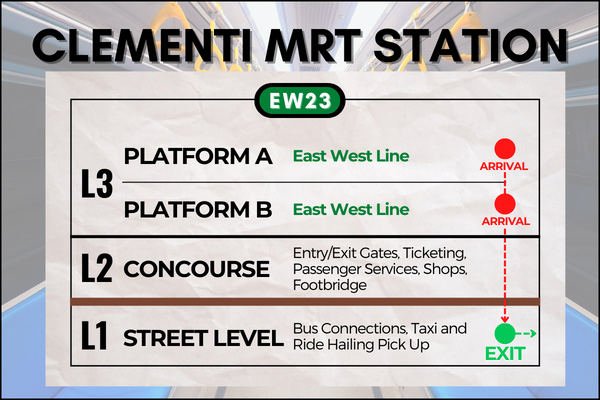 ---
How long does it take to walk from Clementi Station to the Mall?
The walk from Clementi Station to Clementi Mall is super quick. Expect it to take only 2 minutes. 
The elevated pedestrian walkway makes it easy, and you don't have to worry about crossing Commonwealth Avenue below.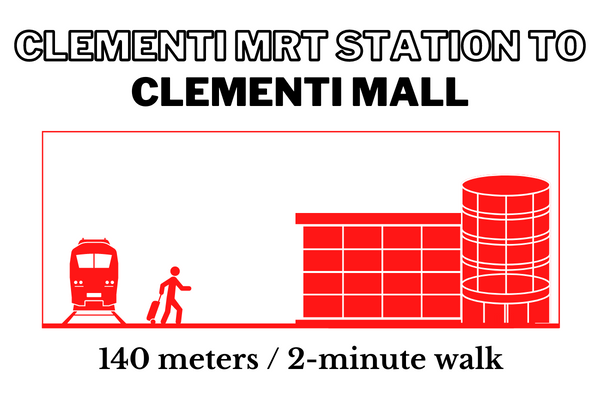 ---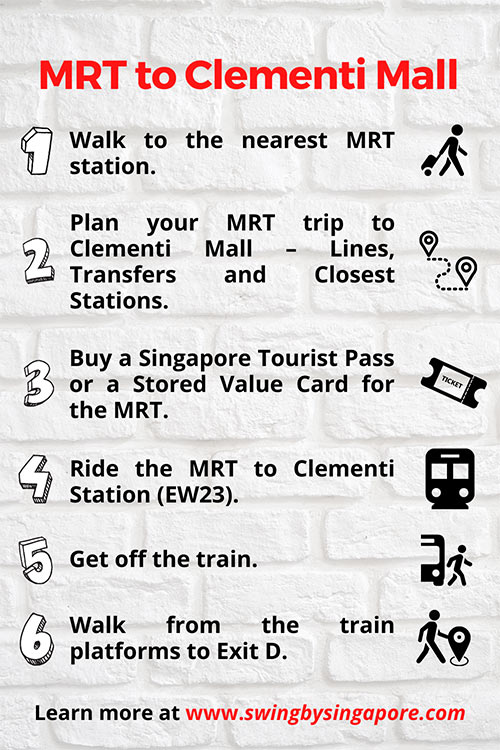 ---
Other Places to Visit near Clementi Mall
If you're heading to Clementi Mall via MRT, then you might as well see what's in the vicinity.
Clementi may not be at the top of the sightseeing area-list, but there is a popular food centre south of the mall called Clementi 448 Market & Food Centre. You can head there for some cheap eats and many traditional hawker dishes. 
Clementi Community Centre is north of Clementi Mall. You can either walk there or take a short bus connection. Clementi Sports Centre and the Swimming Complex are south of Clementi Mall, not far from Clementi Stadium.
If you take the East-West Line one more station west to Jurong East Station, you can access several other malls, such as 
IMM (Directions)
Westgate (Directions)
JCube (Directions)
Science Centre Singapore (Directions) and SnowCity (Directions) are two popular family attractions west of Jurong East Station. Jurong Lake Gardens is a great spot for some fresh air and some exercise. 
---
Best Hotels near the Mall
Clementi is definitely not one of the most popular areas for finding hotels or hostels in Singapore. Since it's very well connected with areas such as Chinatown and Marina Bay, most tourists prefer to stay in the city centre and then use the MRT to access outlying areas.
Genting Hotel Jurong is not particularly close to Clementi Mall, but it's not far from Jurong East Station if you head west on the MRT.
We suggest staying downtown in Marina Bay and heading west on the East-West Line if you want to visit Clementi Mall. 
---
Conclusion
Hopefully, you now know how to get to Clementi Mall by MRT in Singapore. 
The extensive MRT Network well services most malls in Singapore. Fortunately, getting to Clementi Mall is no exception. 
All you need to do is find out what line you are starting your journey on and then see whether you need to transfer lines on the way. With your route planned, travel along the MRT to Clementi Station (EW23), which is located on the East-West Line. 
Upon arrival at Clementi Station, get off the train and follow the signs from the train platforms to the exit. The above-ground pedestrian bridge makes the 2-minute walk super easy and efficient.  
Clementi Station is connected to Clementi Mall, and you can walk between them even if it's pouring rain outside!