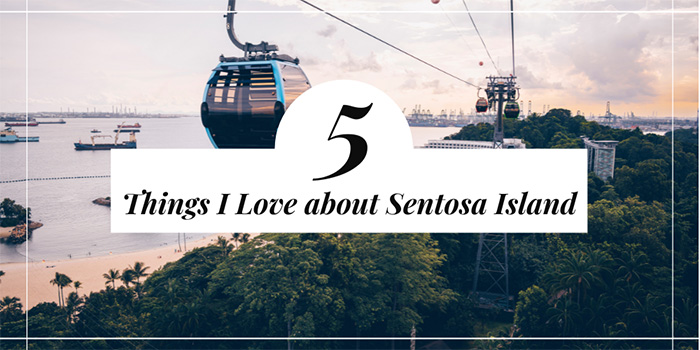 Learn about some of Sentosa's most-loved experiences.
Welcome to my list of the 5 things I love about Sentosa Island. I have been lucky enough to visit Sentosa Island in Singapore on many occasions. Ever since stepping foot on the Island, I have been extremely impressed. If you want world-class attractions, superb hotels and fun for the whole family this is one of the best places in all of Southeast Asia. Regardless of whether you are from Singapore or visiting from abroad, Sentosa Island caters to people of all ages. 
Throughout my many visits to Sentosa Island, I noticed one thing that is for certain – you will never get bored here. I am a big fan and I hope that you learn something about it as you read about the 5 things I love about Sentosa Island. 
---
1. Super Convenient Access
If you are planning a trip to Sentosa island, then you'll be happy to hear that it is extremely easy to access using different forms of transportation. Sentosa Island welcomes a staggering number of tourists (both domestic and international) on an annual basis. In most places this would completely back up transportation networks, but not in Singapore. 
You can access Sentosa Island using the following modes of transportation:
Train – Singapore MRT and Sentosa Express
Bus
Bicycle
Taxi
Private Vehicles
Walking/Jogging/Rollerblading etc.
Cable Car
I still remember the first time that I visited Sentosa Island.  I took the MRT and then connected with Singapore Cable Car. Thankfully, I brought along my Canon 60D DSLR camera that I was using at the time to capture breathtaking photos of Singapore's famous skyline and Sentosa. Sentosa Express is another popular option for a lot of tourists because it is the train line that is integrated with Singapore's world-class MRT network. 
During my second trip to Sentosa Island, I transferred from the MRT (Harbourfront) to the Sentosa Express at VivoCity Mall. From there, it was only a few minutes until I was at Beach Station on the Island. 
There are many green transportation options such as walking, jogging and rollerblading to get there as well. Choose the one that suits your itinerary and travel budget – that's what I did!
---
2. Adrenaline Pumping Attractions
The second thing I love about Sentosa Island is the wide selection of adrenaline-pumping things to do. 
Aren't you tired of boring tourist attractions? 
Well, on Sentosa Island there is no shortage of attractions to satisfy thrill-seekers' needs from around the world. One of the most popular high-energy attractions is AJ Hackett Sentosa. Not only does it feature a gravity-defying bungy jump, but it also offers a giant swing that offers breathtaking seaside views. 
You may also enjoy iFly Singapore – this is one of the world's largest wind tunnels and the perfect spot for refining your skydiving skills. Skyline luge and Singapore Cable car are other popular attractions that cater to thrill-seekers. 
If you are travelling as a family and have active kids, then you want to check out Universal Studios and Adventure Cove Waterpark. Like I mentioned before, Sentosa has something for everyone. You just have to make it happen. 
---
3. World-Class Resorts on Sentosa
Sentosa Island welcomes tons of tourists every day, so there has to be somewhere to stay! Fortunately, Sentosa boasts its fair share of excellent resorts. Not only do they receive excellent reviews, but they are very, very close to neighbouring attractions. 
Lots of tourists use public transportation to visit and depart Sentosa Island on the same day. But, staying on the island is popular with families and those seeking a romantic stay at one of the high-end resorts. In general, families prefer to stay at Resorts World Sentosa or near the beaches on the island (Siloso, Palawan, or Tanjong).
I love that you can eat a delicious breakfast buffet and then simply walk to the beach or the nearest attraction to your hotel. It makes Singapore feel a lot smaller than it actually is and removes the stress of getting to and from the Island every day. 
Shangri-La La-Rasa Hotel (5-star) on Siloso Beach is a perfect example. It directly overlooks scenic Siloso Beach and it literally meters from the powdery sand. 
Not all accommodation on Sentosa is ridiculously expensive and there are some budget-friendly options available. To learn more by reading our very popular article on finding the cheapest places to stay on Sentosa Island. 
---
4. Fun in the Sun
There is no denying the fact that Singapore has a famous skyline in the Marina Bay area. Massive skyscrapers make up one of the sleekest business districts in all of Asia. 
With all this infrastructure, I never thought that Singapore would have such convenient access to beaches within minutes of the famous downtown sightseeing district. Fortunately, you can take the Sentosa Express to Beach Station, and from there you can hop on the complimentary 'Sentosa Beach Shuttle' to any of the three southern beaches in minutes:
Siloso Beach 
Palawan Beach
Tanjong Beach
Once you step foot on the sand, it won't take you long to forget that you are minutes from the city center. Since Sentosa's beaches are aligned (adjacent to each other) along the southern shoreline, you will get an ocean view. Often there are massive ships stationed a few kilometres off of Sentosa.
Conveniently, it is possible to either walk or ride the beach shuttle between Sentosa's beaches as well. So, if you visit one beach but want a quieter vibe, you can always head down towards Tanjong Beach (which tends to be the quietest of the three). You can also stay right near these beaches by selecting one of the following popular resorts:
Sofitel Singapore Sentosa Resort and Spa (between Palawan and Tanjong Beach)
Capella Singapore (behind Palawan Beach)
Shangri-La Rasa Sentosa (along the northwestern corner of Siloso Beach)
Siloso Beach Resort (right in the middle section of Siloso Beach)
Also, expect the opportunity to play some beach volleyball if you make your way to Sentosa's beaches. 
---
5. Historical Touches
Although I am not a historian by any means, I do love the fact that Sentosa has done an exceptional job of maintaining historical sites and landmarks on the Island. 
Fort Siloso, for example, is one of my favourite places to visit on Sentosa because of its historical significance and hiking trails. It is located in the northwestern corner of the Island, near the Shangri-La. You can navigate your way to the Fort by taking the scenic Fort Siloso Skywalk which is a tree-top walkway that is located above the fort area. 
Other historical landmarks on Sentosa include:
Fort Serapong
Fort Imbiah
Tanjong Rimau
Visiting historical landmarks ranks on my list of the '5 things I love about Sentosa Island' because I naturally get a workout when I visit these places. If you want to sweat it out, bring along a backpack, some refreshments and get ready to burn some calories. You will also learn some really interesting information about Sentosa's historical role in defense operations. 
---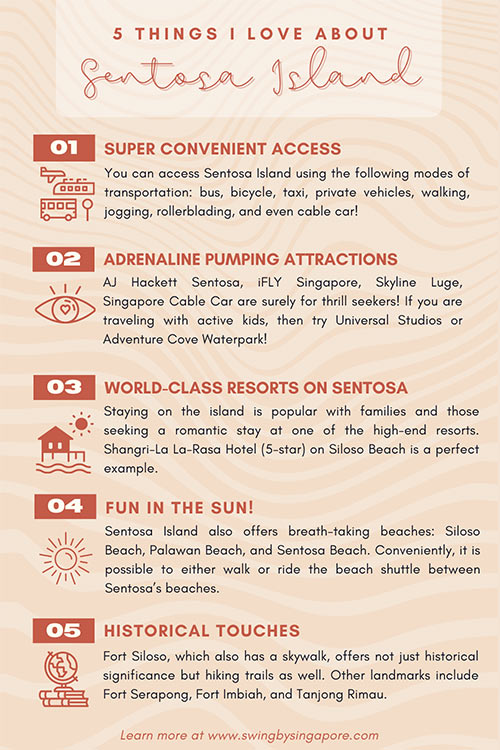 ---
When is the best time to visit Sentosa?
Depending on your itinerary you may or may not have the choice of when you visit Sentosa while you are in the city. If you do have the choice, then you might want to visit in the morning when it isn't quite as hot outside. Singapore is known for extremely hot afternoon weather, so if you want to beat the heat, go in the morning. 
If you are concerned about Sentosa island being too busy, then you are best to go during the week. Public holidays and weekends can get extremely busy. Be wise and visit Sentosa when the lines are small and the beaches are empty!
---
Any more questions about Sentosa Island?
So there you have it, 5 things that I love about Sentosa Island. But something tells me this isn't the last list that I will share with you! Sentosa is a dynamic place to visit. It is actually amazing how they have managed to place so many worthwhile attractions and activities on the Island. 
You might even be surprised that there are world-class golf courses here as well. Universal Studios Singapore is another big-time family attraction that is not to be missed. Expect world-class rides and exhibits that integrate top-notch technology in order to create a stimulating experience for the whole family.
If you have any questions about visiting Sentosa Island (like where to stay, what we recommend, etc.) don't hesitate to add a comment or send us an email. We would be more than happy to help you as best we can. In the meantime, enjoy your time on Sentosa Island and make the most of your time in Singapore.