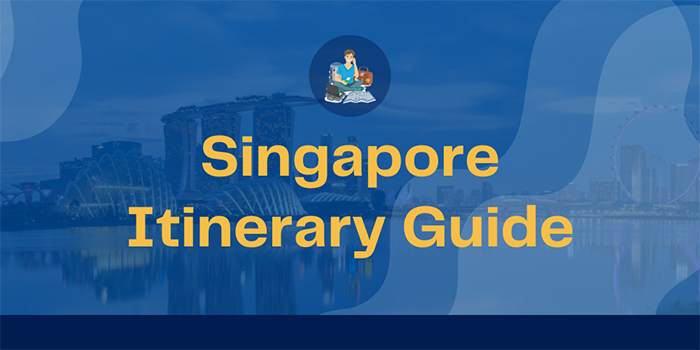 "The complete guide to planning the best itineraries for Singapore"
Planning an itinerary for Singapore 
We have written this Singapore itinerary guide to provide you with an overview of the important considerations that you have to make when you are planning a trip to this amazing city.  Singapore is loaded with major attractions, bustling markets, superb luxury hotels and historic gems from the past. But you have to be proactive with your planning in order to make your trip efficient and affordable.  
By the end of this article, we hope that you have a thorough understanding of where you should stay, and what kind of decisions you should make to suit your travel budget. Before we share the itineraries of Singapore that we have developed we will go over the most important considerations that you have to make before you begin your trip.
---
Building an itinerary for your trip to Singapore: Key Considerations
1) Where should you stay? Accommodation tips. 
When you are developing an itinerary for Singapore you have to really think about where you want to stay in the city. Singapore, as you have probably heard, is not the cheapest country. Actually, in comparison to other countries in Southeast Asia, hotels and apartments here are much more expensive. 
This adds an additional layer of decision making because you may not want to spend a fortune on accommodation. Obviously, if you are rich, or very wealthy, you may have other things to worry about. But for most tourists who visit Singapore, how much they spend on accommodation really matters! 
Budget or Luxury?
This Singapore itinerary guide would not be complete without a discussion about finding budget vs. luxury hotels in Singapore.  We cannot stress this enough.  You have to really think about how much you want to spend per night while you are in Singapore.
This is very important because luxury hotels in Singapore are really expensive by international standards.  For example, Marina Bay Sands Hotel (5-star, 9/10 review score) which is considered to be one of the most famous and well-respected hotels in the city, will likely cost you $500 dollars per night. If you compare this will hotels in Jakarta you will find that similar rooms are roughly half the price!
Even budget hotels and hostels in Singapore can get quite pricey if you do not book well in advance and complete a thorough online search. Capsule and pod hotels are becoming extremely popular in Singapore, and rightfully so!  These innovative boutique hotels have managed to offer competitive rates while increasing the amount of privacy you get in relation to traditional dorm rooms. 
The big idea here is that you have to allocate a certain percentage of your trip budget to accommodation. Try to make the decision whether you are going to look for four and five-star properties in Singapore or are you content in a shared room or a boutique hotel?
Location, location, and location.
We also want to emphasize in this Singapore itinerary guide that where you stay in Singapore makes a huge difference in terms of convenience and cost.
One of the first things that we recommended to tourists visiting Singapore is to book a room as close as possible to an MRT station! This makes your trip way more efficient and affordable because you can utilize Singapore's extensive MRT network within minutes from your room.  This is a proven strategy to get to attractions faster while saving money along the way. Taxi fees and parking fees can add up really fast in Singapore, so try to stick with public transport when possible. You will also avoid traffic if you take the train. 
The second main consideration that you should make when you are booking your room in Singapore is 'what area of the city you should be located in'? 
Marina Bay vs. Chinatown
Not only will your physical location determine how expensive your hotel will be, but it will also dictate how fast you can get to other attractions throughout the city.
We usually recommend for wealthy and affluent visitors to Singapore to stay in the Marina Bay area. Not only is this arguably the most scenic area of the city, but it also has a very healthy selection of luxury hotels.  Actually, many of the hotels around Marina Bay are considered to be among the best in the city. 
This is where you will find properties like the Fullerton Bay Hotel (5-star, 9.4/10 review score) and world-famous Raffles Singapore (5-star, 9.6/10 review score).  One of the main benefits of staying in the Marina Bay Area is that you have amazing skyline views of Singapore's business district.
There are also a lot of tourists who want to save some serious cash booking a room in Singapore. In this case, you are better off trying to stay in an area where the rooms are cheaper and the dining options are more affordable.  Some examples include Chinatown, Little India and Kampong Glam.  Chinatown is particularly popular with backpackers because there are many street markets and hawker stalls where you can get cheap meals throughout the day and at night.
---
2) How long should you stay?
Singapore itinerary would not be complete without knowing exactly how long you want to stay in the city. Again, one of the main factors here will be your overall budget for your trip. 
This raises a really popular question: How long do most tourists stay in Singapore? 
Clearly, different people visit Singapore for different reasons.  Also, Singapore is much smaller than many of the other countries in Southeast Asia. It is quite common to hear people staying in Singapore for two, three and/or four nights.  Staying in Singapore for 3 nights allows you to see a lot of the city and the major attractions without breaking the bank.  Two and three nights days tend to be quite popular with budget travellers to the city.
If you can afford to stay longer in Singapore we highly recommend it!  It is possible to see a lot of different areas of the city and attractions in three or four days. However, you will not understand the local culture as much with a short stay. Your Singapore itinerary will get better, the longer you stay in the city.
---
3) Are you travelling with children? 
Planning a 'family itinerary for Singapore' will look completely different than an itinerary for a solo visitor. Having children influences your travel budget, where you will stay and what type of attractions you will visit. 
You are probably not going to stay at a hostel if you have children. Instead, you're probably going to look for a hotel that has a large swimming pool, a playground and open space for your kids to run around. Similarly, chances are you will want to be close attractions instead of spending too much time on trains and vehicles with your children. 
This is one of the reasons why Sentosa Island is such a popular place to stay and visit for families. Once you make your way to Sentosa Island, you can stay at a hotel or resort on the island and then simply walk to major attractions such as Universal Studios and KidZania. 
Many families also find Marina Bay and Orchard Road convenient areas to stay with kids.  Orchard Road is Singapore's premier shopping mall district and is a popular point of interest on most Singapore itineraries.  This is a convenient area to stay with children because you can simply walk from one mall to the next. The malls here are air-conditioned and have recreational activities for kids. Direct access to grocery stores and a surplus of restaurants is also important for families.
---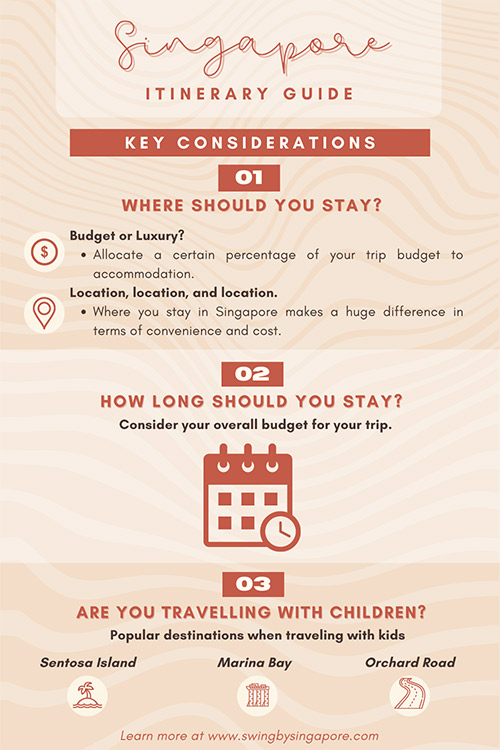 ---
Singapore Itineraries: Select the best one right here.
In the section below you will find various Singapore itineraries. Based on our extensive experience travelling throughout Singapore we have developed multiple itineraries for you to choose and/or adapt to suit your needs. It is likely that you will change some components for your own trip to Singapore. This is encouraged!
This itinerary is designed for either solo travellers or families visiting Singapore for 48 hours. It features many of the biggest attractions in all of Singapore. Day 1 focuses on walking around Marina Bay and Day 2 includes a trip to Sentosa Island.  This is an ideal itinerary for Singapore if you don't have a lot of time and want to visit all the 'must-see' attractions before you leave the city. 
This itinerary is perfect for anyone who wants the visit the Marina Bay area of Singapore. As one of Singapore's most picturesque areas, Marina Bay is a must-see and one of the real highlights of a visit to the city.  You can expect to visit some of Singapore's most famous attractions by following this itinerary. Similarly, it includes shopping and dining options as well. It is suitable for both solo travellers and families visiting Singapore.