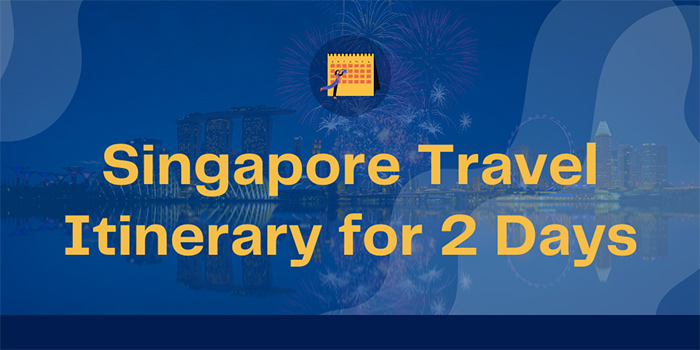 "The best 2-day itinerary for exploring Singapore"
Why should you visit Singapore?
We have written this guide entitled 'Singapore itinerary 2 days' for anybody that is planning on staying 48 hours in this amazing city. Regardless of whether you are a resident of Singapore or visiting for a few days, we hope to provide you with the best and most exciting itinerary for two days in the city.
Singapore is an amazing place to visit because of so many different reasons. For instance, it has one of the best public transportation networks in the entire world. It is quite common for tourists to land at the airport and only use the MRT throughout their entire stay in the city.  The reason why this is possible is that the MRT Network consists of multiple lines that service trains all over the city.  You can expect to find MRT lines servicing areas that are not even heavily populated with residents.
With a healthy transport infrastructure in place and a strong mix of modern architecture and culture, Singapore has something to offer everyone. Regardless of whether you are visiting Singapore as a backpacker or as a family, you easily have enough to do in the city to last you a week and much more!
It is no secret that Singapore is regarded as an expensive city to visit. Therefore, a lot of visitors to Singapore tend to stay only for a few days in order to save money. Consequently, we have written this Singapore itinerary for 2 days to highlight where you should stay and what are the top things to do over a short period of time. 
---
Important considerations when making an itinerary for Singapore
There are a couple of key considerations that you should make before you plan your two-day itinerary for Singapore.  For example, you should strategically select an area of the city that suits your travel budget. The reason why this is so important is that Singapore hotels tend to be very expensive relative to other countries in Southeast Asia.
Where to stay?
If you do not carefully plan where you will book your hotel you could end up paying hundreds of dollars more per night than you should be. You can read this comprehensive article on where to stay in Singapore to learn more about the best areas to stay and how much they cost. 
Another consideration that you have to make when you are creating an itinerary for Singapore is how you plan on getting around?
How should you get around?
We strongly recommend that you utilize the MRT network and bus network as much as possible while you are in Singapore.  This is not only good for the environment, but it can save you serious sums of cash because you avoid taxi fees and unnecessary parking fees. And also don't forget about the traffic! Public transportation effectively avoids traffic jams in the downtown area of the city.
If you do plan on using MRT to get around Singapore then you obviously want to book a hotel within walking distance to a station. A few common examples include Fairmont Singapore (5-star, 8.9/10 review score) beside Esplanade Station and Chic Capsule Otel (2-star, 8.6/10 review score) beside Chinatown Station. 
---
Singapore Itinerary for 2 Days
Day 1: Morning (Marina Bay)
When you are creating a Singapore itinerary for 2 days, first consider where you want to stay.  Singapore has a very wide selection of hotels and apartments to choose from. Are you want to stay really depends on what you want to do while you are in the city and also the budget that you are dealing with.
We highly recommend staying in the Marina Bay area of the city if you can afford it. Not only is this area of the city one of the most picturesque, but it is also well serviced by multiple MRT stations and lines.  This makes it really easy to get around to other parts of the city because you can walk to the nearest station very fast.
Some of the most popular hotels in Marina Bay include:
Marina Bay Sands (5-star, 9/10 review score) – beside Bayfront Station
The Fullerton Bay Hotel (5-star, 9.2/10 review score) – beside Raffles Place Station
The Capitol Kempinski Hotel Singapore (5-star, 9.3/10 review score)
If we assume that you stay at one of these properties, start the first day of your Singapore itinerary by enjoying a great breakfast buffet and a freshly brewed coffee.
Go for a walk around Marina Bay
After you have eaten breakfast go for a walk around Marina Bay and visit some of the most iconic attractions and landmarks in Singapore. For example, you might want to check out the Merlion which is an iconic landmark in Singapore. The ideal spot to capture selfies and also beautiful photos of Marina Bay Sands across the bay. 
After the Merlion, you can walk around the bay and consider checking out either the Singapore Flyer or Sands SkyPark.  Both of these attractions in Singapore are very famous for offering breathtaking skyline views of Singapore's downtown area.  We strongly recommend that you visit one of these two places during your two-day itinerary of Singapore. You cannot leave the city without a skyline photograph!
Depending on your energy level and how much time you want to spend in the Marina Bay Area, also consider checking out of Gardens by the Bay.  This is an extremely innovative outdoor area that is behind Marina Bay Sands.  It features attractions such as Flower Dome and Cloud Forest. These are both very popular amongst families visiting Singapore.
---
Day 1: Afternoon
Enjoy lunch at one of the malls around Marina Bay
After walking around Marina Bay, you might want to enjoy a nice air-conditioned meal at one of the malls in this area. You might want to consider eating at one of the celebrity restaurants at The Shoppes at Marina Bay Sands.  This is a beautiful mall that is physically connected to Marina Bay Sands Hotel.
Other malls that are within walking distance of Marina Bay include Marina Square, Millenia Walk, and Suntec City.
Take the MRT to culture-rich Chinatown and Little India
After lunch, continue on with your Singapore itinerary for 2 days by making your way to some of the culture-rich areas of the city such as Chinatown, Little India and/or Kampong Glam. 
Chinatown is particularly popular with locals and visitors in Singapore.  This is also one of the best areas to book accommodation. Many of the boutique hotels and hostels in this area are within walking distance to Chinatown Station. 
Explore some of the street markets in Chinatown and consider visiting a few of the popular temples such as Buddha Tooth Relic Temple. Buy a few souvenirs and take some photographs before leaving this area.
After Chinatown consider going to either Little India or Kampong Glam.
Little India has some of the cheapest stores in all of Singapore.  It also has some delicious restaurants that serve traditional dishes.
Kampong Glam is probably less visited than Chinatown. However, it has some really interesting shophouses and photogenic points of interest such as Arab Street, Haji Lane and Sultan Mosque.  This is also a great area to visit if you want to sample some Malaysian and Middle Eastern dishes.
Spend an hour or two relaxing before dinner
Singapore can get extremely hot during the afternoon hours. Therefore, when you are tired of sightseeing make your way back to your hotel for a few hours in the pool or spa getting some rest and relaxation.
There are tons of things to do in Singapore at night so make sure that you do not get too tired throughout the day.  You want to explore Singapore's nightlife and some of its famous attractions after dark!
---
Day 1: Evening
Enjoy dinner at Boat Quay along the Singapore River
Obviously, if you are only planning a Singapore itinerary for 2 days then you really have to prioritize what kind of food you want and where you want to eat?
We highly recommend trying to eat along the Singapore River somewhere. You can either eat at Boat Quay, Clark Quay or Riverside Quay. When we stay in the Marina Bay area we tend to eat out at Boat Quay because it's the closest and most convenient to the hotels in that area. 
Alternatively, you might want to eat out at one of Singapore 'sky restaurants'.
Head out for some nightlife!
Your first day in Singapore would not be complete without enjoying some nightlife!
Fortunately, Singapore has a happening nightlife with a diverse range of options for guests.  For example, if you are looking to see some live entertainment you might want to go to either Esplanade or Sands Theatre. These theatres have Broadway-level production shows on a regular basis throughout the year.
If you want to party then you might want to head to Clarke Quay.  This is a popular area for after our drinks and live music.
Alternatively, if you are feeling lucky you might want to gamble.  In this case, had to either Sands Casino or the Resorts World Casino on Sentosa Island.
---
Day 2: Morning
Head to Sentosa Island
After breakfast on the second day of your Singapore itinerary, consider heading to Sentosa Island.
Sentosa Island or Sentosa for short is an extremely popular destination in Singapore.  Both locals and foreign tourists love Sentosa, and for good reason!  Although it can sometimes feel overwhelming, Sentosa offers a massive selection of activities for visitors. 
It is home to Resorts World Sentosa, Universal Studios and a whole range of other family attractions. If you are travelling with children to Singapore then you must visit Sentosa before you leave. 
Sentosa island also has three very popular beaches that you can visit:
Palawan Beach
Siloso Beach
Tanjong Beach
If you are on a budget these beaches are also free to use which is a great way to enjoy Singapore without breaking the bank!
Sentosa has a broad range of restaurants to choose from so there is no need to return to the city centre to find restaurants. Also, consider eating at VivoCity – a popular mall that is the main transit point for people heading to/from Sentosa.
---
Day 2: Afternoon
Shopping along Orchard Road
After lunch, you might want to head to Orchard Road for a great shopping experience.
Orchard Road is considered to be Singapore's premier shopping district. Loaded with shopping malls and a surplus of food courts, you can find all kinds of products here.
This is also a great area to go during Singapore's hottest hours in the afternoon. The malls here are all air-conditioned with a broad range of indoor recreational activities for children. 
Some people think that Orchard Road only has luxury and designer malls. This simply isn't the case. When you visit Orchard Road you can find budget-oriented malls and also high-end malls. The choice is really yours.
The two main MRT stations that service trains to Orchard Road are Orchard Station and Somerset Station.  You might want to access the Orchard area by using one of these stations and then exiting from the other one.  This will help you see more malls and enjoy more shopping opportunities while you are in this corner of the city.
After buying some souvenirs and other products along Orchard Road pick a spot to eat before heading back to your hotel.
---
Day 2: Evening
Visit Singapore Night Safari
Developing a Singapore itinerary for 2 days would not be complete without a visit to either Singapore Zoo or Singapore Night Safari.
These are both amazing attractions and extremely popular amongst Singaporeans and visitors to the city.  People of all ages love these attractions.
You do have to remember that these are not located right in the downtown area of Singapore. Therefore, you should plan ahead and know how you are going to get to these attractions.  To help you with this you can read this comprehensive guide on how to get to Singapore Night Safari using the MRT.
The Night Safari is the perfect way to cap off your two-day itinerary for Singapore.  This is an extremely well-managed attraction and receives awards annually from tourism organizations in Singapore and abroad.
Enjoy a few drinks if you still have energy!
If you still have energy after visiting Sentosa Island, Orchard Road and the Night Safari then finish off with a few cold drinks.  You might want to return to Chinatown or another vibrant area of the city.
Consider having some streetside hawker food and some cheap beer near a night market. Chinatown Street Market might be a good choice or Bugis Street Market.
Remember, Singapore is such a fascinating city because it is so modern yet so traditional.  You can explore cutting edge architectural wonders one minute and the next minute you may be eating out right on the street!
---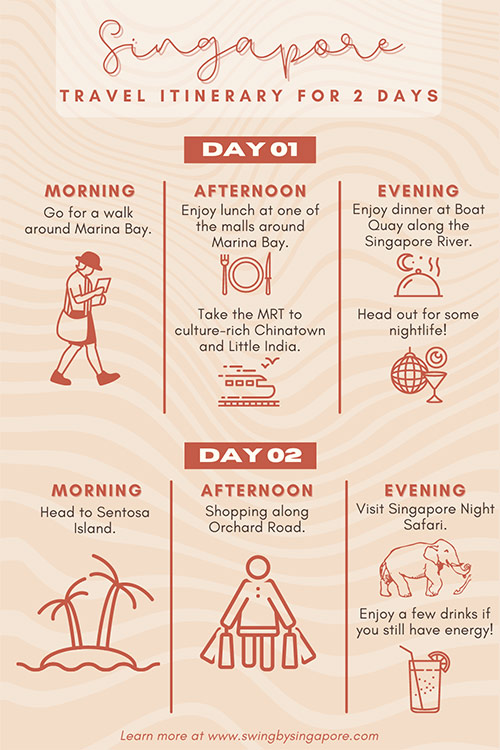 ---
Any questions about this Singapore itinerary?
If you only have two days in Singapore then it is hard to fit everything in. 
There are so many fascinating museums and markets that this itinerary does not include. We are by no means saying that this is an exhaustive list of activities in Singapore. Actually, there are literally hundreds of other attractions and points of interest that you should consider visiting!
We encourage our readers to share ideas about things to do in Singapore. Also, if you do have any questions about this itinerary or attractions within the city please don't hesitate to send us an email. We would be more than happy to help in any way that we can!
Singapore is an amazing city.  Just remember to plan well in advance to make sure that your itinerary suits your budget.  This starts by booking a room in a strategic location near an MRT station. That is the first step to making an efficient and affordable trip itinerary to Singapore.