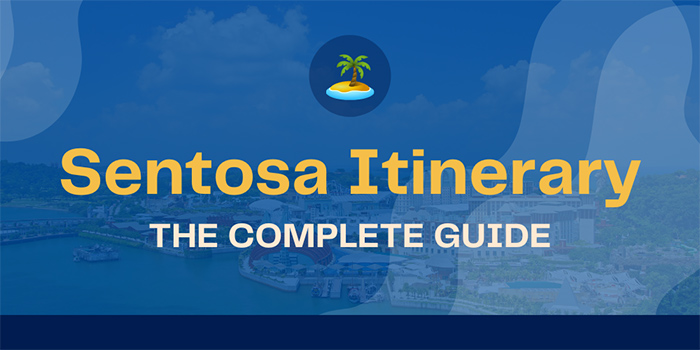 Welcome to the best Sentosa Island Itinerary – how to maximize your time and visit the best attractions!
Welcome to the best Sentosa itinerary.  In this article, I will outline the best things to do on Sentosa Island to make your time here amazing. Sentosa is one of the most famous places to visit in all of Singapore, and for good reason. It has many world-famous attractions and some of the best hotels and resorts in the entire city.
By the end of this article, you should have a solid idea of where to stay, what to see and how to get to the most famous attractions on Sentosa Island.  This Sentosa itinerary that we describe can either be completed over a 24 or 48 hour time period. It really depends on how many attractions you want to see and how long you want to spend at each one. While reading this itinerary, think about what interests you the most and whether the attraction is worth visiting. Then you can filter out the best places to visit.
---
Getting to Sentosa Island – Transportation Options
Before you can even consider sightseeing on Sentosa Island, you have to figure out how to get there!
Fortunately, there are multiple ways to get to Sentosa Island. Taking the MRT and then the Sentosa Express is definitely one of the most popular ways to get there. You can also take the MRT directly from the airport all the way to HarbourFront Station. Once at Harbourfront, transfer to Sentosa Express through VivoCity Mall. 
Read More: How to get to Sentosa Island using MRT – fast, cheap and easy!
You can also take a taxi, private vehicle or bus to Sentosa as well (depending on where your starting point is). 
If you are on a budget while you are visiting Singapore we suggest taking the MRT. It is affordable, reliable, and directly bypasses traffic getting into the city centre. Over the years, more and more people make their way to Sentosa using 'green methods' such as cycling, walking, jogging or running. 
---
Selecting the Right Hotel for your Sentosa Itinerary
When you are developing your Sentosa itinerary it is essential that you stay at a convenient hotel so that you can access the attractions in this area.  The first main question that you have to ask yourself is:
Should you stay on Sentosa Island or not?
Sentosa is very popular and consequently, it does have a wide selection of hotels and resorts to choose from. Spending a few nights here definitely makes it easier to get around the island, especially if you have kids that are young. However, due to Singapore's efficient and affordable transportation system, it's possible to get on Sentosa early in the morning and to return when your day is done. If you do choose to book a hotel in Marina Bay or somewhere else, try to stay close to an MRT station to avoid unnecessary transportation costs. 
Solid Service
Most of the hotels on Sentosa have solid service standards. They tend to be kid-friendly, and since Sentosa is relatively small, most of them are conveniently located for sightseeing. You can definitely find cheaper places to stay in areas such as Chinatown, Little India and Kampong Glam if saving some cash is your priority, however. 
Most of the hotels around Sentosa are classified as 5-star properties.  This means that they have a wide range of amenities including gyms, pools, spas and a wide range of restaurants, cafes and bars. One of the benefits of staying on Sentosa is that you can eat breakfast and immediately head out for sightseeing before it gets too hot outside.  Some of the resorts along the southern beaches offer oceanview rooms which is something to consider. 
Here are a few of the most positively reviewed properties on Sentosa at the time of writing:
Capella Singapore: 5-star, one of the best luxury choices in all of Singapore.
Sofitel Singapore Sentosa Resort & Spa: 5-star, minutes from Tanjong Beach
Shangri-La Rasa Sentosa: 5-star, ideally located looking over Siloso Beach
Singapore, in general, has very high standards for accommodation and Sentosa is no exception. Regardless, always do your research to find the right location and price range for your stay.
Read More: Finding the best area in Singapore to stay – the complete guide.
---
Starting your Itinerary: Sentosa Breakfast
When you are making your hotel booking on Sentosa Island you should consider whether or not you want breakfast included. You can expect superb buffet breakfasts or delicious a la carte menus at these hotels. Eating out at restaurants in Singapore can get pricey, so if you can find a good deal at a resort with breakfast included, go for it! If you are travelling with children, make sure that they are well fed because Sentosa has a lot of things to do!
Typically, online websites will give you the choice of whether or not you want breakfast included in the booking price. Regardless, start the first day of your Sentosa itinerary by having a delicious breakfast with your favourite fresh juice or coffee.  
To build up your breakfast appetite, consider going for a morning jog around the island to get things started!
---
Start Sightseeing around Sentosa
To make your sightseeing itinerary around Sentosa Island the most efficient, you should try working your way in a north-to-south or south-to-north direction. By doing so, you will not waste time going in circles from one attraction to another. 
To simplify the experience we are going to assume that you take the MRT to HarbourFront Station. Then, you take the Sentosa Express train to Beach Station. Therefore, this itinerary will begin along the southern shoreline of Sentosa Island and work in the northern direction as the day progresses. 
---
Explore the Southern Beaches
After your breakfast is finished, get ready for some fun in the sun!
Sentosa Island has three beautiful beaches along its southern shoreline that are ideal for visiting before it gets too hot outside:
Siloso Beach (west)
Palawan Beach (middle)
Tanjong Beach (east)
A lot of people get surprised when they arrive at Sentosa and see how accessible and beautiful these three beaches are. If you take the Sentosa Express to Beach Station, then all you have to do is take the Sentosa Beach shuttle to any one of these. But of course, the healthiest option is walking to them!
Each one of these beaches takes on a different personality. For example, Palawan Beach is popular with families with young children, whereas Tanjong is more remote with a romantic, quieter vibe. Siloso tends to be busier with beach sports and a mix of activities directly behind the beach. It is possible to walk between all three of them, but sometimes visitors just prefer to take the beach shuttle to speed up their Sentosa sightseeing experience. 
---
Get your Heart Pumping 
Sentosa has such a wide variety of attractions that there is literally something for everyone. If you are a thrill seeker (or have active children), then your Sentosa itinerary would not be complete without getting your heart pumping. 
Conveniently, minutes from the southern Sentosa beaches are some of Singapore's best 'action' attractions. As you head west of Beach Station you will come across four excellent adrenaline-pumping attractions:
iFLY Singapore
Skyline Luge
Gogreen Segway Eco Adventure
Skypark Sentosa by AJ Hackett
We suggest that you try out at least one (if not more of these) before moving on to your next point of interest. iFLY Singapore is one of the best indoor skydiving facilities in the world. Skyline Luge is awesome for the whole family and snakes down towards the beaches. Gogreen Segway Eco Adventure is a popular way to see some of Sentosa and AJ Hackett's Skypark is famous for skydiving and other exhilarating experiences. 
Since all of these attractions are along the same road, you can pick and choose which activities you want to do. iFLY Singapore is the closest to Beach Station and makes for a convenient stop before heading further north on the Sentosa Express.  
---
Visit Sentosa's Interior Attractions
Once you have visited the southern beaches and the adrenaline-pumping attractions there are a few 'interior' attractions to check out. 
Take the Sentosa Express train from Beach Station to Imbiah Station (or walk). Then, consider checking out a few of the attractions west of the station:
Madame Tussauds Singapore
Imbiah Lookout
4D Magix: Journey
Sentosa Nature Discovery
Technically, it is possible to visit any of these from Imbiah Station. But, if you are only on Sentosa for a day, you may not have time to see all of them. If you have a two-day Sentosa Itinerary, then select one of these on day 1, and another on day 2. 
If you are looking for some exercise, it is also possible to walk from Imbiah Station westward to Fort Imbiah and Fort Siloso SkyWalk. History lovers consider these to be 'must-sees' on Sentosa and they do offer excellent views along the way. 
---
Reserve the Afternoon for one of Sentosa's Big-Time Attractions
It is important that you reserve at least 3 or 4 hours for one of Sentosa's most famous attractions. And by famous attractions, I am talking about ones that attract thousands of people on a daily basis. 
Right at the top of Sentosa's major attractions is Resorts World Sentosa which consists of numerous world-class attractions, surrounded by hotels and restaurants. 
Within Resorts World Sentosa is the ever famous Universal Studios Singapore. This is arguably one of the biggest attractions in all of Singapore. But the thing is, you need to spend a considerable amount of time here to really get your money's worth! Therefore, plan for either a half-day or full-day at Universal Studios while you are on Sentosa Island. 
You also should know that Universal Studios is just one of many attractions making up Resorts World. Consequently, your Sentosa Itinerary can include any of the following attractions:
Adventure Cove Waterpark™
Sunset Sail – Royal Albatross
Each of these attractions is definitely worth a visit, but you always have to consider your priorities to fit them into a single day on Sentosa Island. If more than one of these attractions really interests you or your children, then we suggest staying on the island for two or three nights and spreading your itinerary over 48 hours or more.
---
Return to your Room on Sentosa for Dinner before More Action
After visiting all of these world-class attractions, you will be ready for a well-deserved dinner. If you were staying in Sentosa then you might want to shower up and then simply try out a restaurant within your hotel or resort. 
There is no denying the fact that staying on the island makes it a lot easier to maximize your time over the course of a day or two.
Once you are well-rested, get prepared for an exciting evening on Sentosa. 
---
Enjoy the Evening on Sentosa
After a day of sightseeing and activities around Sentosa, you will still be rewarded with superb entertainment options at night.  
One of the most obvious things to do is visit the Resorts World Casino Sentosa. If you are staying within the resort, then you can conveniently walk directly here with no need to arrange additional transportation. 
Another option is taking the Sunset Sail & Dinner Cruise on the Royal Albatross. The Royal Albatross is a beautiful luxury tall ship that offers superb views and a memorable experience. 
If you want to stay on land, then head to Wings of Time. This is best described as a 'modern venue featuring a nightly show with colourful lights, lasers, water fountains & 3D effects'. Bring along an umbrella just in case you get an unexpected rain shower. It is located along the southern shoreline and can be accessed from Beach Station at the end of the Sentosa Express train line. 
---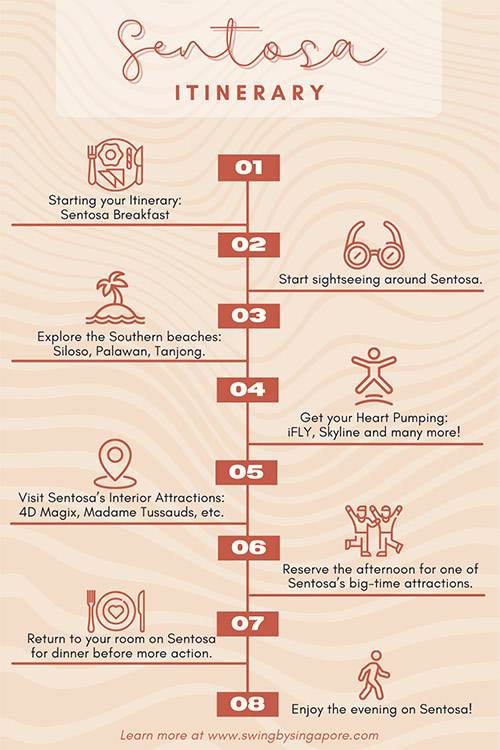 ---
Sentosa: More Ideas to Consider
We truly hope that this Sentosa itinerary will help you plan an amazing trip to this beautiful island in Singapore!  However, keep in mind that this article is only a guide and feel free to deviate from this plan.
For example, you might want to spread this itinerary of Sentosa over a two or three-day period. Some people like to visit Sentosa for a day, and then return 3-4 days later for more fun.
If you are staying at a hotel on Sentosa you can easily access the MRT to visit areas such as Marina Bay, Chinatown or Little India without much trouble. Simply take the Sentosa Express to VivoCity Mall and transfer to HarbourFront Station. From there, it's super easy to visit other areas. 
Consider getting a Singapore Tourist Pass if you plan on staying on Sentosa to access a lot of other attractions throughout the city. Once you buy a pass you can use the bus and MRT networks an unlimited number of times for a set number of days.  These are ideal for trips lasting 1-3 days in the city.
As you complete this Sentosa itinerary you may discover a lot of other things that we have not mentioned. It is really amazing how many cool things are on Sentosa. For example, it even has world-class golf courses that weren't even mentioned in this itinerary!
Be sure to share your experiences in the comments section below so that our readers get the best itinerary possible.  Enjoy your time in Singapore and make the most of your trip!