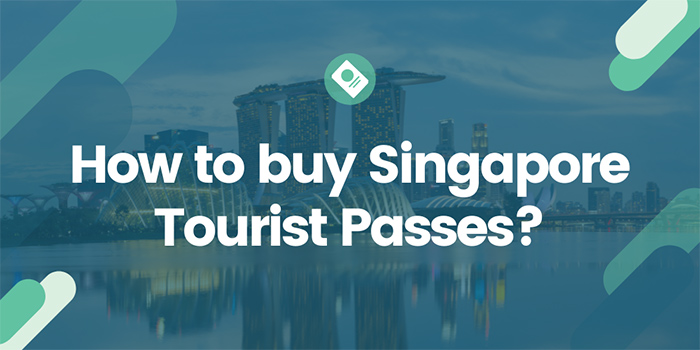 Welcome to the step-by-step guide on how to buy Singapore Tourist Passes.  If you are reading this article and then you are probably interested in figuring out whether or not it is worthwhile buying one of these passes for your visit to Singapore?  
In this article, we will outline the benefits and the potential drawbacks of buying a Singapore Tourist Pass. Then, we will focus on how you can specifically buy one if you think it will be a smart decision for you!
---
Should you buy a Singapore Tourist Pass?
Using a Singapore Tourist Pass while you are in Singapore can be a great decision or a bad one depending on your own personal circumstances.  Some of the factors that you have to consider include things such as your travel budget, which hotel and area of the city you are staying at, and how much sightseeing you plan on doing while you are in Singapore. 
Let's break some of these variables down so we can see whether or not a Singapore tourist pass will be suitable for your visit to the city or not.
---
Which type of visitors will benefit from buying a Singapore Tourist Pass?
Singapore Tourist Passes are ideal if you are a very busy tourist. In this case, by 'busy' we mean somebody who plans on seeing a lot of different sights in many different areas of the city. These passes are ideal for somebody that wants to use the MRT and buses a lot. This means you do not plan on using taxis and private vehicles to get to different areas throughout the city. 
It is completely possible to land at Changi Airport and then use only public transportation while you are in Singapore. This includes getting to and from the airport.  If this sounds like your personal preference then you want to read further and consider purchasing one of these passes to make your trip more efficient and affordable. 
And, let's not forget about being more environmentally friendly as well!
---
Types of Singapore Tourist Passes
To understand the true benefits of using a Singapore Tourist Pass you first have to understand how they work and what kind of passes are available.
At the time of writing, there are four different types of tourist passes that are available to short-term visitors to Singapore.
Singapore Tourist Pass

SG Tourist Pass

Singapore Tourist Pass Plus

STP Charm
Ultimately, all four of these passes are similar in that you are allowed unlimited public transportation rides within a specific period of time.  For example, the Singapore Tourist Pass (option #1 above) allows cardholders the opportunity to enjoy unlimited rides on public transportation options such as the MRT, LRT and bus network. 
The basic Singapore Tourist Pass includes an upfront refundable deposit that you can get back when you are leaving Singapore. The other three options do not include a down payment. But they do have some slight variations in terms of offers to visitors. For instance, the Singapore Tourist Pass Plus (option #3 above) allows pass holders the opportunity to get bundle deals on major attractions in the city. 
---
The Benefits of Getting a Tourist Pass
There are some clear advantages of purchasing a Singapore tourist pass or one of its variations. As mentioned before these mainly benefitted tourists who are going to be using public transportation a lot while they are in the city.
Therefore, we recommend that you think about your itinerary and where you plan on staying while you are in Singapore.  Ideally, you should try to get a tourist pass right at Changi Airport when you land.  This will make sure that you start maximizing the use of the card once you land in Singapore.  Then over the next few days while you are in Singapore you have to use the card a lot to make it worthwhile from a financial perspective.
Saving Money with the Pass
Singapore's public transportation networks are actually quite affordably priced. But, the cost can add up if you are going all over the place. For example, if you travel 5-6 times in a day then you will be close to exceeding the $10-dollar a day average price for the pass.  This means that if you plan on travelling like 10 different places per day you will be saving a considerable amount of money over a three-day period! 
Take a look at your own individual itinerary including trips to and from Changi Airport. If you find that you are going to be making over 5 trips per day on the MRT then you are probably better off getting a tourist pass. Then, if your itinerary expands or you want to go out for another meal, for instance, then you are not spending any additional money.
Saving Time
The second clear benefit of getting a Singapore tourist pass is the fact that you will bypass ticketing lines at every station throughout your trip to the city.  Tourists who do not have a pass often have to purchase single journey tickets at ticketing machines in each MRT station.  During peak times you can expect a lot of different people lining up trying to get a ticket to go to their next destination.
If you have a Singapore tourist pass all you simply have to do is tap to enter and exit the MRT Network and buses throughout the city.  Not only does this save considerable time over the course of a three-day visit, but it also relieves unnecessary headaches as well.  Nobody wants to be worried about purchasing a ticket when you are right in the middle of checking out major attractions in Singapore.  You want to maximize your time and eliminate as much stress as possible. Fortunately, these passes can do exactly that if you buy one before you start sightseeing.
Saving the Environment and Avoiding Traffic
Another consideration that you have to make when you are visiting Singapore is whether or not you want to even get in the vehicle? Singapore is a large city and you do not want to be stuck in unnecessary traffic that you could have avoided by using public transportation such as the MRT.
Buying a Singapore Tourist Pass will enable you to bypass traffic while reducing your carbon footprint as well.  Obviously, continuously hiring private vehicles and taxis is not the best option especially if you are a solo traveller. Therefore, consider the environment and what implications your travel will have on it when you are in Singapore.
---
The Downside of Purchasing a Tourist Pass
Since this is an unbiased overview of Singapore tourist passes we will also discuss the potential downside of getting one of these.
The risk associated with getting a Singapore Tourist Pass is that you may feel obligated to travel more than you initially wanted to because you have purchased one of the cards. For example, if you usually walk or prefer a laid-back sightseeing style, then you may not want to travel five or six times using public transportation each day. 
If you get a Singapore tourist pass that is valid for 3 days you may want to relax for half that period of time.  In this case, you would be better off either getting single journey tickets or purchasing just a one-day pass. again, it really comes back to whether you have planned a specific itinerary that consists of a lot of different transport connections.
Although Singapore Tourist Passes are actually quite affordable some budget-conscious tourists may not want to spend $30 on a pass that they are not going to maximize!  Another potential downside risk of getting a pass is that they are valid on the day that you begin using the pass and not necessarily a 24-hour period. 
An example of this would be landing at Changi Airport at 6 pm. If you activate your Singapore tourist pass that evening that will count as the first complete day on your pass even though you may only use it 1-2 times before you sleep. 
---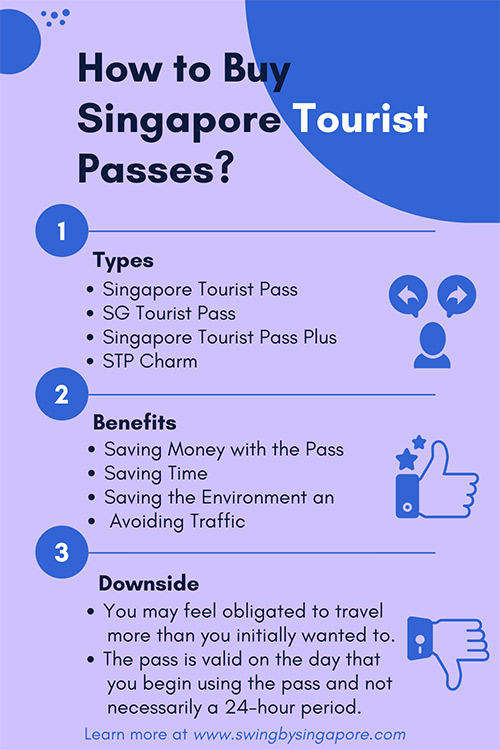 ---
Our Recommendation
Our recommendation is that you buy a Singapore Tourist Pass on your first intended full day of sightseeing.  This means waking up early, getting a pass and using it for the entire day. This will ensure that you get your money out of the card before the day is up.
---
How can you buy Singapore Tourist Passes?
Buying a Singapore tourist pass has a very straightforward process assuming that you know where you can get one!
You can buy a Singapore tourist pass at two main potential locations:
Selected TransitLink Ticketing Offices

Automated STP Kiosks
The best place to find a complete list of TransitLink ticketing offices that sell the passes is from the official website of the Singapore Tourist Pass. Simply click the 'listing' tab on the page to see the exact locations and opening hours of the ticketing offices.
If you are flying into Changi Airport then you will be delighted to hear that you can get Singapore Tourist Pass once you land.
There is a TransitLink office that is open daily from 8 a.m. to 9 p.m. in Terminal 2 of Changi Airport.  
Alternatively, you can get a Singapore tourist pass at automated STP kiosks in the airport that are open 24 hours a day. They are located in Terminal 2 and Terminal 3 of Changi Airport.
Buying Singapore SG Tourist Passes
If you are not planning on getting a normal Singapore Tourist Pass, but rather an SG Pass (option #2 from above) then you can purchase these at Cheers Outlets. You can refer to this webpage for information about Cheers outlets and when they are open to customers.
In case you are flying into Changi Airport, you can pick up these passes in Terminal 1 Terminal 2, Terminal 3 and Terminal 4 of the airport.
Buying Singapore Tourist Pass Plus
You can purchase one of these three-day cards from Changi Recommends counters that are available at the airport.  These counters are physically located in Terminal 1, Terminal 2, Terminal 3, and Terminal 4 of Changi International Airport.
How much do the passes cost?
The amount of money that you spend on your pass for Singapore really depends on what type of card you plan on using, how long you want to use it for.  For example, if you want to use just the basic Singapore Tourist Pass, the cost for one day is $10 Singaporean dollars. However, this will require an additional $10 refundable rental deposit. You can get this $10 back when you return the car at a later point in time.
These basic cards cost $16 for two days and then $20 for 3 days.  
SG Tourist passes cost $25 Singaporean dollars and they allow you three days of unlimited rides on public transportation. These cards do not require a rental deposit, and therefore, you can keep the card as a souvenir on your departure from the city.
The Singapore tourist Pass Plus cards are also valid for 3 days in Singapore and provide unlimited trips on public transportation such as the LRT, MRT and bus system. They cost $38 Singaporean dollars.
The STP Charm was actually sold out at the time of writing this article, but the listed price is $36.60. It provides holders with unlimited transport for 1 day, but you get to keep it as a souvenir!
***Please keep in mind that these prices are quoted at the time of writing and therefore subject to change over time with inflation and other variables affecting prices.
---
Important Reminders about the Passes
Although there has been a lot of detail provided in this article we want to spend a few minutes summarizing the information above.  The first big idea is that if you are a busy traveller and spending only one to three days in Singapore then these passes are the best option for you in terms of saving time and money.
You can select between the type of tasks that you want to use which makes them quite convenient. Regardless, you really have to think about your planned itinerary and how close you are staying to an MRT Station. Singapore has tons of hotels that are within direct walking distance of stations. We strongly recommend staying as close as possible to a station if you are going to get a Singapore Tourist Pass.  This will help you to eliminate the need for getting taxis to and from the closest station every time you want to go somewhere.
These passes may not be ideal for you if you do not want to be obligated to travel a lot while you're in the city. If you want to chill out for a day or two this is not the best option. 
Getting One at Changi
Remember you can purchase these tickets right at Changi Airport. However, always keep in mind the time in which you activate the card. So if you are arriving late at night you probably just want to get a single journey ticket from the airport to your hotel. Then, purchase a pass the next morning when you plan on doing the bulk of your sightseeing.
We really do hope that we have provided you with enough information on how to buy Singapore Tourist Passes. However, there is a possibility that you may want more information. In that case, please feel free to send us an email and we would be more than happy to provide you with additional information!
And remember, enjoy your time in Singapore and see what this beautiful city has to offer!