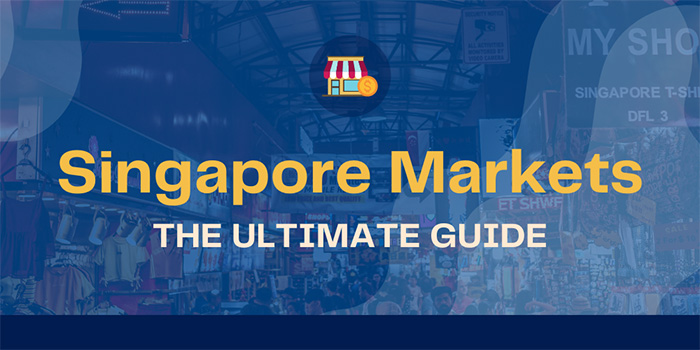 "The comprehensive guide to visiting the best markets in Singapore."
Market Overview
Singapore markets are definitely worth visiting, and in this guide, we will highlight the most essential information about the different markets in the city. Singapore often gets criticized for being 'too expensive' in comparison to other countries in Southeast Asia. But a lot of visitors to Singapore don't realize that you can still find affordable products in the city. 
There are malls that cater to affluent visitors and malls that cater to working-class Singaporeans and visitors. Markets in Singapore tend to be one of the best places to find affordable products. Many malls in Singapore charge a lot for shops to rent retail spaces; however, markets are either along the street or located in older buildings that don't charge as much for rent. As a result, markets have very competitive prices and still attract locals and visitors daily. 
---
What kind of markets are in Singapore?
Similar to other countries in Southeast Asia, Singapore has both food markets and traditional markets. Therefore, it's possible to buy cheap snacks and meals at 'hawker centres'. These food markets tend to be partially outside (open-air) with individual merchants selling their stuff. 
Hawker Centers
Food markets in Singapore have some of the best deals in town, and they are a great way to save cash while you're in the city. Expect 'hawker meals' to be way cheaper than eating in restaurants. Prices at food courts in malls, for example, would fall somewhere between Singapore food markets and restaurants. Drinks also tend to be really cheap at food markets in Singapore in comparison to restaurant beverages. 
Street Markets
Street markets are also popular in Singapore. The best ones are so busy that they have been converted into walking streets because cars simply have no room to pass by!
Street markets in Singapore tend to be bustling and very photogenic if you enjoy travel photography. Expect to find both food stalls and small vendors lining both sides of the road. These street markets also can get loud with salespeople trying to catch the attention of pedestrians passing by.  A lot of the products at street markets in Singapore are small, affordable trinkets. For example, expect to find small cheap items like shirts, selfie sticks, hats and keychains. Merchants try their best to make a living from sales volume, and not profit from one sale. Don't expect to find too many 'high-end' luxury products at Singapore street markets. Instead, you will find designer handbags and the works in malls like The Shoppes at Marina Bay Sands. 
Traditional 'Wet' Markets
There are also markets that offer fresh produce, meat and seafood. Unlike street markets that offer cooked foods, Singapore also has traditional wet markets. Locals living in Singapore can buy 'the fresh catch of the day' at these bustling market places. They are cheap, busy and exciting places to explore. Although wet markets in Singapore are photogenic, fascinating places to visit, most tourists don't buy many goods at them. Since these unprocessed goods need to be cooked, most tourists simply don't have the kitchen facilities for cooking seafood and other protein-dense products. 
We strongly suggest checking out a few wet markets in the city, such as Tekka Wet Market in Little India, Kuriya Japanese Fresh Fish Market and Geylang Serai Wet Market. Also, remember to bring along a good camera. Wet markets in Singapore are excellent places to capture pictures of exotic species and fresh produce. 
---
What areas in Singapore are famous for markets?
As a general rule of thumb, Singapore markets are mainly located in areas where buildings tend to be older and the rent cheaper. Street markets are usually in 'budget-friendly' areas not far from affordable boutique hotels and hostels. You can also walk to almost all markets in Singapore from MRT stations. Therefore, if you purchase a Singapore Tourist pass, then you should have no problem exploring the city's markets without breaking the bank. 
Some of the most famous areas in Singapore for finding markets include:
Chinatown
Little India
Bugis
Kampong Glam
Of these areas, Chinatown is arguably the most famous with dense street markets and hawker stalls occupying most narrow roads.   
---
-Frequently Asked Questions about Singapore Markets-
What is the best area to stay in Singapore if you want to explore markets?
In particular, Chinatown is a convenient place to stay if you want direct access to hawkers, street markets and traditional markets. 
One of the clear benefits of staying in Chinatown is that you will be able to walk to Chinatown MRT Station and a whole range of affordable hotels. This is regarded as one of the best areas to stay in Singapore. It is budget-friendly, bustling and ideal for street photography. Most of the properties in this area are boutique hotels or capsule hostels. 
Little India is also another popular option.  You can expect to find cheap accommodation in Little India and lots of streetside markets. Food is relatively cheap and so too are textiles and imported goods. 
---
Can you negotiate prices at markets in Singapore?
Some markets in Singapore do allow visitors the opportunity to 'haggle' a little bit over prices. As a general rule, the more informal the setting, the greater the odds of negotiating prices. Some merchants may get a little agitated if you offer a ridiculously low price so try to be respectful of the 'going rate'. Overall, expect less haggling than at markets in other countries like Thailand, Cambodia and Vietnam. Remember, the more you buy at markets in Singapore, the more likely you are to receive a discount. 
---
What time do wet markets in Singapore open and close?
Wet markets specialize in selling fresh produce, meat and seafood. Therefore, you can expect them to open early, usually, around 4 am.  Then, they tend to close around 12 pm (noon). Of course, there are exceptions to these general hours, but this is a good general guide to summarize when they are open for business. 
---
What can you buy at wet markets in Singapore?
Expect to find an extensive range of goods to buy at wet markets in Singapore. Some of the most popular fresh foods include fish, shellfish (prawns, oysters) and squid. Also, expect a wide selection of fruits and vegetables to choose from. Durian, for example, is very popular amongst Singaporeans.  You can also find it at streetside stalls in bustling areas like Chinatown, Little India and Geylang. 
---
Are markets in Singapore safe to visit with children?
Singapore is an extremely safe country.  Therefore, you can expect that Singapore markets to be some of the safest in all of Asia. Theft (pickpocketing) is very rare. Some wet markets can get busy, so your greatest risk would be stepping in front of a produce cart! As long as you watch your belongings (camera, phone, wallet, purse) you should be completely fine visiting markets in Singapore with children. 
---
Can you buy souvenirs at street markets in Singapore?
Chinatown, in particular, has a wide selection of souvenirs to buy. Street markets in Chinatown have tons of tiny souvenirs for sale. Although many of them are imported from China, they tend to be quite affordable. You can often find deals if you buy more than one souvenir (buy 2 get 1 free, etc.). You can also check out Bugis Street Market for souvenirs.