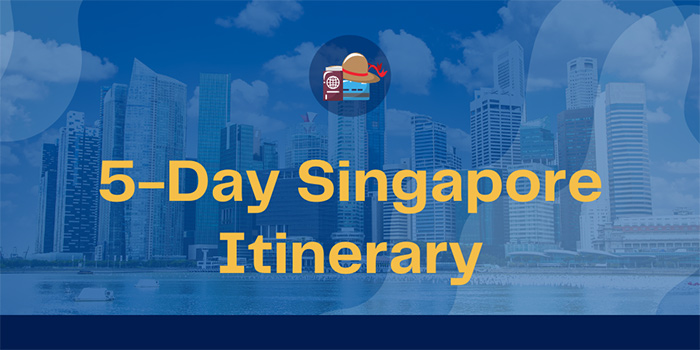 "The ultimate 5-day itinerary of Singapore"
Should you visit Singapore for 5 days?
We have written this guide entitled '5 Day Singapore Itinerary' to provide you with all the information you need to plan a complete trip here. Even if you are Singaporean, you will benefit from reading this detailed overview of the best things to see and do in the city. 
Although we have mentioned in other articles that 1-3 days in Singapore is simply too short of a stay, 5 days is an ideal amount of time to see what the city has to offer. 
Singapore is loaded with a broad selection of world-class attractions, museums, and markets. There is literally something for everyone regardless of your budget! We have seen backpackers and luxury travellers have remarkable trips here.  It is no secret that Singapore is often called an expensive city.  But, with some effective planning, it's very much possible to see the best areas of the city without spending a fortune.
This 5 Day Singapore Itinerary provides visitors with enough time to see Singapore's major attractions along with a sample of malls, museums and markets. A five-day stay in Singapore will ensure you learn more about the local cuisine, culture and architecture than one or two nights here.  
You might also be delighted to hear that Singapore also has one of the best public transportation networks in the entire world. Actually, many tourists don't even step foot in a car the entire time they are in the city.  The extensive MRT network provides fast and affordable connectivity to most tourist destinations. Singapore's bus network is also comprehensive and reliable. 
Singapore also attracts tons of tourists because of its superb architecture. It showcases many elegant colonial buildings along with no shortage of cutting-edge skyscrapers. 
---
Important Considerations for 5 Days in Singapore 
Before you begin your 5-day trip to Singapore, you have to make a few important decisions about:
Where do you want to stay?
How much do you want to spend?
How do you plan on getting around?
Budgeting in Singapore is important if you don't want to spend a fortune. Selecting the right area of Singapore is essential. Transportation costs and the type of accommodation options available change a lot depending on where you stay. Transportation is an important consideration and knowing how you will get around early will enable you to reach each destination efficiently and affordably. 
---
Where should you stay in Singapore for 5 days?
There is a substantial price difference between luxury hotels and budget rooms in Singapore. You may be completely surprised by the price difference. Five-star hotels in Singapore can easily range from $300-$1000 per night, whereas some budget rooms in hostels can be only $20 dollars. 
Despite the fact that Singapore gets labelled as an expensive destination, it actually has a pile of budget rooms available. Typically, budget travellers stay in hostels, boutique hotels and capsule (pod) hotels. 
Be thorough with your itinerary planning. If you do not carefully plan where you will book your hotel, you could pay hundreds of dollars more per night than you should be! Since this itinerary of Singapore is for 5 days, you might even want to stay in two different areas. 
You can read this comprehensive article on where to stay in Singapore to learn more about the best areas to stay and how much they cost. 
The next consideration is how you want to get from point A to point B.
---
Getting around Singapore?
Although everyone visiting Singapore will have different interests and priorities, we recommend using the MRT and bus network as much as possible. These forms of public transportation are more environmentally sustainable than riding private vehicles. 
The MRT, for example, is also cheaper and often faster than taking a car because you don't have to worry about traffic and parking your vehicle. Taxis and ride-hailing services can be practical for short trips if you are sharing with others. 
 As a general rule of thumb, if you use MRT to get around Singapore, book a hotel as close as possible to a station. Give yourself easy access to stations and you will be able to get to different places fast while avoiding long walks in Singapore's intense heat.  
We have included a few popular hotels that are right beside convenient MRT stations in the city. 
Fairmont Singapore (5-star, 8.9/10 review score) beside Esplanade Station. 
Chic Capsule Otel (2-star, 8.6/10 review score) beside Chinatown Station. 
Popular areas to stay in include Marina Bay, Chinatown and Sentosa Island.
---
5 Day Singapore Itinerary
Day 1: Enjoy the Morning at Marina Bay
Start your five days in Singapore by exploring one of the city's most impressive areas – Marina Bay.
Marina Bay is considered by many to be the best sightseeing area in the city. Chances are that if you see a postcard of Singapore it will feature something from this area. 
Regardless of whether you are looking for skyline views, shopping or family attractions, chances are, Marina Bay has it! Marina Bay, conveniently, is serviced by multiple MRT stations, making it super easy to get there from other areas of Singapore. 
Marina Bay is one of the most popular areas for visitors to the city to stay. It features numerous world-class hotels that offer breathtaking views. 
A few examples of popular hotels in Marina Bay include:
The Fullerton Bay Hotel (5-star, 9.2/10 review score) – beside Raffles Place Station
Marina Bay Sands (5-star, 9/10 review score) – beside Bayfront Station
The Capitol Kempinski Hotel Singapore (5-star, 9.3/10 review score)
If you do stay at one of these hotels, begin day 1 of your Singapore itinerary with a delicious breakfast along with a coffee. Afterwards, get set for an exciting day of sightseeing.  
Begin Day 1 with a Walk around Marina Bay
A trip to Singapore is not complete without an extensive walk around Marina Bay and that's why we recommend doing this first as part of this 5 Day Singapore Itinerary. 
The Marina Bay area is dotted with famous attractions that can be experienced by walking from one to the next. 
Singapore Flyer, for example, is a world-class attraction in Marina Bay. It is one of the world's largest observation wheels. The views here are fantastic, and it's possible even to eat a 4-course meal while riding on the Flyer. 
Merlion Park, arguably, is the most famous 'postcard symbol' of the city. The Merlion is best described as a water fountain statue that features both a lion and a mermaid. It prominently overlooks Marina Bay and is an extremely popular photo-taking spot in the city. If you like selfies, this is a very popular place!
Just remember that it can get busy at Merlion Park, so getting here early when it's cooler outside is a wise decision. 
You can also take photos of iconic buildings around Marina Bay such as the Esplanade, Marina Bay Sands and the ArtScience Museum.
Skyline Views? 
Many of Marina Bay's attractions focus on the famous skyline (and for good reason!). Sands SkyPark is one of them. It is located at the top of the Marina Bay Sands Hotel. You can access it by heading to the hotel lobby and taking the elevator up.  
There is an entry fee to Sands SkyPark, but nearby Helix Bridge is completely free to walk across for awesome views. Helix Bridge is about 1 minute away from Marina Bay Sands – one of the most photographed buildings in all of Asia.
If you still have some energy in the tank, consider a quick visit to the ArtScience Museum and the Red Dot Design Museum. The ArtScience Museum is located directly in front of Marina Bay Sands whereas the Red Dot Design Museum is west along the boardwalk.
---
Day 1: Afternoon
Eat lunch at a mall around Marina Bay
Chances are that after a walk around Marina Bay, you will be ready for a few refreshments and a meal. 
Fortunately, Marina Bay has several air-conditioned malls that are within walking distance of the water.  The Shoppes at Marina Bay Sands is one of the best malls in this area. It features numerous celebrity-chef restaurants and a food court for more thrifty visitors. This is a beautiful mall that is physically connected to Marina Bay Sands Hotel.
A few other popular shopping centres within walking distance of Marina Bay include:
Marina Square
Millenia Walk
Suntec City
Singapore can get scorching hot during the afternoon hours. Take a break inside and get the most out of the nicely air-conditioned environment.
Walk or Take the MRT to Chinatown
Chinatown is particularly popular with locals and visitors in Singapore. It features numerous streetside markets, delicious food, temples and excellent shopping. It is one of the best areas for shopping, especially for small trinkets and souvenirs. If you buy in bulk you can save a lot of money.
You might simply enjoy walking around Chinatown and seeing what it has to offer. But before you leave, be sure to visit a few markets and take some photos of Buddha Tooth Relic Temple. 
Chinatown is also known as one of the best areas to stay in Singapore. Many budget travellers and backpackers choose to stay here. There are many cheap eateries and shops near the hotels and hotels in Chinatown which makes for an affordable environment.
Most accommodation here is in the form of boutique hotels, traditional hostels and capsule (pod) rooms. These tend to be close to Chinatown Station (accessible by MRT).
Some Down Time before Dinner
After exploring Marina Bay and the Chinatown area, go back to your hotel for some downtime. Singapore has very intense afternoon heat. Instead of getting overly dehydrated, swim in your pool or check out a map of the city to plan the rest of your trip.
---
Day 1: Evening Time
Enjoy dinner at Boat Quay along the Singapore River
If you are staying in Singapore for only 5 days, sample different dining options. 
What kind of ambiance do you like and how much do you want to spend?
We highly recommend eating at one of the Riverside restaurants in Singapore during your 5-day itinerary.
During your first night, head to Boat Quay. It has a series of riverside seafood restaurants that allow you to select your lobster or crab, guaranteeing a fresh, delicious meal. We have eaten along Boat Quay on multiple occasions and it never disappoints in terms of dining options and ambiance. 
Can you say 'Nightlife'? 
Your first day in Singapore would not be complete without enjoying some nightlife!
Singapore is a great nightlife city. It hosts tons of international artists so concerts are popular. Live entertainment venues are popular and a few in the Marina Bay area include the Esplanade and Sands Theatre. 
These theatres have Broadway-level production shows regularly throughout the year.
If you want to party then you might want to head to Clarke Quay.  This is a popular area for after our drinks and live music.
---
5 Day Singapore Itinerary – DAY 2: Morning
Arrange a Visit to Sentosa Island
On day two of your 5 day Singapore itinerary, venture early out to Sentosa Island. 
Sentosa Island, or 'Sentosa' for short, is extremely popular amongst locals and visitors to Singapore. Technically, it is almost impossible to see every attraction on the Island in only one day. There are numerous attractions that are tailored towards adventurists and also families with children.  You should select what you want to experience carefully because it's easy to get overwhelmed with the choice on Sentosa. 
A few of the most popular attractions on the island include:
Universal Studios Singapore
iFLY Singapore 
AJ Hackett Sentosa
Although many people visit Sentosa for attractions, others want to enjoy the outdoors. Thankfully, Sentosa has three great beaches along its southern shoreline. These are popular with all visitors to the island, and since they are free to access, serve as a budget-friendly experience.  
Palawan Beach
Siloso Beach
Tanjong Beach
Technically, you can either walk or take the Sentosa Beach shuttle to any one of these beaches. There are beachside cafes and watersports to enjoy. Also, take note that if you are bringing children Siloso Beach is popular with young kids. 
Sentosa has a broad range of restaurants to choose from so there is no need to return to the city centre to find restaurants. Also, consider eating at VivoCity – a popular mall that is the main transit point for people heading to/from Sentosa.
---
Day 2 – Afternoon
Travel North to Famous 'Orchard Road'
If you decide that you enjoyed enough of Sentosa Island, then you might want to enjoy air conditioning for the remainder of the afternoon. In this case, take the MRT northeast to the world-famous Orchard Road. 
Orchard Road is Singapore's premier shopping area and the ideal place to go during the hot afternoon hours. It is loaded with air-conditioned shopping malls and a surplus of food courts, you can find all kinds of products here. Many of the malls have indoor playgrounds and activities for children. 
Orchard does have some budget-friendly malls to choose from as well. So don't think that every mall is super expensive because that isn't the case. 
Conveniently, you can travel from pretty much anywhere in Singapore via MRT to Orchard Road. It is well connected and accessible from Changi Airport as well. 
The two most popular stations for accessing Orchard Road are:
Orchard Station
Somerset Station 
In order to save some time and energy consider entering the Orchard area using one of these stations and then exiting the area using the other. Once you've done enough shopping along Orchard Road then head back to your hotel for some rest and relaxation before you get prepared for your second evening in Singapore.
---
Day 2: Evening
Visit Award-Winning 'Singapore Night Safari'
A 5 Day Singapore itinerary would not be complete without a visit to Singapore Night Safari. Unlike the other attractions mentioned above, the Singapore Night Safari is north of the main tourist districts of Marina Bay and Chinatown. 
People of all ages love the Singapore Night Safari. It has won several travel awards over years and it is considered a very well managed and safe experience. 
You will require some additional planning and organization to make your way to Singapore Night Safari due to its location.  Technically, it's possible to get there by MRT, bus, and of course, by private vehicle.
To help you with this you can read this comprehensive guide on how to get to Singapore Night Safari using the MRT. Other transportation options are available such as taking a bus and private vehicle. 
The Night Safari is a solid way to end the second day of your Singapore itinerary.  
---
Singapore 3 Day Itinerary – DAY 3: Morning
Visit Gardens by the Bay and the Surrounding Sights
During the first day of your itinerary in Singapore, you walked around Marina Bay, but chances are you didn't have time to visit world-renowned Gardens by the Bay.
Gardens by the Bay is a futuristic garden complex and undoubtedly one of Singapore's most impressive areas to visit. It is located behind Marina Bay Sands on a stretch of reclaimed land that serves as a green lung to the city. 
The cool thing about Gardens by the Bay is that you have the choice to simply walk around for free or enter some awesome attractions (with entrance fees)
Please find below a list of some of the most popular attractions within Gardens by the Bay in Singapore.
Flower Dome
Supertree Grove
OCBC Skyway
Cloud Forest
Both adults and families enjoy the Gardens by the Bay. Therefore, expect to find something for everyone in this area. 
---
Day 3 Afternoon – Walk Down to Marina Barrage
Enjoy lunch at a restaurant in Shoppes at Marina Bay Sands or at a restaurant within the Gardens. Then, head further southeast along the Bay to Marina Barrage. 
Marina Barrage is one of our favourite places in Singapore. Although its main purpose is to convert salt water into drinking water, there are now recreational activities here such as cycling, kayaking and more. 
The rooftop has also been converted into a 'green zone' which is just awesome for hanging out, exercising or taking photos of Singapore's skyline. 
You can travel across the reservoir on Marina Bridge to Marina East Park and Marina Bay Golf Course. 
---
Day 3 Evening – Night Views
Cap off your 5 day Singapore itinerary by capturing some skyline views. Sands SkyPark is a great choice (at the top of Marina Bay Sands Hotel) or another sky bar. 
Be sure to enjoy a famous 'Singapore Sling' before leaving the city. Raffles Singapore is known for their Singapore Sling, but you may want to try a few around the city and be the judge!
If you have already captured night views of Singapore's skyline, then head out for some market shopping in Chinatown, Bugis or another area of the city. 
---
5 Day Singapore Itinerary – DAY 4: Morning
Visit Jurong Bird Park
A truly impressive place to visit in Singapore is Jurong Bird Park. As its name suggests, Jurong Bird Park has tons and tons of bird species to check out. It is called 'Asia's Largest Bird Paradise' and is managed by Wildlife Reserves Singapore – the same organization that manages the Night Safari, Zoo and River Cruise. 
Jurong Bird Park has 3500 birds across 400 species scattered throughout different areas of the park. You and your travel companions can take part in guided tours, bird-feeding activities and a lot more here. 
There are a few eateries right at Jurong Bird Park so this makes for a complete morning activity. 
Read More: How to buy tickets for Jurong Bird Park in Singapore – the Complete Guide.
---
Day 4  Afternoon
Visit Culture-Rich Kampong Glam
Over the years Kampong Glam has become more popular due to its culture, shopping and dining experiences. It features some beautiful shophouses and photogenic points of interest such as:
Arab Street
Haji Lane
Sultan Mosque
Foodies love Kampong Glam. Lebanese, Turkish and Malaysian food is popular here.
You can easily access the Kampong Glam area by taking the MRT to Bugis Station. From there, simply walk a few hundred meters east and you will be right in the middle of the action. 
Kampong Glam is one of the best areas of Singapore for simply walking around and checking out the shops, sights and restaurants. The food is delicious so don't leave before eating something!
---
Day 4 Evening
Little India Sampler
After some food in Kampong Glam, continue on with your 5 day Singapore itinerary by taking the MRT to Little India Station. 
Little India is a colourful and bustling area of Singapore. It has some of the cheapest stores in the city.  It also has some delicious restaurants that serve traditional dishes.
Tekka Centre is just one of many stores that attract shoppers to Little India. 
Sri Veeramakaliamman Temple and Indian Heritage Centre are definitely worth checking out as well.  
---
5 Day Singapore Itinerary – DAY 5 Morning
Visit Singapore Zoo or Singapore River Safari
Start your fifth day in Singapore by visiting one of the city's big-time attractions such as Singapore Zoo, Singapore River Safari, or Universal Studios (if you haven't already!).
Both the Singapore Zoo and Singapore River Safari are located north and in the same general area as the Night Safari. Technically, if you do have the energy you can visit both of these attractions within the same day.
Since they are managed by the same organization as the Night Safari, don't be surprised if you have a superb experience. The Zoo and River Safari have also received numerous awards over the years. 
Universal Studios, on the other hand, is located on Sentosa Island. If you didn't visit it on your second day, you might want to finish off with a bang! Expect an exhilarating experience with numerous fast rides and interactive high-tech exhibits.
---
Day 5 – Afternoon 
Bugis Street Market
One of Singapore's best shopping experiences is Bugis Street Market. As one of Singapore's largest and busiest markets, this is a shopping experience not to be missed! 
You will find lots of clothing shops, souvenirs and cheap eateries here. 
It is a great place to pick up some last-minute Singapore souvenirs before you leave the city!
---
Day 5 – Evening
Gambling, Skyline Views and/or Partying?
All good things come to an end, unfortunately! To end this 5 day Singapore itinerary we wanted to introduce some choices to suit your interests!
If you enjoy gambling and feel lucky head to either Sands Casino or Resorts World Sentosa Casino. 
Alternatively, you might be looking for a more tranquil experience to finish your five days in Singapore. In this case, head back to Sands Skypark to enjoy panoramic views of Singapore's mesmerizing Skyline.
If you are thirsty for a few drinks, take the MRT to Clarke Quay Station. Clarke Quay is one of Singapore's best party areas with tons of bars and restaurants to choose from. Live music performances are common here, and if you want to dance, nightclubs are aplenty. 
---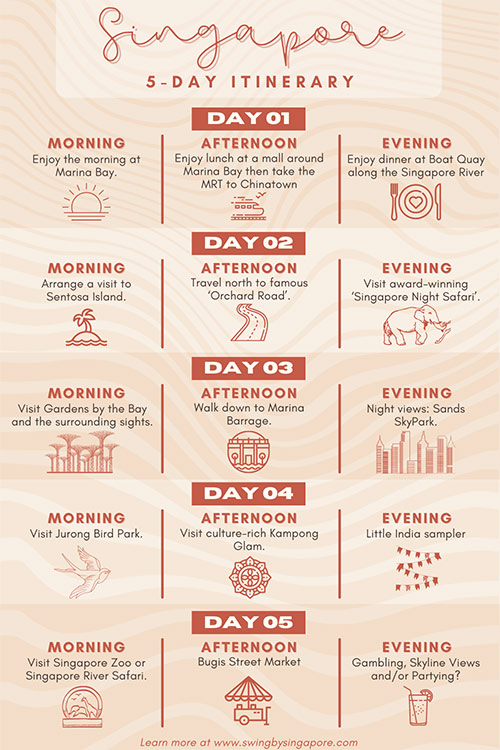 ---
Any questions about this 5 Day Singapore Itinerary?
If you have 5 days in Singapore you can get a really good idea of what it would be like to stay in the city. The local culture should be apparent, along with the weather and culinary dishes. 
But staying more than 5 days is still a wise idea. There are tons of places that are not built into this itinerary that could be if you stayed longer. For instance, there are numerous interesting museums that are not mentioned here. Market lovers would also benefit from staying longer. 
Singapore is an amazing city that has tons of culture, food, attractions and architecture. There are tons of historical attractions such as Fort Siloso to explore. 
Just remember to plan well in advance to make sure that your itinerary suits your budget. This starts by booking a room in a strategic location near an MRT station. 
That is the first step to making an efficient and affordable trip itinerary to Singapore.