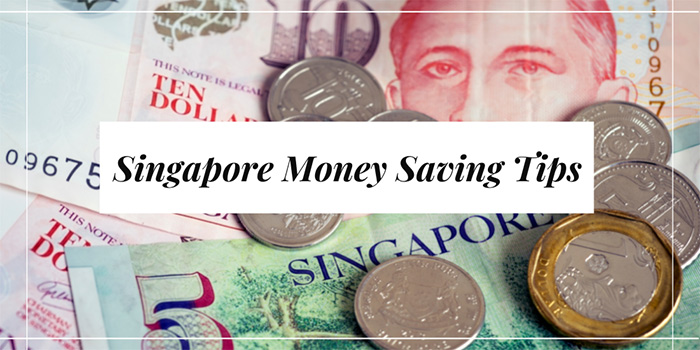 The ultimate guide to saving money in Singapore with practical suggestions. 
Welcome to the complete overview of Singapore Money Saving Tips!  In this article, we will provide you with a proven strategy to save cash while you are in the city. 
As you have probably heard, Singapore continuously gets stereotyped as one of the most expensive cities in the world to live in. Many people in the travelling community believe that it is too expensive to plan a trip to Singapore. We will show you that it's possible to visit Singapore on a tight budget while still seeing attractions and eating out. 
In this article, we will focus on:
Considerations before you plan your trip?
Where to stay?
What to eat?
What practical decisions can you make to save cash?
These Singapore money saving tips will be useful to you regardless of whether you are a solo traveller, a couple or a family with children. You will be able to maximize your cash while enjoying various experiences. 
---
Why does Singapore get labelled as an expensive place to visit?
Singapore is labelled as an expensive place to visit because it is more expensive than its neighbouring countries. Malaysia and Indonesia, for instance, are cheaper in terms of accommodation, eating out and entering tourist attractions. 
Singapore has a very well-established and very organized public transportation system, but costs arise for other reasons than basic transportation needs. To give you an example of what kind of expenses we are talking about, let's look at one of the most popular hotels in Singapore, Marina Bay Sands.  You can expect to pay around $500 per night at this popular hotel. Other popular, but pricey hotels include Raffles and The Fullerton. You can expect to pay hundreds upon hundreds of dollars for nice hotels in Singapore. Actually, even basic 2 and 3-star hotels can often cost well over $150. But, in Malaysia and Indonesia, many 5-star hotels are half the price and hostels are much cheaper. 
Food in Singapore is also pricey and requires some planning to avoid super expensive meals.  If you are going to have a nice meal in Jakarta and then decide to take a flight up to Singapore you will be shocked by the price difference for the exact same meal! 
Alcoholic drinks are much more expensive in Singapore. Therefore, you have to know where to go to save money on drinks. 
Obviously, food and accommodation are not the only expenses that visitors to Singapore have to deal with.  They also have to pay for entrance tickets to zoos and other attractions that are markedly more expensive than surrounding countries. If you want to sightsee with your whole family in Singapore you have to be prepared to spend some money. 
Fortunately, based on our extensive travel experience in Singapore we have developed proven strategies to help mitigate the costs associated with visiting the city. These Singapore money-saving tips can help you save hundreds of dollars over the course of a 3 or 5-day trip. 
Read More: The ultimate 5-day (3,620 word) itinerary of Singapore. 
---
Tip #1: Select your airline carefully. 
Planning a budget-friendly trip to Singapore begins with selecting the correct airline for the amount of money that you have. Singapore Airlines, for example, is world-renowned for high safety standards and world-class service. Nobody is going to deny they are an awesome airline.  
However, they aren't particularly well-known for cheap prices. 
If you want to save some cash, then research budget airlines servicing flights to and from Singapore. Many airlines are literally half the price of Singapore Airlines and other elite carriers. 
Budget Airlines in Singapore will change over time (especially after the pandemic), but at the time of writing, some popular and very affordable airlines included:
Air Asia
Tiger Airways
Scoot
Cebu Pacific
If you are concerned about safety standards make sure that you check online before you book your tickets. We have flown all of these airlines before and they are solid options for many travellers. 
Another benefit of booking your trip to Singapore with a budget airline is that you can choose the exact amount of luggage that you require for your trip. Therefore, if you are travelling light, you can save a considerable amount of money. 
---
Tip #2: Get a room close to an MRT station. 
Our second Singapore money-saving tip is to book your room as close to an MRT station as possible!
Singapore has one of the world's best public transportation networks. MRT stations and MRT lines are aplenty throughout the city. It is extremely well connected and allows you to get to 95% of tourist attractions without stepping foot in a vehicle. 
Many visitors to Singapore don't think about it, but you also save taking the MRT by avoiding taxi fees and parking fees. The last thing you want to do is park a vehicle in Singapore! Also, an added benefit of taking the MRT is that it is environmentally friendly when compared to driving a private vehicle. 
But you might be concerned about taking the MRT from one place to another? 
Won't this rack up a lot of tickets and expenses?
Fortunately, Singapore has tourist passes that can be purchased which enable you to ride the bus and MRT for unlimited times during a set period. These are common for 1-3 days. 
Instead of spending hours looking for convenient hotels near MRT stations, we have done the work for you! 
Here are some popular hotels in Singapore that are within walking distance of MRT Stations are listed below for your convenience:
Marina Bay Sands: Walking distance to Bayfront MRT Station
The Fullerton Hotel Singapore: Walking distance to Raffles Place MRT Station
Fairmont Singapore: Walking distance to Esplanade MRT Station 
Four Seasons Hotel Singapore: Walking distance to Orchard MRT Station
---
Tip #3: Pick the right area and the right room. 
As mentioned before, accommodation in Singapore can get expensive, especially if you do not do your research. Therefore, you should select the right area to stay in and also the right property. 
What are the cheapest areas to stay in Singapore?
When you are booking a room in Singapore you have to select an area with budget accommodation, but also cheap shops and eateries nearby. Marina Bay and Sentosa, for example, are very popular with tourists, but they are not cheap!
Instead, try searching for rooms in a more budget-friendly area such as Chinatown, Kampong Glam, Geylang, Clarke Quay, Boat Quay or Little India. 
And remember, people, searching for cheap rooms, generally, also want affordable shopping and dining options.  Our Singapore money saving tips would not be complete without taking about cheap areas. 
Singapore over the years has become quite famous for capsule hostels. We have stayed at multiple capsules in Singapore in the Clarke Quay-Boat Quay area.  What these technically are is a modern form of the hostel where many people sleep in the same room but within their own private capsule.  
Although we wouldn't recommend staying in these types of rooms in some unsafe countries, Singapore is known for safety and also cleanliness. 
Dream Lodge and Chic Capsule Otel are a few popular examples. 
Hostels and boutique hotels are also well managed and safe in Singapore. Although hostels don't work for everyone due to privacy and noise concerns, you can save a pile of money staying at one in Singapore. 
A lot of these hostels and capsule hotels cost roughly anywhere from thirty Singaporean dollars per night to 120 Singaporean per night. 
If these prices sound expensive just check how much 5-star hotels will cost per night in comparison (examples: Four Seasons and Raffles Singapore).
Read More: Best Area to Stay in Singapore – The Ultimate Guide
---
Tip #4: Avoid Eating at Formal Restaurants for Most Meals
Our next Singapore money saving tip deals with food. Eating at restaurants in Singapore can get costly. This is a fact.
But, eating out doesn't always mean the same thing in Singapore.
Singapore has excellent street food that can be purchased at hawker stalls throughout the city. Outdoor food courts are also delicious, cheap and serve traditional meals. 
Also, if you want to save a lot of money while you are visiting Singapore, you have to understand that restaurants and eating out are significantly more expensive than buying food at a local grocery store. 
Keep in mind that local Singaporeans often shop at local grocery stores. Book a room close to a grocery store and buy your drinks there. If two people eat out at a restaurant in Singapore it can often cost well over one hundred Singaporean dollars ($100). 
Take our advice and try to maximize your grocery store shopping while you are in Singapore. Also, try to book a room with a kitchen so that you can either cook some of your own meals or simply keep your food nice and cold in the fridge. 
If you are shopping at a mall then opt for the food court as opposed to a celebrity chef restaurant. For example, we were once at the Shoppes at Marina Bay Sands which has no shortage of high-end restaurants. Instead of breaking the bank, we decided to eat at the food court. Since most restaurants are very expensive, we saved over 40 dollars by choosing our food court meals. 
We promise that thinking about where and what to eat can save literally hundreds of dollars over a 4 or 5 day trip to Singapore. 
---
Singapore Money Saving Tip #5: Develop your own walking tour.
Making your own walking tour in Singapore is a proven strategy to save some serious cash. Try to avoid unnecessary guide costs. 
When a lot of families visit Singapore they become reliant on tour operators to show them around. Creating a walking or cycling tour saves you money because 1) you are not reliant on transportation and 2) you don't need a tour guide. 
Singapore has many areas that are best seen by walking around. 
We have personally checked out the following areas by foot:
Chinatown
Marina Bay
Little India 
Kampong Glam
Sentosa
An example of a walking tour would be the Marina Bay area. 
You can visit multiple attractions and points of interest by foot in a single visit. Check out Singapore's skyline from the top of Marina Bay Sands hotel, ride the Singapore Flyer, check out a show at the Esplanade, take photos of the Merlion and even have time to visit Gardens by the Bay. 
In other words, with some proactive planning, there is no reason why you cannot save hundreds of dollars throughout a trip to Singapore by planning your own daily itinerary and walking from one place to the other. 
---
Tip #6: Buy Attraction Bundles
If you plan on visiting attractions in Singapore, you can expect them to be more expensive than similar attractions in other neighbouring countries. 
However, there are online promotional deals that allow you to bundle specific attractions together. For example, you might be able to purchase tickets to Singapore Zoo, Jurong Bird Park and the Night Safari as a bundle. When compared to individual entrance prices to each attraction, the savings are considerable. 
Now, imagine that you are travelling to Singapore with three children and plan on visiting all of these attractions. The savings could amount to hundreds of dollars. 
Do your homework in advance and check relevant websites to see if packages are available.
We have seen online packages for the Singapore Flyer as well over the years. A ten-minute search online could save you some serious cash. Avoid buying at ticketing counters – always check online first to see if online deals are available.
---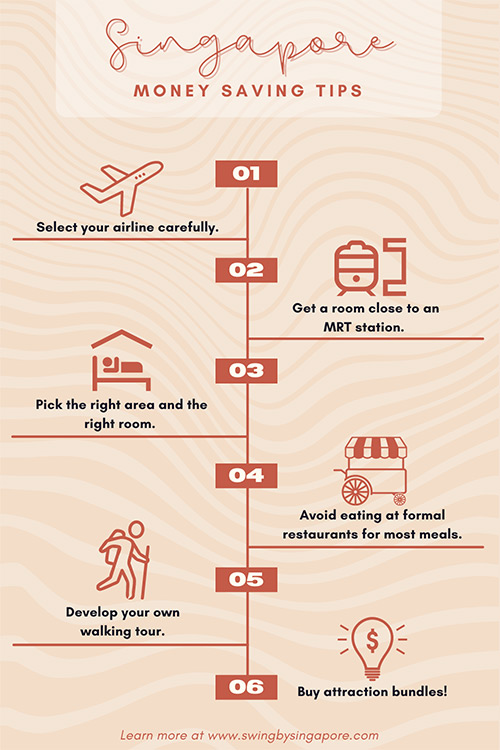 ---
Conclusion –

$$$$

Singapore Money Saving Tips for You
This article has summarized some of the best Singapore money saving tips.  
Remember, Singapore is not like Bangkok or Manila in terms of prices.  One hour of online planning before you arrive can literally save you hundreds of dollars over a three or four-day period. 
Try to organize your itinerary around the MRT. You can take the MRT directly from Changi Airport to many different areas and attractions in Singapore. Buy a Singapore tourist pass if you are expecting a busy, action-packed itinerary. Stay in a cheap area with lots of clean budget rooms and direct access to hawker stalls and grocery stores. 
And, if you are travelling with a large family, try to get a kitchen to cook some of your own meals. 
We hope this extensive guide will provide you with the cost-cutting strategies needed to save money in Singapore. However, if you have any questions or additional suggestions, please don't hesitate to share them below.