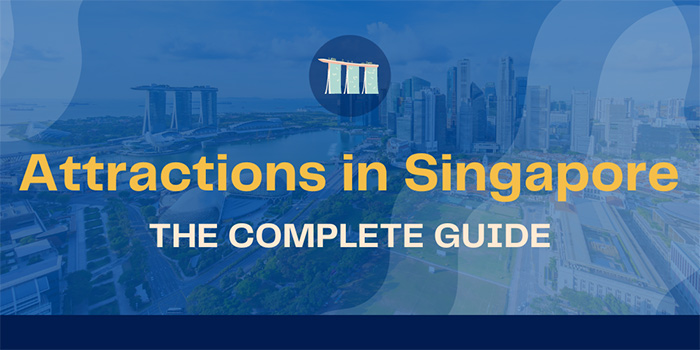 "The comprehensive guide to visiting the top attractions in Singapore."
Singapore Attraction Guide Overview
The wide range of attractions in Singapore is sure to impress even the most experienced travellers. Regardless of your interests, we can assure you that there is more than enough to see and experience in Singapore to keep you entertained for at least a week (if not more).
Singapore's attractions are located all over the city and cater to tourists of all ages and backgrounds. 
We have written this comprehensive guide for Singapore to provide you with all the information you need to know about visiting the most famous and exhilarating attractions in the city.
Furthermore, we will share some insider tips on how to save money while sightseeing in Singapore. Some attractions in Singapore literally attract families from all over Asia.
As you might know, Singapore is one of the safest cities in the entire world. Safety standards are super high, and this makes a comfortable environment for all visitors to the city. 
---
What types of attractions are in Singapore?
With hundreds of things to see and do in Singapore, you can expect to find a wide range of attractions to suit all interests and age levels.
In general, most attractions in the city offer different prices depending on your age and status. For example, students often receive a discount whereas adults pay full price. Small children can enter attractions for a lower price than older visitors. You get the idea. 
---
Family Attractions in Singapore
Many of the most famous attractions in Singapore are unofficially classified as 'family attractions'.  The tourism industry in Singapore relies heavily on some of the big family attractions such as: 
Resorts World Sentosa
Universal Studios
Singapore Zoo 
Singapore Night Safari
Gardens by the Bay
Jurong Bird Park
For instance, Sentosa Island is a family vacation paradise with dozens of attractions for children and adults. It's possible to build an entire itinerary that only includes attractions on Sentosa Island. The Island is loaded with top-notch hotels and resorts that are child-friendly. 
If you move closer to the city centre and the Marina Bay area, you will find another family-friendly sightseeing area. Attractions such as the Singapore Flyer, Merlion, Gardens by the Bay, Cloud Forest and Flower Dome are extremely popular with Singapore families.
The cool thing about the Marina Bay area is that it's possible to walk from one attraction to the next. Therefore, try to plan your visit during the morning or late afternoon to avoid Singapore's scorching afternoon heat. 
Singapore Zoo, Night Safari, and River Safari are north of the city centre. Despite their location, they attract tons of local and foreign tourists year-round. These family attractions win annual travel awards.
Expect highly organized experiences and fun for the whole family. Since these attractions are quite far away from the main tourist zones downtown, you will require some additional transportation planning. 
---
Cultural Attractions in Singapore
Singapore has strong cultural roots that have shaped modern-day practice. For example, Peranakan culture is celebrated throughout the city in terms of museums, restaurants, and special occasions. Little India is a bustling area with temples, markets, and strong cultural influences. The list could go on….
When you are sightseeing in Singapore, try to visit many of the best cultural attractions in the city. These include museums, galleries, heritage centres and sites, monuments, markets and religious centres such as churches and temples. 
Temples throughout Singapore
One of the most popular places to visit while in Singapore is cultural neighbourhoods and their temples. For example, Chinatown is famous for its fair share of street markets and delicious hawker food, but it also has some of the city's most popular temples. When you visit Chinatown, be sure to explore these three temples to get the 'full Chinatown experience': 
Thian Hock Keng Temple
Sri Mariamman Temple
Buddha Tooth Relic Temple
You should be excited to hear that there are many other temples and religious places to explore aside from Chinatown. Little India is also known for religious centres of worship that are popular among visitors to the city. 
When you arrive in Little India, many of the most impressive temples are concentrated along Serangoon Rd., between Little India Station and Boon Keng Station.
It's possible to arrive at one of these MRT stations, walk along Serangoon Rd and then exit the area from the other station. 
Some of the most popular and interesting temples in Little India Singapore include:
Sri Veeramakaliamman Temple
Sri Srinivasa Perumal Temple Singapore
Sri Vadapathira Kaliamman Temple
Shree Lakshminarayan Temple
You can expect to see vibrant colours along with intricate designs and carvings. Again, be respectful while visiting these places of worship. 
There are also temples scattered throughout other neighbourhoods, but Chinatown and Little India are the densest areas for sightseeing purposes. 
Famous Mosques in Singapore
Although Singapore doesn't have nearly as many mosques as its northern neighbour
(Malaysia), it does have quite a few scattered throughout different areas of the city. One of the most famous and photogenic mosques in the city is Sultan Mosque. 
Sultan Mosque is located right in the heart of Kampong Glam – a very interesting area for exploring. You can easily capture amazing photos of Sultan Mosque during the same visit to other popular places such as Haji Lane and Arab Street. Simply take the MRT to Bugis Station and you can walk to the Mosque. 
Another popular mosque is Abdul Gafoor Mosque located in Little India. It has a beautiful 1907 design that has received some renovations over the years.
---
Historical Attractions in Singapore
Singapore has an excellent selection of world class museums and historical sites to explore while you are in the city. Although not all of Singapore's museums focus on history, there are many that do.
A visit to Singapore would not be complete without understanding the city's history and evolution over the years. You can also explore many outdoor historical sites in Singapore. 
Best History Museums in Singapore
If you want to visit some history museums in Singapore, you should know the best ones. Singapore has an area known as the 'Museum Planning Area' that is northeast of Marina Bay. This is regarded as one of the best areas for exploring museums. A few of the most popular cultural museums in this area of Singapore are:
National Museum of Singapore
Peranakan Museum
The Battlebox
Asian Civilizations Museum
Because these museums are close to one another, it's possible to visit more than one during the same day. You can also easily access these museums using the MRT and travelling to Bras Basah, Esplanade or City Hall Station. 

Historical Sites in Singapore
Singapore also has a healthy selection of historical sites that have national significance. A perfect example would be Fort Siloso on Sentosa Island. This is a popular restored World War II coastal fort housing a military museum with interactive exhibits & tours. 
The Battlebox is another example. This is a military and history museum inside a World War II–era British underground command center.
The Battlebox is located within Fort Canning Park. Although the park now functions as a recreational centre, it is sprinkled with historical monuments and points of interest. You can take the MRT to Fort Canning Station and walk directly to the entrance of the Park. 
Aside from these two popular historical sites, you can find other points of interest scattered around the city. For instance, the Kranji War Memorial is located well north of the city centre, whereas historic buildings such as NUS Baba House and Tan Tien Niah are closer to the central tourist districts. Also, expect to find colonial statues and monuments throughout Singapore. 
---
Skyline Attractions
A trip to Singapore would not be complete without capturing breathtaking views of the city's famous skyline. With one of the world's most impressive city centre's, you should try your best to take photos of Singapore's central business district during the daytime and at night. 
There is no better place to take these amazing photos than Marina Bay! With clear water reflections and perfect vantage points, Marina Bay attracts tons and tons of visitors daily. 
Now the next question is….. 
Where is the best place to take photos of Singapore's skyline?
Singapore Flyer
A few of the best places to take photos of Singapore include Sands SkyPark and The Singapore Flyer. Both of these attractions are located right beside Marina Bay, right in the middle of the waterfront area. 
Sands SkyPark
Sands SkyPark is located on the top level of Marina Bay Sands Hotel (5-star), which is often listed as one of the city's top luxury hotels. If you stay here, be sure to book a 'city view room' to capture amazing views right from your bed!
Even if you don't stay at the Sands, you can purchase a ticket to the SkyPark. And believe us, the cost is definitely worth the experience!
Singapore Flyer is Asia's largest Giant Observation Wheel. It stands at a massive 165m above ground. You can ride the Flyer during the daytime or at night. Actually, you can even enjoy a 5-star meal while riding the Flyer. 
You can expect to capture world-class views while visiting the Singapore Flyer. Marina Bay Sands, ArtScience Museum and Singapore's Skyline are part of the panoramic photo you can take here. 
Supertree Grove
While you are in the Marina Bay area, be sure to check out Gardens by the Bay. This large complex is home to some world-class attractions. Supertree Grove is one of them. 
The 'Supertrees' have striking designs and have an exhilarating display of lights and sounds at night. While here, you can stroll along the 22-metre-high OCBC Skyway and capture amazing views from the Supertree Observatory.
This area is just so photogenic and world-class that you surely will be impressed. Simply take the MRT to BayFront Station and walk from there to Gardens by the Bay. 
Marina Barrage
Although Marina Barrage may not be as famous as some of the major attractions in Singapore, it is a really interesting place to visit. The Marina Barrage is a dam in Singapore built across the Marina Channel between Marina East and Marina South. Originally, it wasn't viewed as a tourist attraction, but now it attracts tourists and locals on a daily basis. 
So what makes Marina Barrage worth checking out?
One of the coolest things to check out at Marina Barrage is the 'green rooftop'. This innovative place is awesome for hanging out with some friends. But, it's also a great spot to take photos of Marina Bay Sands, Singapore's business skyline, Singapore Flyer, and the Singapore Strait to the south. 
Also, take note that activities such as kayaking have become more popular at Marina Barrage. This area is also popular among Singaporeans for jogging and cycling. 
---
What areas in Singapore are famous for sightseeing?
Singapore is loaded with attractions in different regions of the city, but there are some main areas that welcome the majority of tourists. Probably the best way to get around from one area to another is by MRT.
You can either buy a Singapore Tourist Pass or purchase normal MRT tickets. Refer to this comprehensive guide on how to buy Singapore MRT tickets if you haven't done so already.
---
Sentosa Island 
There is no denying the fact that Sentosa Island is one Singapore's main drawing cards for tourists. It is loaded with attractions that are suited for guests of all ages. It features many of the city's most famous family attractions, such as Universal Studios Singapore and AJ Hackett Sentosa.
Sentosa also has three famous beaches that attract tons of local and foreign tourists:
Tanjung Beach
Palawan Beach
Siloso Beach
All three of these beaches are located along the southern shoreline of the island and can be reached using the Sentosa Express train and the Sentosa Beach Shuttle. 
You can easily spend 3-4 days on Sentosa Island without seeing everything! Water parks, golf courses and historical sites are also on the island. 
---
Chinatown
Singapore's Chinatown is loaded with temples, markets, hawker centres, museums and heritage centres. It is one of the most popular tourist destinations in the city, and for good reason. 
It's hard not to fall in love with Chinatown in Singapore. 
Where else can you find delicious, affordable food and shopping, plus some of the best hotel and hostel bargains in the city?
Chinatown is one of the 'go-to' areas for backpackers and budget travellers due to the convenient location and excellent prices. It also is loaded with things to visit and see such as:
Buddha Tooth Relic Temple
Sri Mariamman Temple
Chinatown Street Market
Chinatown Heritage Centre
Thian Hock Keng Temple
Telok Ayer Market
If you take the MRT to Chinatown Station, you should have no problem walking to these different points of interest. You might want to visit Chinatown during the day and again at night to experience everything that this exciting area has to offer.
---
Marina Bay
It's extremely rare to hear of tourists leaving Singapore without seeing Marina Bay. 
This is one of the most beautiful urban areas in the world. Spectacular views, waterfront boardwalks and some of the best hotels in all of Asia are located here. Try to walk around Marina Bay at least once while you are in the city, and you won't be disappointed. 
Merlion Park is one of the most famous places to visit in all of Singapore. It is adjacent to Marina Bay and positioned within walking distance to the Esplanade, Marina Bay Sands and the Singapore Flyer. 
Marina Bay is also surrounded by great shopping malls such as:
Shoppes at Marina Bay Sands
Marina Square
Suntec City
Raffles Place
You can conveniently access most of the malls and attractions in the Marina Bay area by taking the MRT. BayFront, Esplanade, Promenade, Raffles City, and Downtown Station are popular access points to this area of Singapore.
If you don't want to spend any money, just walking around Marina Bay and taking photos is a very memorable experience! 
---
Little India
You may not find Singapore's largest attractions in Little India, but there are tons of temples, markets, shopping centres and food options to keep you entertained. Little India is also a colourful cultural area with vibrant designs and nice streetside touches. 
Some of the most popular places to visit in Little India include:
Sri Veeramakaliamman Temple
House of Tan Teng Niah
Sri Srinivasa Perumal Temple
Mustafa Center
Temple of 1,000 Lights
Abdul Gafoor Mosque
Leong San See Temple
Also consider eating at Tekka Centre if you want to try some traditional Indian cuisine while saving some serious cash. 
To access the attractions in Little India, Rochor or Jalan Besar MRT station. Of these options, Little India Station is the most popular option, but they are all within walking distance to the temples and shopping centres.
---
Kampong Glam
Over the years, Kampong Glam has become increasingly popular with tourists. It has some really unique and interesting streets to explore and restaurants to sample.
Arab Street and Haji Lane are popular places to explore. 
If you are looking for fabrics, head to Arab Street. It is loaded with traditional shop houses that have been converted into colourful textile shops . Haji Lane has more of an artsy feel with street murals and an excellent selection of cafes to check out. 
Sultan Mosque is a beautiful religious centre. It's common to see people taking photos of it during the day and at night. 
You might also want to visit the Malay Heritage Centre before leaving the Kampong Glam area. Malay culture has had a massive impact on the way Singapore is to this current day. 
To access the Kampong Glam attractions, head to Bugis Station. From there, walk east to the sightseeing area. If you walk west instead, you can check out malls such as Bugis+, Bugis Junction and Bugis Street Market. 
---
Frequently asked questions about attractions in Singapore
Where should you stay in Singapore for sightseeing?
The great thing about Singapore is that there are many cool areas that are safe and convenient to stay in. You really have to consider your priorities before booking a room in the city.
For instance, families often enjoy staying on Sentosa Island because there are simply so many things to see and do for children (and adults). Many of the hotels and resorts on Sentosa welcome children with open arms. 
Another consideration is your budget. If you are not concerned about spending, then the Marina Bay area is hard to beat. Expect world-class views, direct access to public transportation, and some of the city's most popular attractions. Marina Bay also has a surprisingly large number of shopping malls (with many restaurants) within 10 minutes by foot. 
Some of the most popular budget-friendly areas to stay in Singapore include Chinatown, Little India, Kampong Glam and Clarke Quay. 
If you enjoy shopping, then book a room along Orchard Road.  This is Singapore's most popular shopping district that is lined with a superb selection of malls. You can access Orchard Road by taking the MRT to Orchard or Somerset Station.
---
How much does it cost to visit attractions in Singapore?
The admission price for attractions in the city varies widely. Ticket prices are often based on factors such as age and whether you are visiting as a family or not. For example, if you want to visit Sands SkyPark Observation Deck on the top of Marina Bay Sands the prices are:
S$26 (Adult)

S$23 (Senior Citizen > 65 years old)

S$20 (Child, 2 – 12 years old) 
As you can see, children do receive a discount as well as senior citizens. 
In some cases, Singaporeans and permanent residents receive a discount or free admission into attractions. For instance, here are the prices for the National Museum of Singapore according to the official website:  
Adult ticket S$15
Student (with valid student pass) S$10 
Senior (any citizens 60 years and above) ticket S$10. 
Free admission for Singapore Citizens, Permanent Residents and for children 6 years and under (any nationality). 
In general, you can expect to pay between S$5 and S$30 for most attractions in Singapore. Things like bungee jumping, theme parks and skydiving will be more but most museums and entry fees for children are below S$30.   
---
What are the most conveniently located hotels in Singapore for sightseeing?
When you are booking a hotel in Singapore you have a few considerations to make about your budget, preferred location, and travel itinerary. For most budget-oriented travellers, they tend to stay in Clarke Quay, Chinatown, Little India, Kampong Glam or Geylang. 
Families prefer to stay in Marina Bay or on Sentosa Island. 
Some of the most convenient places to stay in Marina Bay include: 
Marina Bay Sands
Fullerton Bay Hotel
Ritz-Carlton Millenia
These hotels are all within short walking distance to MRT stations and attractions. 
---
Can you buy souvenirs at attractions in Singapore?
Most attractions in the city have souvenir (gift shops) that you can purchase before exiting. Many of the shops are designed so that you have to walk through them on your way out. 
---
Do you have to pay for parking at attractions in Singapore?
You have to pay additional for parking at most of Singapore's attractions. In other words, parking is typically not included in the price of admission. Therefore, be sure to consider this fee if you are driving from one sight to the next. 
Taking the MRT is an effective strategy to avoid paying for parking in Singapore. 
---
Do you have any other questions about visiting attractions in Singapore?
If for some reason you do have additional questions about attractions in Singapore please do not hesitate to email us. We would be delighted to provide you with additional information! Singapore is truly a wonderful city for sightseeing. Make the most of your itinerary and time in the city!