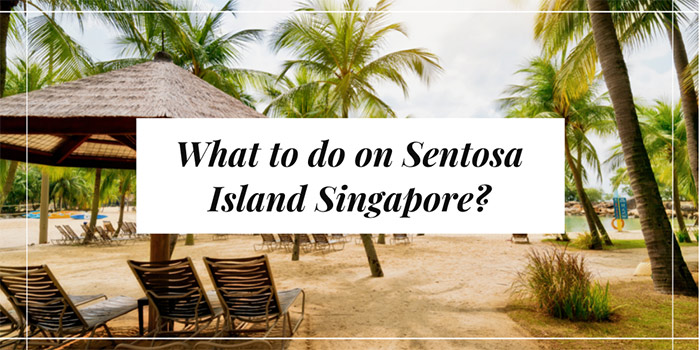 If you are planning on doing some sightseeing in Singapore then you may be wondering what to do on Sentosa Island? This article is designed to thoroughly explain what attractions and activities are available on Sentosa Island. By the end of this guide, you should have a clear idea of what you can add to your itinerary for Singapore. 
One of the cool things about visiting Sentosa Island in Singapore is that it is so easy to access from the city center. You get to the Island using a combination of MRT and the Sentosa Express Train. It's also possible to walk and bike to Sentosa without spending a single penny. But that's not all. You can also get to Sentosa by taking a bus or driving a car. 
---
Major Attractions on Sentosa Island
Sentosa Island is world-famous because it is loaded with world-class attractions. Actually, it would be challenging to find an island anywhere that is more densely populated with sights and activities. It is extremely popular with families living and visiting Singapore. Many of the attractions on the island are tailored towards children of all ages. 
But that doesn't mean that you should only visit Sentosa if you have children. 
There are many things to do on Sentosa if you are travelling solo or with your partner, for instance.  
In the sections that follow, we will answer the extremely popular question: What to do on Sentosa Island? In order to do so, we will highlight some of the major attractions on the Island and provide some recommendations for activities.  Hopefully, with this information, you will be able to finalize your itinerary for Sentosa island and Singapore.
---
What to do on Sentosa with children?
Many of Sentosa's major attractions are designed to entertain and engage children. Fortunately, there are tons of activities to choose from. You literally could spend 5 days on Sentosa island and still have activities to do with your kids.
One of the most obvious things to do on Sentosa Island is to visit Resorts World Sentosa. This is arguably the largest family attraction in all of Singapore. This is best described as a massive integrated resort that consists of multiple attractions, different hotels, production shows and restaurants. 
Since it is possible to stay right at Resorts World Sentosa, this is considered to be a very convenient attraction for families in the city. After taking public transportation to the Island you can walk right from the Sentosa Express to your hotel and then have direct access to all of the attractions in Resorts World beyond. 
---
Attractions at Resorts World Sentosa
Believe it or not, Resorts World Sentosa has at least 10 attractions to keep you and your family entertained for multiple days.  Without question one of the biggest attractions on Sentosa Island is Universal Studios Singapore. 
Universal Studios Singapore is a large amusement that features tons of exciting rides and that are themed according to popular movies such as Jurassic Park and TRANSFORMERS. Expect a lot of opportunities for children to meet the real-life version of their favourite movie characters here!
Aside from Universal Studios Singapore, Resorts World Sentosa has some other major attractions worth checking out. Perfect examples include S.E.A. Aquarium, Adventure Cove Waterpark and Dolphin Island. These are the best places to go if you want to get up close and personal with marine species. You can easily walk between these attractions as well which makes it super convenient if you are travelling with children. 
Some other notable attractions that are housed within Resorts World Sentosa include Trick Eye Museum, Lake of Dreams, Kids Club and Sunset Sail Royal Albatross.
What are the closest hotels to Resorts World Sentosa?
Resorts World Sentosa – Hotel Michael (5-star, 8.3/10 review score)
Resorts World Sentosa – Hard Rock Hotel (5-star, 7.8/10 review score)
Read More: How to get to Resorts World Sentosa by MRT?
---
Sentosa Island Beaches – Convenient and Extremely Clean
If are wondering what to do on Sentosa Island, then grab your swimshorts, sunscreen and a frisbee and head to the southern beaches. Sentosa Island has 3 main beaches that are quite popular with locals and visitors to the city:
Siloso Beach
Palawan Beach 
Tanjong Beach 
Each of these beaches has a distinct personality. Palawan Beach is located between Siloso and Tanjong. It is really popular with families because it has two popular family-oriented attractions located along the northern tip of the Beach: Port of Lost Wonder and Animal and Bird Encounters. 
Port of Lost Wonder (POLW) is situated alongside Palawan Beach. It is a busy complex that is perfect for small children. It consists of water slides, fountains and tons of pools. Conveniently, you can find some shops here selling food in case you want to have a family snack. It's free to access Palawan Beach but there is a fee to enter the Port of Lost Wonders.
Siloso and Tanjong are nice strips of sand. You can play beach volleyball on these beaches. Tanjong tends to be the quietest of the three because it is the farthest from Beach Station. 
The cool thing about Sentosa's beaches is that they cater to families, couples and solo visitors.
What are the closest hotels to Sentosa's beaches?
Siloso Beach
Shangri-La's Rasa Sentosa Resort & Spa (5-star, 8.6/10 review score)
Siloso Beach Resort, Sentosa (5-star, 7.5/10 review score)
Palawan Beach
Capella Singapore (5-star, 9/10 review score)
Tanjong Beach
Sofitel Singapore Sentosa Resort & Spa (5-star, 8.1/10 review score)
Read More: 
Getting to Siloso Beach?
How to get to Palawan Beach?
Taking the MRT to Tanjong Beach?
---
Adventure Activities on Sentosa Island
If you are an adventure lover and wondering what to do on Sentosa Island then you will be delighted to hear that there are many action-packed activities. Fortunately, a lot of these activities are clustered around Siloso Beach making them convenient to access during the same day. 
AJ Hackett Sentosa, for example, is the place to go 'bungy jumping' on the island. Get ready for an adrenaline rush from 47-meters above the ground. You can also experience the 'Giant Swing' and 'Skybridge' at AJ Hackett Sentosa.
A few minutes east of AJ Hackett you will find iFLY Singapore and Skyline Luge.  
iFly Singapore is the best place in Singapore to experience indoor skydiving. It is one of the world's largest indoor skydiving wind tunnels and the perfect place to overcome your fear of heights. It is conveniently located only 100 meters from Beach Station, making it one of the easiest attractions to access on the island. 
Skyline Luge is an exciting attraction that caters to people of all ages. If you are staying at a hotel on the island and wondering what to do on Sentosa at night, consider visiting here. The Luge is open throughout the day and at night. This is where you can speed your way down and maneuver around sharp corners. Consider bringing your whole family!
To cap off an adventurous day on Sentosa island consider going to Fort Siloso Skywalk. This is an amazing place to get some exercise while capturing breathtaking views of Sentosa's beaches and the surrounding water. Fort Siloso is just next door, so if you are a history lover, this is a must-see!
---
Some other attractions worth checking out on Sentosa!
Sentosa has something for everyone. That is why we often recommended that you spend at least four or five days on the island and still have things to do! In this article, we have been outlining 'what to do on Sentosa Island'. But we aren't finished yet. 
There are still some cool attractions to explore that we haven't discussed yet. For instance, check out Madame Tussaud's Singapore to see some of the world's most famous people up close and personal. Again, this is an attraction that caters to people of all ages. 
Then, bring your children to KidZania for some action-packed playtime. 
If you like playing golf then you are also in luck. Sentosa island has a few beautiful golf courses that are located along the eastern portion of the island. Book well in advance because these are popular venues for major PGA-level tournaments on an annual basis. 
Hopefully, this article has given you some solid itinerary ideas for what to do on Sentosa Island.  The island is jam-packed with things to see and do. But be sure to book your accommodation and plan the sites that you want to see well in advance. Sentosa can get extremely busy during peak travel periods. Plan early and avoid the crowds!
---