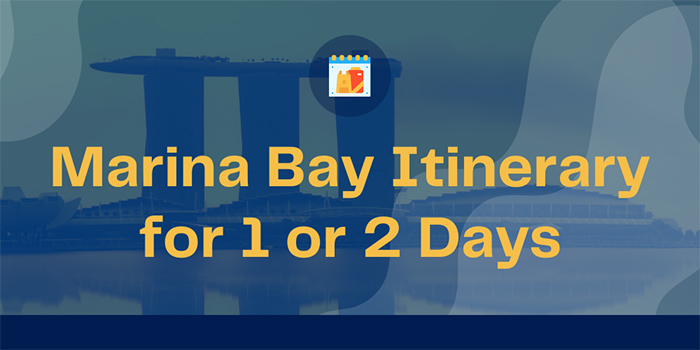 This comprehensive article is designed to provide you with the best Marina Bay itinerary.  Marina Bay is arguably the nicest area in all of Singapore. It has many world-famous attractions and some of the best hotels in the entire city.
By the end of this article, you should have a solid idea of where to stay, what to see and how to get to the most famous attractions in Marina Bay Singapore.  The itinerary that we describe can either be completed over a 28 or 48 hour time period. It really depends on how many attractions you want to see and how long you want to spend at each one. While reading this itinerary for Marina Bay, think about what interests you the most and whether the attraction is worth visiting. 
---
Getting to Marina Bay from Changi Airport
Before you can even consider sightseeing in Marina Bay Singapore, you have to get from Changi Airport to the downtown area of the city. Fortunately, this is possible by taking the MRT directly from the airport all the way down to the Bay area.  Obviously, you can also take a taxi, private vehicle or bus to Marina Bay as well. 
If you are on a budget while you are visiting Singapore we suggest taking the MRT. It is affordable, reliable, and directly bypasses traffic getting into the city centre. There are actually a few different MRT stations that you can use to access the Marina Bay area.  Some of the most popular stations for getting to Marina Bay include:
Bayfront Station
Raffles Place Station
Promenade Station
Esplanade Station
Marina Bay Station
Of these stations, the most convenient one for sightseeing around Marina Bay is Bayfront Station. It is also connected to Marina Bay Sands Hotel (5-star, 9/10 review score) which makes it convenient (especially if you have luggage!).
To assist you with getting from Changi Airport to Marina Bay we have written this comprehensive guide.  It outlines specifically how to access the MRT and take it directly down to Marina Bay, saving you time and money.
---
Selecting the right hotel for your Marina Bay itinerary
When you are developing your Marina Bay itinerary it is essential that you stay at a convenient hotel so that you can access the attractions in this area.  Most of the hotels around Marina Bay are amazing and extremely popular amongst visitors to the city.  However, they are not the cheapest options in town by any means.
Most of the hotels around Marina Bay are classified as five-star properties.  This means that they have a wide range of amenities including gyms, pools, spas and a wide range of restaurants, cafes and bars. One of the benefits of staying in this area is that you will be rewarded with world-class skyline views.  Singapore has one of the nicest skylines in the world and many of the hotels offer rooms with direct views.  This is something that you want to look into before you confirm your hotel in Marina Bay.
There are four or five highly recommended properties around Marina Bay that offer direct access to the sights and activities. We have summarized them below for your convenience:
Marina Bay Sands Hotel (5-star, 9/10 review score) 
The Fullerton Bay Hotel Singapore (5-star, 9.4/10 review score) 
The Fullerton Hotel Singapore (5-star, 9.2/10 review score) 
The Ritz-Carlton Millenia Singapore (5-star, 9.2/10 review score) 
As you can see from their review scores they are very well received by guests.  These scores have been quoted from leading accommodation websites at the time of writing. Therefore, when you are developing your Marina Bay itinerary double-check that these review scores still stand. They are subject to change over time as more people review their stay.
If you stay in any one of these properties you will be able to walk within 1 or 2 minutes to Marina Bay which sets the stage for a very efficient itinerary.
---
Starting your Itinerary: Marina Bay Breakfast
When you are making your hotel booking in Marina Bay you should consider whether or not you want breakfast included. You can expect superb buffet breakfasts or delicious a la carte menus at these hotels. Typically, online websites will give you the choice of whether or not you want breakfast included in the booking price.
Regardless, start the first day of your Marina Bay itinerary by having a delicious breakfast with your favourite fresh juice or coffee.  Consider taking some photos of the water reflections across Marina Bay early in the morning.
---
Start sightseeing around Marina Bay
To make your sightseeing itinerary around Marina Bay the most efficient, you should try working your way in a clockwise or counterclockwise direction.  This will ensure that you do not miss any attractions or waste any time getting from one place to the next.
To simplify the experience we are going to assume that you take the MRT to Bayfront Station. Then, we will work our way around Marina Bay in a clockwise direction.  This means that some of the first attractions that you will explore will be within walking distance of Bayfront station.
---
Explore The Shoppes at Marina Bay and Sands SkyPark
An itinerary of Marina Bay would not be complete with some shopping involved!  After you arrived at Bayfront Station.  Walk a few hundred meters to the entrance of The Shoppes at Marina Bay.  This is a beautiful luxury mall that overlooks the eastern portion of Marina Bay. 
Spend some time looking at the designer shops and even consider grabbing a snack at one of the celebrity restaurants. This is one of the most popular areas in Singapore for testing celebrity eateries. 
Then, once you're shopping has finished, follow the signs to Marina Bay Sands Hotel. Enter the lobby area and ask the hotel staff how to get to Sands SkyPark.
Take the elevator up to the 57th level and be prepared for world-class views of Singapore's skyline. Sands Skypark, in our opinion, is one of the 'must-do' experiences in Singapore.  Be sure to bring along a camera and a selfie stick for some of the best photos you've ever taken anywhere!
---
Immerse yourself in Gardens by the Bay and Marina Barrage
Directly southeast of Marina Bay Sands you will find one of the most popular attractions in this entire area – Gardens by the Bay.  This is a futuristic-looking garden complex that features all kinds of cool activities and experiences.  
You literally could spend half a day in Gardens by the Bay without getting bored! You have to add Gardens by the Bay to your Marina Bay itinerary!
Gardens by the Bay is a very large complex that consists of must-see attractions such as Flower Dome, Cloud forest and Supertree Grove. Allocate a few hours here (at least!)
Then, walk or jog along the waterfront to Marina Barrage. This is an innovative recreational area that has a green roof with awesome views of Singapore's skyline.
---
Visit the two museums beside Marina Bay Sands
When people are developing a Marina Bay itinerary they often forget that there are a few cool museums right along the waterfront. For example, the ArtScience Museum is directly beside the Shoppes at Marina Bay. Aside from its cutting edge architecture, this museum manages to interrelate art, science, culture and technology.
After a visit to the ArtScience Museum work your way west along the waterfront to the Red Dot Design Museum. This is a boutique museum that showcases interesting new designs. The exhibitions here showcase works from different disciplines that are sure to get your attention. 
There is also a nice waterfront cafe here that is a perfect place for a snack or lunch break.
---
Walk around the Marina to the Merlion
After exploring the Red Dot Design Museum continue walking around the Marina. Take a photo or two at the Promontory. At this point in time, you might be hungry and ready for a meal or refreshment.  Consider eating at the Fullerton Bay Hotel as you make your way to the Merlion. The Fullerton Bay Hotel is one of the best places to stay in the city, and it offers superb views of Marina Bay Sands across the Marina. 
After a meal, continue walking to The Merlion.  This is the most famous and iconic symbol of Singapore.  You cannot leave Singapore without capturing at least a few photos of the Merlion. This attraction in Singapore can get really busy during peak hours. Therefore, as you are walking around Marina Bay, always keep tabs on the Merlion to see how many people are there. You want to get unobstructed photos here so make sure that you plan your time accordingly!
---
Shop at one of the malls beside Marina Bay
After checking out the Merlion, walk across scenic Esplanade Bridge and take some photos of the Esplanade. The Shoppes at Marina Bay Sands is not the only mall that is accessible in Marina Bay. There are a lot of shopping opportunities in this Marina Bay itinerary.
You can also consider shopping or dining at:
Marina Square
Millenia Walk
Suntec City 
All of these are located along the northern tip of Marina Bay. Marina Square is the closest to the waterfront. However, you can get to Millenia Walk and Suntec City by walking just a few minutes further north. Expect a nice air-conditioned environment at all of these!
---
Capture amazing views and photos on the Singapore Flyer
After you cool down at one of these malls, continue walking along the northern shoreline of Marina Bay until you reach the Singapore Flyer. 
Singapore Flyer is considered to be Asia's largest observation wheel. It stands at a stunning 165m above the ground. If you want spectacular, aerial views of Singapore's world-famous skyline this is one of the best places in the entire city to do so.  You can even eat meals while rotating around the Singapore Flyer which is an unforgettable experience!
---
Walk along Helix Bridge before returning to Marina Bay Sands
On your way back from Singapore Flyer you can walk across cutting-edge Helix Bridge.
Helix Bridge is an impressive steel footbridge that opened in 2010. As its name suggests, it was inspired by the curved form of the structure of DNA. Although the bridge itself is photogenic, this is another ideal spot to take photos of Marina Bay and the surrounding skyline.  Conveniently, there are spaces on Helix Bridge for you to stop and take photos or videos.  
The developers did a great job of making sure that the bridge plays both a practical and tourism-focused role!
After walking across Helix Bridge you can return back to your hotel and rest up for a night of entertainment!
---
Be Entertained: Watch a show in Marina Bay
After a day of sightseeing around Marina Bay, you will still be rewarded with superb entertainment options at night.  This Marina Bay itinerary includes world-class production shows at two different potential venues.
Assuming that you have showered and rested up after walking around Marina Bay, enjoy a delightful dinner and then get ready to watch an amazing show.
There are two main concert and show venues that you can choose from in Marina Bay: The Esplanade or Sands Theatres. Both of these venues are very famous amongst Singaporeans and visitors to the city.  Obviously, if you are staying at Marina Bay Sands then the more convenient option is going directly to Sands Theaters because they are found in the same complex!
Regardless of which venue you go to, you can expect Broadway-level shows and extremely high-quality concerts.  For example, the Rolling Stones have played live at Marina Bay Sands before.
After you have watched a show or concert consider going to a nightclub in the Marina Bay Area. This is a superb way to finish off your itinerary of Marina Bay!
---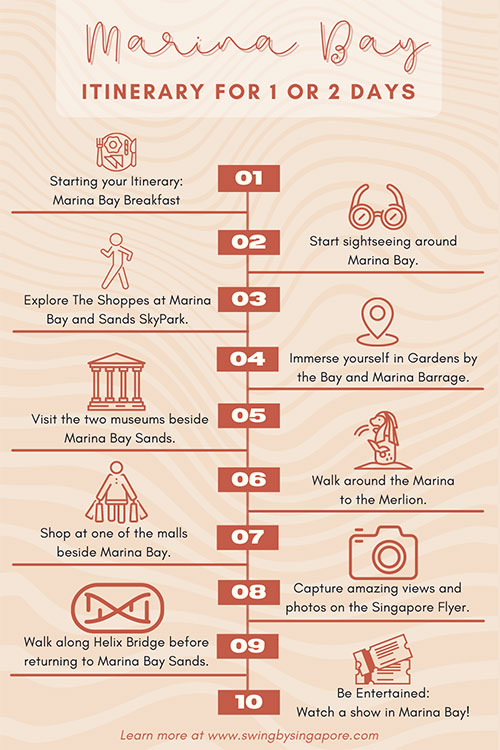 ---
Marina Bay: More Ideas to Consider
We truly hope that this Marina Bay itinerary will help you plan an amazing trip to this area of Singapore!  However, keep in mind that this article is only a guide and feel free to deviate from this plan.
For example, you might want to spread this itinerary of Marina Bay over a two-day period as opposed to only one day. If you are staying at a hotel in Marina Bay you can easily access the MRT to visit areas such as Sentosa Island, Chinatown or Little India without much trouble.
Consider getting a Singapore Tourist Pass if you plan on staying in the Marina Bay area to access a lot of other attractions throughout the city. Once you buy a pass you can use the bus and MRT networks an unlimited number of times for a set number of days.  These are ideal for trips lasting 1-3 days in the city.
As you complete this Marina Bay itinerary you may discover a lot of other things that we have not mentioned. Be sure to share your experiences in the comments section below so that our readers get the best itinerary possible.  Enjoy your time in Singapore and make the most of your trip!