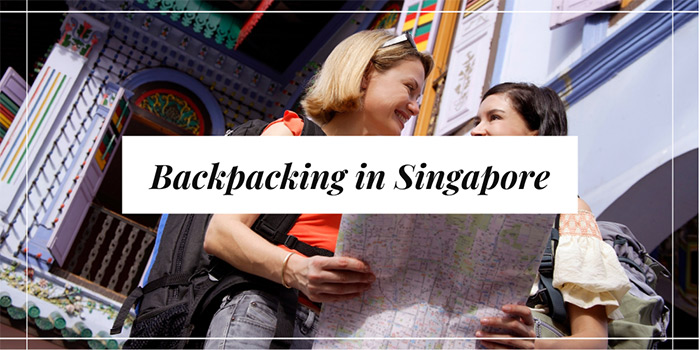 Backpacking in Singapore might be a lot easier than you think! For a city that has developed a reputation for being extremely expensive, we are here to help save you some serious money while you are in Singapore. 
There is no denying the fact that Singapore is more expensive than most of its surrounding countries in Southeast Asia and Southeast Asia.  This means that you are going to have to be more prepared when you are planning a backpacking trip to Singapore as opposed to other popular destinations in Southeast Asia.  Hotels cost more and so too do meals.  Consequently, we suggest that you should start planning well before you arrive in this beautiful city.
In this article, we will clearly outline some strategies for backpacking in Singapore that will make your experience more convenient, cheaper and enjoyable.
---
Why should you consider backpacking in Singapore?
If you have listened to international news over the years you are probably thinking that it is not possible to backpack in Singapore. 
It's just too expensive, right?
Fortunately, there are some clear strategies to allow you to see Singapore's wonderful selection of attractions without 'breaking the bank'.  Singapore is a superb place to visit while you are in Southeast Asia.  One of the reasons why Singapore is such a fantastic place to visit is because it is one of the safest countries in the world.  When you walk around Singapore the last thing people think about is their own personal safety.
Furthermore, Singapore boasts a wide selection of cultural, religious and family-oriented and educational attractions.  Regardless of your age or family dynamics, Singapore has enough places to visit to satisfy any tourist.  If you want luxury you can get it here. If you want to see one of the nicest skylines in the world, Singapore has it.  
I think you get the idea.
Healthy mix of things to see and do….
Singapore still maintains a very strong culture. This can be witnessed through visits to bustling markets or eating out at some of Singapore's most famous hawker stalls. 
Also expect a unique mix of cutting-edge architecture with colonial gems.  Seeing innovative architectural wonders directly beside historic treasures adds an element of intrigue while you are visiting the city.
You can also expect to find world-class entertainment in Singapore.  
This means while you are backpacking in Singapore, you can still get out at night and let loose if you want.  There are so many options. For example, you could watch a world-class Broadway-level production at the Esplanade or Sands Theatres. But, sitting outside at Clarke Quay and having a beer is still cool. 
We love Singapore and there are many reasons why you will, too!
Singapore is impressive on all fronts. We will now outline how to backpack in Singapore with the goal of creating the 'ultimate experience' while you are in the city.
---
Tip #1: Select your accommodation early, and be super selective. 
Regardless of where you are backpacking around the world, being proactive with booking your room is usually a wise idea.  The way the accommodation industry now works is that people book rooms based on review scores.  Therefore, if 1 million people go onto a leading website such as Agoda or Booking.com and they are looking for the cheapest rooms in Singapore, they are also going to look for the cheapest rooms that have the 'highest review scores'.  
It's the combination of 1) being cheap and 2) positively reviewed that people are looking for. 
In a practical sense, this means when you are backpacking in Singapore you have to book early to make sure that you get the cheapest properties that also receive the highest review scores verified guests. These properties are getting high review scores because they are in ideal locations, the price is right, and they are clean!
Be Proactive
Be smart and look around early.  The last thing that you want to do when you are backpacking in Singapore is booking a room that has a review score that is way lower than your usual 'acceptable level'.  For example, when we have booked accommodation in Singapore we always look for properties that received an 8.5 or above out of 10 with a minimum of 50 reviews. 
This does sound like we have high standards, but you will be surprised by the number of well-managed properties that either reach this level or close to it in Singapore.
---
Tip #2: Use the MRT as much as humanly possible.
One of the wisest ways to backpack in Singapore is to use the MRT as much as you can.  Unlike many other cities around the world, Singapore is extremely well-connected by MRT. This means that you can pretty much get to all major attractions using the MRT network.  Sure there may be one or two attractions that you will have to either walk to or connect with a bus but they are the 'exception and not the norm'. 
Take the Marina Bay area as an example.  You can get to Marina Bay directly from Changi Airport using the MRT.  This eliminates the need for a taxi or private vehicle, saves you time bypassing traffic, and also ensures that you pay zero parking fees throughout your entire time in Singapore.
Public transportation is cheap in Singapore.  
You can also purchase a Singapore Tourist Pass if you plan on checking out a lot of different areas and attractions in the city.  When you get one of these passes you are entitled to unlimited bus and MRT rides for a set number of days.
Just remember backpacking in Singapore is much easier if you use the MRT.  
The second you step in a car you are going to spend more money and it could take you more time due to traffic congestion in the downtown area.  The only exception to this is if you are carpooling with a bunch of other backpackers and share the taxi fee!
---
Tip #3: Stay at hostels in areas with cheap dining options.
You should not be surprised to hear that hotels in Singapore are very expensive by international standards.  Booking a five-star hotel in Singapore, like Raffles Singapore for example, can cost as much as a week-long trip to another Southeast Asian nation!
To backpack in Singapore you need to stick with hostels.  Singapore has a healthy selection of budget-friendly boutique hotels.  But these are still considerably more than sharing a room with other travellers. 
When you complete a search on Agoda or Booking.com and notice that the property is offering 'shared rooms' and 'shared bathrooms' then you know you are looking at some of the cheapest properties in the city.
Capsules and pods???
Fortunately, Singapore also has extremely popular "capsule hostels" that you can stay at. A perfect example would be Beary Best! Kampong Glam (2-star, 8.6/10 review score). These offer more privacy than traditional dorm rooms but still are not too expensive by Singapore standards. CapsulePod@Aljunied (1-star, 8.9/10 review score) is another great example. 
Once you have finalized your accommodation budget for Singapore, the next thing to do is to make sure that you are staying at a property that is close to cheap restaurants and hawker stalls.
It makes no sense to have a strict budget for accommodation and transportation only to spend massive amounts of money on eating out.  Consider staying in areas such as Chinatown or Little India to have a wide selection of markets, cheap restaurants, and hawker stalls to choose from.  Try to avoid eating at high-end restaurants if possible. 
Sometimes what we do is to save our best meal for the last night of our visit.  If you save hundreds of dollars by eating at markets and affordable restaurants, then you might want to splurge and reward yourself on the final night that you are in Singapore. 
---
Tip #4: Maximize your time backpacking in Singapore doing 'free experiences'.
Singapore is loaded with museums and family attractions that do charge pretty expensive entrance fees. These fees can add up even if you are staying in the city for only three or four days.  Instead of going from one 'paid attraction' to the next, you might want to integrate some more 'free experiences' into your Singapore itinerary.
Based on our extensive travel experience in Singapore we strongly suggest that you explore Sentosa's beaches. They are completely free to visit and provide a relaxing break from the hustle and bustle of the downtown area.  
Naturally, there are many more 'free things' to explore in Singapore.
One of our personal favourites is visiting Marina Barrage.  
This is a water management center that is located past Marina Bay Sands and Gardens by the Bay.  It has been innovatively converted into a recreational facility.  This is an ideal place to hang out while you backpacking in Singapore and it is free of charge.  The 'green roof' is a must-see.  This is a perfect place to do some yoga or capture amazing photos of Singapore's world-famous Skyline.
---
Tip #5: Filter your room search for 'kitchen facilities'.
If you are backpacking in Singapore for an extended period of time be sure to filter your room search for 'kitchen facilities'.  Backpackers around the world save serious money by making the effort to cook their own food. 
This is especially important in a city such as Singapore that is renowned for expensive eateries. Some tourists are literally shocked when they see some of the menu prices at restaurants around the city.
Fortunately, with some careful planning, you can completely bypass the need to eat out every meal by filtering your accommodation search for kitchen facilities.  A lot of hostels and guest houses throughout Singapore offer continental breakfasts and have areas where you can prepare meals.  
This is a game-changer if you want to save money while you are backpacking in Singapore. 
The combination of staying at a hostel and cooking your own meals suddenly makes Singapore a fairly affordable place to stay for a while. Extend your trip from two or three days to easily a week. 
So how do you find hostels that have kitchen facilities in Singapore?
What we do is use leading accommodation websites such as Booking.com. Then using their 'search filters' to find the right properties.  Then, once we have found a few properties in an area where we want to stay, we then look at the photos of the property to see what the kitchen looks like.  If the kitchen looks legitimate and clean, then we consider staying at the property if it also receives positive review scores by guests. 
 An example of a property that has a kitchen facility is BEAT. Sports Hostel (2-star, 7.6/10 review score). Although it doesn't receive overly high review scores, it does clearly show a photo of the kitchen on Booking.com.
Also, make sure that you take advantage of getting a free breakfast while you are in the city. 
The goal here is not to eat every single meal at your hostel.  
Instead, it is to manage your cash flow in relation to your budget so that you can maximize your time and experience in Singapore.
---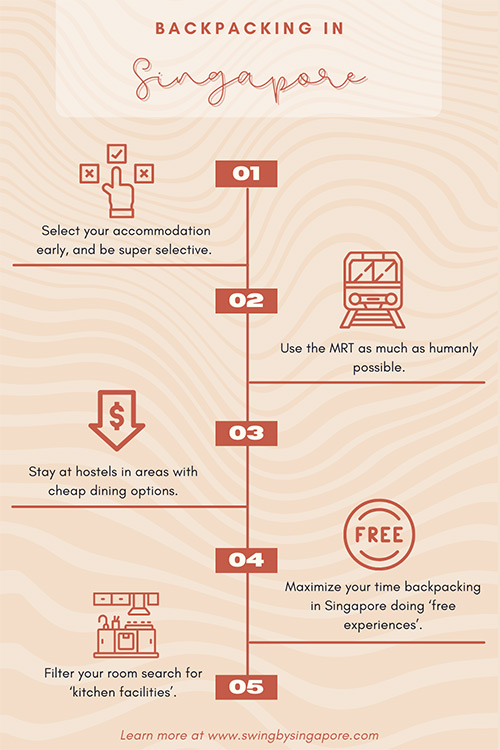 ---
Backpacking in Singapore: Final Thoughts
This is not an exhaustive list of ways to backpack while you are in Singapore. But, we can assure you that these are proven techniques to help you save some serious cash while you are visiting this amazing city.
Planning is very important when you are visiting Singapore.
This is especially true if you have just finished backpacking through other Southeast Asian countries such as Laos, Vietnam or Cambodia.  The prices you see in Singapore can be shocking to international tourists.
Book your accommodation early. Find cheap areas to eat or cook your own food.  Plan an itinerary that focuses on maximizing your time at either free or cheap venues.  Select a room that is within walking distance to an MRT station. These are just some practical ways to backpack in Singapore while saving some serious cash.
You may have some other amazing ideas on how to backpack in Singapore. Please feel free to send us an email or comment below to share your experience. As mentioned before this is not an exhaustive list. We are sure that other travellers have amazing ideas worth sharing.