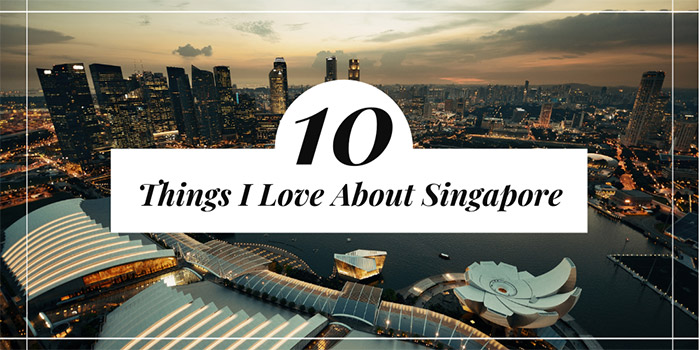 Welcome to the 10 things I love about Singapore! Have you ever thought to yourself what makes a city amazing? Well, I have been just reflecting on one of my favourite cities around the world – Singapore! 
Singapore often gets regarded as a very expensive place to visit. Strict on rules and regulations. However, the one thing that I have learned from spending considerable time in Singapore is that it is one of the best cities in all of Asia. Actually, there are many things about Singapore that foreign tourists simply do not understand.
 In this article, I am going to outline 10 different reasons why I love Singapore.  Not all of you will agree with my list, but remember this is my perception of Singapore and what makes it an amazing city. You may have your own ideas that you can share below with other readers. There are a lot of different considerations that you can make about whether or not you like a city.  In this case, I focus on a broad range of different aspects of Singapore including transportation, accommodation, sightseeing, and family attractions.
So here is my list of the 10 things that I love about Singapore!
---
1) Safety comes first in Singapore!
Having spent a considerable amount of time in other cities throughout Southeast Asia, one thing I truly love about Singapore is how safe it is. Regardless of whether you are sightseeing around Marina Bay or on Sentosa Island, you will always feel safe here.
Now don't get me wrong. Every city does have some crime issues but Singapore is arguably the safest city I have ever spent time in. Walking at night? Not a problem. Taking your kids for a walk, not a problem. 
Fortunately, I am not alone on this one. There are countless articles out there that highlight how safe the city is. This is just a random example of a Quora forum about how safe it is.
If you are booking a family vacation highly consider Singapore. It is an excellent city for walking around without the risks of getting your bags and belongings stolen. This is especially true if you have visited a lot of other cities where bag snatchers and petty crimes are quite prevalent.
---
2) Clear emphasis on parks, recreation and outdoor activities.
Every time I visit Singapore I always bring along my running shoes for the trip. I have jogged around Marina Bay on countless occasions.  So many times, I can't even remember how many!
And, every time I do run in Singapore I think to myself:  how many other cities in Southeast Asia have ideal running conditions like Singapore? We are talking about wide sidewalks and tree-lined pathways that are often non-existent in major cities such as Manila or Jakarta.
There is a growing list of parks in Singapore and that is a real good thing! If you are an outdoor enthusiast, then consider checking out a bunch of parks while you are in the city. Personally, I love running past Marina Bay Sands all the way to Marina Barrage, followed by a trip through Marina East Park. 
This is one of the most scenic 'runs' in the city and a must for visitors to Singapore!
---
3) Cheap and efficient public transportation in Singapore.
If you ever have spent hours in a traffic jam, then you will know the value of efficient public transportation. Jakarta, for instance, has some of the worst traffic anywhere. Actually, it is so bad that people have written detailed articles on how to avoid it!
The cool thing about Singapore is that you can completely bypass traffic jams and other headaches associated with driving vehicles by using the MRT.
Right, when you land at Changi Airport in Singapore you can immediately access the MRT. You can make your way down to the city centre without any headaches.  Then,  when you want to start sightseeing you can simply use the MRT throughout your entire trip to the city.
This is a practical way to save money while still getting around fast!  This simply isn't possible in a lot of other cities around the world because they lack the infrastructure. Singapore has an extensive train network that includes 6 MRT lines and 3 LRT lines. 
But the exciting thing is, they are still building even more!
If you compare this level of modern train infrastructure to other cities such as Jakarta and Manila, the difference is astounding! Jakarta currently has 1 MRT line to put things in perspective.
Take advantage of the extensive MRT Network while you are in Singapore. You will be sure to save some serious cash and time by avoiding unnecessary taxi fees.
---
4) Conveniently located hotels right beside MRT stations. 
Another aspect of Singapore that I truly love is the convenient location of hotels and apartments throughout the city.  The MRT would not be a popular choice with visitors or Singaporeans if the stations were not strategically located in convenient locations.
Fortunately, Singapore MRT stations are thoughtfully positioned throughout the city.  This makes it really easy for visitors to select a hotel that is only maybe one or two minutes away from a station. 
Consequently, when you book a room near an MRT station in Singapore you can avoid Singapore's extreme afternoon heat and still get to all of the attractions that you want to explore.
When I'm in Singapore I like to stay about 2 minutes away from Clark Quay MRT Station. Not only does this allow me to walk to Marina Bay in about 10 minutes, but I also save a lot of cash because boutique hotels in this area tend to be quite affordable.
Staying near an MRT station in Singapore is the way to go in my opinion.  
Of course, some of you may ask, "Well if you keep on using the MRT doesn't it get expensive?"  
If you are a busy traveller then you can purchase a Singapore Tourist Pass! This is the best way to see everything you want without emptying your bank account!
---
5) Amazing skyline views
The first time I walked around Marina Bay in Singapore I was so impressed with the skyline view. I never thought it would be that impressive!
In my opinion, Marina Bay is one of the most spectacular areas in any Southeast Asian nation. Not only can you see all the massive corporate towers in one direction, but also world-famous Marina Bay Sands and the Singapore Flyer in the opposite direction.
If you are trying to take the 'ultimate selfie' in Singapore then I suggest that you check out Sands Sky Park. This amazing observation deck offers unobstructed panoramic views of the city skyline from 57 floors up!
Remember to bring your best camera along!
---
6) Direct access to Sentosa's beaches
Another thing that I love about Singapore is that you can directly access the beaches on Sentosa Island.  If you have ever lived in a landlocked city before then you will truly appreciate beaches. And this is especially true when they are literally minutes from the city center!
Sentosa Island is very popular with both locals and foreigners visiting Singapore, and for good reason! It is jam-packed with attractions. 
Along the southwestern shoreline of Sentosa Island there are three beaches:
Siloso Beach 
Palawan Beach 
Tanjong Beach
Siloso Beach is north of Palawan and Tanjong. It is adjacent to Shangri-La's Rasa Sentosa Resort and Spa (5-star, 8.6/10 review score). Palawan is the middle beach, with Tanjong occupying the southern portion of this shoreline.
Of these beaches, I have spent the most time on Siloso. Regardless of which one you visit, you will appreciate some fresh air and ocean views. Grab a drink and even play some beach volleyball if you get a chance.
---
7) Lots of family-oriented attractions
If you have children then Singapore is an ideal place to visit!  Sentosa Island is one of the best Islands in all of Southeast Asia for family-oriented activities and attractions. 
Big time attractions like Universal Studios attract tons of visitors on an annual basis. 
And let's not forget about some of Singapore's family attractions which are located north of the city center. Singapore Zoo and Singapore Night Safari win all kinds of travel awards. These are two must-see attractions if you have children. 
Other popular family attractions include Singapore Discovery Center, KidZania and Jurong Bird Park.
---
8) Amazing street food and lively markets
A lot of people consider Singapore to be a very 'formal place' to live or visit. The city definitely has a clear focus on business. However, this is balanced by a very healthy and vibrant market culture.
One thing I love about Singapore is how the city still values traditional markets and hawker food stalls. Around the world, it is rare to find wealthy businesspeople eating lunch at a streetside hawker stall wearing a suit. But this is something you can still see in Singapore. 
There are many interesting markets in Singapore. One of my personal favourites is Chinatown Street Market. Another cool spot that you should check out is Haji Lane. 
This is a narrow street lined with artsy cafes and cool shops. 
---
9) Jaw-dropping luxury hotels 
When I first visited Dubai the city made a lasting impression on me because it is a 'city of dreams'. The innovation required to create a massive city from the desert is inspirational. 
Singapore is obviously a much different city than Dubai. But there are some similarities in terms of business, growth and prosperity. The ultra-rich enjoy Singapore because it does cater to wealthy people. Celebrity restaurants, luxury branded products are the norm in certain areas of the city. And, of course, hotels are no exception…..!
When I first saw Marina Bay Sands from a distance I was thoroughly impressed by its unique design. I was also impressed by the historical elegance of Raffles Singapore. 
One thing that I love about Singapore is that you can find world-class hotels, but also a wide selection of budget hotels only a few minutes away. 
When I first started staying at hotels in Singapore I would book a room near Clarke Quay MRT Station. Most of the properties in this area are either boutique hotels or hostels. To this day, I still think that this is one of the most strategic areas to stay in the city. 
Then, after checking-in, I would walk down to Marina Bay. Along the way, I would pass by Boat Quay and the beautiful Fullerton Bay Hotel. And then a few minutes later all of a sudden Marina Bay Sands Hotel would be in the distance. 
Marina Bay is practically surrounded by only 5-star properties, but it is only minutes away from an area that has some of the most affordable rooms in the city. 
This is one thing I love about Singapore. 
If you want ultra-luxury you can have it. But if you want to share a room with 10 other backpackers you can also have it.  It's really your choice.
---
10) Riverside Restaurants
Every time I visit Singapore I make sure that I enjoy a 'riverside meal'. This is one of those experiences that you won't read in other guidebooks. 
As Singapore River snakes its way through the city, there are three 'Quays' that you can visit that have riverside restaurants: Boat Quay, Clarke Quay and Roberston Quay. 
These areas are not only scenic, but they have a solid selection of restaurants, cafes and bars which line the Singapore River.   When you relax over a drink in one of these areas you will probably feel the closest thing to Europe in Southeast Asia. 
Of these three areas in Singapore, I have probably eaten the most at the Boat Quay. Due to its proximity to Marina Bay, it is a convenient place to visit before a walk around the Bay at night. 
These are also excellent areas to go out for a date if you want to impress!
---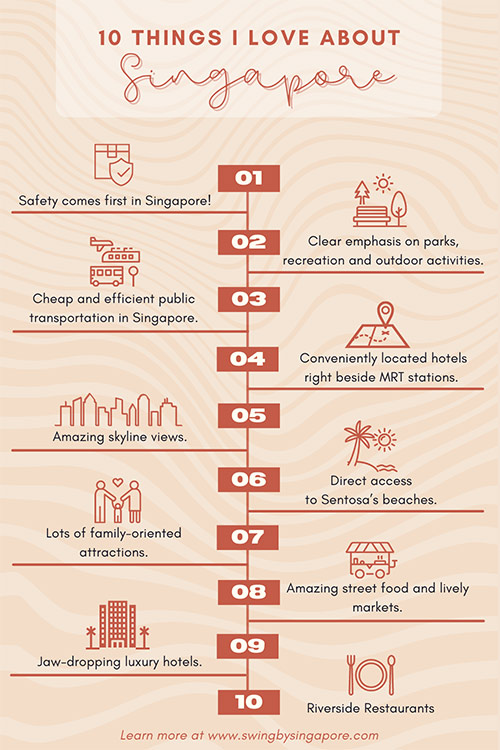 ---
Things I love about Singapore……Summary
Thank you for reading my summary of the top 10 things I love about Singapore.  There is no denying the fact that your list will inevitably be different. Different people love different things. And the same can be said for cities. 
But there are a few things that we can probably agree on. 
Singapore is a world-class city that is definitely worth a visit. Many people are skeptical about Singapore because they hear stories about how expensive it is. To be completely honest, it is an expensive city. However, with some careful accommodation and itinerary planning, it is possible to see a lot of Singapore's attractions without breaking the bank.
Try to eat your meal at Market supposed to restaurants if you are on a budget. Stay in a boutique hotel instead of a luxury hotel. Use the MRT instead of getting private Vehicles everywhere. As you can see if you make some of these decisions in a proactive manner your trip to Singapore can be much longer and more meaningful.
 I hope that you have enjoyed reading about the things I love about Singapore. Enjoy.