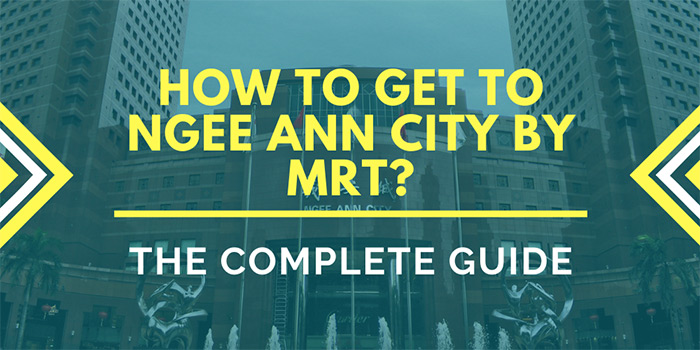 This is the step-by-step guide on how to get to Ngee Ann City by MRT.  We have written this article to provide you with specific steps on how to get to this popular shopping mall which is located on Orchard Road. By the end of this article, you should be able to save valuable time and money. 
Singapore is largely regarded as an expensive place to visit, but it doesn't have to be! 
By using the MRT you can effectively avoid expenses related to taxis and private vehicles. Also remember, taking the MRT to Ngee Ann City reduces harmful vehicle emissions by taking private cars everywhere. 
---
Why should you visit Ngee Ann City in Singapore?
Ngee Ann City is a large shopping center that is located right in the heart of Singapore's major shopping district – Orchard Road. It first opened for business on September 21st, 1993.  It consists of 7 levels (110,450 square metres) of shopping and dining options. Therefore, when you shop here, you will have lots of selection in terms of brands and products. 
Ngee Ann City is ideal for food-lovers as well. It has over 30 food and beverage outlets that specialize in local and international flavours.  The main anchor tenant here is Takashimaya Department Store. It spans a massive 35,000 square meters. Takashimaya Square and Civic Place are two popular event venues at Ngee Ann City. They have hosted countless events over the years and everything from fashion shows to concerts and fairs.
Another clear benefit of shopping at Ngee Ann City is that it is within walking distance to many other malls along Orchard Road.  Therefore, it is quite common for visitors to shop at Ngee Ann City and many other malls on the same day!  There are also many accommodation options within walking distance of Ngee Ann City such as Orchard Parksuites by Far East Hospitality (5-star, 8.2/10 review score). 
Ngee Ann City is not one of Orchard's newest of shiniest malls, but it is very well respected as a quality shopping venue amongst visitors.
---
Getting to Ngee Ann City using the MRT
Step 1: Book a room within 1 minute of an MRT Station.
When you are planning an itinerary for Singapore it is important to think about your accommodation first. Booking a room near an MRT station is the first step to planning an efficient and affordable trip to the city. 
Although you may not want to stay directly along Orchard Road, try to find a room that is only 1 minute away from an MRT Station. This will allow you to conveniently walk to and from the station during your entire stay in the city. Avoiding unnecessary taxi fees and traffic jams is a wise way to start your trip to Ngee Ann City.
---
Step 2: Plan on going to either Orchard Station or Somerset Station via MRT.
Ngee Ann City is physically located between two stations along Orchard Road:
Orchard Station
Somerset Station
Consequently, you can plan on going to either one of these if your final destination is Ngee Ann City. Also, take note that both Orchard and Somerset Station are part of the North-South Line. This is shown in red colour on the official train map of Singapore. 
These stations are adjacent to one another with Somerset being south of Orchard. 
Orchard Station will also be a stop on the Thomson East Coast Line which is currently under construction. It is set to open in 2021. 
---
Step 3: Get an MRT ticket/pass to reach Ngee Ann City
After you have referred to the Singapore train map and how to get to either Orchard or Somerset, it's time to confirm the type of ticket you are going to use. At the time of writing there are three primary forms of ticket options available:
Single trip tickets

Stored-value cards

Singapore Tourist Passes
In general, single trip tickets are the most popular choice for people that are staying in the city for only a few days. If you want to use the MRT only once or twice then we suggest that you just stick to this form of ticket.
Stored value cards such as an EZlink card are very popular amongst Singaporeans and long-term guests to Singapore. When we first figured out how to get to Ngee Ann City by MRT we used an EZlink card and the process was easy. 
Singapore Tourist Passes are best suited for 'busy' visitors who want to see a lot of different things in a short period of time.
Refer to these two extremely comprehensive guides on 1) buying MRT tickets and 2) Singapore Tourist Passes.   You can learn all the pros and cons of these ticket choices by reading these.
After your ticket is sorted the next step is to make sure that you are going to Orchard Station or Somerset Station.
---
Step 4: Ride the MRT to Orchard or Somerset Station.
If you are getting a single journey ticket, buy it from one of the ticketing machines in the first station that you enter. Alternatively, stored value card and Singapore Tourist Pass holders simply have to tap to access the MRT Network.
You can easily find MRT maps in stations throughout Singapore. Check out where you are starting your trip and navigate your way eventually along the North-South Line to Somerset or Orchard. 
The preceding station to Somerset is Dhoby Ghaut. If you are like many visitors staying in Marina Bay, you should get close to an exit when you hear "Dhoby Ghaut" being announced.
Singapore's MRT Network can get quite busy during peak periods.  It is a wise decision to listen to the verbal announcements being made on the train to know when you will be getting closer to Somerset or Orchard. You can also refer to the signs above the exit doors on each train.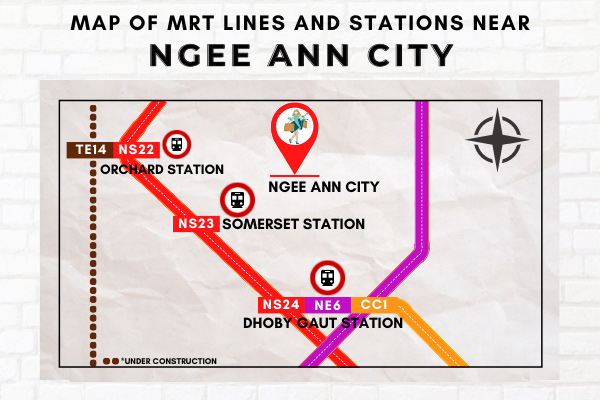 ---
Step 5: Alight at Orchard or Somerset and walk to Ngee Ann City.
Get off the train and tap to exit the MRT network using your card. 
Then, depending on what station you have just got off at, it's time to find the appropriate exits to reach Ngee Ann City mall. 
If you alight Orchard Station then you are just a few minutes away from the Ngee Ann City. Simply take Exit C or D.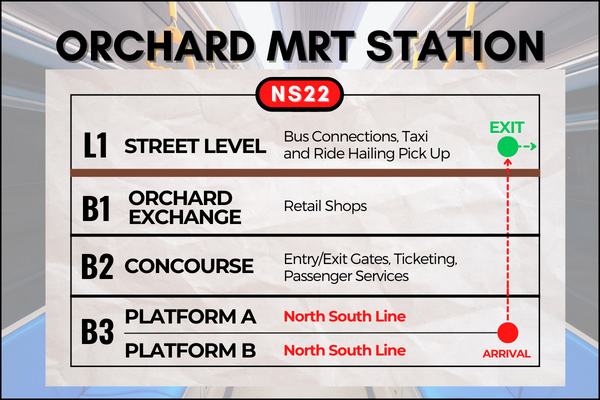 The walk from Orchard Station to Ngee Ann City should only take you about 3-4 minutes.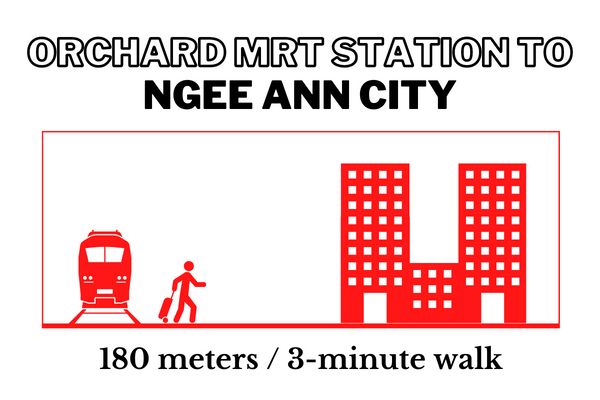 Alternatively, if you alight at Somerset Station, then you should take Exit A or B to reach Ngee Ann City.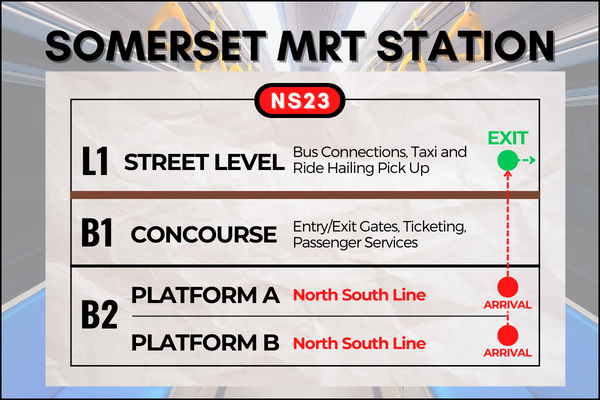 Expect the walk from Somerset to Ngee Ann City to take 4-5 minutes depending on which exit that you use.
And there you are!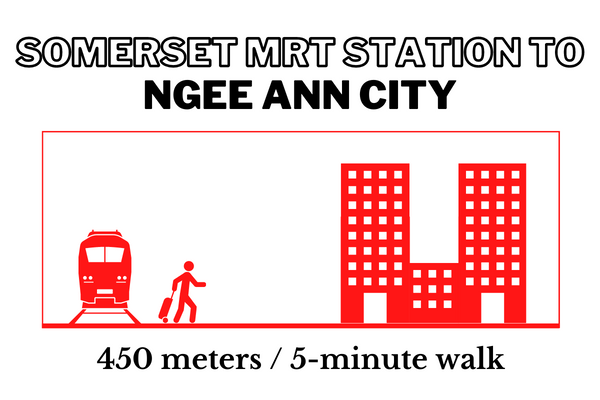 ---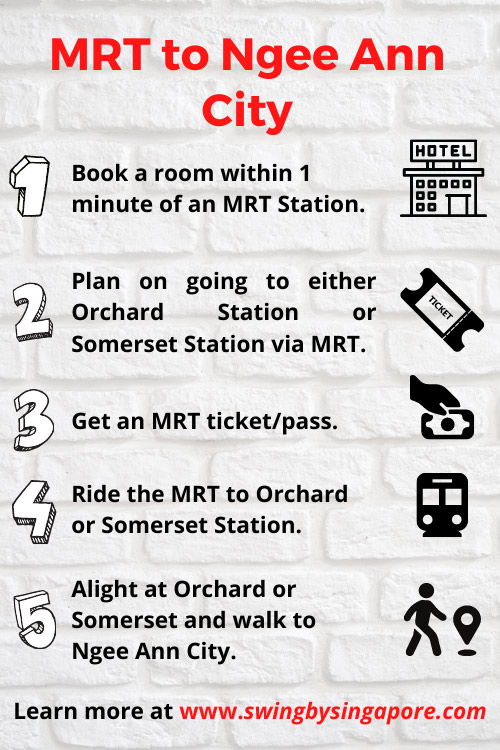 ---
Should you stay near Ngee Ann City?
Ngee Ann City is located in an ideal location if you are booking a room in Singapore.  Orchard, in general, is one of the most popular places to stay for people who want to shop and eat out a lot while they're in the city.
In terms of neon City, it is located between two other popular malls along Orchard Road – ION Orchard and Mandarin Gallery. It is also physically across from Paragon.  Also, due to its proximity to both Orchard and Somerset Station, this is a very convenient place to stay. 
Hotels in this area of Singapore tend to be quite expensive in comparison to budget zones such as Chinatown and Geylang.  But, if you do choose to stay along Orchard you will have direct access to restaurants and tons of shops. 
Hotel options near Ngee Ann City??
The best hotel option near Ngee Ann City is Mandarin Orchard Singapore. This property is a 5-star and receives verified guest review scores around 8.4/10. It is directly east of the mall. 
Some other options not too far from Ngee Ann City are listed below for your convenience. 
Grand Park Orchard (5-star, 8.3/10 review score)
Holiday Inn Express Singapore Orchard Road (3-star, 8.6/10 review score)
Ascott Orchard Singapore (5-star, 8.6/10 review score)
We are not a direct partner of any of these properties, but we are just sharing them for your convenience.  All the review scores listed are based at the time of writing according to leading online accommodation websites. They are subject to change over time as more reviews get submitted.
---
More questions about getting to Ngee Ann City Singapore?
We truly hope that this step-by-step guide on how to get to Ngee Ann City by MRT has been descriptive enough for you. If not, please feel free to send us an email for clarification!
One of the exciting things about visiting me Ngee Ann City along Orchard Road is that you can visit a surplus of different shopping malls in a single day.  In other words, shopping itineraries are endless. If there is a shop that you cannot find at Ngee Ann City, then you might be able to find it directly across the road at Paragon. 
You are also quite close to other popular areas of the city such as Chinatown, Little India, Clarke Quay, Boat Quay, and Marina Bay.  It's easy to take the MRT south to access most of these areas.  Orchard Road is not particularly well-known for sightseeing. This is a shopping district and if you are a shopper then this is a 'must-see' in the city.