Welcome to the complete guide on how to get to Paragon Singapore by MRT. And when we say, "Paragon Singapore" we are referring to Paragon Shopping Centre that is located right in the heart of Orchard – Singapore's most popular shopping area. 
One of the benefits of visiting Singapore is that you can access excellent shopping centers such as this one and some of the city's best hotels by only using the MRT. And once you are near Orchard, you can easily take the MRT to some of the best attractions in Singapore in just a few minutes. 
Actually, it's possible to fly into Changi Airport and only use buses and the MRT Network during your entire stay. In other words, you can avoid stepping foot in taxis or private vehicles without any issues.
In this article, we will outline exactly how to get to Paragon along Orchard Road by using the MRT. Since we have extensive travel experience getting to Orchard Road we hope that this guide will help to save you valuable time and money.
---
Why should you visit Paragon in Singapore?
Paragon is regarded as one of Singapore's nicest luxury malls. It is situated right in the center of Orchard and directly north of Ngee Ann City.
When you visit Paragon be sure to enjoy the 492,000 sq ft of retail space that spans over six stories and a basement level. It is very popular with affluent shoppers who are looking for excellent quality and stylish brands. The shops here are both well-known international brands as well as local designer shops. 
You can also expect to find a  delicious selection of restaurants at Paragon.
One of the cool things about visiting Paragon in Singapore is that you can easily shop at other malls during the same trip here. It is located right in the heart of a mega shopping district. Therefore, consider staying at a hotel nearby and using this area as a shopping hub throughout your visit!
---
Getting to Paragon Singapore using the MRT
Step 1: Find a hotel in a strategic location to an MRT station.
If you do not have the budget or the desire to stay along Orchard Road, then you have to make sure that you are staying near an MRT station. This will allow you to access Paragon Shopping Center without the need for private vehicles or taxis. 
We suggest that you book a hotel that is within 1 or 2 minutes from an MRT station.  This will allow you to avoid parking in Orchard and also allow you to save a lot of cash during your trip. And, let's not forget about saving the environment!
Singapore accommodation developers have built many different properties that are within walking distance of convenient stations. 
Marina Bay Sands and Raffles Hotel Singapore are two popular examples that are right beside MRT stations. Try to look around and find a room that is super convenient, yet within your budget.
---
Step 2: Plan on taking the MRT to Orchard Station or Somerset Station.
When you are travelling to Paragon Singapore Shopping Centre  you can access the mall using two different stations:
Orchard Station
Somerset Station
Both of these stations are part of the North-South Line which is shown in red colour on the train map of Singapore. Orchard is one station north of Somerset, therefore, they are adjacent to one another. 
Also, take note that in the future Orchard Station will also be a stop on the Thomson East Coast Line which is currently under construction. It is supposed to open in 2021. 
---
Step 3: Buy an MRT ticket/pass to reach Paragon 
After you have selected the station you are going to get out at near Paragon, it's time to decide what kind of ticket you are going to use for your ride. At the time of writing there are two main forms of MRT tickets that you can use to get around:
Stored-value cards

Singapore Tourist Passes
We have written two extremely comprehensive guides on 1) buying MRT tickets and 2) Singapore Tourist Passes.  You can learn all the pros and cons of these ticket choices by reading these.
In general, however,  it is safe to say that Singapore Tourist Passes are the best option if you plan on doing a lot of sightseeing over a few days.  
Stored value cards such as the EZlink card are very popular with guests staying more than 3 days. When we first learned how to get to Paragon Singapore by MRT, we used an EZlink card. There are benefits of using any of these cards but it really comes down to your own personal travel itinerary and preferences while you are in Singapore. A Singapore Tourist Pass may be great for some visitors, but it may not work at all for others!
Once you decide on your ticket, the next step is to make sure that you are going to Orchard Station or Somerset Station.
INSIDER TIP: We suggest buying a Klook Pass for Singapore to use alongside your transportation card. You can save up to 52% on entrance fees when you buy multiple passes online at the same time. Already 200,000 of these passes have been sold with over 7,000 verified customer reviews.
---
Step 4: Take the MRT to Orchard or Somerset.
If you do have a Singapore Tourist Pass or a stored-value card simply tap to enter the MRT Network. 
Refer to the MRT signs that are posted throughout your first station of interest.  Then, get on the train and navigate your way along the North-South Line until you reach Somerset or Orchard. 
If you are travelling from the Marina Bay area then you will reach Somerset before Orchard. In this case, you may want to get off there and start walking to Paragon as opposed to staying on the train longer. 
Regardless of which station will be your terminal one, be sure to listen to the verbal announcement being made on the train.  Similarly, you can refer to the signs above the exit doors on the train. 
The preceding station to Somerset is Dhoby Ghaut. You should make your way closer to an exit once you make a stop here.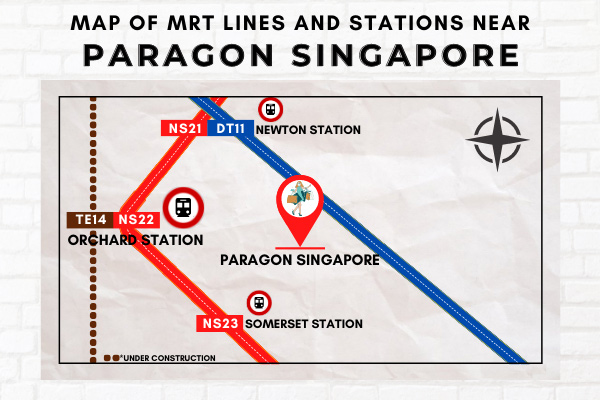 ---
Step 5: Get off at Orchard or Somerset and walk to Paragon.
Once the train stops at Orchard or Somerset, it's time to get off! To exit the MRT Station all you have to do is just tap your card again.
If you decide to get off at Orchard Station, then you can select from a few different exits at the station to walk to the mall. Exit A and Exit D tend to be the most popular exits to reach Paragon from Orchard.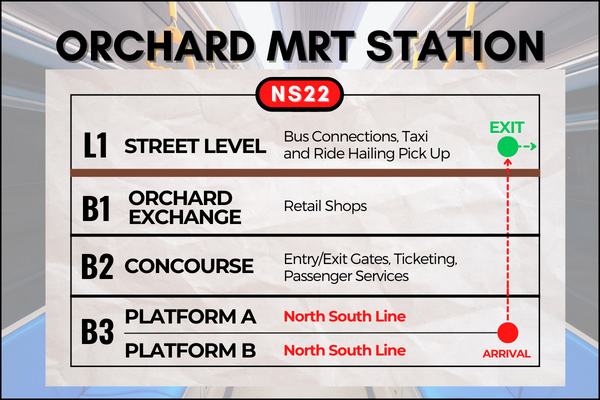 The walk is about 500 m and it should take you about 5 minutes.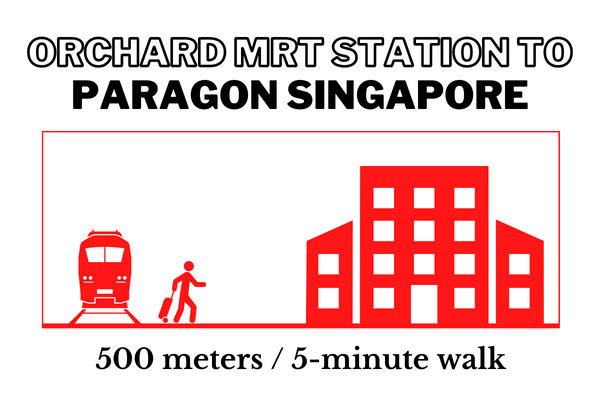 Alternatively, take either Exit A or Exit B to walk from Somerset Station to Paragon.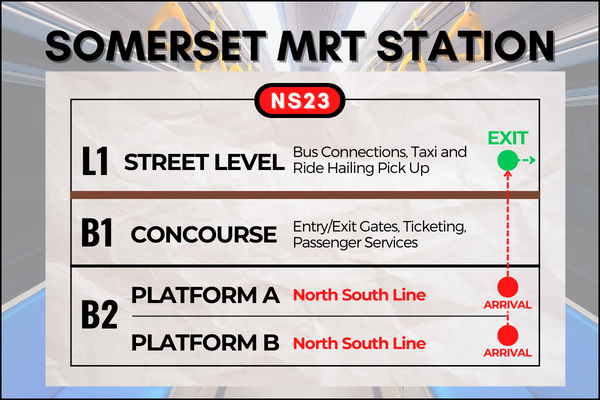 The walk is a bit farther than from Orchard Station. Expect it to take about 8-9 minutes to reach the shopping center.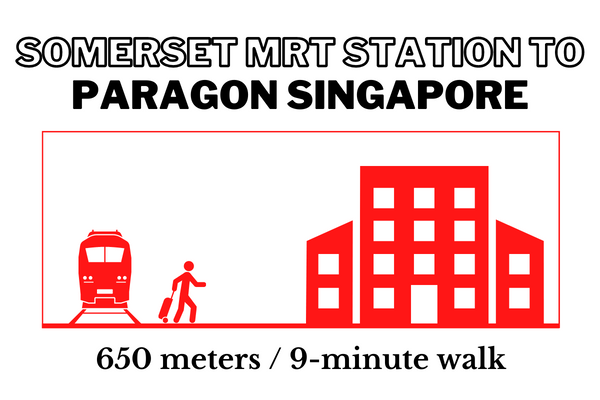 ---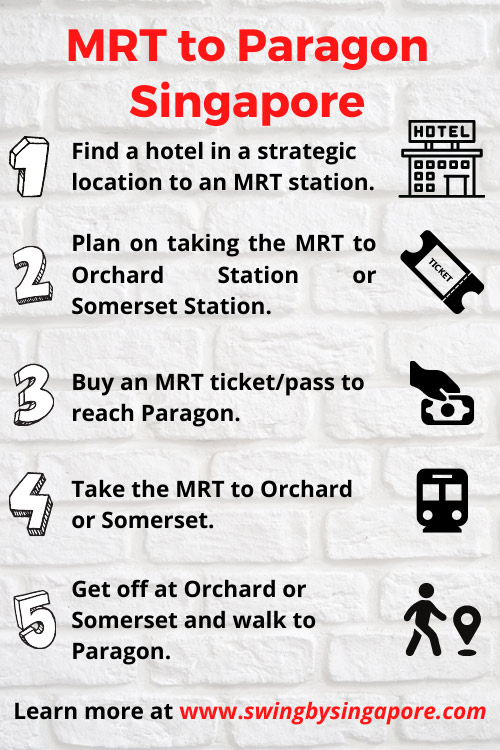 ---
Should you stay near Paragon Singapore?
Since Paragon is located along Orchard Road, there are plenty of excellent hotel choices available. This is one of Singapore's best shopping districts so it attracts a lot of local and foreign visitors. It is a smart idea staying along Orchard Road in the vicinity of Paragon because you can easily access services and a wide selection of restaurants.
Also, with Orchard and Somerset stations within walking distance of Paragon, you can easily access the MRT throughout your entire stay in the city.
The hotels near Paragon tend to be quite expensive in relation to budget areas of the city such as Chinatown, Geylang and Little India. But you are paying for convenience!
---
Closest hotels to Paragon???
There are twi hotels that are located directly to the southeast of Paragon: 
Holiday Inn Express Singapore Orchard Road (3-star, 8.6/10 review score)
Ascott Orchard Singapore (5-star, 8.6/10 review score)
Take note that the review scores above were taken at the time of writing from major accommodation websites. Therefore, they are subject to change over time.
If you are looking for a luxury property along Orchard that receives the highest review scores then you might want to stay at the Four Seasons Hotel Singapore (5-star, 9.2/10 review score).  
This is an excellent property that consistently gets high review scores from guests.
---
More questions about getting to Paragon Singapore?
We have written this step-by-step guide on how to get to Paragon Singapore by MRT to make this journey stress free. Hopefully, you will also save some cash by following these steps as opposed to getting a taxi or a private car!
Orchard isn't the best area for sightseeing but it is a big-time shopping district.
You might want to do some sightseeing throughout the day and then when it is hot outside check out the malls along Orchard Road. Paragon, and other malls in this area, are nicely air-conditioned when Singapore's extreme heat hits in the afternoon!
Also, keep in mind that you are just a short MRT right away from some of the best areas for sightseeing in Singapore.  Simply walk to Orchard or Somerset station and then travel set with down to Marina Bay, Chinatown, Boat Quay or Clarke Quay. 
One of the coolest things about visiting Singapore is that there are endless itinerary options available.  If you want shopping, you've got it. Skyline views??? Just head to Sands SkyPark.  I think you get the idea. 
If you do have any additional questions about getting to Paragon along Orchard Road or any other sites in Singapore, feel free to send us an email.  We would be more than happy to provide you with additional details!