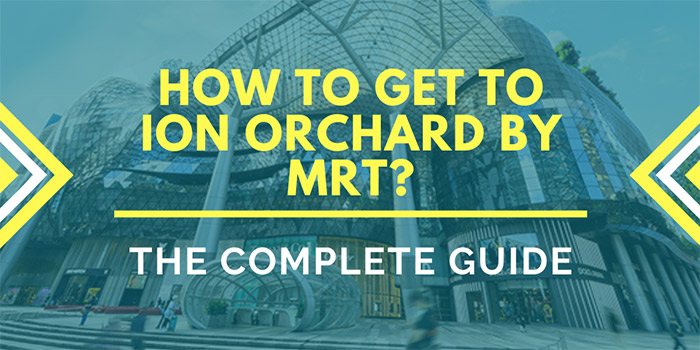 We have written this article to provide you with a step-by-step guide on how to get to ION Orchard by MRT.  This is one of Singapore's most popular malls. Therefore, it is important that you can get there fast and easily without much stress.
Based on our extensive experience travelling on Singapore's MRT network, we will provide you with specific details on where to stay to access the MRT, and how to get there.  ION Orchard, like many of Singapore's other malls and world-class attractions, can be directly accessed by using the MRT. This will allow you to save money by avoiding unnecessary taxi fees. Also, you can expect to bypass Singapore's traffic by using public transportation.
---
Why should you visit ION Orchard in Singapore?
ION Orchard is a popular shopping mall that is located in Orchard – one of Singapore's most popular shopping and dining districts. This mall is considered to be the retail component of a large integrated development. 
At the time of writing, ION Orchard has a gross floor area of 87,490 m2  and 61,600 m2 of retail space. This makes it the third-largest shopping mall in Singapore – only smaller than Suntec City and VivoCity.  
When you are walking in the Orchard area you should be able to spot ION Orchard due to its impressive 'media facade' that is sure to stimulate your senses!
A few popular places that you can check out while at ION Orchard are ION Art and ION Sky. ION Art is a large art and exhibition gallery that is located on the fourth floor of the shopping centre. ION Sky, on the other hand is an impressive observation deck that is located on the 55th and 56th floor of the building. It offers superb panoramic views of Singapore at a peak height of 218 meters above ground level. 
Due to its convenient location in Orchard, ION Orchard is located close to excellent hotels such as Four Seasons Singapore (west of the mall) and Singapore Marriott Tang Plaza Hotel (North of the mall). 
This makes the direct area around ION Orchard an ideal place to stay while you are in the city. Not only is it close to great hotels, but there are also numerous malls within walking distance. And, let's not forget about Orchard's direct access to the MRT network.
We will now go over the specific steps on how to get to ION Orchard!
---
Getting to ION Orchard Singapore using the MRT
Step 1: Find a 'strategically located' MRT station and book a room within walking distance to it.
If you are not staying directly beside ION Orchard then it is essential that you try to stay close to an MRT station. Fortunately, hotel developers in Singapore have built a lot of different properties that are only one or two minutes from stations.
Booking a room close to a station will make your trip more efficient and cost-effective. Singapore's roads can get quite busy during rush hour. Using the MRT is an effective way of bypassing this traffic while saving money at the same time.
When you are planning your itinerary for Singapore, prioritize being close to a station. You will also avoid Singapore's extreme afternoon heat which is a wise idea.
---
Step 2: Plan on taking the MRT to Orchard Station.
ION Orchard Shopping Centre is directly linked to Orchard Station. This is by far the most convenient station to plan your trip to.
Orchard is a popular stop on the North-South Line which is shown in red colour on the train map of Singapore. 
Also, take note that Orchard Station will also be a stop on the Thomson East Coast Line which is currently under construction. It is set to open in 2021. 
---
Step 3: Get an MRT ticket/pass to reach Orchard.
Singapore currently has two main types of MRT tickets. Therefore, you do have a bit of flexibility in terms of what kind of ticket you want to buy.
 We have included a brief summary of the types of tickets for Singapore's MRT below.
The ticket you select really depends on your own plan while in the city. For example, if you plan on seeing a lot of attractions then your best bet may be getting a Tourist Pass. They are designed for very busy, short term guests.
We strongly suggest buying a Multiple Attraction Pass to use along with your Tourist Pass. Currently, over 200,000 of these passes have been purchased because you can get discounts up to 52% on the city's best attractions. Buying multiple passes at the same time is a wise decision.
Long-term residents of Singapore usually prefer stored-value cards. We used a stored value card to get to ION Orchard by MRT during our first visit. 
We have written two extremely detailed guides on 1) buying MRT tickets and 2) Singapore Tourist Passes. Please read them to learn more about these ticket options. 
Once you decide on your ticket, the next step is to make sure that you are going to Orchard Station.
---
Step 4: Ride the MRT to Orchard Station.
Once you are on the train, the trip to ION Orchard is very straightforward.  Simply relax on the way to Orchard Station.
On the way, you will notice verbal announcements being made on the train to inform you of upcoming stations on the line. It is likely that Somerset Station will be the preceding station before your stop at Orchard. 
Most tourists take the North-South Line from the Marina Area north to Orchard. 
Also take note that you can refer to signs above the exit doors to see where you are on a given MRT line.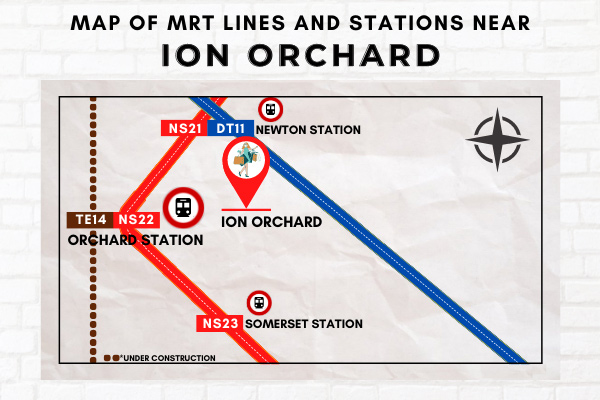 ---
Step 5: Get off Orchard Station and walk to ION Orchard Shopping Centre.
Once the train stops at Orchard station it is time to get off.  This can be a very busy stop on the North-South line. Therefore, make sure that you are close to the exit as you approach the station. 
Take Exit D or Exit E to get from Orchard Station to ION Orchard.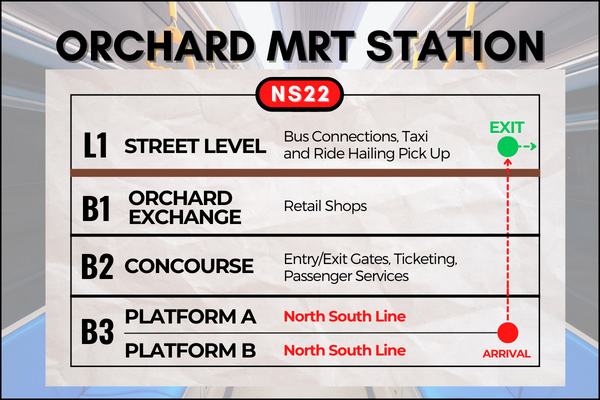 ION Orchard is physically connected to Orchard Station, so this is one of the easiest malls to access along Orchard Road. You should be in the mall in 1-2 minutes after you get off the train and follow the signs.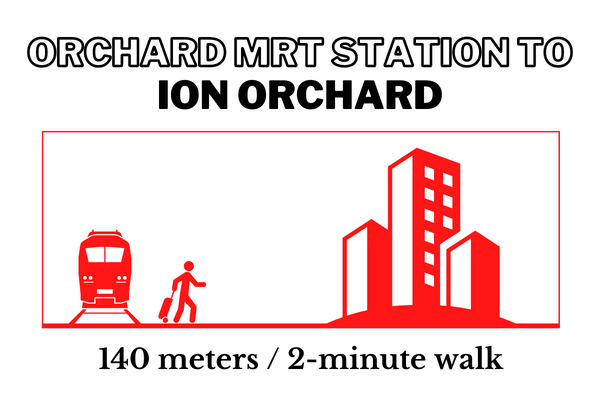 ---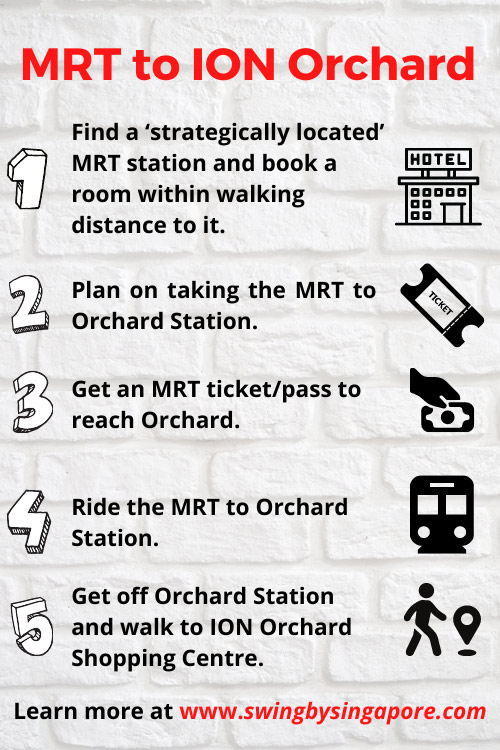 ---
Should you stay near ION Orchard in Singapore?
ION Orchard is located right in the heart of the "Orchard Shopping" district. This naturally makes it a very popular spot for visitors to the city to stay. Therefore, you should strongly consider staying in this area if you want very convenient access to restaurants and a surplus of shopping options. 
It is also convenient in terms of getting to and from this area with MRT. Not only does Orchard Station provide easy access to the malls, but Somerset and Dhoby Ghaut Station can also be used. 
There are a lot of four and five-star properties scattered along Orchard Road to accommodate the high demand.  In relation to ION Orchard, the two highest-rated properties in terms of verified guest reviews are:
Four Seasons Hotel Singapore (5-star, 9.2/10 review score)
Singapore Marriott Tang Plaza Hotel (5-star, 8.5/10 review score)
Although all three of these properties are well-managed, we recommend the Four Seasons Hotel Singapore due to its very high review score from guests. This suggests that it has excellent services and amenities for visitors.
$$$

Any cheaper hotel options???
Since most of the hotels along Orchard Road are either four or five-star property you can expect to pay a lot of money to stay in this area. The hotels here are convenient and well-managed, but they are not necessarily cheap.
Fortunately, cheaper areas to stay such as Clarke Quay and Chinatown are well connected to ION Orchard by MRT. You can get to these areas in under 10 minutes from Orchard. Chinatown, for instance, has a lot of hostels and boutique hotels within 1-2 minutes of Chinatown Station. 
You might want to check out these areas if you want to save serious cash with accommodation.
---
More questions about getting there?
We have written this step-by-step guide on how to get to ION Orchard by MRT to make this trip faster and more affordable for you. If however, you do require more information, please don't hesitate to reach out to us.
While you are visiting ION Orchard you will soon learn that it is surrounded by other very popular malls in the city.  Orchard Road has now sort of become a walking street where you can drop into various malls during the exact same day. The sidewalks are wide and very well maintained. It's easy to walk from one mall to the next.
You will also find a lot of restaurants along Orchard Road as well. Food Courts within the malls tend to be very affordable relative to restaurants. 
Orchard isn't famous for sightseeing. Shopping is the big drawing card here. Nonetheless, you are only a short MRT ride away from other attractions in the city. You might want to make an itinerary that consists of sightseeing in the morning followed by shopping along Orchard in the afternoon. Then, you will have lots of choice in terms of where you eat dinner!