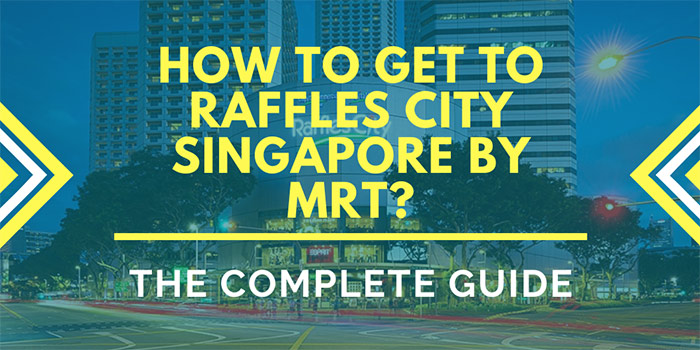 This is the complete guide on how to get to Raffles City Singapore by MRT.  Regardless of whether you are living in the city or just visiting, our goal here is to make sure that you can get to this popular mall fast and easy.  This means avoiding major traffic jams in Singapore and unnecessary taxi fees.
Singapore is one of those cities that you can travel in without stepping foot in a vehicle. Fortunately, it is completely possible to make it right to Raffles City Shopping Center by using the MRT Network. Actually, you can make it to Raffles City right from the airport by MRT as well!  
---
Why should you visit Raffles City in Singapore?
Raffles City Shopping Centre is a popular mall near Marina Bay in Singapore. It is one component of a large integrated complex that consists of Fairmont Singapore, Swissotel The Stamford, Raffles City Tower and Raffles City Convention Centre.
When you visit Raffles City Singapore you can experience five floors and anchor tenants such as Robinsons Department Store and Raffles City Market Place. Currently, the mall features approximately 200 retail tenants that sell a diverse range of products and services. This is also an excellent place to eat with a wide range of restaurants to choose from.
As its name suggests, Raffles City Shopping Centre is located directly southwest of Raffles Hotel – arguably the most famous place to stay in the entire city. 
The location of the mall also naturally allows you to visit other major sites during the same day.  You can easily walk around Marina Bay and experience some of the most famous attractions such as the Singapore Flyer and Gardens by the Bay.
One of the coolest things about Raffles City is that it is physically connected to two different MRT stations. We will outline below how to specifically get to Rockwell City using each one of these MRT stations.
---
Getting to Raffles City Singapore using the MRT
Step 1: Find a strategically located MRT station and book a room close to it.
If you are visiting Singapore, one of the first considerations you should make is booking a room close to an MRT station. This is essential if you want to save money and time while you were visiting different sites within the city.
You also have to consider Singapore's extreme heat. Try to avoid walking two or three kilometres every time you want to take the MRT. 
Fortunately, hotel developers in Singapore have created a wide selection of properties within minutes of stations around the city.  We suggest that you try to find a room that is one or two minutes of a station.  Therefore, when you go to Raffles City you will not require additional time or money to get to a station.
---
Step 2: Plan on going to City Hall or Esplanade Station.
Raffles City Shopping Centre is directly linked to City Hall Station and Esplanade Station. Therefore, you do have a choice between these two stations and which one you want to get out of.
City Hall Station is a popular stop on two different MRT lines – the North-South and East-West Line. 
Esplanade Station is only part of the Circle Line. 
Take a look at the train map of Singapore if you want to see where you are staying relative to Raffles City. 
---
Step 3: Purchase your MRT ticket for Raffles City.
There are three primary ways of getting on to Singapore's MRT network. The type of ticket that you select really depends on your own personal circumstances in the city. For example, if you were staying for a long period of time you're better off getting some kind of card.  Short-term visitors are more inclined to use single trip tickets.
We've included a brief summary of the types of tickets for Singapore's MRT below.
Single trip tickets

Stored-value cards

Singapore Tourist Passes
You can refer to this specific guide on how to buy MRT tickets in Singapore for additional information about each choice.
Ultimately, you have to think about how long you are going to be in the city and how often you plan on using public transportation. If you want to use the MRT only once or twice try to stick with single trip tickets. 
Long-term residents of Singapore tend to use stored value cards. If you are a very busy tourist and plan on being in the city for only one or two days, then consider getting a Singapore Tourist Pass.
You can learn more about buying the Singapore Tourist Passes by reading this comprehensive article.  It summarizes the pros and cons of each type of Tourist Pass and whether or not they suit your own personal preferences.
Once you decide on your ticket, the next step is to make sure that you are going to either City Hall Station or Esplanade Station.
***Take note that you can also get to Raffles City by going to Promenade Station, but the walk is about 4-5 minutes farther! 
---
Step 4: Take the MRT to City Hall or Esplanade Station.
On the way to City Hall or Esplanade Station you will have two different ways of knowing when to get off the train. The first and most obvious way is by the verbal announcements that are made on the train.  These are designed to inform you of the next station coming up so you don't miss your stop.
Alternatively, You can refer to the signs above the exit doors on the train.
Keep in mind that Singapore's MRT trains can get quite busy during peak periods.  For example, when people are heading to and from work. If trains are busy while you are going to Raffles City Shopping Center then be sure to make your way to an exit as soon as possible.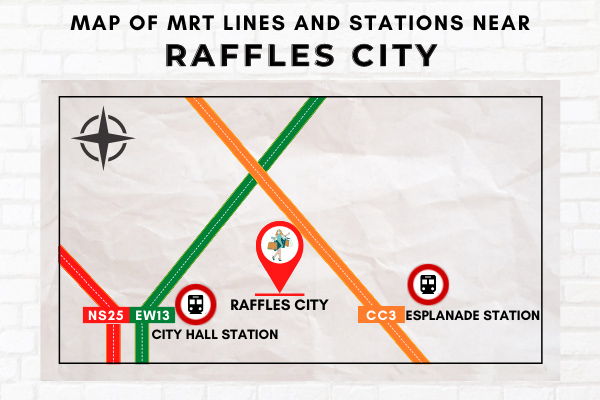 ---
Step 5: Get off City Hall or Esplanade and walk to Raffles City Shopping Centre.
When you arrive at City Hall or Esplanade it is quite straightforward to reach Raffles City.  First, tap your card to exit the system and then start looking for relevant exits.
If you alight at City Hall Station then you should take Exit A out of the station to get to Raffles City.  This is a very popular exit where you can also get to Raffles Hotel.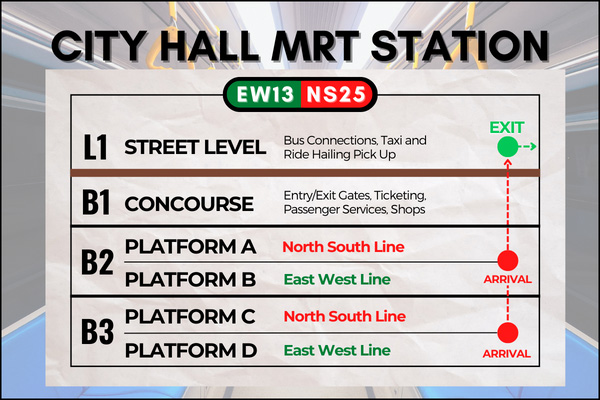 Alternatively, if you get off the train at Esplanade Station then you can take Exit G to get to Raffles City. This will get you into the basement of Raffles City.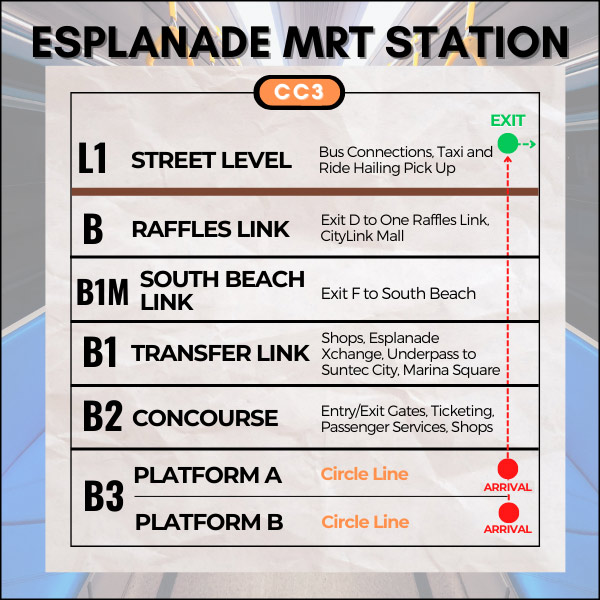 Expect the walk from either one of these stations to Raffles to take only a minute or two.  That is the convenient thing about visiting Raffles City using the MRT. It is a fast and efficient way of accessing the mall, hotel and surrounding buildings.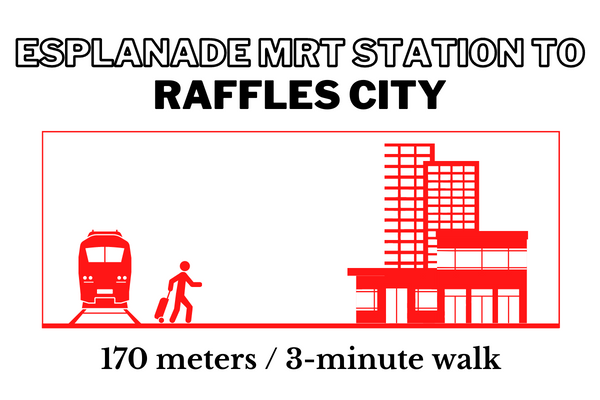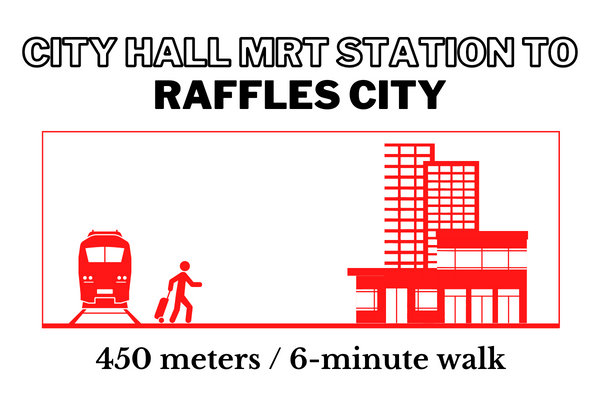 ---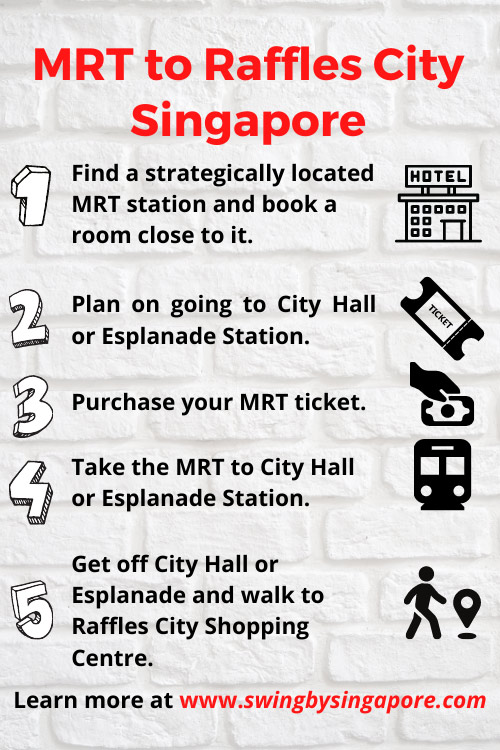 ---
Should you stay near Raffles City in Singapore?
Since Raffles City is part of a large commercial and residential complex is a very convenient place to stay if you are in Singapore. Staying here means that you will minutes away from Marina Bay – arguably Singapore's most scenic area. 
Naturally, getting convenient access to Singapore's top attractions does come with a price! Hotels in this area are not cheap. But, they tend to receive extremely high verified review scores from guests. Some of Singapore's best hotels are within a 2-3 minute walk of Raffles City. 
And the obvious choice here is the world-famous Raffles Hotel. 
This is one of the most famous hotels in all of Asia. At the time of writing it had a review score of 9.6/10 according to verified guests!!! 
---
Other choices near Raffles City in Singapore
We have compiled a list of some of the top-rated properties near Raffles City.  Keep in mind that we are not direct partners if any of these properties.  But we have included their name star rating and review score for your convenience.
Fairmont Singapore (5-star, 9/10 review score)
Swissotel The Stamford (5-star, 8.9/10 review score)
Mandarin Oriental Singapore (5-star, 8.9/10 rating)
Pan Pacific Singapore (5-star, 9/10 rating)
Conrad Centennial Singapore (5-star, 9/10 rating)
The Ritz-Carlton Millenia Singapore (5-star, 9.2/10 rating)
As you can see most of the properties are rated around nine out of 10. This suggests that a large majority of guests enjoy staying at these places. Expect world-class service standards and a broad range of amenities. Food and beverage options at the properties also tend to be extremely impressive.  
You can walk to any of these properties from Raffles City in 5 minutes or less.
---
$$$

Cheaper hotel options, please?
As mentioned before, properties around Raffles City and Marina Bay tend to be quite pricey.  This prevents a lot of tourists from staying in this area.  The rooms are just too expensive relative to their budget.
If this is the case for you then we suggest that you try to stay in an area such as Chinatown or Clarke Quay. Chinatown, in particular, is well-known for a broad range of hostels and boutique hotels. 
We suggest that you can book a room within a few minutes of Chinatown Station and then just follow the directions outlined in this article to get to Raffles City. 
---
More questions about getting to Raffles City?
We hope that this step-by-step guide on how to get to Raffles City Singapore by MRT is detailed enough.  Please don't hesitate, however, to send us an email if you need additional information about getting to this mall. 
Raffles City is a very well connected mall in Singapore. This means that you can easily shop or dine here and also do some sightseeing on the same day. There are lots of itinerary ideas. 
When we first visited Raffles City we did some shopping and then did a complete walk-around Marina Bay. Not only did we capture awesome skyline views but we also could take photographs of the Merlion and Marina Bay Sands. 
A cool idea is taking the elevator up to the top of the Marina Bay Sands Hotel. The Sands SkyPark is without question worth the price of admission. Be prepared for world-class views and photo opportunities like no other!
You can also shop at other malls close to Raffles City such as Marina Square, Suntec City and Millenia Walk. All of these are very close and only a few minutes by foot.