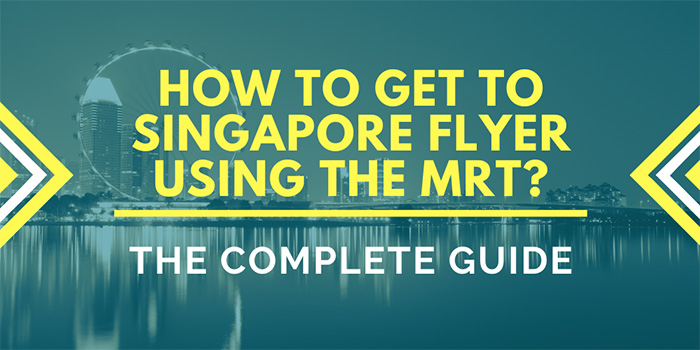 This article has been written to provide you with a step-by-step guide on how to get to the Singapore Flyer using the MRT. 
Since we have completed this journey on multiple occasions we guarantee that this information is reliable. The Singapore Flyer is situated in one of the best areas in all of Singapore for sightseeing, therefore if you follow this guide you will be able to check out other attractions during the same trip. 
---
What is the 'Singapore Flyer' in Singapore?
Depending on your experience visiting Singapore you may not be completely familiar with the Singapore Flyer. Singapore Flyer is Asia's largest giant observation wheel. 
It stands at a stunning 165m from the ground. Due to its height, you can capture breathtaking, panoramic views of Marina Bay and Singapore's spectacular skyline. Capturing views and taking photos are not the only things you can do at Singapore Flyer. You can also eat in one of the capsules as part of 'Sky Dining'. The Singapore Flyer complex also has shops and restaurants.
---
Getting to Singapore Flyer using the MRT
Here is the step-by-step guide:
Step 1: Leave your hotel and access the closest MRT Station in Singapore.
Depending on your travel experience in Singapore you may not already know that the city has one of the best and most comprehensive public transportation systems anywhere. Currently, Singapore's MRT network consists of 6 lines. There are also 3 LRT lines.
The first step in making it to Singapore Flyer is accessing the closest station from your hotel. Most areas of Singapore are close to public transport stations, so this shouldn't be a problem. If you can't walk to the closest station from where you are staying then you should be able to take a short ride. 
It makes a lot of sense to book a room near an MRT station while you are planning your trip to Singapore. Avoid the traffic and save some money while doing so. Be sure to check where your hotel is located in Singapore so that you can access the closest station without having to pay for additional transportation costs.
---
Step 2: Navigate Singapore MRT to Singapore Flyer
Once you booked a hotel close to an MRT station in Jakarta, you have to familiarize yourself with the MRT lines in Singapore and which connections you have to make to get to Singapore Flyer.
The most practical station to travel to in order to reach Singapore Flyer is Promenade Station.
Which MRT Lines Service Promenade MRT Station and Singapore Flyer?
Promenade Station is located on two different MRT Lines in Singapore:
Downtown Line

(shown in Blue on the Singapore MRT Map)

Circle Line

(shown in Yellow on the Singapore MRT Map)
You can easily take either one of these to reach Promenade. Therefore, check where you are staying relative to the flyer to see which line is the most practical to take depending on your point of origin. 
---
Step 3: Purchase your MRT Ticket
The next step is to pay for your MRT ticket to Promenade Station from your point of origin. Keep in mind that there are multiple ways to pay for your MRT ride to reach Singapore Flyer. We have included various methods below for your convenience:
Stored value card

Concession card

Cash

Standard ticket 

Debit card/Credit Card

Singapore Tourist Card
When you are purchasing an MRT ticket for your trip to Singapore Flyer you have to consider how long you are going to be in Singapore for.
If you are in Singapore for a long time you might as well get a stored-value card. This is the most efficient method because you can top it up and then use the card for multiple rides. 
There are two acceptable stored value cards for Singapore MRT:
EZlink 

Nets FlashPay card
You can purchase these at any TransitLink Ticket Office, MRT station and 7-Eleven stores. 
Once you have purchased your card you can top them up at the following venues:
General Ticketing Machines,

Add Value Machines

TransitLink Ticket Offices 

SingPost Outlets

AXS Stations

DBS/POSB/OCBC Automatic Teller Machines

7-Eleven stores
If you're a tourist (in the city for a week or less) consider getting a Singapore Tourist Card for your transport within the city.
---
Step 4: Take the MRT to Singapore Flyer
After you have purchased your MRT ticket to Promenade Station it's time for your ride. Remember that Singapore is strict with transportation rules. You cannot eat or drink while using the MRT or even consider littering. Be prepared to shell out a large fine for these acts while on the train!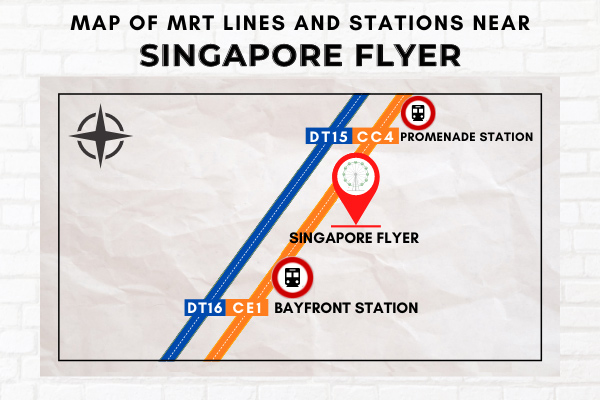 ---
Step 5: Exit from Promenade Station and Walk to Singapore Flyer.
After you arrive at Promenade MRT Station you will have to walk to Singapore Flyer.
Alight from the train and exit the station using EXIT A. Once you are outside of the station simply follow the pedestrian signs the Flyer.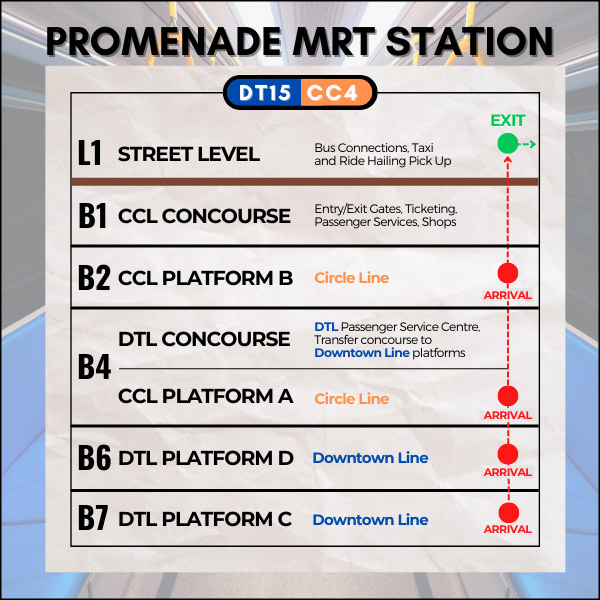 ---
How long does it take to walk from Promenade Station to Singapore Flyer?
You can expect it to take about 8 minutes to walk from the station to the flyer. Of course, different people walk at different speeds but this is the average amount of time that is required. 
---
---
Selecting the Best Hotel to Stay at Near Singapore Flyer
One of the most important considerations that you have to make when you are booking a room in Singapore is 'price'. It is no secret that Singapore is one of the most expensive cities in the world. Hotels and apartments in Singapore tend to be quite expensive to rent so it is important that you plan on early so that you are able to stay within walking distance of either MRT stations or the primary attractions that you want to explore in the city.
The Singapore Flyer is located in a very prominent position in terms of world-class hotels. It is within walking distance from Marina Bay Sands Resort. This is one of the most famous hotels in the world. 
Aside from Marina Bay Sands, the best hotels near the Flyer are located within a few minutes walking distance:
Ritz-Carlton Millenia Singapore
Mandarin Oriental Singapore
ParkRoyal Collection Marina Bay
These properties all received very positive review scores from verified guests.  Since they offer spectacular views of Marina Bay you can expect to pay a significant amount per night at any of these properties.
---
Where did we stay in Singapore when we visited?
We have stayed all over Singapore.  If you want to stay in the Marina Bay Area you have to be prepared to shell out a lot of cash.  These hotels tend to be quite expensive but you can also expect top-notch service quality and cuisine.  The selling point of staying in this area is the accessibility to other top attractions and breathtaking panoramic views of Marina Bay and Singapore Skyline.
To save some cash during our last few hotel stays in Singapore we stayed within walking distance of Clarke Quay MRT Station.  We find that Clarke Quay and Boat Quay are both within walking distance of Marina Bay but hotels tend to be much cheaper. 
During our most recent visit, we stayed at Hotel Bencoolen Hong Kong Street. 
This is a small boutique hotel that is located very close to Clarke Quay MRT Station. We have stayed in this area of Singapore on multiple locations. Convenience and price were our main considerations. It also offered a pretty decent breakfast for the price we paid.
This is a practical option if you want to save some cash while being close to the MRT, Singapore Flyer, Marina Bay and other attractions near the waterfront. 
Staying near Clarke Quay and Boat Quay is also a smart idea because they have an extensive selection of restaurants and dining options. 
You can walk to the Singapore Flyer in about 20 minutes Hotel Bencoolen Hong Kong Street. 
Along the way, you will pass by the beautiful Fullerton Hotel and Anderson Bridge.
We have also stayed Jayleen 1918 which is only a few minutes from Bencoolen. This boutique hotel is located on Carpenter Street. It is cheaper than Bencoolen but it is also older. The management is nice and very helpful at this property.
We would recommend either one of these as budget options in Singapore if you are looking for a place to stay.
Note that these properties have not paid us anything to share this information. This is our honest opinion based on our travel experience in Singapore.
---
Any more questions about your trip to Singapore Flyer?
A gentle reminder that if you have any questions about Singapore Flyer or how to access this attraction in Singapore please let us know.
Keep in mind that there are also many other interesting sights within walking distance of the flyer.  here is a short list below that you can check out:
This has been a step-by-step guide on how to get to Singapore Flyer.  Please don't hesitate to send us an email if you require additional information about this trip!