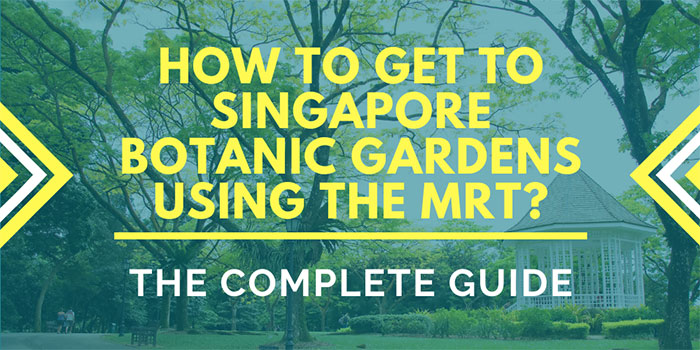 Want a step-by-step guide on how to get to Singapore Botanic Gardens using the MRT? You have landed on the right article! We have written this to provide a personal overview of our trip to Singapore Botanic Gardens using Singapore's extensive MRT network.  
We have visited Singapore Botanic Gardens on multiple occasions, so this information should be completely reliable for you to use during your visit to the city. As you read this article, we will also share specific information about where to book a room in Singapore, and also share how to receive up to a 52% discount on entrance tickets to the best attractions.
Fortunately, getting around Singapore via MRT is an affordable and efficient means of getting around. 
---
Why is it worth visiting Singapore Botanic Gardens?
Millions of people have visited Singapore for different reasons and over the last 10 years more and more nature lovers and outdoor enthusiasts have been taking advantage of Singapore's greenspaces. There is no denying the fact that a lot of people visit Singapore on an annual basis to visit world class sights such as Marina Bay Sands' viewing platform, Singapore Zoo and Sentosa Island. But this city also boasts some great outdoor spaces with world class flora and fauna.
Singapore Botanic Gardens is an example of an outdoor area that is worth checking out. It hosts approximately 4.5 million visitors per year. It is really popular because both foreign tourists and locals want to take advantage of this greenspace. The 82-hectare garden was Singapore's first UNESCO World Heritage Site. It has more than 152 years of horticultural history on display. Aside from an extensive display of different plants, Singapore Botanical Gardens also organizes educational events and workshops for people of all ages. 
---
Getting to Singapore Botanic Gardens using the MRT
Here is a step-by-step guide on how to get to Singapore Botanic Gardens using MRT.
Step 1: Leave your hotel and access the closest MRT Station in Singapore.
One of the first cost-cutting strategies while staying in Singapore is to book your hotel room as close as possible to the MRT Network. Unlike many cities around the world Singapore's MRT network is extensive enough that you can access most areas of the city while saving time and also saving the environment.
Once you have selected your hotel and you are ready to visit Singapore Botanic Gardens it is time to access the closest station on the nearest MRT line to where you are beginning your trip. 
---
Step 2: Purchase your MRT Ticket to Botanic Gardens Station
Once you have entered your MRT station of choice, the next step is buy an MRT ticket to Botanic Gardens Station from your point of origin. Technically, there are multiple forms of MRT tickets in Jakarta, and the one you use really depends on your personal preference and circumstances. 
We have included the list to show you the multiple ticket options available to get to Botanic Gardens Station: 
Debit card/Credit Card

Stored value card

Concession card
The type of MRT ticket that you purchase to get to Singapore Botanic Gardens will depend on how long you are in the city for. If you are there for more than a day or two you should consider using a stored value card. This is the most economical and efficient method because once you purchase the card and top it up you can use it for multiple rides. This enables you to pay less per trip than a standard 'cash' ticket and makes sure that you avoid all the lines at ticketing machines in each station. During peak times this is a big bonus.
ez-link 

Nets FlashPay card
Some places where you can get these cards include TransitLink Ticket Offices, MRT stations and 7-Eleven stores. The next step is topping up the card. Stored-value cards can be topped up at the following venues:
SingPost Outlets

AXS Stations

DBS/POSB/OCBC Automatic Teller Machines

7-Eleven stores

General Ticketing Machines,

Add Value Machines

TransitLink Ticket Offices 
Another payment option if you are just visiting Singapore for a week or less is getting a Singapore Tourist Pass. 
We strongly suggest getting a Multi-Attraction Pass to use along with your Tourist Pass. Singapore attractions have pricey entrance fees, and buying a bunch of tickets at the same time can save you up to 52%! The savings potential has resulted in over 200,000 passes already being sold.
---
Step 3: Take either the Circle Line or Downtown MRT Line to Botanic Garden Station
Botanic Garden Station is located on two different MRT Lines in Singapore:
Downtown Line (shown in Blue on the Singapore MRT Map)
Circle Line (shown in Orange on the Singapore MRT Map)
All of Singapore's MRT Stations come fully equipped with posted route maps. This makes it really stress-free to navigate. It is als important to note that audio announcements are made on each train prior to stopping at each station. Above the exit doors on each train there is a screen that shows which station is coming up next on the line. 
If you are staying at a hotel that is south of Botanic Gardens (like so many tourists do) then it is good to know what the last station is before you arrive at the Gardens. If you are staying near Marina Bay, Chinatown, Boat Quay, Orchard or Clarke Quay, chances are that you will take the Downtown Line. In this case be on the lookout for Stevens Station (this precedes) Singapore Botanical Gardens. 
Alternatively, if you are taking the Circle Line be on the lookout for Farrer Station.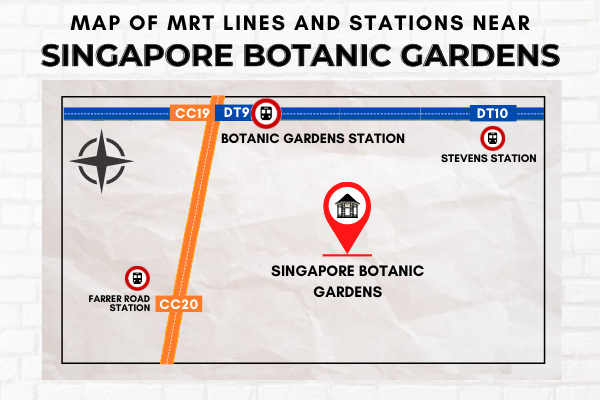 ---
Step 4: Exit from Botanic Gardens Station and Walk to the Gardens
After you arrive at Botanic Gardens you can easily access the gardens. This MRT Station is located at the northwest entrance (Melati Gate) to the Gardens. Therefore, if you are taking the MRT plan on entering and exiting from Melati gate. 
Exiting Botanic Gardens should be straightforward because there are only two exits: 
Exit A is from the Circular Line Station 

Exit B is from the Downtown Line station. 
Fortunately, both exits have stairs, escalators, and elevators making them fully accessible for the disabled.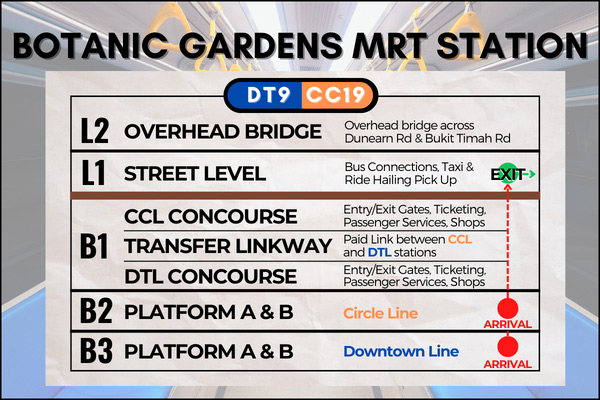 How long should it take you from Botanic Gardens MRT Station to Singapore Botanic Gardens?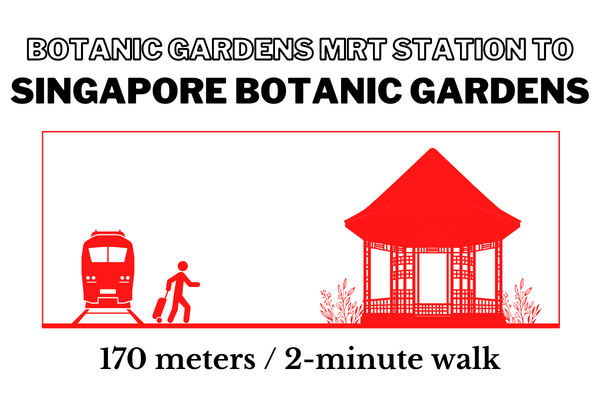 ---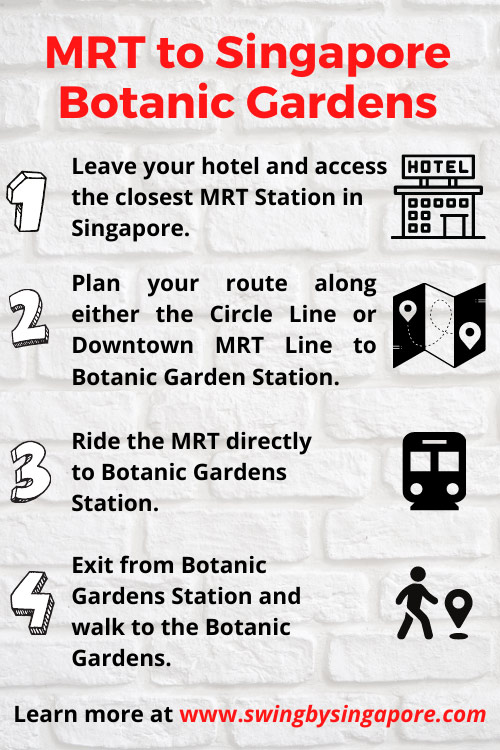 ---
Do you have to pay to enter Singapore Botanic Gardens?
Entering Singapore Botanic Gardens is free unless you want to enter specific areas or exhibits within the park. Also take note that you have to purchase a permit to take photos and videos within the Gardens. 
---
Selecting the Best Hotel to Stay at near Singapore Botanic Gardens
It is safe to say that most people that visit Singapore Botanical Gardens tend to stay south of the Gardens. This means that they stay in areas such as Orchard, Marina Bay, Chinatown, Little India and Clarke Quay and then visit the Gardens as part of a mini day trip. Therefore, you will have to make a decision about whether you want to be stationed right near the Gardens or stay closer to the other major sights downtown.
If you do plan on staying closer to the Gardens there are some great hotels about 1-2 km south. Some top-quality examples include:
Shangri-La Hotel Singapore (5-star, 9.1/10 rating)
The St. Regis Singapore (5-star, 8.9/10 rating)
Treetops Executive Residences (Condo, 9.1/10 rating)
All three of these properties are located near the northern end of the Orchard Road area that is popular with visitors to the city. 
Alternatively, if you want to stay near scenic Marina Bay to capture Singapore's skyline views then you will have to ride the MRT a bit farther to reach Singapore Botanic Gardens. Some popular hotels in this area include:
Marina Bay Sands (5-star, 9/10 rating) 
The Fullerton Bay Hotel Singapore (5-star, 9.4/10 rating)
The Ritz-Carlton Millenia Singapore (5-star, 9.2/10 rating)
You can expect world class views and service standards from all the properties listed above. Note that these properties have not paid us anything to share this information. This is our honest opinion based on our travel experience in Singapore.
---
Any more Questions about getting to Singapore Botanic Gardens using the MRT?
Please don't hesitate to send us an email or to post a comment if you have additional questions about getting to Singapore Botanic Gardens using the MRT.  One of the convenient things about this trip is that there are actually two lines that service trains to Botanic Garden Station. This provides you with more itinerary options because you can access the park from different areas of the city more easily. 
If you are planning a trip to the Gardens, consider combining this with a trip to Orchard Road. This is a popular shopping and dining district that is only minutes away from the entrances to the Gardens.