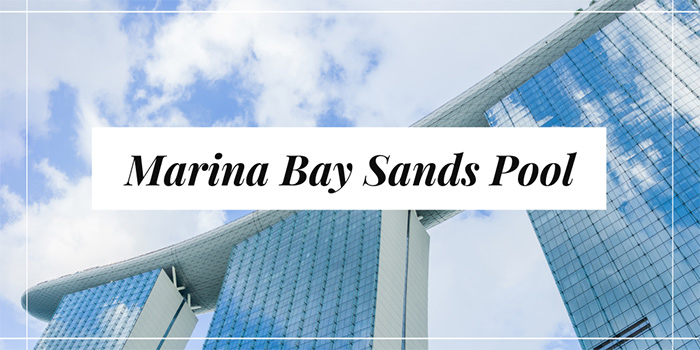 Everything you Need to Know about Marina Bay Sands' Pool.
Marina Bay Sands' pool may be the most famous pool in all of Asia. Regardless of where you have travelled around the world, very few pools offer such direct, unobstructed views of a spectacular skyline. Regardless of whether you are from Singapore or visiting from abroad, you have probably heard about the Marina Bay area.
Marina Bay is one of Singapore's best sightseeing districts. It is loaded with attractions, 5-star luxury hotels, shopping malls, museums and skyline views. Consequently, it attracts tons of visitors from all over the world on an annual basis. Everyone who visits Marina Bay does so for different reasons. 
Families love Singapore Flyer, Gardens by the Bay and the Marina Barrage area. Couples love watching shows at Marina Bay Sands and the Esplanade. Shopaholics head to the Shoppes and Marina Bay Sands, Suntec City, Marina Square and Millenia Walk. The list could go on…..
But, one of the best activities in Marina Bay is capturing breathtaking views of Singapore's famous skyline. In this article, we will describe why the Marina Bay Sands pool is one of the best places to take panoramic photos, selfies and videos of Singapore's central business district. 
---
Getting to Marina Bay Sands in Singapore
Before you can capture breathtaking views from the Marina Bay Sands pool, you arrange transport to get there first! Conveniently, the entire Marina Bay complex is accessible by public transport. 
If you land at Changi Airport and you are staying at Marina Bay Sands (hotel), then you can take the MRT to Bayfront Station. Once you arrive at Bayfront, just simply follow the signs and you should be in the hotel lobby in no time. 
Read More: How to get from Changi Airport to Marina Bay Sands – the complete guide. 
Alternatively, you can take the MRT to various other stations within walking distance of Marina Bay Sands. For example, Esplanade, Promenade, Raffles Place, Downtown and Marina Bay are all under 10 minutes from the hotel complex. 
Bayfront Station is definitely the most convenient station if you want to access the Marina Bay Sands pool, but the other stations are just a scenic walk away. 
Read More: How to get to Marina Bay Sands using MRT – every step of the way.
---
The Famous Infinity Pool at Marina Bay Sands
Once your itinerary has been made, and you are ready to visit the pool at Marina Bay Sands, head to the main lobby. Take the elevator up to the 57th floor and get your camera and phone ready for some unbelievable photos. 
The pool at Marina Bay Sands is classified as an 'infinity pool' meaning that the water level rises above the surrounding pool structure. This makes photos from the pool area more aesthetically pleasing because you don't see a concrete wall in your pics. When you lean against the wall of the pool it looks more natural, and this creates a more relaxing atmosphere to lounge around. 
Ideally, try to plan at least two visits to the infinity pool – one during the daytime and one during the evening. You will appreciate the different personalities the city takes on as the lights change throughout the day. 
---
Longest Elevated Pool in the World 
When you are walking around Marina Bay it is almost impossible not to notice the massive infinity pool 57 storeys up. Well, as it turns out the Marina Bay Sands pool is actually the longest elevated pool in the world according to the official website. 
It measures in at a truly impressive 150 m! The pool is supported by the three hotel towers directly below which makes for a memorable photo from the ground below. 
---
What to do at the Marina Bay Sands pool?
Aside from swimming, there are a few other things you can do in the pool area. 
Directly behind the pool, you will find a large selection of chairs that are perfect for soaking up some sun if you want to work on your tan. The pool area is also ideal for enjoying some light, delicious snacks between your main meals. 
And let's not forget about having a drink or two….
The pool at Marina Bay Sands is a very popular spot for sipping champagne. Although trendy, the pool area is also romantic and this is particularly true during sunset. Watch the colours change from peak afternoon to sunset and you won't be disappointed. 
Probably the most popular thing to do is rest against the pool edge for photos. This is where your creative side should kick in. It makes things a lot easier to visit the pool at Marina Bay Sands with someone else. You can switch and take turns taking photos.
Alternatively, set up the timer on your phone or camera and place either one of these on your pool chair. Make sure your camera is set up higher than you in the pool to capture as much of the skyline in the background as possible. 
Bring a Book
Swimming and taking pictures in the pool area are great experiences. However, don't forget to simply relax for a while. Bring along a book or your Kindle and spend a few hours reading. During peak travel periods and special events, you can expect the pool at Marina Bay Sands to be quite busy. 
But during certain times of the day and periods of the year, you can relax without a worry in the world. Bring along some headphones and chill to your favourite tunes. Order a few drinks and some snacks and make a day of it! 
---
---
Promotions at the Pool
If you book a room at Marina Bay Sands then keep your eyes open for promotions. It is common to find interesting deals up at the pool area. For example, at the time of writing, guests were offered a 20% discount on all food and beverage purchases. If you are planning on having a meal with 4 or 5 drinks, this would save you a substantial amount of money. 
---
Remember….
Singapore has so much to offer that sometimes it's possible to forget about the best features of the hotel you are staying in. The pool at Marina Bay Sands is a perfect example. Tons of visitors to Singapore pay to visit Sands SkyPark to capture very similar views to those experienced at the pool. 
Make sure to get the most out of your stay and use the facilities at Marina Bay Sands. 
Fortunately, if you stay at Marina Bay Sands, you will also be within walking distance of many of Singapore's most famous attractions. Gardens By the Bay, for instance, is directly behind the hotel. Across the reservoir is Singapore Flyer. When you walk around the Bay area also drop by Merlion Park to capture views of the pool area from the other side of Marina Bay.