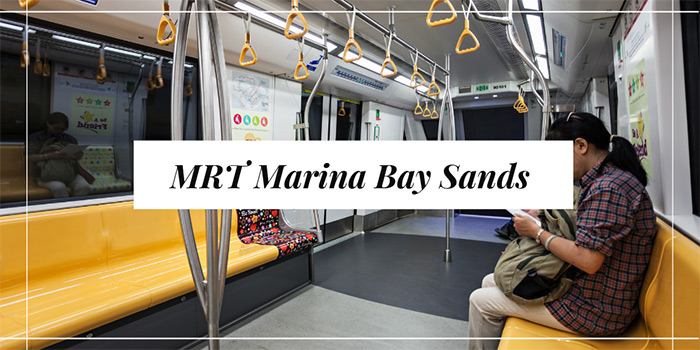 Travelling to Marina Bay Sands using the MRT? Find out what station(s) you should use to get there fast and easy.
If you are planning on taking the MRT to Marina Bay Sands, this is the right place. As one of Singapore's most iconic places, it's important that you can get here fast and affordably. Fortunately, there are multiple MRT stations that service Marina Bay Sands and the surrounding area.
Marina Bay is one of Singapore's most famous tourist areas. It is loaded with world-class attractions to visit and luxury hotels. Right at the heart of Marina Bay stands one of the most famous hotels in the world – Marina Bay Sands. 
It is best described as an integrated complex that consists of a 5-star hotel, a casino, a large luxury shopping mall, theatres, a convention centre and so much more. It is safe to say that very few tourists leave Singapore without first taking a photo of Marina Bay Sands and its massive infinity pool which is located 57 storeys up.  
This article will outline transportation options so that you are a 'MRT Marina Bay Sands' expert. Ideally, you will learn how to integrate this area into your itinerary for Singapore with the ultimate goal of making your trip more enjoyable.
---
Most Convenient Station for Getting to Marina Bay Sands
Due to the popularity of Marina Bay Sands, there's actually an MRT station that is directly connected to the complex. Bayfront Station, therefore, is definitely the most convenient station for accessing Marina Bay Sands. 
Bayfront Station is part of two lines within Singapore's Mass Rapid Transit (MRT) train system:
Downtown Line (Blue)
Circle Line (Yellow/Gold)
Once you arrive at Bayfront Station, you have multiple exits to choose from to access Marina Bay Sands or the surrounding attractions. 
---
Exiting Bayfront Station
 The main exits for getting to Marina Bay Sands from Bayfront Station are C and D. It is about a 5-minute walk from Bayfront to Marina Bay Sands, and it is very straightforward to follow the signs to get there. 
Exits C and D are also used to access the Shoppes at Marina Bay Sands, Sands SkyPark, ArtScience Museum, Sands Theatre and Sands Expo & Convention Centre. Once you are in the Marina Bay Sands complex, you should have no problem getting from one place to the next. Either follow the signs or ask their personnel to point you in the right direction. 
---
Other MRT Stations
The convenient thing about Marina Bay Sands is that there are many other MRT stations within walking distance of it. Therefore, if you can't make it directly to Bayfront, you can get off at another station and still make it there. 
The two adjacent stations to Bayfront on the Downtown line are:
Downtown Station
Promenade Station
Downtown Station is about 1.4 km southwest of Marina Bay Sands. Expect it to take about 15-17 minutes to walk from the station to the hotel. 
Promenade Station is 1.5 km from Marina Bay Sands, across Helix Bridge to the northern section of Marina Bay. Along the way from the station to the hotel, you will pass by the Ritz-Carlton Millenia Singapore, which is considered to be one of the best 5-star hotels in the city. Expect a similar walking time (15 minutes) from Promenade Station to Marina Bay Sands. 
To be a true 'MRT Marina Bay Sands' guru, you should also know that there are other MRT stations aside from Promenade, Bayfront and Downtown. For example, Raffles Place Station is nestled behind the Fullerton Bay Hotel and attached to One Raffles Place. 
It takes a bit longer to walk from Raffles Place station to Marina Bay Sands, but it's possible. Along the way, if you travel north, you will walk by Merlion Park and the Esplanade. 
Three More….
The remaining three MRT stations near Marina Bay Sands are:
City Hall Station
Esplanade Station
Marina Bay Station
City Hall Station is located behind the National Gallery Singapore, in an area with lots of colonial buildings. Esplanade Station is only a few hundred meters northeast of City Hall Station, so they are quite close and in the same general area. It's a short walk from either of these stations to the waterfront and further to Marina Bay Sands. 
Although these stations are a bit of a walk to Marina Bay Sands, you get the added bonus of walking along Marina Bay. Bring along your camera for breathtaking views of Singapore's famous skyline during the daytime or at night when things are illuminated.
---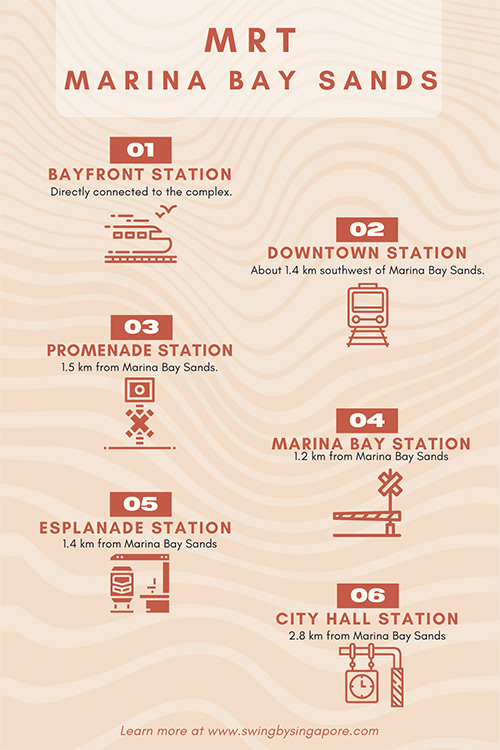 ---
Getting to Marina Bay Sands from Changi Airport using MRT
It is also possible to get to any of the surrounding MRT stations from Changi Airport. Once you land at Changi Airport, clear immigration and customs, then, follow the signs directly to Changi Station. 
You can learn the entire process of getting from Changi Airport to Marina Bay Sands by reading this comprehensive guide. For many people, this is an affordable way to make it to Marina Bay. But, if you have a lot of luggage or you are travelling with a large group of people, consider getting a taxi or shuttle bus instead. 
There are a lot of hotels near other stations in the Marina Bay area. So, if you land at the airport, you have some options regarding where you stay relative to Marina Bay Sands. 
A few popular places to stay within walking distance of Marina Bay Sands include the Fullerton Bay Hotel, Ritz-Carlton Millenia, Pan Pacific Singapore, Hotel Fairmont Singapore, Raffles Singapore, and the Fullerton Hotel. 
Remember, if you do have the choice, take the MRT to Bayfront Station to access Marina Bay Sands. There are other options out there. But this is by far the most convenient access point for the hotel and other attractions on site.