Learn what is the best MRT Station to access world-famous Gardens by the Bay.
If you are wondering what is the closest MRT to Gardens by the Bay, this is the right article for you!
Gardens by the Bay in Singapore is regarded as one of the most popular attractions in the entire city – and for good reason! It is innovative, colourful and environmentally friendly. You won't be surprised to hear that it is also one of the best family-oriented places to visit. 
If you are planning a visit to Garden's By the Bay you can purchase an entry ticket online before you arrive (with over 1 million tickets already sold).
There are tons of luxury hotels minutes from the Gardens, but if you want to be able to walk directly there, book a room at Marina Bay Sands.
---
Benefits of Taking the MRT to Gardens by the Bay
If you are visiting Singapore or living in the city, highly consider taking the MRT to Gardens by the Bay. It is fast, affordable, convenient and better for the environment than taking a private vehicle. 
Another benefit of taking the MRT there is saving money and stress with parking. Who really wants to pay for parking, and then spend valuable time trying to find a good parking spot? Once you park your vehicle you may also have to walk quite far before you reach your destination. 
There are multiple types of MRT tickets in Singapore, including Singapore Tourist Passes. These usually offer visitors unlimited trips on the MRT and buses for a set number of days. 
Read More: How to buy Singapore Tourist Passes? – the complete guide. 
Taking the MRT to Gardens by the Bay is an affordable way to get from Changi Airport as well. Singapore is extremely well planned in terms of transportation infrastructure. Arriving at Changi Airport is no exception. Once you land, simply pass through immigration and customs, then walk to Changi Station. From there it's a simple process to get to Gardens by the Bay.
---
Most Convenient Station to Access Gardens by the Bay
The most convenient station for getting to Gardens by the Bay via MRT is Bayfront Station.  
Although there are other stations that we will discuss later, this is by far the closest and most convenient choice. 
Bayfront Station is extremely popular for a few different reasons. First of all, it services the massively popular Marina Bay Sands complex which consists of a luxury hotel, large shopping mall, casino, convention centre and a lot more. Secondly, Bayfront provides access to other attractions around Marina Bay such as Helix Bridge, Merlion Park, Singapore Flyer and Marina Barrage and Sands SkyPark. 
---
Getting from Bayfront Station to The Gardens
Now that you know the closest MRT to Gardens by the Bay, the next step is getting from Bayfront to the Garden area. Fortunately, this is an easy process.
Gardens by the Bay occupies the large space directly east (and southeast) of Marina Bay Sands and Bayfront Station. 
To get to Bayfront Station in the first place you have to travel along the Circle Line or the Downtown Line.
Alight at Bayfront Station and then follow the station signs to Exit B. Exit and walk across the underground linkway. Then, take either Dragonfly Bridge or Meadow Bridge into Gardens by the Bay. 
---
How far is Bayfront Station from Gardens by the Bay?
Since Gardens by the Bay is quite massive, it really depends on what area you are walking to from Bayfront Station. The initial section of the Gardens is only about 500 meters from the station. However, expect it to take about 10-12 minutes to get to the middle area around SuperTree Grove. 
Cloud Forest and Flower Dome are two popular attractions within the Gardens by the Bay complex. Expect it to take about 15-20 minutes to walk to these points of interest from Bayfront Station. 
---
Other MRT Stations near the Gardens
The closest MRT to Gardens by the Bay is Bayfront. The next best options in this area of Singapore are not nearly as convenient. However, it is still possible to walk from any of them to Gardens by the Bay:  
Raffles Place Station 
Promenade Station
Downtown Station
Esplanade Station
Try to bring along some refreshments especially if you are walking around Marina Bay during the hot afternoon hours. Singapore has very intense heat, so be prepared to sweat it out. An umbrella, sunscreen and sunglasses are also recommended if you are walking from any of these stations to The Gardens.
---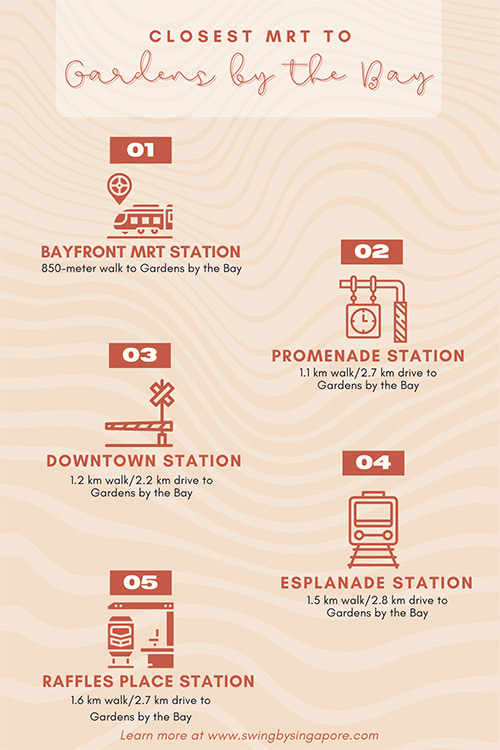 ---
Looking for more information?
We have outlined important information about the closest MRT station to Gardens by the Bay. However, you may require additional information about getting to this popular attraction in Singapore. To help, consider reading our very detailed guide on how to get to Gardens by the Bay using MRT. You will learn which lines to take and specific details about walking from Bayfront Station to nearby attractions such as Supertree Grove, OCBC Skyway, Cloud Forest and Flower Dome. 
The Marina Bay area caters to travellers of all ages, so we suggest heading down to this area of Singapore multiple times when you are in the city. The hotels in this area are phenomenal and definitely worth looking into if you can afford staying at a 5-star property.