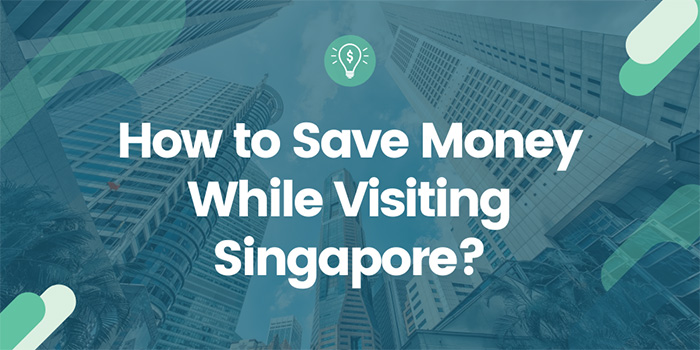 Want to learn how to save money while visiting Singapore??? This is the ultimate guide to save some serious cash in one of the world's most expensive places to visit. It comes as no surprise to many people that Singapore is a very expensive place to visit. This is especially true for visitors who are travelling with an entire family consisting of two or three kids for example. This article is designed to help you cut expenses from your trip. This will maximize your sightseeing and social experience while you are in this beautiful city.
---
Why is Singapore so expensive for tourists?
From a tourist perspective, Singapore is expensive for different reasons.  Although Singapore has a very well-established and very organized public transportation system, costs arise for other reasons than basic transportation needs. For example, accommodation is very expensive relative to other Southeast Asian countries. To give you an example of what kind of expenses we are talking about, one of the most popular hotels in all of Singapore is Marina Bay Sands.  You can expect to pay around $500 per night at this popular hotel. Other popular, but pricey hotels include Raffles and The Fullerton. You can expect to pay hundreds upon hundreds of dollars for nice hotels in Singapore. Actually, even basic 2 and 3-star hotels can often cost well over $150. 
Another common expense in Singapore that is much more than other Southeast Asian nations is the price of food.  If you are going to have a nice meal in Kuala Lumpur and then decide to take a flight or the bus down to Singapore you will be shocked by the price difference for the exact same meal. If you want to wine and dine in Singapore you have to be prepared to shell out some serious cash. Alcohol at restaurants and bars is also super expensive. 
Common Expenses
Obviously food and accommodation are not the only expenses that visitors to Singapore have to deal with.  They also have to pay for entrance tickets to zoos and other attractions that are markedly more expensive than surrounding countries. If you want to sightsee with your whole family in Singapore you have to be prepared to spend some money. 
Fortunately, there are some practical strategies that you can utilize to make sure that you save as much money as possible.  The suggestions below are based entirely on our extensive travel experience in Singapore and around other countries in Southeast Asia.
---
Save Money in Singapore Tip #1: Find Nearby Grocery Stores Really Fast
If you want to save a lot of money while you are visiting Singapore you have to understand that restaurants and eating out are significantly more expensive than buying food at a local grocery store. Keep in mind that local Singaporeans often shop at local grocery stores. Therefore, make sure that you book a hotel that is near a grocery store during your stay.  This will allow you to conveniently access the store and purchase everything from snacks to drinks and of course bottled water to tackle the intense heat. 
If two people eat out at a restaurant in Singapore it can often cost well over one hundred Singaporean dollars ($100).  If you shop smartly you might be able to stretch even five or six days on grocery store food. This would equate to just a single meal eating out within the city. Convenience stores in Singapore are obviously cheaper than restaurants. But you will be shocked by how expensive certain drinks and snacks are. One drink at a convenience store in Singapore that can literally be more expensive than a meal in Malaysia or Thailand, for instance. 
Take our advice and try to maximize your grocery store shopping while you are in Singapore. Try to book a room with a kitchen so that you can either cook some of your own meals or simply keep your food nice and cold in the fridge. We promise that this can save literally hundreds of dollars over a one week trip to this beautiful city.
---
Save Money in Singapore Tip #2: Book your hotel as close as possible to MRT Stations.
There is no denying the fact that Singapore has one of the best public transportation systems in the world. It is extremely well connected with an extensive MRT system that is available for tourists to use while they are in the city. Although many Western in European cities may have more expensive taxis than Singapore, Singapore's taxis are a lot more expensive than those found in other countries like the Philippines or Indonesia for example.  A practical way for you to save money while you are in Singapore is to maximize the use of the MRT. 
If you plan on taking a taxi from the airport to the city center and then a taxi to and from all of the different attractions within the city it is going to get very expensive very fast. One of the most practical strategies to reduce transportation costs is to use the MRT and to use it a lot! While you are in Singapore you can purchase a stored-value card which allows you to load it up with cash and then use it for multiple trips. 
Convenient Room Locations
Try to book a hotel room within walking distance of an MRT Station. In some cities this just isn't possible because there are not enough MRT stations near hotels. Singapore has tonnes of stations that are located in prime sightseeing areas. Therefore, if you consistently walk to the nearest station from your hotel then you will save cash and also save the environment. 
Some popular hotels in Singapore that are within walking distance of MRT Stations are listed below for your convenience:
Marina Bay Sands: Walking distance to Bayfront MRT Station
The Fullerton Hotel Singapore: Walking distance to Raffles Place MRT Station
Fairmont Singapore: Walking distance to Esplanade MRT Station 
Four Seasons Hotel Singapore: Walking distance to Orchard MRT Station
---
Save Money in Singapore Tip #3: Develop your own walking tour.
One way to save money in Singapore that is often overlooked is by developing your own walking tour. When a lot of families come and visit Singapore they become reliant on tour operators to show them around. This creates unnecessary expenses because of two main reasons. First of all, all the transportation costs that are created from getting transported from one attraction to another. And secondly, tour operators charge a lot of money to make day excursions convenient. 
You would be surprised how many different areas and attractions you can explore in Singapore by simply walking throughout an entire day.  We have personally checked out Chinatown, Marina Bay and Little India on the same day. Even the direct the area around Marina Bay Sands has a lot to explore. You can check out Singapore's Skyline from the top of the hotel, you can explore the Singapore Flyer, check out a show at the Esplanade, take photos of the Merlion and even have time to visit Gardens by the Bay. In other words,  with some proactive planning, there is no reason why you cannot save hundreds of dollars throughout a trip to Singapore by planning your own daily itinerary. Try to walk as much as possible and try to maximize riding the MRT as opposed to using private transportation options such as taxis and limos.
---
Save Money in Singapore Tip #4: Book a clean, modern capsule or stay at a hostel.
Heavily populated Capital Cities such as Singapore and Tokyo, for instance, are famous for capsule hostels. Over the years we have stayed at multiple capsules in Singapore in the Clarke Quay-Boat Quay area.  What these technically are is a modern form of hostel. Many people sleep in the same room but within their own private capsule.  Although we wouldn't recommend staying in these types of rooms in some unsafe countries, Singapore is known for its safety and also cleanliness. 
Dream Lodge and Chic Capsule Otel are a few popular examples. 
There are also a variety of well-managed hostels in Singapore as well. We do realize that not all tourists will enjoy staying in a community type environment. But it is a viable way for people to save money that if they are not concerned about privacy. A lot of these hostels and capsule hotels cost roughly anywhere from thirty Singaporean dollars per night to 120 Singaporean per night. Although these prices may still sound expensive oh, there are extremely cheap relative to the most expensive properties in Singapore such as Four Seasons and Raffles Singapore.
---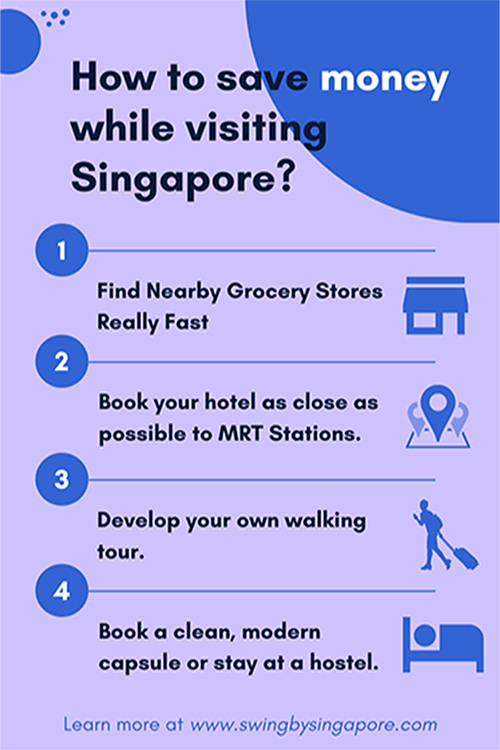 ---
Any more ideas on how to save in Singapore?
This article has summarized some of the most effective ways to save money while you are in Singapore. This list is based on our own personal travel experience. Therefore, it doesn't include every possible idea on how to save money. In other words, you may know or a friend of yours may know some other viable strategies to on how to save money while visiting Singapore. If this is the case, don't hesitate to send us an email. Share your ideas with our community. The whole purpose of this article is to make sure that you save some cash so if you want other people to do the same just comment below.