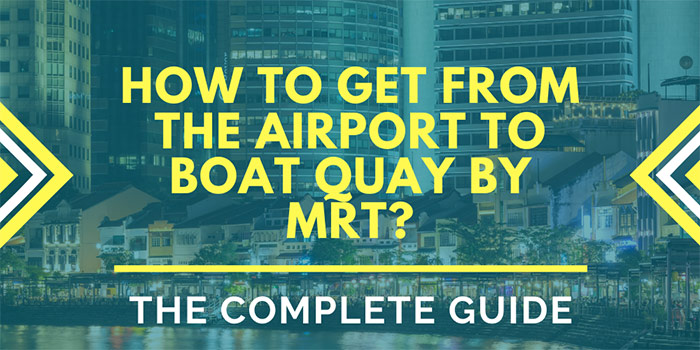 This is a step-by-step guide on how to get from the airport to Boat Quay by MRT. Once you land at Changi Airport in Singapore you will be delighted to find out that the MRT network is physically connected to the airport.  
This means that you can literally land in Singapore and not step foot in a single-vehicle throughout your entire trip to Singapore.  The last time we landed in Singapore we took the MRT directly to Boat Quay. Therefore, this article is designed to recount our personal experience making this connection. Singapore has an extensive MRT system then enables passengers to reach all different corners of the city. Take advantage of the potential savings and efficiency while in the city!
---
Why visit Boat Quay in Singapore?
Boat Quay is a very picturesque area of Singapore that is well worth visiting. For one, it is a very scenic spot. You will see water reflections, waterside restaurants, and Singapore's amazing skyline in your photos and videos.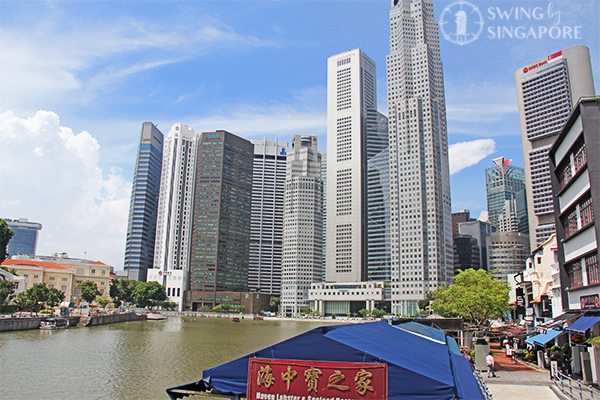 For the most part, Singaporeans and visitors go to Boat Quay for two main reasons: 
Dining

Socializing
There is a series of waterside restaurants that welcome guests for mainly lunch and dinner each day. Seafood is a popular, albeit pricey choice here. Boat Quay has nice boardwalks that allow pedestrians, cyclists and runners to pass by famous hotels such as Fullerton Hotel Singapore and Cavenagh Bridge as they travel towards Marina Bay and world-famous Marina Bay Sands. It is common to see people walking from Boat Quay and Clarke Quay all the way to Marina Bay. Therefore, expect a steady flow of people except during peak afternoon hours when it is really hot outside.
Take note that Boat Quay is beside Clarke Quay – another scenic area that is well known for a 'happening' social scene. It consists of many bars and restaurants seconds from the Singapore River. 
---
Getting from Changi to Boat Quay: The Complete Guide
Step 1: Go to Changi Station at the Airport 
Once you land at Changi Airport in Singapore you first will have to pass through immigration, collect your luggage and then go through customs. Then, focus on following the airport signs directly to Changi Station.
If you can't find your way, don't hesitate to ask some airport personnel where you should go to access the MRT. Changi Airport routinely gets ranked as either the top airport or one of the top airports in the world. Therefore, expect organized signage with very competent personnel throughout the airport to assist you.
---
Step 2: Purchase your MRT Ticket to Raffles Place Station
While you are in an MRT Station you'll have to make sure that you decide on what kind of ticket you want to purchase to get to Boat Quay. Ultimately, this depends on your personal circumstances in Singapore. There are three different types of tickets that you should consider:
Single Journey Tickets

Stored Value Cards

Singapore Tourist Passes
Single Journey tickets are the most basic form of tickets that you purchase at a ticketing machine. These are convenient if you are only going to use the MRT once or twice while you are in the city. However, if you are going to use the MRT multiple times you are better off getting a card. 
Staying for a while?
Stored value cards are quite common with people that are staying in Singapore for a bit longer. They are typical cards that you pay for and then top up and then can use for multiple rides.  The cost per ride is cheaper than a single journey ticket and you also avoid ticketing lines every time you want to use the MRT because all you have to do is just tap to access the system.
Staying for a few days?
Singapore Tourist Passes are the best choice if you are only in the city for a set number of days. These passes allow you to use the MRT bus networks within the city and an unlimited number of times within a specific number of days. Again, the type of ticket that you purchased really depends on how active you plan on being while you are sightseeing in Singapore. If you are going to only use the MRT once or twice per day then you are obviously not going to get your money's worth out of a Singapore tourist pass.
Next, book your ticket to Raffles Place MRT Station.
Raffles Place is located south of Boat Quay and it is on the East-West Line which is shown in 'green colour' on Singapore's Train Map. 
---
Step 3: Take the MRT East-West Line to Tanah Merah Station
Take the train from Changi two stations west to Tanah Merah MRT Station. 
Tanah Merah is the second station on the East-West Line. The first station is Expo Station. 
Get off the train and wait for a westbound train along the East-West Line. 
---
Step 4: Ride the MRT to Raffles Place Station
Once you are riding on a westbound train towards Raffles Place Station you can relax because this is going to take you at least 30 minutes of travel time. Raffles Station is the 10th stop after Tanah Merah. 
Conveniently, The MRT trains in Singapore will make frequent announcements to inform passengers what the next station will be on the line.  You can also expect to see signs above each exit that highlight where you are at any one time.
On your way from the airport, you should be familiar with the preceding station to Raffles Place. In this case, it is City Hall Station. 
As you hear the announcement for City Hall station on the train make sure that you bring your luggage closer to the exit. This will allow you to get off the train very easily you when you arrive at Raffles place.
---
Step 5: Exit from Raffles Place and walk to Boat Quay
After you arrive at Raffles Place you will be within walking distance of Boat Quay. Boat Quay is an 'area' in Singapore and not a single building, so you can access the waterfront using different roads and walkways. 
Raffles Place Station has 10 different exits to choose from: A, B, C, D, E, F, G, H, I, and J. This can get a bit overwhelming. Take exit G from Raffles Place if you want direct access to Boat Quay. You will be right beside the water. This walk should take you under 5 minutes. 
---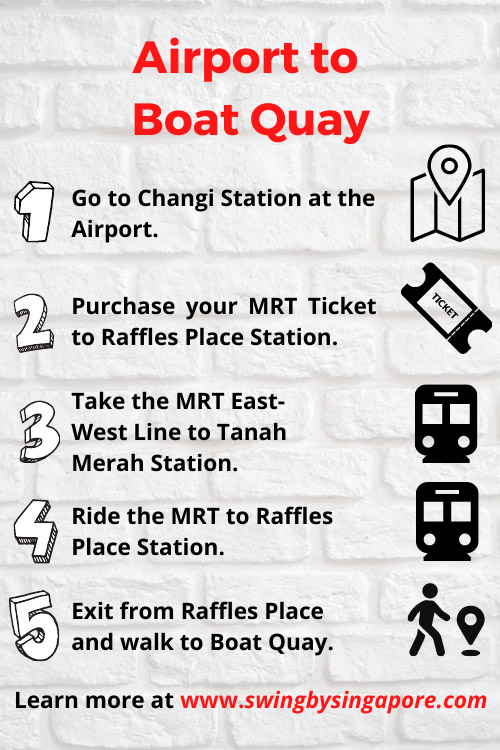 ---
$$$ How much does it cost to get from Changi to Boat Quay?
You can expect the trip from the airport to Boat Quay to cost a different amount of money depending on your age and status in the city. In other words, working adults are required to pay more than students, children, senior citizens and disabled individuals.
A stored-value card trip from Changi to Raffles Stations will cost $1.87 for adults. 
Children and students have to pay $0.63. Senior citizens and disabled travellers will pay $0.92. 
You will pay much more for a single journey ticket for this trip. The price is $2.80 from a ticketing machine for a standard ticket to reach Raffles Place from the airport.
***Note: You can expect these prices to change over time because they are quoted at the time of writing. 
---
How long does it take from the airport to Boat Quay?
The average travel time from the airport to Boat Quay is 44 minutes. This is an approximate value and keep in mind that it may differ depending on how busy the train lines are during your trip. For instance, if you are travelling and it's during peak times you can expect more people to get on and off the train at each station. Since there are multiple stops from the airport to Boat Quay this can change the amount of time it's going to take for this trip.
---
Selecting the best hotel in Boat Quay
Despite the fact Boat Quay has amazing Waterfront views, it doesn't have a whole lot of direct choice in terms of hotels and apartments to choose from. But there is one exception and this is a phenomenal hotel that you should consider staying at.
The Fullerton Hotel Singapore is by far the best choice if you want to stay right alongside Boat Quay. This is a colonial, 5-star property that has a review score of 9.1/10. It is adjacent to Cavenagh Bridge in a beautiful spot. We highly recommend staying here if you can afford it!
Conveniently, however, there is a solid cluster of very affordable hotels between Boat Quay and Clarke Quay. Just a few hundred meters away from Clarke Quay Station. We have stayed in this area near Boat Quay many times and we find that it's very convenient to access restaurants, bars and it's also easy to walk to Marina Bay.
Some Popular Budget-Friendly Choices
Some of the best 'budget-oriented' places to stay at include the following:
Hotel Bencoolen @ Hong Kong Street
Champion Hotel City
Hotel Clover the Arts 
And…if you have the budget????
Alternatively, if you do have the budget you might want to actually stay in Marina Bay to capture the amazing views and then walk to Boat Quay and Clarke Quay for dining purposes. Some of the top hotels in Marina Bay include:
Marina Bay Sands (5-star, 9/10 rating) 
Mandarin Oriental Singapore (5-star, 8.9/10 rating)
The Fullerton Bay Hotel Singapore (5-star, 9.4/10 rating)
The Ritz-Carlton Millenia Singapore (5-star, 9.2/10 rating)
As you can see from their very high review scores these Marina Bay properties tend to be some of the best in the entire city. You will capture amazing views and experience superb service standards if you do have the budget to stay at these properties. Keep in mind they are not cheap, therefore make sure that your budget range before booking any of these.
Take note that the review scores listed above are taken from leading online accommodation sites at the time of writing. Therefore, they are subject to change over time. Also, keep in mind that we do not have a direct affiliation with any of these properties.
---
Any more questions about getting to Boat Quay?
We do really hope that getting to Boat Quay from the airport is stress-free using this guide. When you do make it to the Boat Quay keep in mind that you are very close to other top-notch attractions within the city.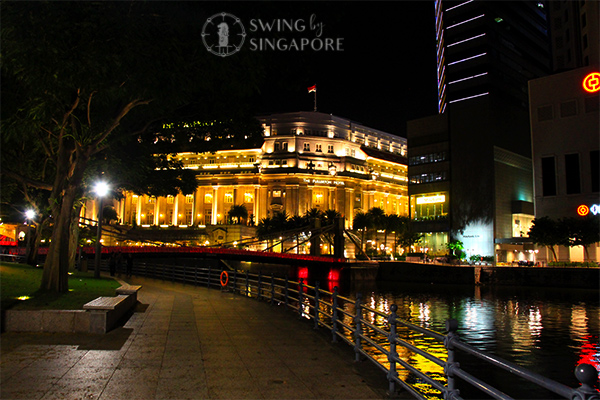 Typically, you can walk to Marina Bay within 10 to 15 minutes from Boat Quay. Once there, you can walk to interesting sites such as 
The Merlion
Singapore Flyer
Marina Bay Sands
Gardens By the Bay
The Esplanade and Raffles Hotel are also popular venues for visitors to the city. 
A really interesting itinerary would be to arrange a nice waterside dinner in Boat Quay followed by a scenic walk around Marina Bay at night. We can assure you that Singapore Skyline will not disappoint if this is your first time in the city. This is a very popular area where you see both tourists and Singaporeans walking around and taking photos of their beautiful city.
If you do have any additional questions on how to get from the airport to Boat Quay by MRT then just send us an email or a comment. We would be happy to provide you with additional insight into the inquiries you may have!