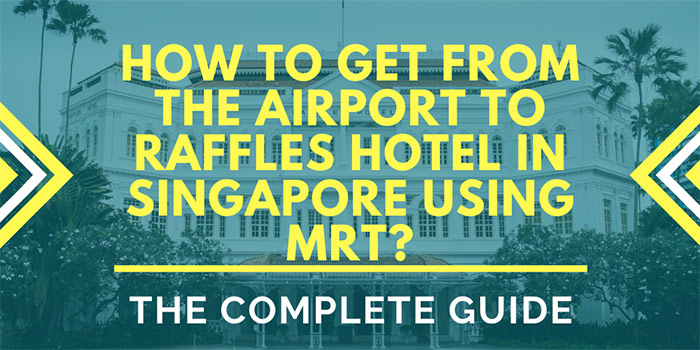 We have designed this article to provide you with a step-by-step guide on how to get from the airport to Raffles Hotel in Singapore using the MRT. Fortunately, when you land at Changi Airport in Singapore you will be physically connected to the MRT system. The MRT system in Singapore is very extensive and will get you pretty much where you need to go throughout the city.
This article is based on our own personal travel experience going from the airport right to Raffles Hotel. This is designed to make this trip the most convenient it can be while saving time after you land at the airport.
---
Why should you visit and stay at Raffles Hotel in Singapore?
After a recent renovation, Raffles Singapore is ready to welcome visitors. This is Singapore's most iconic hotel, one of the most famous hotels in Asia, and one of the famous landmarks in the city. 
After its opening in 1887, Raffles Singapore became a hit due to its elegant grandeur and charm. It has welcomed countless world dignitaries and celebrities over the years. The hotel is named after Sir Stamford Raffles, founder of Singapore. Many tourists to Singapore consider this to be a colonial-style treasure. Consequently, it was declared a National Monument in 1987 and reminds us of Singapore's past. 
From a tourism perspective, many people visit Raffles prior to leaving the city. It is regarded as one of the best places to get a 'Singapore Sling' – one of the city's famous alcoholic beverages. It is also located in the 'prime' sightseeing area, close to Marina Bay Sands, Fullerton Hotel, the Merlion and the Esplanade. 
If you do have the budget this is one of the most highly regarded hotels anywhere, so expect world-class service standards and the best hotel cuisine out there. 
---
Getting to the Raffles Hotel from the Airport
Step 1: Clear immigration and walk to Changi Station
One of the convenient benefits of flying into Changi Airport is that once you clear immigration, collect your luggage, customs you will be able to walk directly to Changi Station.  This should be your first point of contact when you're trying to access the MRT system in Singapore.
Fortunately, Changi Airport is extremely well organized and is considered to be one of the best airports in the world.  After you land and you are ready to access the MRT just simply follow the airport signs throughout your respective terminal. 
There are three primary forms of MRT tickets in Singapore, and they include: 
Single journey trip tickets 

Stored value cards

Singapore Tourist Passes
As their name suggests, single journey tickets are the standard form of a ticket. You can purchase one directly at a ticketing machine.  These tickets have their pros in their cons depending on your itinerary.  You do not have to worry about purchasing a card when you get a single journey ticket. However, you can expect to pay more per trip. Also, you often have to wait in line to purchase a ticket at a ticketing machine.  These are only ideal if you only plan on using the MRT or bus network in Singapore once or twice during your entire trip.
Staying in Singapore for a while?
The second option is a stored-value card. These cards are quite convenient and very popular with people staying in Singapore for an extended period of time.  You can purchase the card and then top it up with a set amount of cash. Then, as they use the MRT or bus network throughout your trip to the city you can just tap this card. This is ideal because you pay less per trip than a single journey ticket and you also avoid the ticketing lines every time you want to use the MRT Network. When we first tried figuring out how to get from the airport to Raffles Hotel in Singapore using MRT, we used what is called an ez-link card. This is one form of a stored value card that you can get.
Staying in Singapore for a few days?
The third option, Singapore Tourist Passes, are designed for people that are visiting the city for a short period of time.  These can save you a lot of money if you are a tourist who is going to use public transportation a lot during your trip. When you purchase a Singapore tourist pass you get to use the MRT Network for unlimited trips for a set number of days.  Therefore, if you plan on using the MRT extensively this is the best option for you if you were in Singapore for just a short while.
---
Step 2: Purchase your MRT Ticket to Esplanade Station
Once you have decided what kind of ticket do you want to purchase for this trip you have to select the correct terminal station to make sure that you are within close walking distance of Raffles Singapore. 
Buy your ticket to Esplanade Station. This is the closest station to Raffles Hotel. 
---
Step 3: Take the MRT East-West Line to Tanah Merah Station
Get onto the train and don't forget your luggage. You will only be on the train for a few minutes and then you will alight at Tanah Merah Station. Along the way you will pass Expo Station before Tanah Merah, so you might as well stay close to an exit if possible.
Get off the train and wait for the next westbound train on the East-West Line. This line is shown in green colour on the MRT route map. 
---
Step 4: Travel along the East-West MRT Line to Paya Lebar Station. 
Paya Lebar Station will be the next station that you need to get off at in order to reach Raffles Singapore.  Listen for verbal announcements that inform passengers about upcoming stations on the line. There are also signs above each exit that show you where you are on the line.  This station is 4 stops after Tanah Merah. 
---
Step 5: Transfer to the Circle Line at Paya Lebar.
Once you get off the train at Paya Lebar you need to transfer to the Circle Line.  This is shown on Singapore's train map in yellow, or gold colour. Then, you must catch a southbound train towards Esplanade Station. 
The correct train should terminate at Dhoby Ghaut Station. This is important because the Circle Line splits after Promenade, so make sure you are on the right train. 
---
Step 6: Ride the MRT to Esplanade Station and walk to Raffles Singapore
Esplanade Station will be the sixth stop after Paya Lebar.  Remember to bring your luggage and exit the train.
Like many of Singapore's MRT Stations, Esplanade Station has 7 different exits: A, B, C, D, E, F, and G. Take Exit E in order to walk to Raffles Hotel in Singapore.
Raffles Hotel is a 2-minute (100 meters) walk from Esplanade Station. You should be there in no time!
---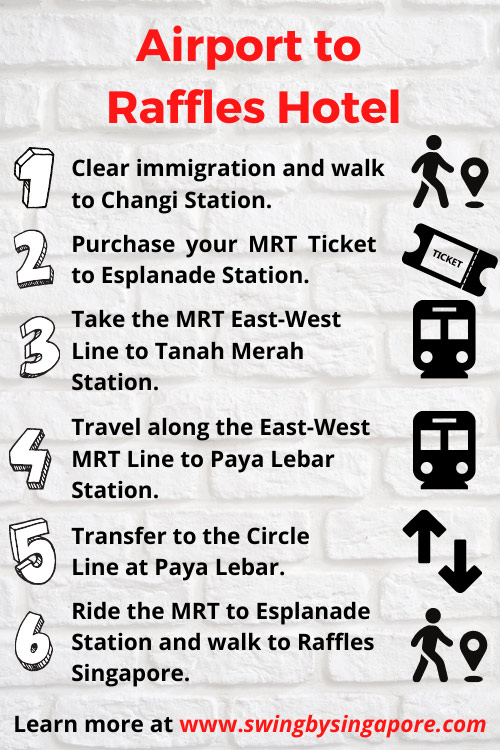 ---
 

$$$

 How much does it cost to take the MRT to Raffles Hotel from the airport?
MRT prices in Singapore are subject to change depending on your status and also the type of ticket you're using for your trip.
If you are using a stored-value card from Changi to Esplanade it will cost $1.84 for adults. Children and students will pay $0.63 where senior citizens and disabled travellers will pay $0.92. Keep in mind that these prices are subject to change over time.
All of the prices quoted above are based on using a stored-value card. Single journey tickets are more expensive. Expect to pay $2.60 from a ticketing machine for a standard ticket to reach Esplanade from the airport.
Keep in mind that these prices are based at the time of writing and therefore subject to change over time.
---
How long does it take to travel from Changi Airport to the Raffles Hotel?
The average time for this journey from Changi Airport to Esplanade Station is approximately 52 minutes. This includes the transit time that is required to get here. Of course, you can expect this to slightly change depending on how busy the trains are.  For example, if you land at Changi Airport during Peak rush hour you can expect more people to be getting on the train at the airport. More people also are getting on and off at each station along the way.
---
Should you stay at Raffles or somewhere else nearby?
There is no denying the fact that Raffles Singapore is one of the best hotels in Singapore and one of the best hotels in Asia for that matter.  It has welcomed countless celebrities and political figures over the years.  We also expect this trend to continue considering that it has been recently renovated, but it has maintained its colonial charm.
The main reason why a lot of tourists won't stay at Raffles is because it is quite expensive relative to other hotels that you may have stayed at before. This is the ideal type of location for a honeymoon or to celebrate a special event. Of course, very wealthy visitors to Singapore and also people having a staycation in the city can definitely afford this hotel. But budget travellers typically prefer to stay at a hotel nearby and then maybe visit for a few drinks during their stay.
If you cannot afford Raffles Singapore; you shouldn't worry. There is an extensive selection of other great hotels in this area as well that are within close walking distance of Raffles.
Popular Choices
Some of the most popular and best hotels within walking distance of the Raffles Hotel include:
Mandarin Oriental Singapore (5-star, 8.9/10 rating)
The Fullerton Bay Hotel Singapore (5-star, 9.4/10 rating)
The Ritz-Carlton Millenia Singapore (5-star, 9.2/10 rating)
The Fullerton Hotel Singapore (5-star, 9.1/10 rating)
Marina Bay Sands (5-star, 9/10 rating) 
Please take note that the rating scores listed above are taken from leading accommodation websites at the time of writing. They are subject to change over time as different guests continue to review these properties. As you can see the scores are all very high which suggests that they are very well managed properties with excellent service standards. We do not have a direct affiliation with Raffles Hotel or any of the other properties listed above.
---
Any more questions about your trip from the airport to the Raffles Hotel in Singapore?
One of the main things that you have to realize about this journey from the airport to Raffles is that this is not the only way that you can make it here using the MRT. Instead, you could technically plan on walking a bit further from a different station and this would speed up your overall journey time if you don't have too much luggage. 
Consider taking the East-West Line direct to City Hall Station instead. This eliminates the transit at Paya Lebar Station. If you are keen to walk, this is a direct alternative and might be a better strategy for some people. 
Once you make your way to Raffles Singapore keep in mind that there are other world-class attractions to explore in this area of the city as well. First of all, you will be in Marina Bay which is one of the nicest areas in the entire city. You can expect to capture breathtaking skyline-views of Singapore within minutes of Raffles Hotel.  You can also explore popular sites such as the Singapore Flyer. This offers excellent panoramic views of Singapore. You are also a short MRT ride away from Singapore's coolest districts such as Chinatown, Little India, Orchard and social districts such as Clarke Quay and Boat Quay. 
We do hope that this step-by-step guide on how to get from the airport to Raffles Hotel in Singapore using MRT has been descriptive enough.  If for some reason you do have additional questions about this journey please don't hesitate to send us an email or a message. We would be more than happy to provide you with additional details regarding this trip.