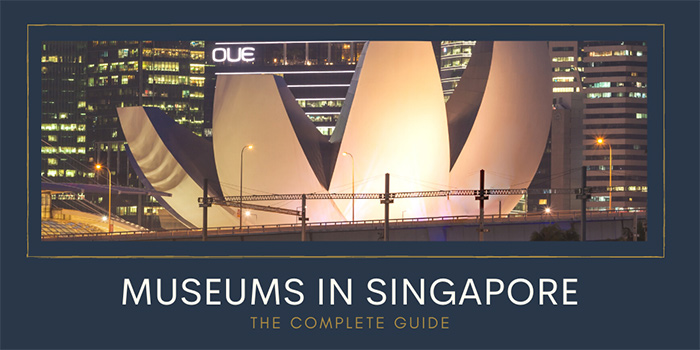 "The comprehensive guide to visiting the best museums in Singapore."
Singapore Museum Overview
You are sure to be impressed by the museums in Singapore. In comparison to any other city in Southeast Asia, you can expect world-class museums that offer ultra-modern exhibits and informative displays.
At the time of writing, Singapore has around 50 different museums spread throughout the city.
Whether you live in Singapore or are visiting from abroad, it's essential to know which museums and art galleries you want to visit.
This guide will provide you with all the essential information you need about Singapore's museums. Ideally, by the end of this article, you should be able to add museums and art galleries to your itinerary while in Singapore.
---
What kind of museums are in Singapore?
The first thing you should know about museums in Singapore is that there are museum experiences to suit all visitors. For example, if you visit Singapore with children, you may think that there is no point visiting museums. Think again.
Many of Singapore's museums have child-friendly, interactive exhibits that are sure to keep your children entertained while you explore other displays.
National Heritage Board Museums and Galleries
Some of Singapore's museums and galleries are managed by the National Heritage Board, whereas some others are privately operated.
Whether they are managed by the Heritage Board or not affects the price that certain individuals must pay.  For example, Singaporeans and Permanent Residents are granted free admission to National Museums and Heritage Institutions.
Foreign visitors, on the other hand, are required to pay an entrance fee.
Many of the museums in Singapore have a combination of permanent and temporary exhibits. The temporary exhibits allow repeat visitors to enjoy a completely different experience every time they visit.
Art galleries in Singapore also usually have rotating exhibits. Consequently, visitors can view new, unique pieces of work from a larger selection of internationally recognized artists.
Some museums in Singapore are designed to entertain guests whereas others are directed towards providing an accurate overview of historic and cultural events. For example, Madame Tussauds on Sentosa Island is more tailored towards pop culture and famous personalities from around the world.
The National Museum, however, showcases a wide selection of artifacts and exhibits to highlight Singapore's history.
Heritage Centres 
You will also find a healthy selection of 'Heritage Centres' in Singapore. These tend to focus on a specific culture and how that culture has influenced Singapore and Singaporeans to this day. Some popular heritage centres in Singapore include:
Chinatown Heritage Centre
Malay Heritage Centre
Indian Heritage Centre
We highly recommend checking our heritage centres while you are in Singapore. You will appreciate the unique exhibits and develop a greater understanding of how Singapore has been shaped into this modern-day cultural melting pot.
---
What areas in Singapore are famous for museums?
With approximately 50 museums in Singapore, you can expect museums to be located in different parts of the city. However, there are still a few areas that are more 'concentrated' with museums.
You could call these areas 'museum districts' because it is possible to walk from one museum to the next in a matter of minutes. Not only are these areas convenient, visiting these districts saves you transportation costs as well.
The Museum Planning Area
The main museum area in Singapore is sometimes called the 'Museum Planning Area'. It is located in the city's central area between Singapore River, Marina Bay, the downtown business core and Orchard.
According to Wikipedia, the museum planning area in Singapore has at least 10 national monuments. This area has some spectacular colonial architecture and many of these gems have been converted into contemporary art galleries and museums. Some of the most popular museums and galleries in the museum planning area include:
National Museum of Singapore
National Gallery Singapore
Asian Civilizations Museum 
The Battlebox
Two other areas in Singapore that are well known for museums are Chinatown and Sentosa Island. Although they don't have nearly as many at the museum planning area, you can still spend the better part of a day exploring.
Chinatown
Chinatown's museums and cultural centres are scattered throughout the bustling street markets.
Some popular museums in Chinatown include:
Chinatown Heritage Centre
Singapore City Gallery
Singapore Musical Box Museum
Fuk Tak Chi Museum
Sentosa Island
Most people that visit Singapore wouldn't think that Sentosa would have museums to visit. It is much more famous for its theme parks, 5-star hotels and resorts, and family-oriented attractions. However, there are some interesting museums to explore such as:
Trick Eye Museum Singapore
Maritime Experiential Museum 
Sentosa Nature Discovery 
Madame Tussauds Singapore
Images of Singapore Live 
Fort Siloso
You can easily spend a week on Sentosa Island without seeing everything. But be sure to dedicate some time to check out these museums. In general, they are quite family-friendly with exhibits for children.
---
Frequently asked questions about museums in Singapore
What are the most popular museums in Singapore?
It is challenging to rank Singapore's museums in popularity because each one attracts different people with different interests. But it's hard to leave the National Museum of Singapore off of the list!
The National Museum features two main galleries: the Singapore History Gallery and the Singapore Living Galleries. The history gallery focuses on the history of Singapore from the 14th century until the present-day.
The Singapore Living Galleries focus on four main themes: food, film, fashion, and photography.
The Asian Civilizations Museums is also considered one of the most famous Museums in Singapore.
---
How much does it cost to visit museums in Singapore?
The amount you pay to enter museums in Singapore depends on multiple factors. For example, Singapore Citizens and Permanent Residents (PRs) get the privilege to enjoy free admission to all of the National Heritage Board's national 'museums' and heritage institutions throughout the entire year.
Even if these selected museums have special exhibitions that have an entrance fee, the National Heritage Board will offer free admission for permanent residents or citizens who are senior citizens, students, and children 6 and under. This is a major perk for those that fit this criterion!
If you are a Singaporean citizen or a permanent resident, you will be interested in knowing which National Museums and Heritage Institutions are free of charge for normal, everyday exhibits.
Free Museums and Heritage Centers for Citizens and Permanent Residents of Singapore
Singapore Philatelic Museum
Indian Heritage Centre
Malay Heritage Centre
Asian Civilisations Museum
National Museum of Singapore
The Peranakan Museum
Sun Yat Sen Nanyang Memorial Hall
Reflections at Bukit Chandu
There are also other museums in Singapore that are not 'official' National Heritage Board museums but the free entrance fee for Singaporeans and permanent residents still applies. You can refer to the list below:
National Gallery Singapore
Former Ford Factory
Singapore Art Museum
Army Museum of Singapore
Singapore Discovery Centre
Prices for Museums in Singapore 
If you are not a Singapore citizen or a permanent resident, you will have to pay to enter most Singapore museums and galleries. With so many different museums in the city, you can expect to pay different entrance fees at different museums. However, the range tends to be from S$5 to S$30 per person.
You can also expect different prices for different individuals. For example, adult entrance fees tend to be more expensive than senior citizens, children and students.
Many museums in Singapore offer specific entrance deals. It's common to see 'family entrance fees' that bundle multiple tickets into a single price. If you have a large family be sure to ask if they offer a family rate because this might save you some serious cash.
ArtScience Museum at Marina Bay Sands is an example of a museum that has multiple price levels. Seniors, students, children aged 2 – 12 years old and persons with Disabilities (PWD) receive a discounted rate. Furthermore, families (2 adults and 2 children) receive a special group rate.
At some of Singapore's museums you can also pay more to view more exhibits. Standard permanent exhibits may have a set price, but an additional entrance fee may be required if you want to explore new or temporary exhibitions.
If there is a new exhibit showcasing famous works of art at art galleries, expect to pay an additional fee to see it. At the ArtScience Museum they have two prices depending on the number of exhibits that you explore.
---
What is the best area to stay in Singapore if you visit museums and art galleries?
There are numerous museums located within walking distance northeast of Marina Bay in the Museum Planning Area. If exploring museums is your priority then you might want to stay right near City Hall MRT Station or Bras Basah MRT Station. These stations are a short walk to the most densely concentrated museum area where no shortage of colonial buildings is located.
The Capitol Kempinski Hotel Singapore (5-star, 9.2/10 review score) is in a conveniently location beside City Hall Station. From there you can access both the National Museum of Singapore and the National Gallery Singapore in 5 minutes or less.
You can also stay on Sentosa Island or Chinatown to access the museums, galleries and heritage centres in those areas. They may not have quite as many museums as the colonial district near Marina Bay, but they still have enough to explore.
---
What time do museums in Singapore open and close?
This is a challenging question to answer because there are so many museums in Singapore. Not all museums share a common schedule on a weekly basis. For example, the National Museum of Singapore is open from 10 am to 7 pm on a daily basis (at the time of writing). However, the Red Dot Design Museum is open from
Tuesday to Friday from 12 noon to 6 p.m and Saturday and Sunday from 9 a.m. to 6 p.m. It is closed on Mondays.
You should always double-check the official hours of operation before you plan a visit to a museum in Singapore. This will ensure that you arrive when it is open and that you don't waste precious time in your itinerary.
---
Can you eat at museums and art galleries in Singapore?
It is safe to say that most museums and art galleries in Singapore have at least a cafe and many have a restaurant. In other words, you should have no problem refuelling with snacks, drinks, and full meals. Coffee shops are particularly possible at museums in Singapore. Some popular dining options at Singapore museums include:
Prive at Asian Civilisations Museum located along the Singapore River be prepared for breathtaking views of Boat Quay and the CBD skyline.
FabCafe at the ArtScience Museum, might look like a co-working place but it's known for savoury fresh wraps and curry bowls. It is located within the museum's foyer.
Courtyard Cafe at National Gallery Singapore. This modern cafe is known for traditional desserts and some colonial charm.
You can expect to see visitors dining during or after their tour of the exhibits.
---
Can you buy souvenirs at museums in Singapore?
Expect to find a souvenir shop at most of Singapore's museums. You can purchase a range of products from cheap, tacky toys to high-quality products. Mugs, t-shirts, keychains, hats and books are commonly found in souvenir shops. 
Also, as you might expect, many museums are designed so that you exit through the 'gift shop'. This naturally ensures that people entering the museum must pass by the merchandise before they exit the premises.
Bring along some extra cash and you might want to bring home a few souvenirs as a reminder of your experience visiting Singapore's top museums and galleries. 
---
Do you have to pay for parking at museums in Singapore?
Singapore is a densely populated, modern city with many towers. Parking space is limiting. Therefore, expect to pay for parking at museums in Singapore. Rates vary depending on which area of the city you are visiting.
The parking rate at The National Museum of Singapore, for example, ranges from S$2.50-4.00 per hour. 
Parking can get pricey and can cause some headaches. When possible, take the MRT to the closest station and walk to the museum you want to visit. The MRT in Singapore is fast, reliable, affordable and environmentally friendly relative to driving.
---
Do you have any other questions about visiting Singapore Museums?
Although we have answered many questions about visiting museums in Singapore, you may have additional questions that we can help you with.
Please don't hesitate to send us an email or comment below if you have any questions or information you would like to share with our community. 
Take advantage of the extensive selection of museums and galleries throughout the city. And remember, there are many museums that offer exhibitions and activities directed towards families with children.
Be sure to double-check prices and promotions. There are always deals and new packages being offered.