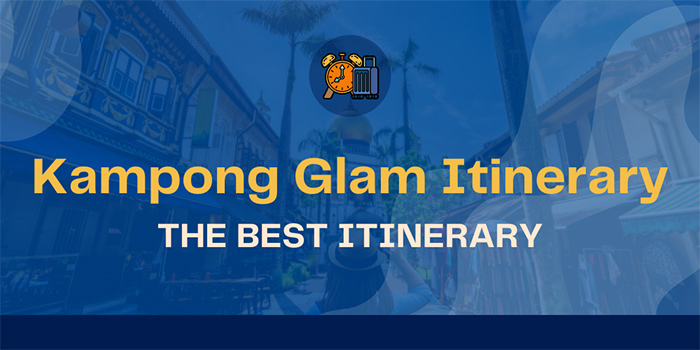 Welcome to the Best Itinerary for Kampong Glam – one of Singapore's most cultural and fascinating areas.
Welcome to the best Kampong Glam itinerary in Singapore.  In this article, you will learn about the best things to do in Kampong Glam. Kampong Glam is one of the most interesting cultural areas in Singapore to explore by foot. It has some of the coolest streets in the city and it has become increasingly popular amongst tourists over the years. 
By the end of this article, you should have a solid idea of where to stay, what to see and how to get to the most interesting points of interest in Kampong Glam. This Kampong Glam itinerary that we describe can either be completed over a 28 or 48 hour time period. Since Kampong Glam is not the biggest sightseeing district in Singapore, most attractions and famous landmarks can be seen over the course of 1 day. But if you really want to learn about the cultural significance of Kampong Glam, two days is a more practical timeframe. While reading this itinerary, think about what interests you the most and adapt this guide to suit you and your travel companions.
---
Getting to Kampong Glam – Transportation Options
The first step in planning your Kampong Glam itinerary is to arrange your transportation to the area. 
Fortunately, you should have no problem getting to this area. Kampong Glam is well serviced by public transportation in the form of buses and MRT. You can also get here by taxi, private car, bike, or walking.  
Taking the MRT to Kampong Glam is certainly one of the most popular ways to get there. Simply take the train to Bugis Station and you will be within walking distance of the best streets and attractions. 
You can also take the MRT from the airport all the way to Bugis Station. Once at Changi Airport, clear customs and immigration and then walk to Changi Station. 
Read More: How to get to Kampong Glam from the airport using MRT – fast, cheap and easy!
We suggest taking the MRT as much as possible while in Singapore. It is very well connected and is affordable getting around. Most of the attractions in Kampong Glam are only a few minutes from Bugis Station, so it is a practical access point for this area.
---
Selecting the Right Hotel for your Kampong Glam Itinerary
After your transportation to and from Kampong Glam is taken care of, next up is accommodation. Consider your budget and how much you are willing to spend per night. Also, think about how large of a room you want and what kind of services you need? And then, ask yourself the most important question:
Should you stay right in Kampong Glam or not?
Over the years Kampong Glam has become increasingly popular with tourists visiting Singapore (and for good reason). Since this is a really interesting area of Singapore there has also been growth in terms of the number of hotels and hostels in this area.
Most of the hotels in Kampong Glam (with the exception of the Pan Pacific Serviced Suites) are in the 2-4 star category. Therefore, Kampong Glam's accommodation is more tailored to budget travellers, backpackers and business travellers looking to save some cash on accommodation. Rooms tend to be clean, basic and not massive. But, they are good value for the money considering how close they are to shops, restaurants and most importantly, the MRT. 
There are also a few 'capsule' or 'pod' hotels here. These are a popular hybrid between a conventional hotel room and a hostel. They feature a very small but private room which has enhanced privacy when compared to a dorm room, but cheaper than a hotel. 
Convenience?
A clear benefit of staying in Kampong Glam is that you can directly access the cool points of interest at any point in time. And, it is surprisingly easy to take the MRT to other popular areas around Singapore from here such as Marina Bay and Chinatown.
Here are a few of the most positively reviewed properties in Kampong Glam at the time of writing:
CUBE Boutique Capsule Hotel @ Kampong Glam: 2-star, 8.7/10 review score,  ideal location in Kampong Glam. 
MET A Space Pod @ Arab Street: 2-star, 8.4/10 review score, awesome location right on Arab Street. 
It is always a wise idea to check previous reviews and review scores before you confirm your hotel in Kampong Glam.  As a general rule of thumb, we try to stay at properties that have above an 8/10 review score with over 50 verified reviews. 
Read More: Finding the best area in Singapore to stay – the complete guide.
---
Starting your Itinerary: Kampong Glam Breakfast
When you are making your hotel booking in Kampong Glam you should consider whether or not you want breakfast included. Since a lot of the properties here are in the budget category don't expect an extensive selection of food for breakfast.  But, at the same time eating out at restaurants in Singapore can get pricey.
Regardless of whether you choose to eat at your hotel or not, make sure you are well-nourished and hydrated. It is time to start sightseeing in Kampong Glam!
---
Exploring Famous Streets in Kampong Glam
When you start sightseeing in Kampong Glam during the morning hours you might want to visit some of the most famous streets before it gets too hot outside. Singapore's intense heat can get overwhelming if you wait too long. Therefore, start early and avoid the peak heat if possible. 
The three most famous roads in Kampong Glam are:
Arab Street
Haji Lane
Bussorah Street
These are all 'must-sees' in Kampong Glam.
Arab Street is popular for its colourful textile shops which are located in aged-shophouses. Haji Lane is arguably Singapore's coolest street – so cool that it often gets ranked as one of the best streets in the world. It features beautiful street murals, vibrant colours and a solid range of cafes and eateries. 
Bussorah Street is a popular dining street that offers superb views of Sultan Mosque. 
You might want to walk through these streets in the early morning or late afternoon to get acquainted with the Kampong Glam area. Maximize these times to take vivid street photos when the lighting is at its best!
---
Relax for a 'Haji Lane' Drink
Once you are acquainted with the Kampong Glam area, take a little break and enjoy morning coffee along Haji Lane. This is a great place to just simply relax and get the rest of your itinerary planned for the day. There are a series of shops and cafes along Haji Lane and due to the fact that it is quite narrow, it is often shaded.
Haji Lane is only a few minutes away from Bugis MRT Station, so it is a practical starting point. 
---
Walk from Haji Lane to Sultan Mosque
When ready, make your way to Sultan Mosque from Haji Lane. 
First head east from Haki Lane to Arab Street. Drop-in a few textile shops along the way and check out the colourful products on display. If you are not in the mood for buying, window shopping is still interesting here. Arab Street is an awesome spot to find truly Asian products. So, if you are travelling from another area of the world, this is a great place to buy authentic souvenirs and textiles.
Eventually, head east along Muscat Street and loop around to Bussorah Street. Walk north along Bussorah Street until you reach the ever picturesque Sultan Mosque.
Sultan Mosque is one of the most photogenic structures in Singapore and is definitely worth a visit throughout the day, and at night. Some of the Bussorah Street restaurants provide ideal views of the mosque, making this one of the most photographed streets in the city. 
---
Visit the Malay Heritage Centre
One of the most popular places to visit in Kampong Glam is without question the Malay Heritage Centre. From a cultural perspective, this is an important place to learn about how Malay culture has shaped and continues to influence Singapore. 
Plan on spending some quality time at the Malay Heritage Centre. It isn't the type of place you visit for 10 minutes. Instead, take your time and try to truly understand the impact Malay culture has had on shaping the area. 
If you are also planning on visiting Malaysia, then you will find the Malay Heritage Centre to be even more interesting!
---
More Shopping?
Most people that visit Kampong Glam in Singapore don't realize that there are additional shopping venues if you head east of the Malay Heritage Centre. Some of the shopping malls are north of Beach Road whereas others are south. 
For example, you might want to check out additional textiles at the Textile Centre. Then, as you head south, drop in at City Gate Shopping Mall. 
If time permits, cross Beach Road and head to Golden Mile Tower or Golden Mile Complex for additional shopping. 
---
Finish off with a Delicious Traditional Lebanese Meal
After you have done enough shopping, finish off your day in Kampong Glam with a delicious traditional Lebanese meal. Actually, many Singaporeans and visitors to the city simply come to Kampong Glam simply for its unique culinary dishes. 
Lebanese and Turkish restaurants tend to be concentrated in Kampong Glam. These offer unique flavours from traditional Peranakan cuisine. To find the best restaurants head back to Bussorah Street. 
This is the best place to see different menus and select the restaurant of your choice. 
After your meal, take a few more photos of the Sultan Mosque. Its elegant design is beautifully illuminated at night making it even more photogenic than during the day.
---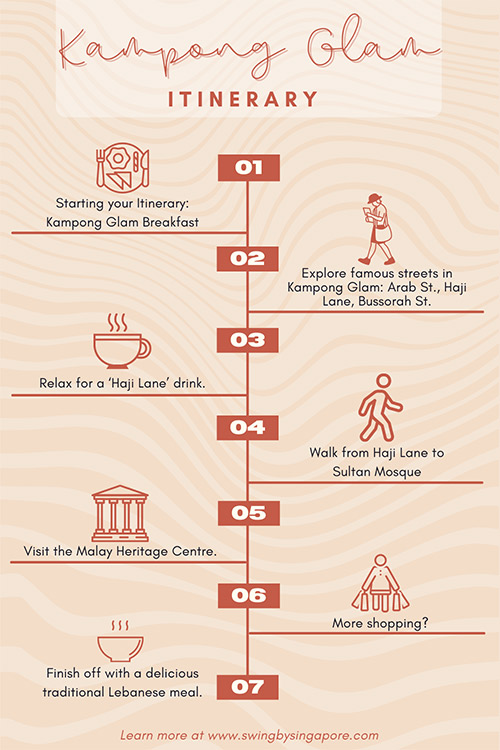 ---
Kampong Glam: More Ideas to Consider
We truly hope that this Kampong Glam itinerary will help you plan an amazing day or two in this fascinating area of Singapore.  It is best explored by simply walking around. However, keep in mind that this article is only a guide and feel free to deviate from this plan.
For example, you might want to visit Haji Lane and Arab Street one day and then explore the Malay Heritage Centre and Sultan Mosque on the next. 
If you are staying at a hotel directly in Kampong Glam you can access the MRT to visit areas such as Marina Bay, Chinatown or Little India without much trouble. Simply walk over to Bugis Station and you will be well on your way!
Consider getting a Singapore Tourist Pass if you plan on doing a lot of sightseeing over a short period of time in Singapore. Once you buy a pass you can use the bus and MRT networks an unlimited number of times for a set number of days.  These are ideal for trips lasting 1-3 days in the city. Kampong Glam is close enough to other popular areas that it is a practical area to stay with the Tourist Pass. 
As you complete this Kampong Glam itinerary you may discover a lot of other things that we have not mentioned. If so, share your experience with us and our readers!
Feel free to share your experiences in the comments section below so that our readers get the best itinerary possible.  Enjoy your time in Kampong Glam and make the most of your trip!