We have written this article to provide you with a step-by-step guide on how to get from Changi Airport in Singapore to Kampong Glam using the MRT network.  Since we have completed this journey in Singapore on multiple occasions, the information provided below is based on our own personal travel experience. 
Fortunately, Singapore has one of the most organized airports in the world and is often recognized as the world's best.  It is also extremely organized in terms of accessing the MRT Network directly from the airport. Therefore, it is possible for you to land and access the MRT system without any headaches at all. You should be in Kampong Glam in no time!
---
Why is Kampong Glam worth visiting in Singapore?
Kampong Glam is widely known as Singapore's main Muslim Quarter. It is oriented around Arab Street that consists of 19th-century shophouses that have been converted into stores selling textiles and restaurants specializing in spicy Malay and middle eastern cuisine.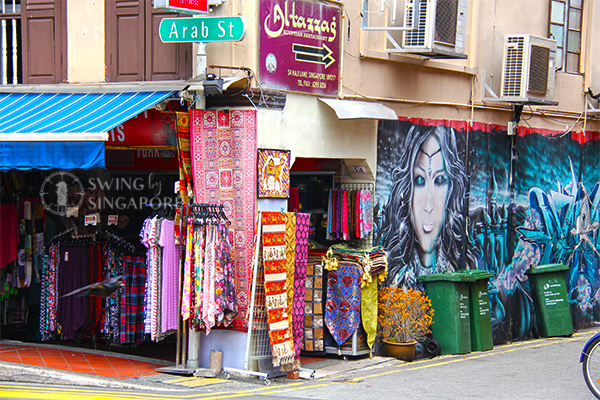 Similar to Chinatown and Little India in Singapore, Kampong Glam is a 'cultural area' that is definitely worth exploring while you are in the city. It has an eclectic blend of history, culture and a surprisingly trendy dining scene.
There are some notable landmarks in this area of Singapore that draw people to Kampong Glam. The golden-domed Sultan Mosque and Malay Heritage Centre are two historic places of interest. Furthermore, be sure to check out Haji Lane. As its name suggests this is a narrow, colourful lane of artsy boutiques, hip bars and trendy cafes.
Before you leave this area of the city, consider eating along Bussorah Street. This is one of the best dining streets in Singapore with views of the Sultan Mosque in the background.  
---
Getting to Kampong Glam from the Airport
Step 1: Walk to Changi MRT Station after landing.
When you first land in Singapore you are going to have to go through the same process that you would at any other international airport. Go through immigration, collect your luggage and clear customs. You can easily walk to Changi Station from the airport. Simply follow the signs or ask airport personnel to guide you there. 
---
Step 2: Decide what type of MRT ticket you want to buy.
Once you arrive at Changi Station, you will have to make a choice of what kind of ticket you would like to purchase. There are three main types of tickets for the MRT in Singapore:
Get a journey trip ticket using a ticketing machine

Get a stored value card and load it up

Get a Singapore Tourist Pass 
In case you haven't heard of a Singapore Tourist Pass this is a form of a  'stored' value card but it is valid for a specific period of time. It is marketed towards tourists and not permanent residents of Singapore. This card allows you to get unlimited trips for a certain number of days. You can use it for other forms of public transportation such as buses as well. 
We don't recommend that you buy single trip tickets unless you are only going to be using public transportation once or twice while in Singapore. Instead, use a stored-value card. Each trip is cheaper once you get a card and you also skip all the lines at ticketing machines. Remember, 'time is money'! When we were first figuring out how to get from the airport to Kampong Glam using MRT, we used an EZlink card. This is a form of stored-value card. 
---
Step 3: Purchase your MRT Ticket to Bugis Station
When you start your journey to Kampong Glam, begin by buying a ticket (or card) to Bugis MRT Station. This is the most practical station to access this area of Singapore if you are beginning at the airport. Collect your luggage and get on the train. 
---
Step 4: Take the MRT East-West Line to Tanah Merah Station
Stay close to the exit after boarding at Changi and alight at Tanah Merah MRT station. Your goal here is to get on the next westbound train along the East-West Line. Fortunately, Kampong Glam and Bugis Station are on this line so you won't have to transfer after this. 
---
Step 5: Travel along the East-West MRT Line to Bugis Station
Once you are on the East-West Line and you are heading west towards the city centre be ready for verbal announcements on the train for upcoming stations. They also have small screens above the exit doors that are used to remind passengers about their location on the line. For your information the station before Bugis is Lavender.
When you hear the announcement for Lavender you should move towards the nearest exit with your luggage.
***Take note that you could technically get off at Lavender Station to access the attractions in Kampong Glam. Your walk just might be a few minutes longer. 
---
Step 6: Exit Bugis Station and walk to hotel and attractions in Kampong Glam
Once you arrive at Bugis Station, collect your luggage and get off the train. 
Bugis Station has a total of 6 exits: A, B, C, D, E, and F. Take Exit D to leave the station towards Kampong Glam. 
If you are wondering how long it takes to walk to attractions in Kampong Glam, it's a 5 minute, 500-meter walk to Sultan Mosque. It will take you about 9 minutes to walk to the Malay Heritage Center which is 750 meters from Exit D.
---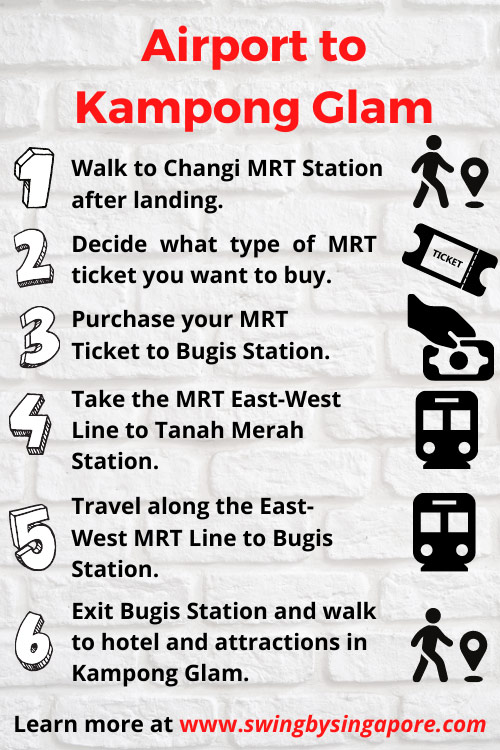 ---
$$$

How much does it cost to get from Changi Airport to Kampong Glam?
The ticket price to Kampong Glam (and Bugis Station) from Changi Airport will depend on age, status and the type of ticket you use. Don't expect every member of your travel group to pay the same amount. 
If you are using a stored-value card from Changi to Bugis Station it will cost $1.80 for adults. Senior citizens and disabled travellers will pay $0.92. Children and students will pay $0.63. These prices are quoted at the time of writing and therefore subject to change over time. 
If you don't use a stored value card you will have to pay $2.60 from a ticketing machine for a standard ticket to reach Bugis from the airport. 
---
How

long

does it take to travel from Changi Airport to Kampong Glam?
Public transportation times in Singapore are always subject to change based on certain variables such as line construction and the number of passengers getting on and off at each respective station. If there are more passengers on the line then it may take a few minutes longer at each station to make sure that everybody is safely on board before the train leaves. Expect a bit less time if trains are empty.
The average ride from the airport to Kampong Glam (Bugis Station) should take about 40 minutes. You can add about 10 minutes to this to get to your hotel or point of interest. 
---
Where should you stay in Kampong Glam?
It's rare to hear Kampong Glam on the list as the most popular area to stay for visitors in Singapore. However, over the years there have been more and more choices popping up around Arab Street and Sultan Mosque. A lot of the properties in this area also tend to be quite affordable in comparison to Marina Bay and Orchard where many tourists choose to stay. 
Pod or capsule hostels are particularly popular with budget travellers around Sultan Mosque. There are some really good options here such as:
CUBE Boutique Capsule Hotel @ Kampong Glam (2-star, rated 8.7/10)
Beary Best! Kampong Glam (2-star, rated 8.6/10)
If you want to stay in this area of the city, but with greater service and amenities try the following properties:
Andaz Singapore – A concept by Hyatt (4-star, rated 9.2/10)
Pan Pacific Serviced Suites Beach Road (5-star, rated 9/10)
PARKROYAL on Beach Road (4-star, rated 8.8/10)
You should be able to walk to any of these properties within 10 minutes of Bugis Station. Keep in mind that we have no direct partnership with these properties and that the review scores listed are from leading accommodation websites. They are subject to change over time. 
---
Any more questions about your trip from the airport to Kampong Glam in Singapore?
When we first started sightseeing in Singapore we never had the Kampong Glam area on our list. Instead, we focused on the most popular areas like Chinatown, Marina Bay and Sentosa Island. 
During our first trip to Kampong Glam, we were really impressed and pleasantly surprised. This is a great place to go if you want to explore more Islamic culture, and this, of course, includes cuisine! There are some great restaurants in this area of Singapore.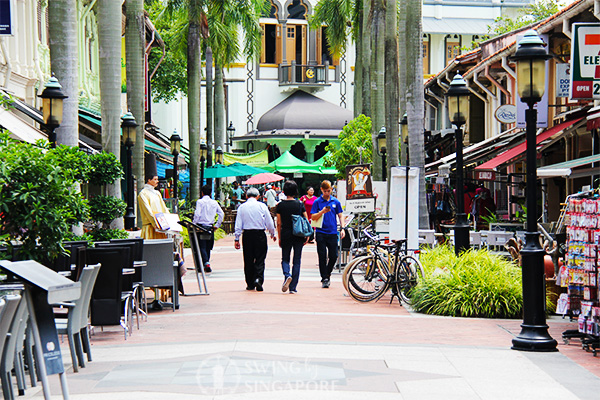 Haji Lane and Bussorah Street are two must-see areas in our opinion. They are vibrant and filled with trendy cafes and eateries. Bring your camera along as well. Sultan Mosque and this area are photogenic. 
We really hope that this guide on how to get from the airport to Kampong Glam using MRT has been descriptive enough to make this a stress-free journey. If not, please send us an email or a comment and we would be delighted to assist you more. 
This is an area of Singapore that we consider to be underrated. Some tourists make it here, but not all. Bring along your camera and make the most of your trip to Kampong Glam in Singapore!