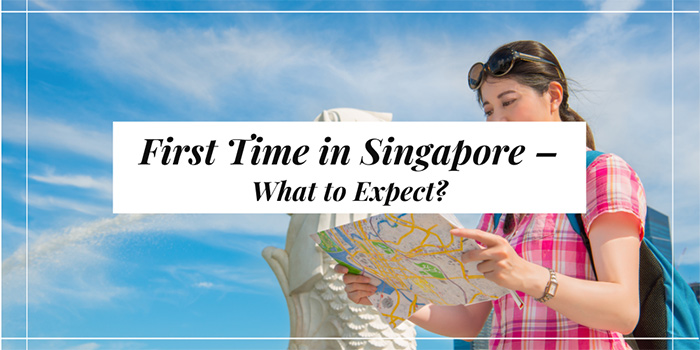 Heading to Singapore for the first time? Learn what to expect, right here.
Do you remember your first time in Singapore? There is nothing more exciting to visit a city for the first time. And for me, Singapore was no exception to this rule! I can still remember the first time landing at Changi Airport and taking the MRT into the city centre. Fortunately, during my first trip in Singapore, I had three nights in the city. In this article, I plan on summarizing some of my fondest memories of my time in this fascinating city. While discussing my experiences, I also hope to provide you with inside tips on budgeting and sightseeing. 
As you probably have heard, Singapore often gets classified as an 'expensive city to visit'. You have to be well prepared in terms of booking your room in the right area and utilizing public transportation if you plan on saving money. I will discuss some of the budgeting considerations I made while I visited for the first time.
---
Singapore is Super Efficient
During my first time in Singapore, I immediately noticed how efficient services were throughout the city. After we landed in Singapore, I collected my luggage, bought an MRT ticket and was on my way to the city centre in no time! 
Fortunately, Changi Station is physically connected to the airport. Simply follow the signs and listen to the verbal instructions on the MRT and you can get to where you need to go without any stress. 
I felt the check-in process at our hotel (Marina Bay Sands) was very efficient as well. Staff were pleasant, business-like, and fast in terms of getting us to our room. While dining out, we felt that service was quick and very competent. We didn't experience any issues ordering since there was no language barrier. Servers were well trained throughout the city. 
One of the reasons why Singapore is efficient is because of the strategic planning throughout the city. Many MRT stations are surrounded by commercial complexes. Grabbing a quick meal, or finding a convenience store was never a problem for us. 
Aside from the MRT, we did take some buses to different attractions throughout the city. As expected, they arrived on time and were very reliable. We felt confident getting from point A to B and public transportation was efficient enough to fulfill our planned itinerary. 
---
Extensive MRT Network 
Singapore has an extensive public transportation system, and during our first time in the city, we used it a lot! After arriving at Changi Airport and taking the MRT to Bayfront Station, we continued to use it frequently throughout the city. 
Unlike some of the other developing countries in Southeast Asia, Singapore has an extensive range of MRT lines. The MRT network is so impressive that you literally could spend a week in Singapore sightseeing without stepping foot in a vehicle. Most, if not all, major tourist attractions are serviced by the MRT Network.
Taking the MRT in Singapore also allowed us to save some serious money during our first time in the city. We were travelling as a couple, so it made more sense to purchase Singapore tourist passes as opposed to getting taxis all over the city. 
Conveniently, Singapore offers multiple types of public transport tickets. These range from traditional single journey tickets to Singapore Tourist Passes that allow for unlimited trips within a set period of time. We opted for the passes because we visited multiple attractions during our first visit. You can actually compare the prices before your arrival to see if your itinerary is busy enough to warrant an 'unlimited' trip pass. For some tourists staying at a resort (let's say on Sentosa Island), you might not find it worth the additional money to buy a Tourist Pass. 
Read our related article on how to buy Singapore Tourist Passes for a complete overview. This will help you to select the best kind of ticket while you are in the city.  
---
Eating out is expensive in Singapore, but manageable. 
Before we landed in Singapore we already knew that dining out was expensive. It is expensive even as a solo traveller. Then, if you are travelling with an entire family, you have to be even more prepared to spend some serious cash! We once ate a burger with fries at Shoppes at Marina Bay Sands and it cost over S$30 with service charges and taxes. Now imagine eating with a family of four or five over a 5 day period in the city!
Fortunately, there are some strategies we used to reduce food expenses. First of all, we purposely selected a room which included a buffet breakfast. Not only did this allow us to choose healthy foods for breakfast, but it also significantly reduced our lunch costs. We had a light snack for lunch, which was completely fine after a large breakfast. 
Some Solid Options
In general, 5-star hotels will cost the most, but they do offer the largest selection for meals with extravagant international food stations. Consider hotels such as:
If you book a room using large websites such as Agoda or Booking.com, chances are you will be able to see if breakfast is included. If so, then check to see if it is a continental or buffet breakfast just to make sure. Your hungry teenage kids will thank you for a great buffet breakfast (assuming they can get up in time to eat!).
We also saved money by eating at hawker centres and food courts whenever possible. Sure, eating out at fancy restaurants in Singapore is going to cost you an arm and a leg. However, streetside hawker centres are much cheaper and worth considering. During our first time in Singapore, we ate most meals at hawker stalls and a few meals at food courts within malls. 
Expect hawker stalls to be lively, and a much more interesting cultural experience than food courts in malls. Food courts, however, tend to be cleaner with less streetside pollution. This may be a relevant consideration if you are travelling with small children.  
---
Expect World-Class Architecture and Skyline Views
Before visiting Singapore, I always knew that places like Dubai and Hong Kong were world-famous for their 'skyline views'. A quick walk around spectacular Marina Bay in Singapore, quickly convinced me that Singapore should also be on this list. 
One of my most memorable experiences in Singapore was walking around Marina Bay and capturing the breathtaking views during the day and at night. This is one of the most popular areas in the city for sightseeing and booking a room.  Marina Bay is surrounded by some of the most elite 5-star hotels in the city such as:
It was common to see tourists from all over the world, snapping photos in this area. We visited the Merlion, Singapore Flyer, Gardens by the Bay and Marina Barrage.  But, one of the most memorable experiences was on top of Marina Bay Sands hotel at the Sands SkyPark. If you want spectacular views of Singapore's impressive skyline, this is the best place to go!
Not all of Singapore's architectural wonders are modern office towers. 
Colonial gems like Raffles Singapore and the Fullerton Hotel are sprinkled throughout the city. The city has beautifully restored shophouses to check out and we appreciated the architectural diversity throughout the city. Chinatown was colourful and particularly photogenic. 
Overall, we felt that during our first time in Singapore we spent a lot more time taking photos than expected. Make sure your cameras are well charged. Bring along a tripod and selfie stick as well. 
---
Singapore is super clean. Period.
Although some tourists dislike the rigidness, we really liked the commitment to keeping Singapore clean. Signs are visible on all MRT trains we travelled on. Littering is simply not allowed throughout the city. The result of this strictly enforced policy is very impressive. I have travelled all over, but I have never cleaner markets than in Singapore. 
Chinatown, for example, is one of the busiest areas of the city for markets and pedestrian traffic. Despite the number of people here, it is extremely clean relative to Chinatown in Jakarta, Kuala Lumpur and Bangkok. I don't think there is any excuse for littering, so I loved seeing parks and other public spaces spotless. Hopefully, this will set an example for other countries to follow in the future!
---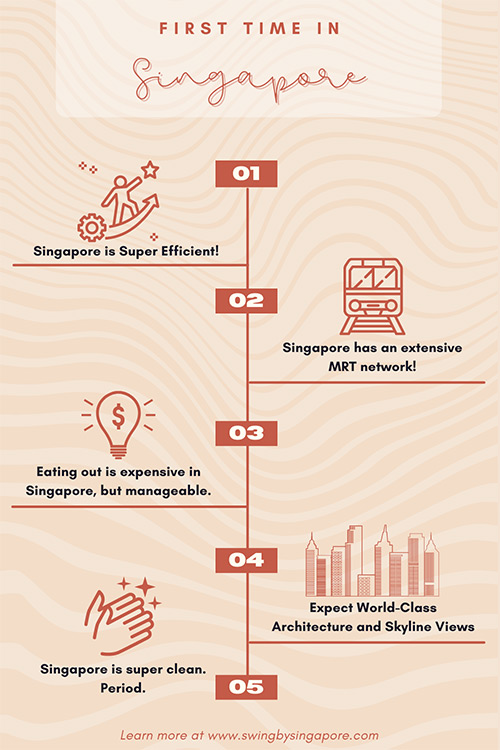 ---
First time in Singapore, but definitely wasn't the last.
So there you have it, a summary of some of the main observations during my first trip to Singapore. I loved the city. But careful planning was necessary to help maintain a budget. I wouldn't just fly in without carefully selecting an area of the city to stay. 
Marina Bay, Chinatown, Sentosa Island and Little India are popular areas. I suggest that you create a budget, and then an itinerary. This will naturally lead you to a practical area to stay. 
Since my first time in Singapore, I have been back on multiple trips. Every time I explore different areas of the city, revealing new wonders and experiences. Although 4 or 5 days is a good first trip, you could stay a lot longer without getting bored!
Please let me know if you have any questions about my experience in Singapore. I would be delighted to assist you!