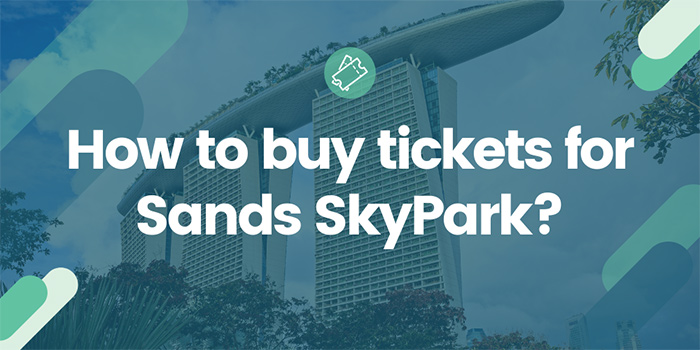 The complete guide on how to buy tickets for Sands SkyPark Observation Deck in Singapore.
If you are wondering how to buy tickets for Sands SkyPark, this article is designed for you! Regardless of whether you are visiting Singapore or staying in the city, you should definitely check out Sands SkyPark. 
Why should you visit?
Sands SkyPark is a very popular tourist attraction that is located on top of Marina Bay Sands Hotel. This is an extremely iconic luxury hotel that is prominently located in the heart of Marina Bay. 
Every year tons of Singaporeans and foreign tourists visit Marina Bay because this is a beautiful area with no shortage of things to see and do. Sands SkyPark is one of the top attractions in this area but tourists also enjoy visiting places such as:
Gardens By the Bay
Singapore Flyer
Marina Barrage
Merlion Park
Since these attractions are very close to each other, it's possible to make an awesome 1-day itinerary of Marina Bay. The area is well serviced by MRT which makes transport cheap and convenient. 
One of the most popular things to do in Marina Bay is to take photos of the breathtaking skyline. And, this is why Sands SkyPark has become such a popular destination over the years. It is regarded as one of the best views in all of Singapore, and it's no secret that it is one of the top places to visit before leaving. 
Specific Information
Sands SkyPark located on the 57th story of Marina Bay Sands Hotel. It is best described as an observation deck that offers unobstructed, panoramic views of the Marina Bay area. This is arguably the best place in Singapore to capture photos of the city's world-class cityscape. 
Sands SkyPark is located on the northernmost edge of the 57th floor, with the Marina Bay Sands pool directly south of it. Directly east of the hotel is the ever-impressive Gardens By the Bay and across the reservoir, you will see great views of Singapore Flyer and Marina Bay Golf Club. 
The most popular photo, however, is of the main business direct which is west of Sands SkyPark, directly across the Marina. 
---
Buying tickets for Sands SkyPark
There are two main ways to buy tickets for Sands SkyPark:
Online using the official Marina Bay Sands website.

In-person at the Marina Bay Sands Box Office.
Online Ticket Purchases
If you want to buy tickets for Sands SkyPark then you can do so directly on the official Marina Bay Sands SkyPark webpage. 
The process is extremely straightforward.  Simply go to the web page and click the icon 'buy tickets'. Select your preferred date and time. Then, choose the number and types of tickets you would like to buy. 
At the time of writing, there are three different types of tickets available to visitors:
Adult

Senior Citizens (65 years and above) 

Child (2-12 years)
As you may have guessed, adult tickets are the most expensive, followed by senior citizens. Children, two years of age and older are the least expensive. The online ticketing system enables a maximum of 12 adults, 12 senior citizens and 12 children to be booked at a single time. 
Just remember to bring along your online booking code and paperwork to ensure a smooth entrance into Sands SkyPark.
In-Person Ticket Sales
If you are wondering how to buy tickets for Sands SkyPark you will be happy to know that you can also buy tickets directly at the Sands SkyPark ticketing office. 
There are clear benefits to booking online or buying tickets in person and it really depends on your own preferences. During peak travel times it's better to book online in advance to secure a ticket and avoid lines. However, if you are in a worry-free mood and it isn't busy then buying a ticket at the office might work better for you.
---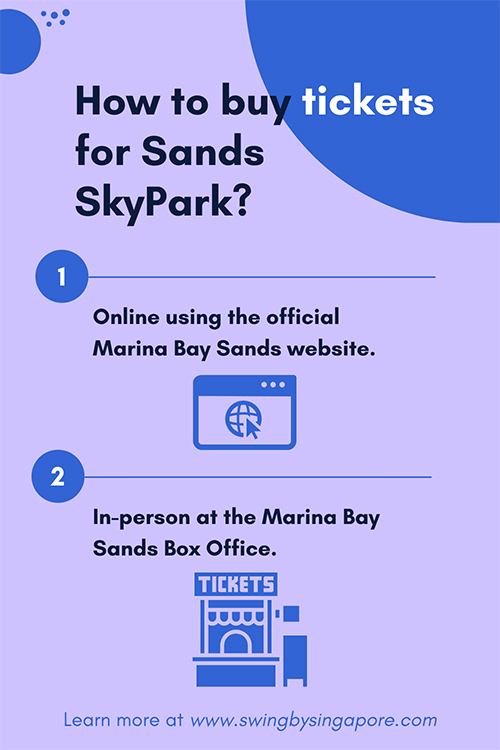 ---
Available Times to Visit
Sands Skypark is open on a daily basis from 11 am to 9 pm. According to the official site, the last visitors will be permitted to enter at 8:50 pm. After that, you will be out of luck, unfortunately!
On average visitors spend 45 minutes to 1 hour at Sands SkyPark Observation Deck. Consequently, make sure that you arrive early and make the most of your visit. 
---
Additional Information to Consider
Also, remember that luggage is not permitted at Sands Skypark after you purchase the ticket. Therefore, make sure that if you are transiting you have a secure place to store your luggage while you visit this attraction in Singapore.
Because food is available for purchase, pre-purchased meals and beverages are not permitted. Avoid bringing glass bottles and aluminum cans. Pets are not allowed. 
You can bring an umbrella to the SkyPark but be very cautious because if it's windy you might not have it for long!
Hopefully, this article on how to buy tickets for Sands Skypark has been informative. Please don't hesitate to comment or email us if you need some additional information!