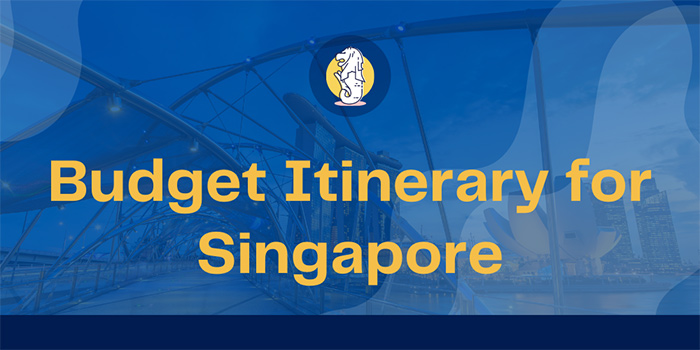 Everything you need to know about making the best budget itinerary for Singapore.
If you want to develop the best budget itinerary for Singapore, you are about to read the best guide to saving money. As you probably already know, Singapore is known to be quite pricey. Accommodation, restaurants and transportation costs can add up fast. 
This article will outline exactly how to build a cost-effective budget itinerary for Singapore that will limit your expenses while maximizing your sightseeing. We will focus on what you have to consider before you arrive in the city and then outline where you should stay and what places to visit. 
Even though Singapore is more expensive than its neighbouring countries, such as Malaysia and Indonesia, there are proven strategies you can use to save hundreds of dollars over a few days. There are cheap areas to stay in and deliciously affordable food to enjoy. We will focus on the most important strategies to save you serious cash.
---
Itinerary Considerations before you Arrive in Singapore
If you want to build a cost-effective itinerary for Singapore, you have to make important decisions before you even land in this fantastic city. Just some of the most important questions that you should answer include:
What airline should you use to fly to/from Singapore?
What area of Singapore should you stay in to enjoy affordable accommodation, direct access to the MRT network and cheap eateries?
Should you carpool around the city or buy Singapore tourist Passes when you land at Changi Airport?
---
Finding the Cheapest Flight Tickets to Singapore
If you are reading this article, chances are you value saving cash more than how prestigious the airline you fly with, right?
Fortunately, backpackers and thrifty travellers will be delighted to hear that Singapore is serviced by several budget airlines. The flagship carrier, Singapore Airlines, is, without a doubt, one of the best airlines in the world. But, tickets don't come cheap. 
Instead, you can book your round trip tickets to Singapore with a budget airline and be prepared to save some serious cash. 
Budget airlines tickets to Singapore can often be more than 75% cheaper than flying with leading airlines. 
Some of the most popular budget airlines that service flights to/from Singapore include:
Air Asia
Tiger Airways
Scoot
Cebu Pacific
When you are building a budget itinerary for Singapore, consider booking your flight well in advance. Historically, many budget airlines have rewarded discounted ticket prices for being proactive. For example, Air Asia has become world-famous for their impressive 'BIG Sales.' 
Booking a flight over six months in advance of the departure date can save you a lot of money. 
Also, remember to pack lightly when flying to Singapore. Most budget airlines charge for additional luggage, so it only makes sense to fly with them if you bring a moderate to light amount of luggage.  
---
Selecting the Best Budget Area to Stay in Singapore
One of the most important factors to consider when designing a budget itinerary for Singapore is what area you will stay in?
We need to really stress how important this decision is.  
For example, if you decide to stay in the Marina Bay area, you will mainly choose from a list of 5-star luxury hotels. Although Sentosa Island does it have a few cheaper options, it is also an expensive place to stay relative to other areas of Singapore.
We suggest that you stay in one of the following areas of Singapore to save serious money:
Chinatown
Little India
Geylang
Kampong Glam
These areas have a solid selection of two and three-star properties that are ideal for budget travellers and backpackers.
But keep in mind, but you also want to be in close proximity to cheap restaurants and shops. 
Chinatown, for instance, has a pile of streetside hawker stalls and cheap shops selling everything under the sun. And, as a bonus, it's super easy to access public transportation such as the MRT right from most of the hotels and hostels in the area. 
Read More: Best Area to Stay in Singapore – The Complete Guide
---
Stay in Boutique Hotels, Capsules or Traditional Hostels
Once you have selected the right budget area to call your home in Singapore, next, you have to choose a place to stay that is cheap.
The first rule of thumb is that you want to avoid booking a room at a four or five-star property. One night at a superb hotel such as Marina Bay Sands will likely cost 300 dollars or more.
But, staying in a traditional dorm room may cost you 25 dollars. If you spend 4 nights in Singapore, that is a $1,100 price difference right there!
There are three main types of budget accommodation in Singapore:
Boutique hotels

Hostels

Capsule or Pods
There are tons of 2-star boutique hotels in Singapore with private rooms. Now you may wonder, how can they be cheaper than staying in a hostel? Well, it depends on whether you are travelling solo or not?
If you are travelling as a couple, it may make more sense to book a small, private boutique room, opposed to a shared room somewhere else. The price would be similar, but the privacy would be worth the slight price difference. 
Hostels in Singapore are the cheapest form of accommodation available. And, fortunately, there are a lot of good, clean, well-managed ones in the city. 
Capsule hotels have become popular over the last ten years in Singapore, and for good reason! Technically, they are a hybrid between a private hotel room and a hostel. You get a tiny, but a private area to sleep in. It isn't technically a room, so that's why they are called a capsule or a pod. A few popular, high rated examples include:
CUBE Boutique Capsule Hotel @ Kampong Glam (8.7/10 review score, 500+ reviews)
MET A Space Pod @ Arab Street (8.4/10 review score, 850+ reviews)
You might be surprised by how high-tech these capsules can be. Some have private screens, fans and other gadgets. 
Read More: Singapore Accommodation Guide – Find the Best Hotels, Fast…
---
Stay within 500 Meters or Less of an MRT Station
The last consideration you should make when booking a room in Singapore is to stay as close as possible to an MRT station.
Being strategically located close to the station will help you to avoid unnecessary transportation costs. Simply walk to the station every time you need to go somewhere. 
Singapore has one of the best public transportation systems in Asia. But, it's completely pointless to book a room far away from a station if your goal is to build a budget itinerary for Singapore. Be practical and try to be within 500 meters of the nearest station.
Not only will you save money, but your trip will be more efficient, and you will avoid Singapore's scorching afternoon heat!
---
Eat Smart and Plan Ahead
Many of Singapore's hostels and capsule hotels have a shared kitchen for you to prepare basic meals. Remember, Singapore's restaurants are costly when compared to eating at home!
Getting a complimentary breakfast through your accommodation is also a wise idea. Start each day of your budget itinerary for Singapore by enjoying a free breakfast (at your hostel/hotel) or making your own. 
Many people who stay in apartments in Singapore save a lot of money by making full use of the kitchen. So, if you are travelling as a family, try to find a place with a fully functional kitchen. You might pay a bit of a premium for the apartment, but you will surely save a pile of money by eating in. 
---
Hawker Stalls and Grocery Stores
Once you land in Singapore, take a few minutes and try to find the closest grocery store to your hotel or a hostel. Even drinks at a lot of convenience stores are ridiculously expensive relative to large grocery stores. Load up on healthy snacks and beverages if you don't have a kitchen. People often overlook grocery stores in Singapore. 
Remember, shop where the locals shop to save money. 
Next, when you are exploring Singapore, try to eat at hawker stalls and streetside food markets. For example, Chinatown is loaded with cheap hawker foods. Many of these dishes are delicious and only a fraction of the cost of restaurant meals. 
When in malls, choose to eat at food courts and not formal restaurants. When you are building a budget itinerary for Singapore, plan your meals ahead of time. The savings could be enormous. 
---
Public Transportation is your Best Friend
Singapore has an extensive bus and MRT network to get you from point A to point B. You can pretty much get to all tourist attractions without stepping foot in a vehicle!
When building a budget itinerary for Singapore, try to utilize the MRT as much as possible. Knowing which types of tickets are available is important because you can save money by getting a Singapore Tourist Pass. 
Read More: How to purchase Singapore Tourist Passes?
These passes allow unlimited trips on buses and train services for a set period of time. Three-day passes are popular with foreign visitors who want to check out many different attractions in a short period.  
Once purchased, all you need to do is tap the card when entering and exiting each station, and you will be good to go! 
Getting a taxi in Singapore does make sense under some circumstances as well. If you are carpooling or travelling as a family, it is sometimes easier to just hail a cab. But, most of the time, the MRT is the best bet for budget travellers and backpackers. 
---
Focus on 'Free Experiences' in Singapore
Suppose you want to save money while in Singapore, focus on free experiences and affordable attractions. Fortunately, Singapore has manner outdoor recreational spaces that are completely free to visit. 
The southern beaches on Sentosa Island (Siloso, Palawan and Tanjong) are free to enjoy once you get there using public transportation. Singapore Botanic Gardens and Gardens by the Bay are two unusual places to explore on a tight budget. You might have to pay a small entrance fee to visit unique attractions or exhibits, but there is tons of stuff to see for free. 
Other attractive outdoor spaces include Fort Siloso on Sentosa Island and Fort Canning Park. Not only are these places popular amongst tourists, but they are also popular for exercising.
---
Design Walking Tours of Singapore's Best Areas
Singapore is loaded with cool markets, streets, temples and outdoor spaces that are completely free to explore. And sometimes, unfortunately, we have to put extra effort into our travels experiences if we want to save money. 
There are some remarkable places to visit in Singapore that we recommend. First of all, Marina Bay. You can easily take the MRT to Marina Bay and then walk around, capturing world-class skyline views. Merlion Park, Helix Bridge, Gardens by the Bay and Marina Barrage are all worth exploring, and they are free to visit. 
Then, make your way to Chinatown, where street markets and temples will be sure to impress. 
Little India and Kampong Glam are two other areas that you must walk around. While in Kampong Glam, visit world-famous Haji Lane and snap vivid photos of Sultan Mosque. 
Read More: How to get to Haji Lane by MRT – the Complete Guide.
Finish off your Kampong Glam experience with a delicious meal or with some shopping along Arab Street. 
Walking around Singapore is an essential part of a budget itinerary. We cannot emphasize this enough. You will save money and start to feel what the local culture is actually like in different city areas. 
---
If you Need to Splurge, Bundle Attractions.
Creating a budget itinerary for Singapore doesn't necessarily mean that you can't visit a few attractions with entrance fees. 
It just means that you might have to be more selective.  
So, if you are going to splurge on a few activities, you can still save money by purchasing bundles or packages. A perfect example would be planning a trip to Singapore Night Safari. It is not the cheapest place to visit for a budget-conscious backpacker. 
But, if you want to visit there and a few other places like Singapore Zoo, Singapore River Safari or Jurong Bird Park, try to get a package that includes more than one of them. 
---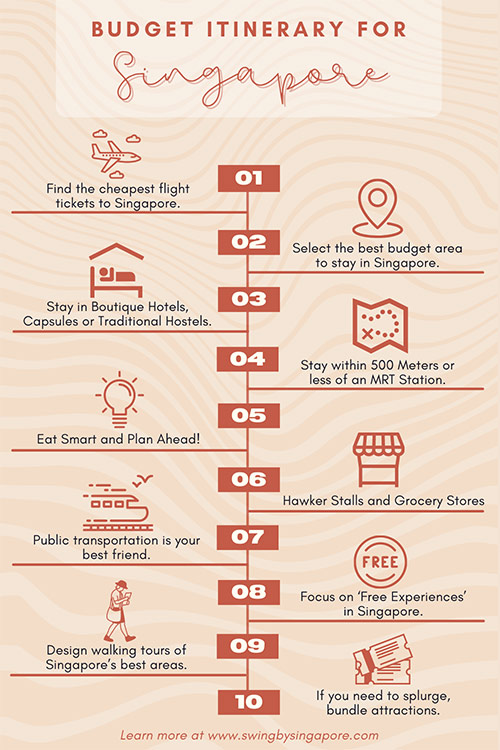 ---
Conclusion – Building a Budget Itinerary for Singapore
Planning a budget itinerary for Singapore is pretty straightforward. But you have to make sure that you are organized and proactive with your flights and accommodation. 
Choose an affordable budget airline and keep your luggage light. Booking early can help save you serious money with most of them. 
There are two key priorities when it comes to booking affordable accommodation in Singapore:
Choose a budget-friendly area such as Chinatown, Little India or Kampong Glam. 

Select a boutique 2-star hotel if you are a couple or a hostel if you are travelling solo. 
Stay as close as possible to an MRT station. Preferably under 500 meters so you are not too hot walking to and from the station in Singapore's intense heat. Singapore Tourist Passes are an affordable way to get around, but you have to plan on moving around a lot to make them worthwhile. 
Make the most of free experiences in the city. In other words, build your budget itinerary for Singapore around outdoor attractions that offer fresh air, exercise and nice scenery. Sentosa's beaches or Singapore Botanic Gardens are a few perfect examples. 
And finally, walkthrough Singapore's most fascinating cultural areas rich with markets, temples, interesting architecture. Street markets are free to explore regardless of where you are in the city. 
So there you have it, a detailed budget itinerary for Singapore. Now you can go ahead and pick and choose what interests you and save a lot of money. Remember to send us an email or comment below if you want additional information about any suggestions in this itinerary guide. We would be more than happy to support you!