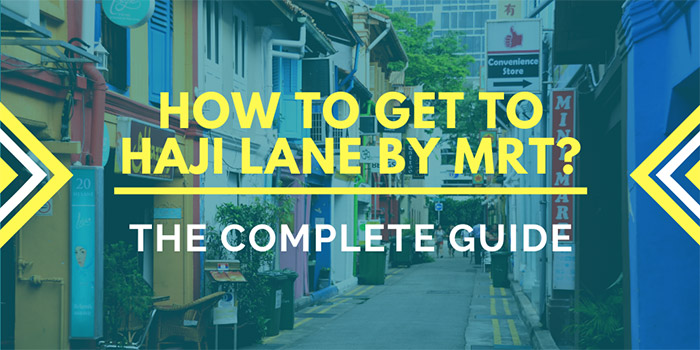 This is the complete step-by-step guide on how to get to Haji Lane in Singapore using the MRT network. We have consistently used the MRT as our mode of transportation to visit Haji on multiple occasions. Therefore, we ensure that this information is reliable since it is based on our own personal travel experiences in Singapore
One of the best things about visiting Singapore is the amazing public transportation system that they have developed. You can book a room directly beside an MRT station and literally visit the city for a week and not even step in a vehicle. There are currently numerous MRT lines, and many more in development. Therefore, take advantage of the fast, economical and convenient MRT system when you are making your way to Haji Lane in the Kampong Glam area of Singapore. Once you are in the Haji Lane area, go on a comprehensive tour of the area to explore the cultural sites!!
---
Why should you visit Haji Lane in Singapore?
Haji Lane is one of the most interesting streets to explore in Singapore. It is located in the interesting 'Kampong Glam' area of the city that is known as Muslim cultural center of Singapore.  This is a popular area for visitors to Singapore because of the colourful shophouses, photogenic mosques and delicious cuisine. And let's not forget about shopping opportunities as well. 
Young tourists and Singaporeans really love Haji Lane, and for good reason. This artsy narrow lane is jam packed with shophouses that have been converted into independent fashion boutiques and Middle Eastern cafes. Haji Lane originally got its name because there were many Arab pilgrim-brokers who would arrange the 'haj' for other muslim citizens throughout the city. 
This is a very photogenic street that is definitely worth checking out while you are in Kampong Glam. It has an eclectic blend of history, culture and a surprisingly trendy dining scene.
There are also some noteworthy points of interest that also draw people to Kampong Glam aside from Haji Lane. The golden-domed Sultan Mosque and Malay Heritage Centre are two historical places that you should add to your itinerary. 
Before you leave this area of the city, consider eating along Bussorah Street. This is one of the coolest 'dining' streets in Singapore. You can capture scenic views of Sultan Mosque in the background while dining.  
Over the last 10 years the direct area around Haji Lane has become more popular with budget tourists. There are more and more hotels and hostels popping up in this area. You can find all kinds of affordable room options within only a few minutes of Haji Lane such as CUBE Boutique Capsule Hotel @ Kampong Glam (2-star, rated 8.7/10)
Beary Best! Kampong Glam (2-star, rated 8.6/10).
---
Here is a step-by-step guide on how to get to Haji Lane by MRT.
Step 1: Depart your hotel and find the nearest MRT Station.
Fortunately, accommodation developers in Singapore understand that there is high demand for tourists to stay close to MRT stations throughout their city. This is evident with some clear examples such as Marina Bay Sands (minutes from Bayfront MRT Station) and the Fullerton Bay Hotel Singapore (minutes from Raffles Place MRT Station). 
This is key: stay at a hotel within walking distance to an MRT station in Singapore. Period. 
You will save money, time and the environment by doing so.
After you have checked into your hotel room in Singapore get ready to walk to the nearest MRT station in order to access Haji Lane. 
---
Step 2: Purchase a ticket to Bugis Station to reach Haji Lane.
After arriving at the stations get a ticket to Bugis Station.This is the closest and most practical station to go to if you want to reach Haji Lane and the rest of Kampong Glam. 
There are two main types of MRT tickets in Singapore:
A Singapore Tourist Pass 

A stored value card that can be used for multiple trips
Your strategy here for purchasing tickets in Singapore really depends on how long you were staying in the city and how many times you plan on using the MRT and other forms of transportation such as buses. 
If you are staying in Singapore for at least a few days you plan on using the MRT a lot, then you should opt for either a Singapore tourist pass or a stored-value card.  Technically, both of these are different forms of stored value cards. However as the name suggests, the Singapore tourist pass is marketed towards temporary visitors to the city. These cards allow passengers to use unlimited public transportation during a defined period of time. 
Stored value cards are used by many Singaporeans.  You purchase these cards, chop them up and then you are free to use them on the MRT and buses within the city. Take note, that when you use a stored value card the cost per trip is actually cheaper than a single journey ticket.  
You can also bypass a lot of lines because you do not have to purchase a ticket at a kiosk during every trip.
There are two main types of stored-value cards:
ez-link 

Nets FlashPay card
Buy these at TransitLink Ticket Offices, MRT stations and 7-Eleven stores. When you want to top your card up simply go to one of the following merchants:
DBS/POSB/OCBC Automatic Teller Machines
7-Eleven stores

General Ticketing Machines,

SingPost Outlets

AXS Stations

Add Value Machines

TransitLink Ticket Offices 
---
Step 3: Take the MRT to Bugis Station
The most popular and convenient station to access Haji Lane is Bugis Station. This station is located along two different MRT Lines in Singapore:
East-West MRT Line (Shown in Green on the Map)
Downtown Line (Shown in Blue on the Map)
While you are riding the MRT to Haji Lane you will be alerted on the train about upcoming stations. They have verbal announcements. Also, there are signs over each exit door to let you know where you are on the line. 
Since Haji Lane Station is on two different lines, the four adjacent stations to it are:
East West Line
Lavender MRT Station
City Hall MRT Station
Downtown Line
Rochor MRT Station 
Promenade MRT Station
When you hear any of these stations being announced, it's time to move closer to the exit (if possible) so that you are ready to exit at Bugis.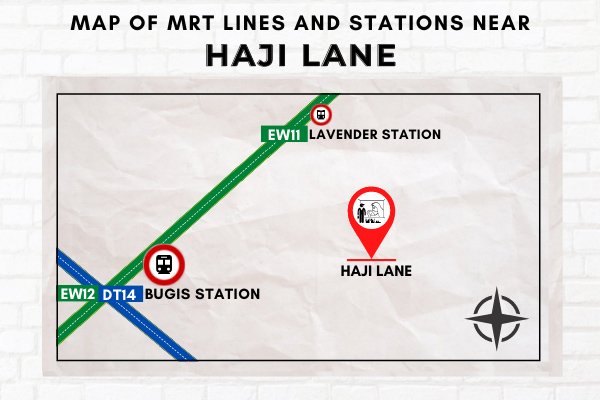 ---
Step 4: Exit the Station and Walk to Haji Lane
Bugis Station, like most of Singapore's MRT stations, has multiple exits to choose from. This can make it convenient for accessing different things outside, but a bit confusing because there are so many choices. 
Bugis Station has a total of 6 different exits which can get a bit overwhelming when you arrive. Exits include A, B, C, D, E and G. 
You can take Exit D to get to Haji Lane from the station.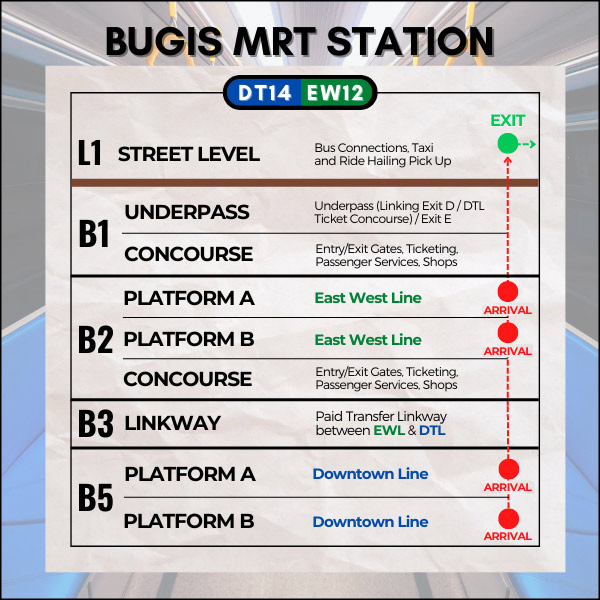 The walk from Bugis Station to Haji Lane is about 450 meters and this should take you about 5 minutes to walk there.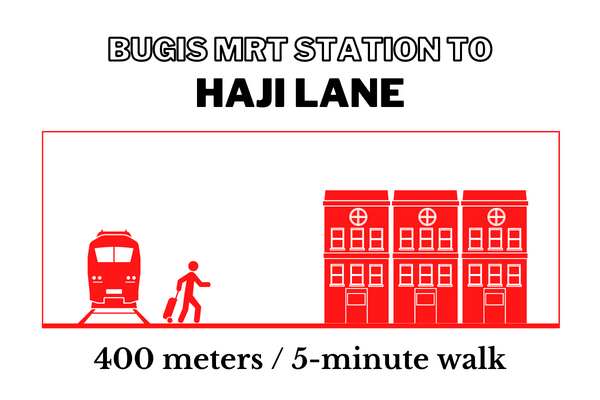 ---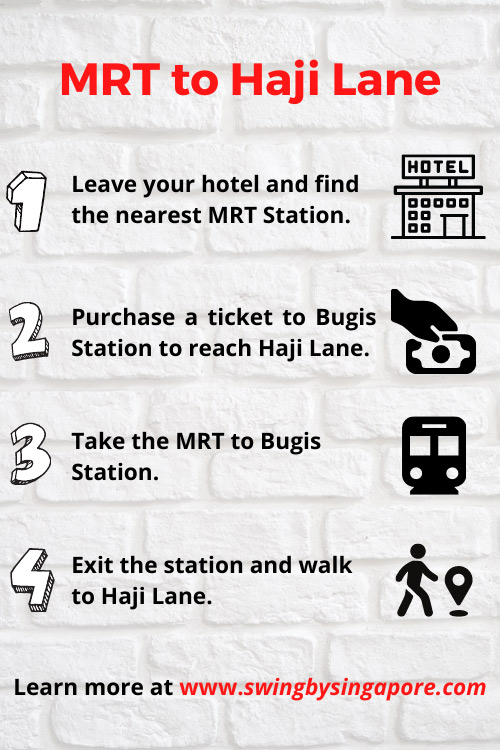 ---
Where should you stay near Haji Lane in Singapore
The direct area around Haji Lane has become more and more popular with visitors as a convenient place to stay.  Lots of backpackers and budget conscious travellers like this area around Arab Street and Sultan Mosque. 
A lot of the accommodation choices here tend to be quite reasonably priced in comparison to Marina Bay and Orchard where many tourists choose to stay. 
You will find a bunch of pod or capsule hostels near Haji Lane. These are two of the best options according to verified reviews from guests:
CUBE Boutique Capsule Hotel @ Kampong Glam (2-star, rated 8.7/10)
Beary Best! Kampong Glam (2-star, rated 8.6/10)
Just because most properties are cheap in this area, doesn't mean that there aren't some high quality 4 and 5-star properties as well. If you can afford these options below, go for it!
Andaz Singapore – A concept by Hyatt (4-star, rated 9.2/10)
Pan Pacific Serviced Suites Beach Road (5-star, rated 9/10)
PARKROYAL on Beach Road (4-star, rated 8.8/10)
All of these properties are within 5-minutes of Bugis Station and Haji Lane. 
We do not have a direct partnership with these properties. All review scores were based at the time of writing according to leading accommodation websites. 
---
Any more questions about getting to Haji Lane using the MRT?
The Kampong Glam area was never really on our list when we first started visiting all of Singapore's tourist attractions. Naturally, we saw places such as Marina Bay and Sentosa Island. We never even knew Haji Lane even existed!
But, during our first visit to Kampong Glam we were surprised by this area of the city.  We booked a Singapore Attraction Pass and got a tour of Kampong Glam. It is filled with Islamic culture and vibrant textile shops. We also loved the artsy feeling of Haji Lane. It is sort of traditional in some ways and modern in others and this mix makes it a cool spot to explore. 
Bussorah Street is also a cool place to check out as well. Bring your camera along. Sultan Mosque and the surrounding shophouses are scenic. 
We hope that this guide to getting to Haji Lane by MRT has been descriptive enough to make this an easy trip. By all means, please send us an email or a comment if you want some more information about this trip. We would be delighted to help!
This area of Singapore is underrated. Give it a shot and you might be pleased. Some tourists make it here, but not all. Bring along your camera and make the most of your trip to Haji Lane in Kampong Glam, Singapore!