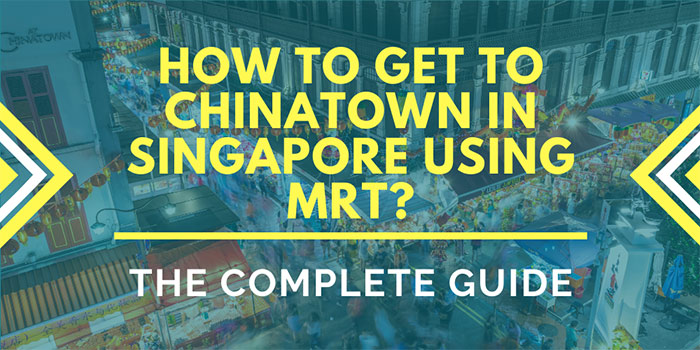 Welcome to the step-by-step guide on how to get to Chinatown in Singapore using the MRT network. We have written this article according to our own personal travel experience visiting Chinatown on multiple occasions.  For our previous journeys to Chinatown in Singapore we have consistently used the MRT as our mode of transportation. 
Singapore, unlike many other cities around the world, has one of the best and most extensive public transportation systems.  It is quite possible to visit Singapore without stepping foot in a single vehicle during your entire trip. That's how practical it is to stay at a place beside a station and then use the MRT and LRT network is throughout the city.  Going to Chinatown in Singapore is no exception. It is very much possible to travel to Chinatown using the MRT and once you are there you can visit several cultural attractions during the same day. This journey should be very straightforward if you follow the steps that we have outlined in this article to follow.
---
Why should you visit Chinatown in Singapore?
Chinatown in Singapore is one of the most popular areas for tourists to visit while they're in the city. One of the main reasons why it is so popular is because you really get a strong feeling of culture in this area.  You will find a maze of narrow roads that consists of street markets and small restaurants that serve traditional dishes like Hainanese chicken rice, noodles and satay. 
And let's not forget about souvenirs as well!
You can purchase everything from clothing to crafts and antiques in Singapore's Chinatown. There are a few popular cultural sites here as well that most tourists check out:
Sri Mariamman Temple (directions via mrt)
Buddha Tooth Relic Temple and Museum
Visit Singapore's Chinatown then you will also have the opportunity to capture great street photography and videos. This is without question one of Singapore's most vibrant areas and definitely worth checking out.
Also keep in mind that Chinatown in Singapore is regarded as one of the best budget-friendly areas for hotels and hostels in Singapore. You can find all kinds of affordable room options within only a few minutes of Chinatown MRT Station. Some examples include The Bohemian and Capsule Pod Boutique Hostel. These are both only about 2 minutes from the station and have very positive review scores from verified guests on a consistent basis. 
---
Here is a step-by-step guide on how to get to Chinatown in Singapore using MRT.
Step 1: Walk to the Nearest MRT Station in Singapore from your Hotel
Whenever we are booking a hotel room in Singapore the first thing that we consider is where the hotel is located relative to MRT stations in the city. As you have probably heard, Singapore is not the cheapest place to visit. Therefore, with some pre-planning you should be able to identify some hotels that fit your budget that are within walking distance to an MRT station. You do not want to have to make additional taxi trips in Singapore if possible.
Fortunately, hotel developers in Singapore know that there is a demand for people to stay close to MRT stations. Therefore, there are a lot of really great options that are close to stations that you can walk to in 5 minutes or less. A few obvious examples include Marina Bay Sands, one of the most famous hotels in the city (minutes from Bayfront MRT Station). Fullerton Bay Hotel Singapore is another example that is minutes from Raffles Place MRT Station. Chinatown is no exception.
After you have checked into your hotel room in Singapore get ready to walk to the nearest MRT station in order to access Chinatown. 
---
Step 2: Identify your Terminal MRT Station
While you are in an MRT Station you have to decide which station you want to go to in order to access Chinatown. Chinatown Station is the most practical and popular option but you could also go to Telok Ayer if you are not scared of walking more.
Chinatown MRT Station (Best choice)
Telok Ayer MRT Station (Second Best Choice)
Take note that both of these stations are located along the Downtown Line (which is shown in purple on Singapore's Rail Map). Chinatown Station is also located on the North-East Line of the rail system.
---
Step 3: Purchase your MRT Ticket to reach Chinatown Station.
Your next step will be to purchase a ticket to Chinatown station.  Ultimately, there are two main types of tickets that you can purchase while you are in Singapore:
A stored value card that can be used for multiple trips
We suggest that you purchase either a Singapore tourist pass or a stored-value card while you are visiting Singapore.  
 A stored-value card, as its name suggests is a card that you purchased and load up with cash. Although you do have to spend more money upfront it does make each trip cheaper when you use the MRT and it also allows you to skip all of the lines associated with buying tickets. When you are figuring out how how to get to Chinatown in Singapore using MRT you won't have to worry about spending time in lines with this card.
The Singapore Tourist Pass is designed for visitors to the city and not residents.  These cards are actually a form of a 'stored-value card' except they are marketed towards people that are visiting the city for a short period of time.  These passes are the best option if you plan on using the MRT extensively or buses extensively while you are in the city.
We strongly recommend buying a multiple-attraction pass

to use with your transportation card. You can save up to 52% on entrance passes when you pre-purchase them online. Over 200,000 passes have already been sold because of the saving potential. 
If you do choose to purchase a stored-value card there are two different types in Singapore:
ez-link 

Nets FlashPay card
You can purchase these cards at TransitLink Ticket Offices, MRT stations and 7-Eleven stores. Afterwards, proceed to these merchants for subsequent top ups:
DBS/POSB/OCBC Automatic Teller Machines

7-Eleven stores

General Ticketing Machines,

SingPost Outlets

AXS Stations

Add Value Machines

TransitLink Ticket Offices 
---
Step 4: Ride the MRT to Chinatown Station
As mentioned before, the most popular station to access Chinatown is Chinatown Station. It is possible to take the MRT as well to Telok Ayer but this will take a bit longer to walk to the main markets and attractions. 
While you are riding the MRT to Chinatown take a note that there will be verbal announcements on the train to alert you of the next upcoming station.  Fortunately, Singapore's MRT system is very organized. You will also see screens above each exit on the train to inform you where you are online and what the next station will be.
Since Chinatown Station is on two different lines, there are technically four adjacent stations to it:
North East Line
Outram Park MRT Station
Clarke Quay MRT Station
Downtown Line
Fort Canning MRT Station 
Telok Ayer MRT Station
When you hear any of these stations being announced on the MRT, it is time to walk closer to an exit. This will allow you to conveniently access the exit when you arrive at Chinatown station.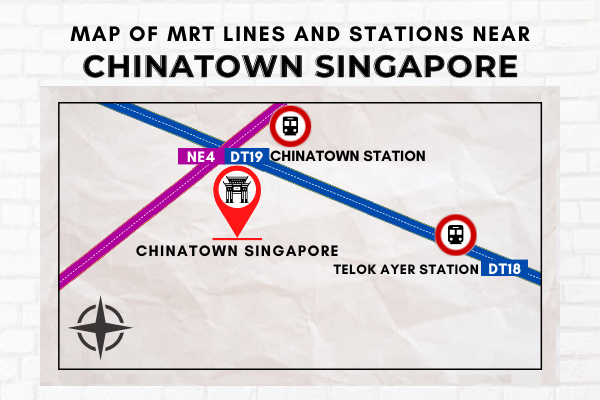 ---
Step 5: Exit the Station and walk to Chinatown
Most of Singapore's MRT stations have multiple exits. This can make it convenient for accessing different things outside, but a bit confusing because there are so many choices. 
Chinatown Station has a total of 6 different exits which can get a bit overwhelming when you arrive. Exits include A, B, C, D, E and G. 
Take Exit A and Exit E to the Buddha Tooth Relic Temple & Museum and the Chinatown Complex (Market & Food Centre).
We suggest that when you arrive at Chinatown Station check out the exit signs in the station if you want to access a particular point of interest.  If you still require more direction, ask one of the station attendants for more information. Most of the exits bring you right into the middle of Chinatown.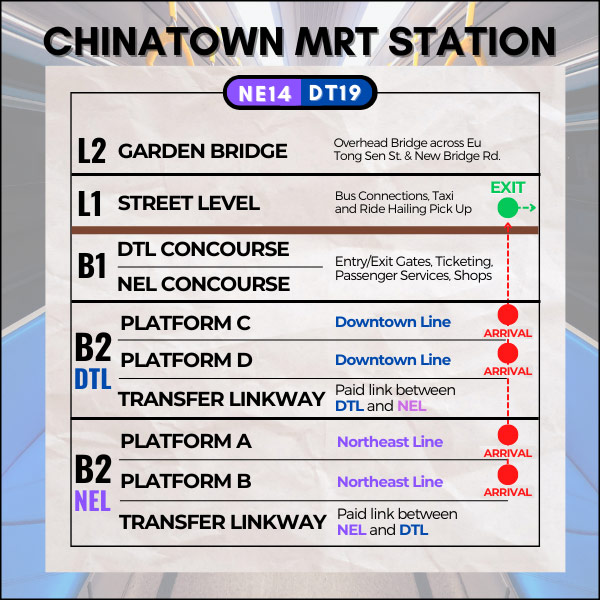 How long should it take you to walk from Chinatown MRT Station to Chinatown Singapore?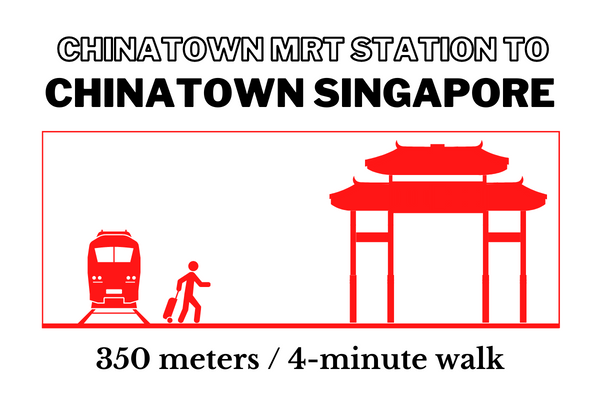 ---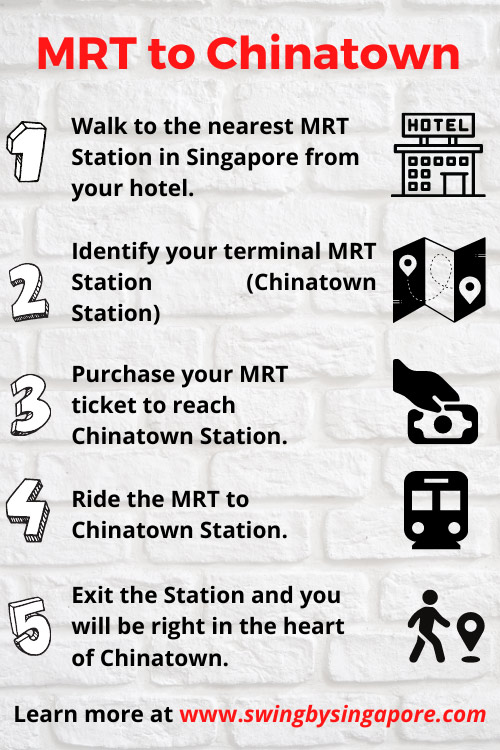 ---
Selecting the Best Hotel in Chinatown
Singapore literally has hundreds upon hundreds of hotel and hostel choices for visitors. Chinatown, in particular, offers excellent budget accommodation choices for visitors to the city.  Although there are a few four and five star choices within walking distance of Chinatown station, most properties fall within the two to three-star range. Typically, these hotels offer a very small but clean room with basic amenities. Some of them offer breakfast meals within their quoted prices online.
Chinatown mainly has hostels and boutique hotels. Hostels in this area are very popular with backpackers because they are affordable and for the most part well managed. 
Keep in mind that there are a lot of different accommodation options in this area. Most of them are concentrated to the direct southwest of Chinatown Station. You will have a choice of at least fifty different properties within a 10 to 15 minute walk of the station.  Where you want to stay here will really depend on your trip budget and personal preferences.
Some of the highest rated 'budget' properties right beside Chinatown station include the following:
Hotel 1888 Collection (8.4/10 review score)
CUBE Boutique Capsule Hotel @ Chinatown (8.6/10 review score)
Alternatively, if you would to stay at a more 'upscale' property while still being within walking distance of Chinatown Station these two properties are your best options:
Capri by Fraser China Square Singapore (4-star, 8.9/10 review score)
Parkroyal Collection Pickering Singapore (5-star, 9.1/10 review score)
As you can see, both of them receive very positive review scores from guests. 
Keep in mind that these review scores above are based on values from leading online accommodation websites. They are subject to change over time. We do not have a direct partnership with any of the properties listed above.   
---
Any more Questions about Getting to Chinatown using the MRT?
We hope that this step-by-step guide on how to get to Chinatown in Singapore using MRT has been detailed enough for you to clearly follow. If not? Please send us an email or a comment. We would be delighted to provide you with more information. 
One of the clear benefits of visiting Chinatown in Singapore is that it is also very close to other popular tourist areas in the city.  It is moments away from Clark Quay and Boat Quay (MRT directions from the airport).  Both of these areas are extremely popular in terms of socializing in Singapore. Many people go here for waterfront dinners and they also enjoy the bar scene at these places.
Also consider making nearby trips to Marina Bay and Orchard as well. Marina Bay is world famous and the perfect place to capture Singapore's amazing skyline. Orchard Road is famous for shopping opportunities and a large selection of restaurants.