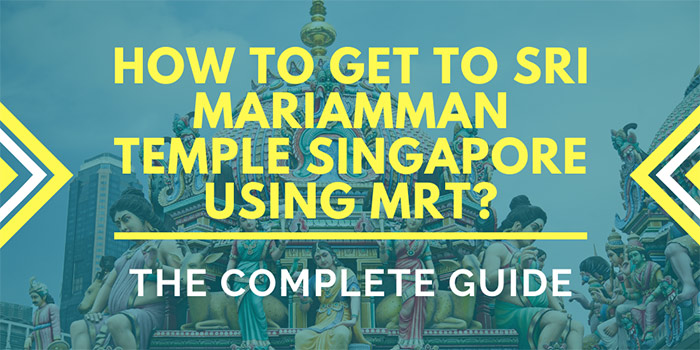 We have written this comprehensive guide to show you how to get to Sri Mariamman Temple Singapore using MRT. While you are traveling in Singapore it won't take you long to figure out that the city has one of the best public transportation systems in the world.  Whether you are taking the bus or MRT throughout the city you can expect efficiency, organization, and affordable prices.
Fortunately, we have had the personal opportunity of traveling to Sri Mariamman Temple in Chinatown using MRT. Therefore, the article below will highlight specific tips and information to make this a stress-free journey for you.
You can access the MRT network directly from Changi Airport. If you do not have to take a vehicle anywhere in the city, we recommend that you stick to the MRT. Singapore, unlike many cities around the world, has many train lines to most points of interest. This can help you to save cash while also saving the environment while you are exploring this beautiful city. 
---
Why should you visit Sri Mariamman Temple in Singapore?
The Sri Mariamman Temple is quite famous in Singapore because it is the city's oldest Hindu temple. It is considered to be a National Monument and it is regarded as one of the top religious and cultural points of interest in the city. Originally founded in 1827 Naraina Pillai, Sri Mariamman Temple is dedicated to the goddess Mariamman, known for her power to cure illnesses and diseases.
Even though Sri Mariamman Temple originated in 1827 it has experienced many facelifts over the years. Currently, you will be surely impressed by the ornate and intricate level of detail on the Temple's colourful exterior and interior. It has a grand town entrance that consists of impressive colourful sculptures of mythological figures and deities. This tower is very photogenic and definitely worth checking out – just remember to bring a good camera along!
Sri Mariamman Temple is located right in the heart of Chinatown. As such, it is in one of the best budget-friendly areas for hotels and hostels in Singapore.
Most properties are concentrated within 2-3 minutes walking distance from Chinatown Station.
Some good examples of accommodation in this area include:
The Bohemian
Capsule Pod Boutique Hostel
You can walk to either one of these in two minutes from the station.
---
Getting to Sri Mariamman Temple Singapore using MRT.
Step 1: Walk from your hotel to the MRT.
When you are planning your trip to Singapore there are a few practical decisions that you should make before you fly.  One strategy to save time and a lot of money while you are in Singapore is to book a hotel room within walking distance to an MRT station. 
This will allow you to fully utilize the MRT while eliminating unnecessary taxi rides that may expose you to traffic jams and other headaches that you shouldn't have to deal with. We wouldn't place this much emphasis on getting close to an MRT Station in Singapore if it didn't have an extensive MRT Network. Fortunately, most tourists and locals have no problem getting to key areas via MRT.
Hotel developers have also purposely built a lot of hotels within walking distance of prominent stations throughout the city.  Therefore, there are a lot of hotel options to choose from if you want to be within 2 or 3 minutes of a station. We have included some popular examples below that are really close to MRT stations that have received positive verified guest review scores:
Marina Bay Sands Resort (Bayfront Station)
Raffles Singapore (Esplanade Station)
The Fullerton Bay Hotel Singapore (Raffles Place Station)
---
Step 2: Decide on what kind of MRT ticket you want to buy to get to Sri Mariamman Temple
 Prior to determining what station you need to go to to get to Sri Mariamman Temple, you have to decide on what type of MRT ticket you are going to buy. 
Ultimately, the type of MRT tickets that you were going to use in Singapore really depend on your personal circumstances. For example, if you are only in Singapore for a few days then you may get a completely different type of ticket than someone who is only in Singapore for a few hours. 
Currently, there are three primary forms of MRT tickets that you can use in Singapore: 
A Singapore Tourist Pass 

A stored value card that can be used for multiple trips

A single trip ticket 
Singapore Tourist Passes are popular options for tourists who are spending one to three days in the city.  When you purchase one of these passes you are entitled to unlimited rides on buses and MRT trains throughout the city for a set duration of time.  For example, you can purchase a 3-day tourist pass and ride unlimitedly for this duration. This is the best option if you are a very active tourist and you plan on seeing a lot of different sites while you were in Singapore. Therefore, if you plan on getting a Singapore Tourist Pass you have to think about the itinerary that you have planned and how much public transportation will be required. If you are sightseeing a lot this is the best option in the city.
The Basic Ticket
Single trip tickets are standard tickets that you purchase at a ticketing machine within each station. The benefit of using single trip tickets is that you're not obligated to use the MRT a lot while you are in Singapore. So, if you want to relax for a day or to, no problem. The downside of using single trip tickets is that you will pay more per trip than a stored-value card and you may have to wait in line to actually buy your ticket every time you enter a station. 
Stored value cards are very popular amongst locals, expats, and visitors spending more than three days in the city. You purchase these cards and then you can top them up with cash.  MRT Rides cost less per trip with stored value cards in comparison to single journey tickets. You also get the added benefit of bypassing ticketing lines because you just simply have to tap to enter and exit the MRT Network.  When we were figuring out how to get to Sri Mariamman Temple Singapore using MRT we used an ez-link card.
If want to buy a stored-value card there are two different types in Singapore:
ez-link 

Nets FlashPay card
You can purchase these cards at TransitLink Ticket Offices.  Afterwards, proceed to these merchants for subsequent top ups:
DBS/POSB/OCBC Automatic Teller Machines

7-Eleven stores

General Ticketing Machines,

SingPost Outlets

AXS Stations

Add Value Machines

TransitLink Ticket Offices 
---
Step 3: Purchase your MRT Ticket to Chinatown Station
When you are ready to go to Sri Mariamman Temple buy your ticket to Chinatown Station. This is the most popular station for accessing this famous Temple in Chinatown. 
If you are buying a single Journey ticket you will have to get it at one of the ticketing machines in the station.  You will not have to do anything but just simply 'tap to enter' the MRT Station if you are using a Singapore Tourist Pass or stored-value card.
---
Step 4: Ride the MRT to Chinatown Station
Having some familiarity with the MRT lines that you will be traveling on can make this trip a lot easier for you to navigate. Chinatown Station is a stop on two of Singapore's most populate lines:
Downtown Line (Shown in blue on the MRT Map)
North East Line (Shown in purple on the MRT Map)
You should also be familiar with the adjacent stations to Chinatown. This will allow you to move towards the exit on the train well before you arrive at the station. Keep in mind that Singapore's MRT trains can get quite busy during peak time so it's better to be proactive about getting close to the exit when you approach each station.
Downtown Line
Fort Canning MRT Station (north)
Telok Ayer MRT Station (south)
North East Line
Outram Park MRT Station (West) 
Clarke Quay MRT Station (East)
Typically, when you are traveling on Singapore's MRT Network you can expect the verbal announcements that will alert you of the next station coming up on the line. They also have signs above each exit that highlight where you are on the line so that you can foresee what stations are coming up next. 
In case you require more additional information for lines and transfers you can also check out the MRT route maps that are located in each station.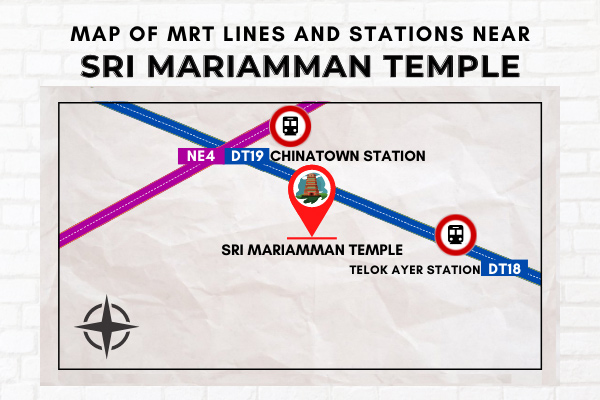 ---
Step 5: Exit Chinatown Station and walk to Sri Mariamman Temple
Most MRT stations in Singapore have multiple exits that you can choose from after you get off the train. In this case, Chinatown station is no exception. It has a total of six different exits: A, B, C, D, E and G. 
Of these six exits, remember to take Exit A to get to Sri Mariamman Temple.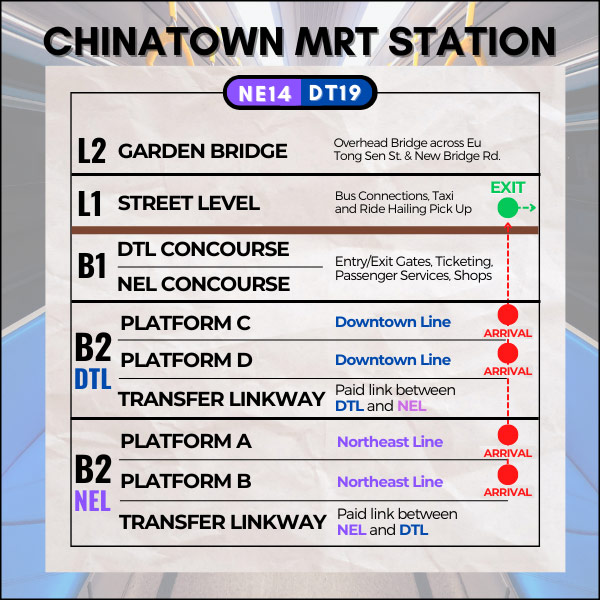 Conveniently, Sri Mariamman Temple is only a 4-minute (300 meter) walk from Chinatown Station. You should be there in no time!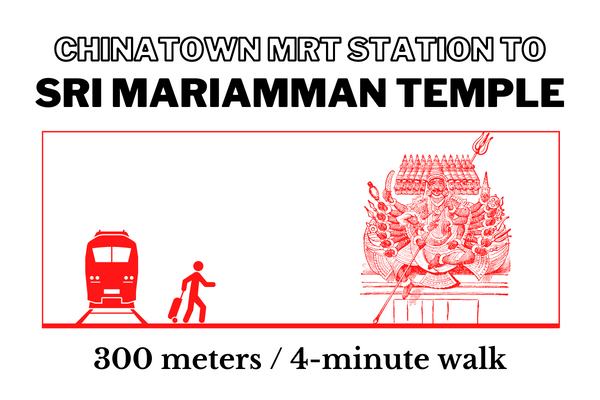 ---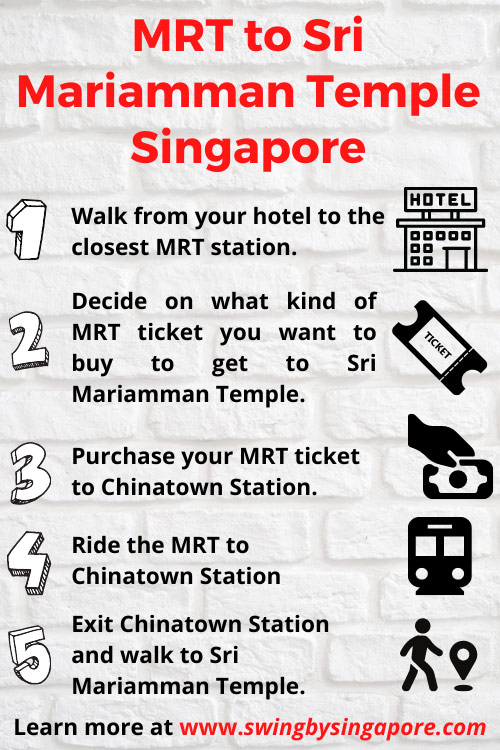 ---
Selecting the best hotel near Sri Mariamman Temple
It comes as no surprise to people visiting Singapore that it is regarded as a very expensive place to stay because of accommodation costs. There is no denying the fact that Singapore does have a very wide selection of luxury hotels that cater to affluent tourists and business people. But that does not mean that there are no areas that cater to budget travelers and backpackers as well. 
Chinatown in Singapore is regarded as one of the best areas to stay if you want to find reasonably priced accommodation choices. The area around Sri Mariamman Temple  has tons of 2 and 3-star boutique hotels and a wide variety of hostels to choose from. Actually, when we often stay in Chinatown if we want to save some cash because a lot of the properties are well managed with respectable review scores. 
Most of the hotels in Chinatown or clustered directly south east of Chinatown station. Therefore, they are actually only one or two minutes away from Sri Mariamman Temple. 
Some of the highest rated 'budget' properties near Chinatown station include the following:
Hotel 1888 Collection (8.4/10 review score)
Wink Capsule Hostel @ Sri Mariamman Temple (8.4/10 review score)
CUBE Boutique Capsule Hotel @ Sri Mariamman Temple (8.6/10 review score)
There are also a few higher-end properties in Chinatown that you may want to consider as well if you're traveling with a family or celebrating a special event: 
Capri by Fraser China Square Singapore (4-star, 8.9/10 review score)
Parkroyal Collection Pickering Singapore (5-star, 9.1/10 review score)
As you can see by the review score is above the Capri and Parkroyal are both well respected properties that consistently receive positive review scores from guests. You can also walk to these directly from Chinatown Station in 5 minutes or less.
Take note that we do not have a direct partnership with any of the properties listed above. These are strong recommendations according to verified guest review scores on leading accommodation websites. Any suggestions and review scores are based at the time of writing and therefore are subject to change over time.
---
Do you have more questions about getting to Sri Mariamman Temple?
We have tried our best to provide you with a step-by-step guide on how to get to Sri Mariamman Temple Singapore using MRT.  but we do still understand that there may be a few details that you would like that are not included in this article. If this is the case please send us an email or a comment and we would be more than happy to provide you with additional information about this Temple or the MRT Network in general.
When you are developing an itinerary for Singapore keep in mind that Chinatown is one of those places that you definitely want to see. Not only does it have historic and culturally significant sights such as Sri Mariamman Temple, but it also has street Markets, tasty restaurants and lots of shopping opportunities. 
Also keep in mind that you can also walk to Sri Mariamman Temple from Telok Ayer Station.  Chinatown station is the most popular way to get to this Temple but if you do find yourself closer to tell a guy or you can definitely walk from there as well. The 500 meter walk from Telok Ayer to Sri Mariamman Temple should take you about 5-6 minutes.