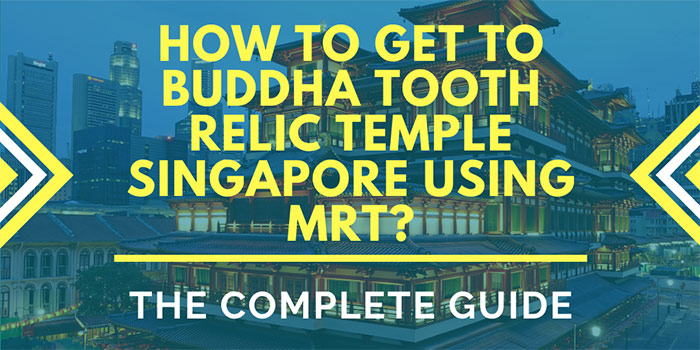 Welcome to the step-by-step guide on how to get to Buddha Tooth Relic Temple Singapore using MRT. Fortunately, we have had the opportunity to visit Chinatown in Singapore on multiple occasions using the MRT.  Therefore, we hope to provide you with a detailed overview of how to utilize Singapore's extensive public transportation system to access this area of the city.
One of the clear benefits of visiting Singapore is that it has a world-class public transportation system that consists of both buses and trains.  Upon arrival at Changi International Airport you can easily access the MRT and then use it as your primary mode of transportation during your entire trip. There are few cities in the world that have such an organized and efficient means of getting around. 
We suggest that you utilize the MRT as much as you can in Singapore to save time, money, and the environment.
---
Why should you visit Buddha Tooth Relic Temple in Singapore?
There is no denying the fact that Chinatown in Singapore is one of the best places to visit while you are in the city. There are tons of markets to explore, tasty Hawker centres and a variety of temples and cultural attractions that can keep you busy for a full day.
And let's not forget about shopping and souvenirs as well!
Buddha Tooth Relic Temple is one of the most famous points of interest in Singapore's Chinatown District. It is not only a Temple, but also a museum! When you visit the Buddha Tooth Relic Temple you will get the opportunity to explore comprehensive exhibits on Buddhist history and art. 
In case you are wondering, the temple is named after what the Buddhists consider as the left canine tooth of Buddha. It was recovered from his funeral pyre in Kushinagar, India. It is currently housed within this famous temple in Singapore. 
While visiting the Buddha Tooth Relic Temple you may want to check out the Buddhist Culture Museum on the third floor. It showcases a selection of revered artefacts of the Buddha, such as boe and tongue relics. The Sacred Light Hall on the fourth floor contains the temple's centrepiece. 
Giant Stupa?
The Buddha Tooth Relic has been placed in a giant stupa weighing about 3,500 kg.  Unfortunately, only monks are permitted into the relic chamber, but there is a viewing area for other guests such as tourists.
The facade of the Buddha Tooth Relic Temple is striking and very photogenic, making it one of the most photographed locations in Chinatown. We suggest bringing along a good camera for some photos. 
You can also expect workshops and other events at the Buddha Tooth Relic Temple in Singapore. Tours and admission to the Temple are free of charge which is a bonus as well. 
Also keep in mind that the area around Buddha Tooth Relic Temple in Singapore is regarded as one of the best budget-friendly areas for hotels and hostels in Singapore. You can find all kinds of affordable room options within only a few minutes of Chinatown MRT Station. 
Some examples include:
The Bohemian
Capsule Pod Boutique Hostel
Literally, these are both only about 2 minutes from the MRT station.  They get strong review scores from verified guests. 
---
Getting to Buddha Tooth Relic Temple Singapore using MRT.
Step 1: Walk to the nearest MRT Station in Singapore from your hotel
One of the most practical decisions that you can make when you are booking a hotel in Singapore is getting it as close as possible to an MRT station. Many hotel and accommodation developers in Singapore have purposely built properties within walking distance of MRT stations. They know that both locals and tourists visiting the city want to be close to the MRT because it is the best way to get around!
While you were looking online to book your room make sure that you check on Google Maps as well how long it takes you to walk to the nearest station.  The last thing that you want to do is to take a taxi to and from the station every time you want to access the MRT. This would create unnecessary expenses for your trip.
Some common examples of hotels that are within walking distance of MRT stations include:
Marina Bay Sands Resort (Bayfront Station)
Raffles Singapore (Esplanade Station)
The Fullerton Bay Hotel Singapore (Raffles Place Station)
---
Step 2: Decide on what kind of MRT ticket you want to buy to get to Buddha Tooth Relic Temple
Before you even consider getting on the MRT in Singapore you have to think about what kind of tickets you want to purchase. There are three different types of tickets and the one that you choose really depends on your own personal circumstances and priorities:
A Singapore Tourist Pass 

A stored value card that can be used for multiple trips

A single trip ticket 
For most tourists visiting Singapore, the Singapore Tourist Pass is the best option.  You can purchase these at some TransitLink ticketing offices within the city.  These passes are ideal if you plan on using the MRT a lot over a 1-3 day period.  Once you purchase your Singapore tourist pass you can use it for unlimited MRT and bus rides throughout the city. Therefore, if you plan on visiting a lot of attractions while you were in the city this is the best option.
The Basic Option
If you do not plan on using the MRT a lot during your trip then you might want to stick with a single trip ticket. Single journey tickets can be purchased at ticketing machines within each MRT station. You may have to wait in line in order to purchase these which is definitely a negative point. However,  there is no point in purchasing a card if you are only going to use the MRT once or twice while you are in the city. Therefore, this is the best option for travelers who do not plan on seeing a lot of different locations while they are in Singapore. You will pay more per trip with this option but you do not have to worry about purchasing a card and then topping it up all the time.
Long Term Option
Stored value cards are the most popular option for expats, Singaporeans, and visitors spending more than three days in the city.  You can purchase these cards and then top them up with cash.  The cost per trip is less than using a single journey ticket and you also avoid the ticketing machine lines every time you want to use the MRT.  You will have to make an upfront payment to get the card but there is a refundable balance that you can get back if you do not use the card extensively while you are in the city.
If you do choose to purchase a stored-value card there are two different types in Singapore:
ez-link 

Nets FlashPay card
You can purchase these cards at TransitLink Ticket Offices, MRT stations and 7-Eleven stores. Afterwards, proceed to these merchants for subsequent top ups:
DBS/POSB/OCBC Automatic Teller Machines

7-Eleven stores

General Ticketing Machines,

SingPost Outlets

AXS Stations

Add Value Machines

TransitLink Ticket Offices 
---
Step 3: Purchase your MRT Ticket to Chinatown Station
When you enter the nearest MRT Station to your hotel you have to know which station to go to in order to reach Buddha Tooth Relic Temple. 
The best MRT Station to get to Buddha Tooth Relic Temple is Chinatown Station. 
If you are using a Singapore Tourist Pass or a Stored Value Card you don't really have to do anything other than simply tapping your card to enter and exit the MRT.  You will have to indicate that you were getting off at Chinatown Station if you are purchasing a single trip ticket, however.
---
Step 4: Ride the MRT to Chinatown Station
Once you are on the train you should have some familiarity with which MRT Lines Chinatown Station is part of.
Chinatown station is actually part of two different MRT lines: 
North East Line (Shown in purple on the MRT Map)
Downtown Line (Shown in blue on the MRT Map)
You should also be familiar with what the adjacent stations are to Chinatown so that you know that you were getting closer to your intended destination.  Here are the closest stations to Chinatown station below:
North East Line
Outram Park MRT Station (West)
Clarke Quay MRT Station (East)
Downtown Line
Fort Canning MRT Station (North)
Telok Ayer MRT Station (South)
Also expect verbal announcements to be made on the MRT as you travel to Buddha Tooth Relic Temple.  
These are designed to inform passengers of upcoming stations on the line. This should avoid you from missing your stop. Also take note that there are signs above the exits on the MRT that illustrate where you are on the line as well.
---
Step 5: Exit Chinatown Station and walk to Buddha Tooth Relic Temple
Chinatown Station is similar to many other stations in Singapore because it has multiple exits that you can choose from. It has a total of 6 different exits which can get a bit overwhelming when you arrive. The exits include: A, B, C, D, E and G. 
Take Exit A to get to Buddha Tooth Relic Temple.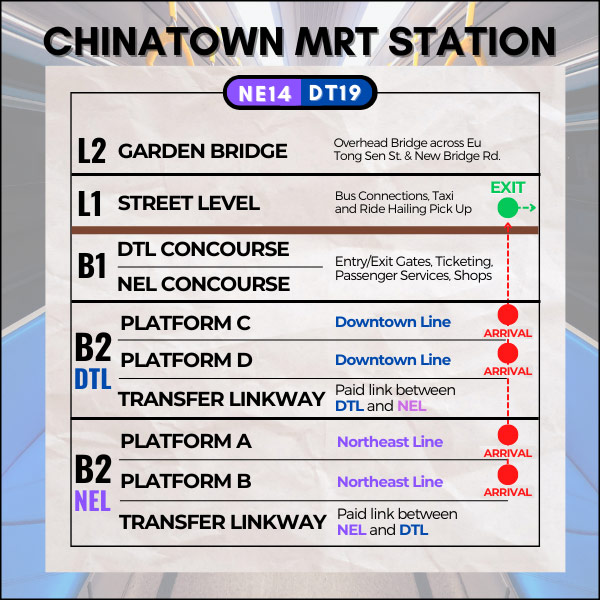 You can expect the 500-meter walk from Chinatown Station to Buddha Tooth Relic Temple to take about 5-6 minutes or even less if you are walking briskly.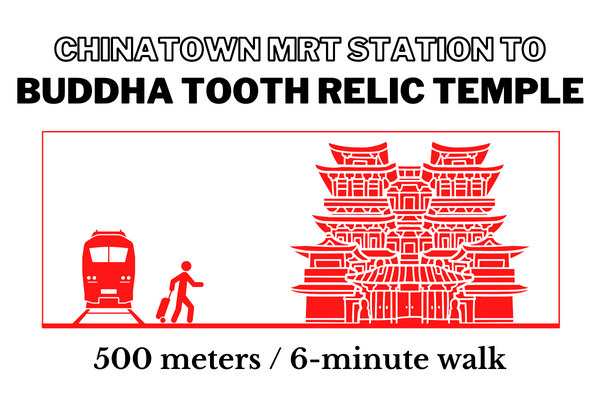 ---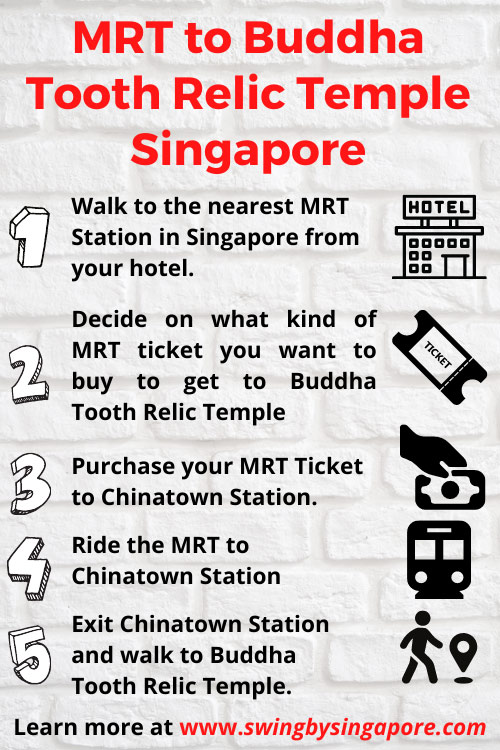 ---
Selecting the best Hotel near Buddha Tooth Relic Temple
Singapore is a city that has no shortage of luxury hotels and apartments to choose from. Chinatown, and the area around the Buddha Tooth Relic Temple are primarily well known for affordable accommodation options that consist of boutique hotels and hostels.  This is considered to be one of the best areas to stay in the city if you want to save some money while still having reasonable service standards.  Also, don't forget that there are a lot of affordable restaurants and shopping opportunities directly around the hotels in Chinatown Singapore.
Hostels in this area are very popular with backpackers because they are affordable and for the most part well managed. 
Most properties that you can choose are concentrated to the direct southwest of Chinatown Station. You will have a choice of at least fifty different properties within a 10 to 15 minute walk of the station.  
Choices in Chinatown
Some of the highest rated 'budget' properties near Chinatown station include the following:
Hotel 1888 Collection (8.4/10 review score)
Wink Capsule Hostel @ Buddha Tooth Relic Temple (8.4/10 review score)
CUBE Boutique Capsule Hotel @ Buddha Tooth Relic Temple (8.6/10 review score)
Although this is considered to be an affordable area to stay there are a couple more upscale options that receive very strong and positive guest review scores:
Capri by Fraser China Square Singapore (4-star, 8.9/10 review score)
Parkroyal Collection Pickering Singapore (5-star, 9.1/10 review score)
These properties listed above are also within walking distance of the station.
While you are reading over these hotel recommendations please keep in mind that we do not have a direct partnership with these properties listed.  The review scores listed are also according to leading online combination websites at the time of writing.  They are subject to change over time as the number of reviews by verified guests changes.
---
More questions about getting to Buddha Tooth Relic Temple using the MRT?
We hope that this comprehensive guide on how to get to Buddha Tooth Relic Temple in Singapore using MRT has been detailed enough for you to clearly follow. If not? Please send us an email or a comment. We would be delighted to provide you with more information. 
One more thing that you should also know about this trip is that Chinatown Station is not the only station that you can use to access Buddha Tooth Relic Temple and the other sights in Chinatown. You can also walk from Telok Ayer Station.  It is just a few hundred meters farther from the Temple in comparison to Chinatown Station, but it's a good alternative. 
Making an Itinerary
While you are visiting the Buddha Tooth Relic Temple in Chinatown keep in mind that there are also a lot of other sites to explore in this area.  You can easily fill up half a day in Chinatown if not an entire day if you want to explore the Museum's, Temples, Street Markets and enjoy a meal or two!  We suggest that you map out and plan an itinerary before going there. You will find it much more rewarding and you won't miss anything!