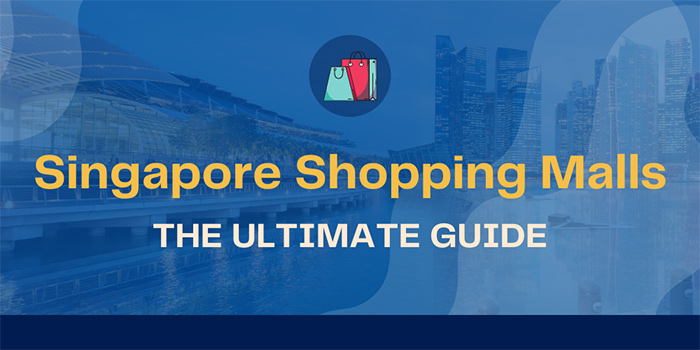 "The comprehensive guide to shopping malls in Singapore."
Shopping in Singapore Overview
Singapore shopping malls are world-class in terms of architecture, brands and recreational facilities. Although Singapore often gets labelled as a very expensive place to live and visit, you will be surprised by the variety of shopping centres throughout the city. Regardless of whether you are looking for a world-class designer bag or cheap electronics, you should have no problem finding them in Singapore.  
In this comprehensive guide, we will outline everything you need to know about shopping malls in Singapore. Knowing where the main shopping districts are located will make your trip to Singapore more convenient and efficient. Also, it's good to know where luxury malls are located in comparison to budget-friendly shopping centres.
We will also discuss some of the most common questions about Singapore shopping malls. Ideally, by the end of this guide, you should be an expert on malls in Singapore!
---
How many shopping malls are there in Singapore?
Singapore has no shortage of shopping malls to choose from! According to Wikipedia, Singapore had 171 shopping malls at the time of writing. You can expect this number to fluctuate over time as new shopping centres open up and others close their doors. This number does provide a general idea of the massive shopping selection for residents and visitors to the city.
---
Where are shopping malls located in Singapore?
Singapore is a large city with millions of residents. Therefore, there are multiple different areas that have shopping malls, with some being more famous than others. The convenient thing about visiting a mall district in Singapore is that you can take the MRT to one station and then access multiple malls during the same day.
In Singapore, there are many large commercial complexes that include malls, condominiums, office towers and other recreational facilities. Residents are offered unparalleled convenience due to this arrangement. 
Malls in Singapore are located all over the city. Conveniently, you can stay almost anywhere and be either a short drive or a few MRT stations away from the nearest mall. The densest area in Singapore for shopping malls is the central area of the city. Then, as you extend to the north, south, east and west shopping malls because more scattered. Consequently, if you are visiting for only a few days, try to stay central to have the best access to the most malls.  
---
Singapore Shopping Districts
When you were planning your trip to Singapore try to stay as close as possible to a shopping district. These areas that we will discuss below tend to have convenient access to MRT and other forms of public transportation. In this section, we will focus on 'shopping mall' districts. If you want to learn more about markets in the city, then check out our comprehensive Singapore Market Guide.
Orchard Road

– Singapore's most popular shopping mall district
A visit to Singapore would not be complete without checking out with Orchard Road. This is the most popular shopping destination in Singapore for residents and foreign visitors to the city. Some visitors call Orchard Road a 'shopping paradise'.
What makes Orchard Road so famous for shopping?
One of the first things you need to know about Orchard Road is that it is loaded with shopping malls. At the time of writing, there are over 15 malls along Orchard alone! This makes Orchard extremely convenient as a 'one-stop shop' for anything you are looking for. 
Orchard Road is also extremely well-serviced by public transportation. For instance, there are three MRT stations that are within meters of malls along this famous shopping district:
Orchard Station
Somerset Station
Dhoby Ghaut
A smart idea is to take the MRT to one of these stations and then exit the area using another station. For example, go first to Dhoby Ghaut and then walk northwest along Orchard Road until you reach Orchard Station. If you follow a route like this you will naturally pass by many malls, hotels and restaurants. 
Another cool thing about shopping along Orchard Road is that malls here cater to both luxury-minded and budget-minded shoppers. Regardless of whether you are searching for high-end designer brands or everyday goods, you can find it along Orchard. 
What hotels are the most popular for shoppers along Orchard Road?
When you are selecting a hotel near Orchard Road try to position yourself as close as possible to one of the MRT stations. Singapore can get really hot during the peak afternoon hours, so you will appreciate the proximity to a station. Fortunately, many hotels in Orchard are either physically attached to malls or just minutes away from stations. 
At the time of writing, here are some of the highest-rated hotels in Orchard:
JEN Singapore Orchardgateway by Shangri-La (4-star, 9/10 review score)
Pan Pacific Serviced Suites, Orchard (5-star, 8.9/10 review score)
Mandarin Orchard Singapore (5-star, 8.4/10 review score)
You should be able to walk from any of these properties to nearby malls and MRT stations in 2-3 minutes.
Can you get from Changi Airport to Orchard Road using MRT? 
It is definitely possible to get from Changi Airport to Orchard Road using the MRT. You don't even have to step into a vehicle to get to this shopping haven! Taking the MRT from the airport is cheap, convenient and environmentally friendly.
Fortunately, Changi Station is physically attached to the airport. After you clear customs and immigration simply follow the signs to Changi Station. Then, you will be well on your way. Go ahead and read this comprehensive guide article on how to get from Changi to Orchard Road. It outlines all of the specific information for this popular journey. 
Marina Bay

– Singapore's most scenic shopping area
Although Orchard Road may be the crown jewel of Singapore's 'shopping mall' districts, which makes Marina Bay an underrated shopping destination. Marina Bay is world-famous for its amazing skyline views and world-class attractions such as Sands Skypark and Singapore Flyer. But many visitors don't view it as a shopping destination. 
You might be surprised to hear that Marina Bay has about 10 different malls within a 5- minute walk of the waterfront area. Some are small malls, whereas others are large. Again, you will find a range of products in Marina Bay, but in general, expect more luxury than budget offerings. 
Unlike Orchard, the malls in the Marina Bay Sands area are located along different streets. If you walk around Marina Bay then you will naturally pass by many malls. The shopping centres serve as popular rest points from Singapore's intense heat. It's common to see tourists chilling out in waterside restaurants while taking a break from sightseeing. 
It is possible to access Marina Bay malls using multiple MRT stations including:
Bayfront Station
Downtown Station 
Raffles Place Station
City Hall Station
Esplanade Station
Promenade Station
All of the MRT stations listed above are popular for accessing malls, hotels and sights around Marina Bay. 
What hotels are popular with visitors to Marina Bay?
Marina Bay attracts tons of locals and tourists for various reasons. Consequently, there are many of the city's best hotels around the Bay to meet this high demand. Properties near Marina Bay malls tend to be superb luxury hotels in the 5-star category. Not the best area for budgeting, but definitely one of the best areas to stay if you can afford it. 
Many of the malls around Marina Bay are physically connected to hotels. At the time of writing, these were some of the best hotels in Marina Bay with extremely positive review scores:
The Fullerton Bay Hotel Singapore (5-star, 9.3/10 review score)
The Ritz-Carlton Millenia Singapore (5-star, 9.2/10 review score)
The Fullerton Hotel Singapore (5-star, 9.1/10 review score)
Marina Bay Sands (5-star, 9.0/10 review score)
All of the hotels listed above are with a 2-3 minute of an MRT station.
Can you get from Changi Airport to Marina Bay using MRT? 
One of the most popular destinations for people arriving at Changi is Marina Bay. 
Everyone wants to capture that breathtaking photos of Singapore's skyline, right?
Conveniently, you can also get to Marina Bay and the shopping malls here by taking the MRT from Changi. It is affordable and straightforward. You might want to check out this comprehensive guide article on how to get from Changi to Marina Bay Sands. It outlines all the info you need in detail. 
---
Additional Shopping Malls in Singapore
Once you finish checking out the malls in Orchard and Marina Bay, there are still many more to visit! There are pockets of shopping malls scattered throughout the city. Although they may not be as concentrated as along Orchard Road, expect to find at least one shopping centre in each major area of Singapore. 
A perfect example would be VivoCity Mall. It is not in Marina Bay or Orchard, but it serves as the entry point to Sentosa Island. Consequently, many tourists naturally transit from downtown Singapore to VivoCity en route to Sentosa. 
Another popular area for shopping is Bugis. Within minutes of Bugis Station, you can walk to multiple malls in a few minutes. Here are some popular malls in Bugis that you might want to check out:
Bugis+
Bugis Junction
Bugis Point 
A trip to this area of Singapore would not be complete without a visit to Bugis Street Market. 
Also, expect to find a wide range of shopping opportunities in Chinatown and Little India. However, these areas are more famous for markets, as opposed to shopping malls. Singapore also has a lot of shopping centers attached to MRT stations. These integrated shopping centers tend to be convenient for buying daily goods and grabbing a quick coffee. 
---
Frequently Asked Questions about Singapore Shopping Malls
What is the best area to stay in Singapore if you want to shop?
Chinatown is a very popular location for budget travellers to the city. However, Marina Bay and Orchard are more practical options if you want to shop at malls as opposed to markets. 
Orchard Road, in particular, is ideal for shopaholics.  Orchard has the densest concentration of shopping malls and it is serviced by three different MRT stations. You can visit multiple malls within the same day and have a huge selection of restaurants and food courts to choose from. 
---
Do you have to pay for parking at Singapore Shopping Malls?
Under normal circumstances, you have to pay to park at shopping malls in Singapore. Many malls display the number of parking spaces that are still available to help save you the hassle of looking for a spot when all of them are already taken. It is common to see digital signs along Orchard Road which keep a live count of available parking spots. 
There are some malls in Singapore that offer free parking on specific days and at specific times. Expect the dates and times to fluctuate throughout the year. Here is an article that tracks free parking at malls in Singapore if you want additional information. 
---
What time do shopping malls in Singapore open and close?
Shopping malls in Singapore usually open at 10 am and then close at 10 pm. This is the most common schedule for most major malls. However, there are some malls that open a bit earlier at 9:30 am and some that close a bit later at 11 pm. 
Also, keep in mind that hours may be extended during peak shopping periods like Chinese New Year or Christmas at some malls. You might also see some Singapore shopping malls have extended hours on Friday and Saturday night in comparison to weekdays. 
---
Do Singapore shopping malls have food courts?
Most shopping malls in Singapore have foodcourts. Typically, they are located on the top floor of the mall or in the basement section. By placing the food court on a high level of the shopping mall, visitors are more obliged to walk by more shops and services en route to their meal. As a result, more shops benefit from foodcourts when they are located on another level than the ground floor. 
---
Are cinemas popular in Singapore?
Cinemas are popular in Singapore. So popular that in 2018, there were 276 cinemas in the city. This number may drastically change after Covid-19, but it's safe to say that people enjoy watching blockbusters in Singapore. Most of these cinemas are located within shopping malls throughout the city. You can expect to find cinemas on the top floor of most malls. This naturally makes visitors pass by more shops along the way to the cinema which boosts sales. 
---
What recreational activities are available for children in malls in Singapore?
You can expect to find a wide variety of recreational facilities for children at malls in Singapore. For example, mini-gymnasiums, playgrounds, arcades and mini-trampoline parks are things you might find. Although some places may offer annual fees, most offer one-time entrance fees for children.   
---
Where is the cheapest place to eat in Singapore shopping centres?
Foodcourts, in general, are the cheapest places to eat at shopping malls in Singapore. Expect to find everything from local hawker foods that are very affordable to international choices. If you find international food at a food court in Singapore, chances are that it will be cheaper than an official restaurant. 
---
What are the cheapest malls in Singapore?
Singapore often gets stereotype as a really expensive place to go shopping. However, there are still many budget-friendly shopping malls that can help you to save serious money. 
It depends on what you are shopping for, but some common names that come up when discussing Singapore's cheapest malls include:
Lucky Plaza
IMM Outlet Mall
Far East Plaza
Bugis Street
Mustafa Centre
Take note that Mustafa Centre is technically not a shopping mall, but more like a large store. Regardless, it is known as one of the cheapest shopping centres in the city.
---
What are the most popular luxury malls in Singapore?
Singapore is one of the best cities in the world for luxury shopping. Orchard Road along has multiple high-end shopping malls worth checking out for the best luxury designs and products. The Marina Bay area also has The Shoppes at Marina Bay Sands – a large, beautiful shopping centre that is popular with locals and visitors to Singapore. It is physically connected to Marina Bay Sands Hotel. 
At the time of writing some of the most popular luxury shopping malls in Singapore include:
Paragon
Ngee Ann City 
Mandarin Gallery
ION Orchard
The Shoppes at Marina Bay Sands
Palais Renaissance
You might a few more luxury malls throughout the city in addition to the ones listed above.
---
Any more questions about shopping malls in Singapore?
Please feel free to send us an email or comment below if you have additional questions about shopping in Singapore. We would be happy to send you additional information. Remember, Singapore has something for every shopper. But, if you don't do your research beforehand you may get disappointed with prices!