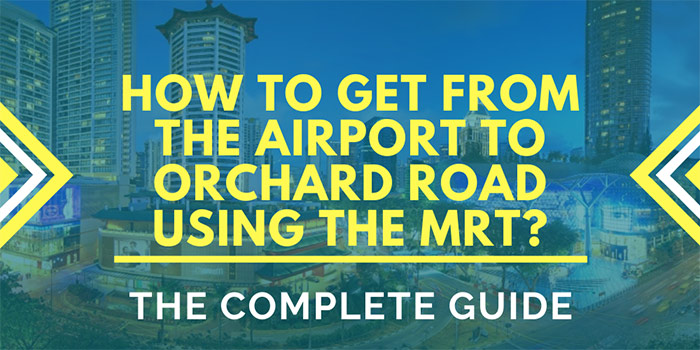 This article has been written to provide you with a step-by-step guide on how to get from Singapore airport to Orchard Road using the MRT.
Fortunately, we have had the opportunity to travel from the airport to Orchard on multiple occasions. Therefore, this guide is based on our actual travel experience navigating Changi Airport and Singapore's extensive MRT network that is physically connected to the airport. 
---
Why is Orchard Road a popular area to visit in Singapore?
There is no denying the fact is there are many interesting areas to stay while you are visiting Singapore. Marina Bay, for instance, is popular with many tourists and so too are areas such as Chinatown and Little India. Orchard Road is famous for a few things but one of the primary reasons why people visit this area of Singapore involves the shopping opportunities that are available in this area of the city.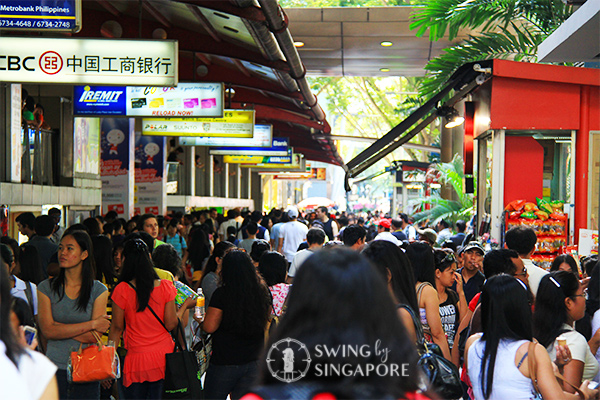 Naturally, when there are shopping malls there is also no shortage of hotels to choose from as well. Actually, Orchard Road has some of Singapore's top hotel choices in the entire city such as Four Seasons Hotel Singapore and The St. Regis Singapore. The combination of a lot of different shopping malls and shopping opportunities and world-class hotels also means that there is a wide range of excellent restaurants and bars in this region of Singapore as well. Therefore, we wouldn't say that Orchard Road is jam-packed with world-class attractions or anything like that, instead, it is a very convenient place to stay due to the high quality of hotels that are available and convenient accessibility to shopping malls and restaurants.
Keep in mind that Orchard Road is also a very nice centralized location to be staying at while you are in Singapore. You can easily utilize the MRT Network to access areas such as Chinatown and Clarke Quay within only a few minutes. 
---
Getting to Orchard Road using the MRT
Step 1: Once you land, clear immigration and customs and then travel to the MRT.

 
Changi Airport in Singapore has established itself as one of the best, if not the best airports in the world. Therefore, when you land at Changi you can expect to have very clear navigation and signage to direct you to the MRT Network.
It is possible to arrive in Singapore and then literally walk to the MRT in 15 minutes if you do not run into long lines through immigration or customs.  Once you land your first step to getting to Orchard Road is to focus on clearing immigration, collecting your luggage and passing through customs. 
You should be able to follow the airport signs to Changi Airport MRT Station. If for some reason you do not see signs in the airport just ask an airport employee and they should be able to direct you to the MRT station.  This is your first point of contact where you will enter the MRT with your intended destination being Orchard MRT Station.
Purchase your MRT ticket for Orchard Station. You will either have the choice of paying for a single journey trip or you may want to load up a stored value card that enables you to use it throughout your entire stay in Singapore. Each trip is also cheaper if you use the stored value card as opposed to individual trip tickets.
Board the train and stow your bags in a safe spot and get ready to navigate Singapore's MRT lines to Orchard Station.
---
Step 2: Take the MRT East-West Line to Tanah Merah Station
After accessing the MRT at Changi Airport take it two stations west to Tanah Merah MRT Station along the East-West Line. Depending on which train you get on you may have to alight and wait for the next East-West train that is bound for Joo Koon. 
Orchard MRT Station is not on the East-West Line so you will have to be prepared to transfer lines at City Hall MRT Station.
---
Step 3: Take the East-West Line to City Hall MRT Station
Once you are travelling west on the East-West MRT Line you will remain on the train until you reach City Hall MRT Station. City Hall MRT Station is a transfer station. This is where you will transfer to the North-South Line in the direction of Jurong East. 
---
Step 4: Transfer to the North-South MRT Line
Transfer to the North-South Line and then travel north three stations until you reach Orchard MRT Station. Also, keep in mind that Somerset MRT Station is another option if you want to stay along Orchard Road. It is one station south of Orchard. Technically, where you alight here will really depend on which hotel you are staying at. 
You don't want to talk too far with your luggage so be sure to check the exact location of your hotel before purchasing your MRT ticket at Changi Airport.
How long does it take to travel from Changi Airport to Orchard Road using the MRT?
Changi Airport to Orchard Road in Singapore using the MRT won't always take you the exact same amount of time. If the MRT network is busy with lots of people entering and alighting at every station then you can expect the trip to take a bit longer. 
The average travel time from Changi Airport to Orchard Road on the MRT takes about 51 minutes. This time considers transiting between stations and waiting for trains, but it doesn't consider repair works, etc.
$$$ How much does it cost to take the MRT to Orchard Road from the Airport?
Adults, seniors, and children can expect to pay different amounts when using Singapore's MRT Network. This is certainly true for the trip from the airport to Orchard. Also, take note that stored-value cards are cheaper than paying a standard ticket fare from machines. You should strongly consider getting a card if you are going to use the MRT while you are in the city.
At the time of writing it costs $1.90 for adults to take the MRT from Changi to Orchard with a stored-value card. Children and students cost $0.63 and it is $0.92 for senior citizens and disabled persons. Remember, these are all 'stored-value card' prices.
It will cost you $2.70 if you purchase a standard ticket from a ticketing machine at Changi Airport when you enter the MRT system. 
Also, take note that if you plan on using a stored-value card you will have to purchase one which will take a few minutes, but then all your remaining trips will be faster because you won't have to wait in line. 
---
Step 5: Exit Orchard Station to get to your hotel or mall of interest

.

Orchard Station has 5 main exits that you can use: A, B, C, D and E. Since there are a lot of different malls, hotels, restaurants and services around the station you are best to refer to the signs within the station. You can take either exit A or C if you want to get outside on Orchard Road.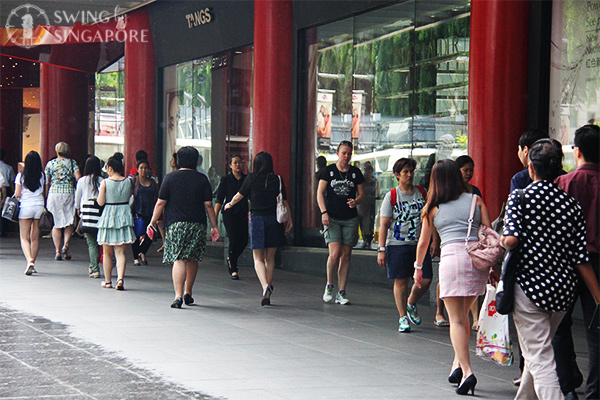 ---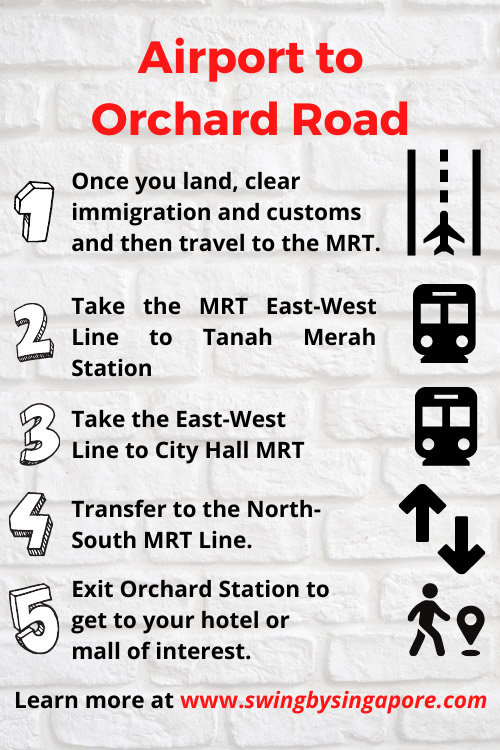 ---
Selecting the best hotel to stay at along Orchard Road
One of the clear benefits of staying along Orchard Road while you are in Singapore is convenient accessibility to a large selection of world-class hotels. If you do have the budget then it also makes a lot of sense to make sure that you book a room that is within walking distance of an MRT station while you are in the city.
Most of the hotels along Orchard Road received very positive review scores from guests.  Therefore, your choice of property really comes down to your individual budget, how close you want to be to Orchard Station, and whether or not you are travelling with children. 
Where should you stay?
The highest-rated property in terms of positive guest reviews near orchard station is Four Seasons Hotel Singapore. It receives very high verified guest review scores around 9.2/10 on major booking sites. This is definitely the best hotel and it's only a few hundred meters from the station. 
If you cannot afford to stay at Four Seasons then consider staying at one of the following properties. All of them listed are within a 5-minute walk of the station:
Singapore Marriott Tang Plaza Hotel (8.4/10 rating)
Yotel Singapore Orchard Road (8.6/10 rating)
Hilton Singapore (8.1/10 rating)
Mandarin Orchard Singapore (8.4/10 rating)
---
Any more questions about your trip to Orchard Road from the airport using the MRT?
This is a guide on how to get to Orchard from the airport using the MRT. We do hope that this has clearly outlined this journey, but in case we haven't please send us an email or comment. 
Orchard Road may not be the most famous spot for major attractions in Singapore but it is one of the most popular areas for people to stay. Convenience is the key here. Not only will you be able to access lots of shopping malls and restaurants but you can access popular sightseeing areas very fast using the MRT. Popular areas such as Boat Quay, Clarke Quay, Marina Bay, Chinatown and Little India are only a few minutes away.