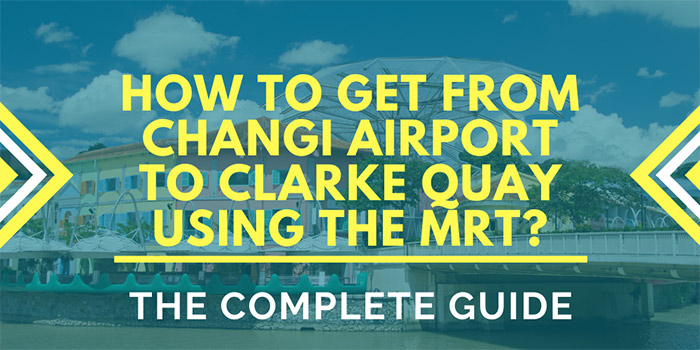 This article has been written to provide you with a step-by-step guide on how to get to Clarke Quay from Changi Airport using the MRT. 
We have used the MRT to travel to Clarke Quay on multiple different occasions, therefore our goal is to ensure that we answer any questions that you may have about this popular journey. Fortunately, Changi Airport in Singapore is physically connected to the MRT network. This provides stress-free connections to many of Singapore's trendiest areas and most popular attractions. 
---
Why is Clarke Quay a popular area to visit in Singapore?
Regardless of whether or not you live in Singapore or you were just visiting during a trip, Clarke Quay is one of the city's premier entertainment and dining areas. If you want nightclubs and you want a lively bar scene this is one of the best areas in all of Singapore for meeting people. There are lots of live bands playing on a nightly basis and there are some excellent restaurants located there as well. If you want a fun entertaining night Clarke Quay offers excellent value and a broad selection of different choices.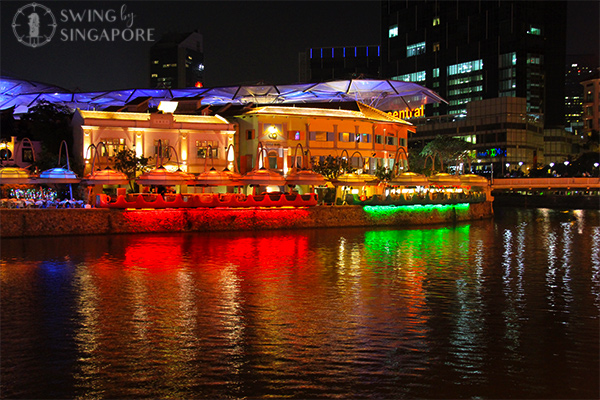 Clarke Quay is also an underrated area to stay if you are visiting Singapore.  
There are many budget hotels that are literally 5 minutes away from Clarke Quay. They provide extremely easy access to the MRT Network. You can also walk to the Marina area from Clarke Quay in order to access Singapore's breathtaking skyline from Marina Bay Sands Hotel.
---
Getting to Clarke Quay using the MRT
Step 1: Once you land, clear immigration and customs and then travel to the MRT.

 
Over the last 10 years, Changi Airport in Singapore has developed a very strong reputation as one of the best airports in the world. It is extremely organized and well-managed. One of the added benefits of flying into Singapore and Changi Airport is the fact that the MRT network is directly attached to the airport.
You can land in Singapore and literally be on the MRT in 15 minutes if there are not long lineups for customs and immigration services.  Once you clear immigration, collect your luggage and pass through customs, you should follow the airport signs to Changi Airport MRT Station. This is the place where you can buy your initial MRT ticket to Clarke Quay.
Purchase your MRT ticket with your intended destination being Clarke Quay MRT Station. As the name suggests this is the station that is only a minute or two from all the bars and restaurants in Clarke Quay. 
Board the train and stow your bags in a safe spot and get ready to navigate Singapore's MRT lines to Clarke Quay MRT Station.
---
Step 2: Take the MRT to Expo MRT Station
Once you get on the MRT at Changi Airport take it one station east to Expo MRT Station. To get to Clarke Quay from Expo Station you should first travel along the Downtown Line (shown in Blue Colour on the Singapore MRT Map) all the way to Fort Canning MRT Station. 
Clarke Quay MRT Station is not on the Downtown Line, so once you arrive at Fort Canning, you have two choices: 
You can either walk to the area of Clarke Quay that

you are staying at

or socializing at, or….

You can travel one station further on the Downtown Line to

Chinatown MRT Station

. 
If you choose option #2 above then you should transfer to the North-East Line (shown in purple on the MRT Map of Jakarta) from Chinatown and travel one station east to Clarke Quay MRT Station. This MRT Station, as its name suggests, is the most convenient station to access all the restaurants, hotels and bars in the Clarke Quay area. 
Which MRT lines service trains to Clarke Quay MRT Station?
Clarke Quay Station is not a transfer station. Therefore, it is only a stop on one line in Singapore's MRT Network: The North-East Line. This requires you to make a transfer somewhere when you are travelling from Changi Airport in Singapore to Clarke Quay because the North-East line does not service trains to the airport.
How long does it take to travel from Changi Airport to Clarke Quay using the MRT?
When you are travelling from Changi Airport to Clarke Quay in Singapore using the MRT you have to keep in mind that the travel time will fluctuate depending on variables such as the number of people getting on and off at every station. In other words, during busy times it may take longer for people to get off the train at each station along the way. 
On average, however, the travel time from Changi Airport to Clarke Quay takes about 58 minutes. 
$$$ How much does it cost to take the MRT to Clarke Quay from the Airport?
MRT prices in Singapore can vary depending on multiple variables. As you might expect, adults will not pay the same fare as children or senior citizens when they take the MRT from the airport to Clarke Quay. Also, keep in mind that stored-value cards are cheaper than paying a standard ticket fare from machines. 
At the time of writing it costs $1.90 for adults to take the MRT from Changi to Clarke Quay with a stored-value card. Similarly, the cost for children and students is $0.63 whereas it is $0.92 for senior citizens and disabled persons. These are all 'stored-value card' prices.
You can expect to pay $2.70 if you purchase a standard ticket from a ticketing machine for this journey from the airport to Clarke Quay.
---
Step 3: Exit at Clarke Quay Station to get to the restaurants and bars.
Once you arrive at Clarke Quay MRT Station you will have to choose which of the six-station exits you want to take. Again, this depends on your priorities when you arrive. Exits E, F and G all lead to The Central Mall.
Take exit C if you want to quickly access the restaurants and bars in Clarke Quay. You can also access a lot of affordable hotels by taking exit A from Clarke Quay Station.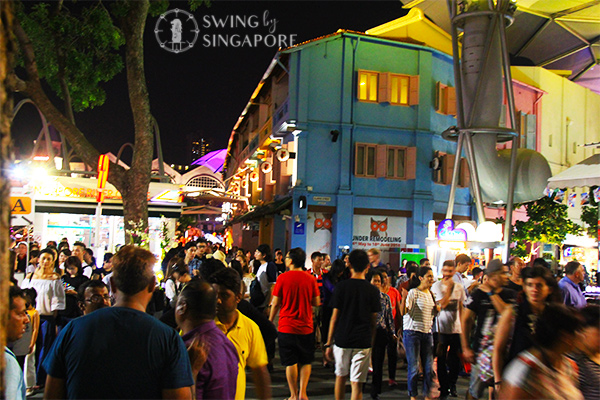 ---
Selecting the Best Hotel to Stay at Near Clarke Quay
Where did we stay in Clarke Quay?
Fortunately, we have had the opportunity to stay at multiple different hotels in different areas of Singapore. However, we've stayed within walking distance of the restaurants and bars in Clare key on multiple different occasions. This is actually one of the best budget areas for finding quality rooms in all of Singapore.  The area around Clark Quay MRT station is also strategic because you can easily access surrounding attractions like Marina Bay Sands, Marina Bay, and Singapore Flyer for instance.
One of our favourite properties that we have stayed at near the station is called Hotel Bencoolen Hong Kong Street.  Aside from being a nice affordable boutique hotel, we found it very close to the MRT Station. It is literally a three-minute walk away from Clarke Quay MRT Station.  During our stays at this property, we were quite impressed with the level of service standards. Our room was extremely clean and the breakfast was pretty solid considering the price that we paid.
If you want to get out and explore you can walk from this property to Marina Bay Sands in approximately 15 minutes.  Along the way, you will pass by through Boat Quay, the Fullerton Hotel and Anderson Bridge.
***Keep in mind that Hotel Bencoolen Hong Kong Street has not paid us anything to share this information. This is based on our personal travel experience staying at this property.
---
Any more questions about your trip to Clarke Quay from the airport using the MRT?
This has been a step-by-step guide on how to get to Clarke Quay from the airport using the MRT. We do realize that we cannot include every minor detail about this trip in this article so please feel free to send us an email if you require additional information regarding this connection.
Take note that Clarke Quay is surrounded by other cool areas that are convenient to explore. Some close by points of interest include the Merlion, Boat Quay Singapore Flyer, Gardens by the Bay and the Esplanade (among other things).
---