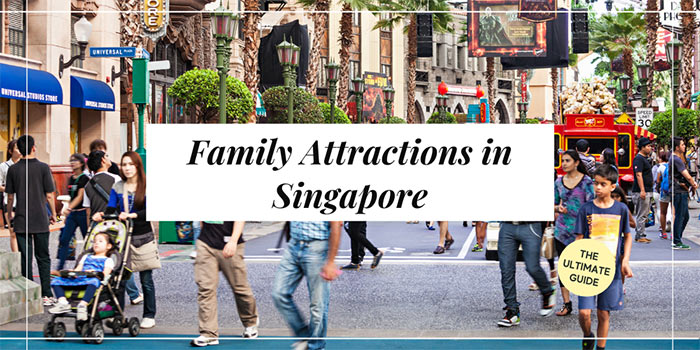 "All you need to know about Singapore's best family attractions and how to enjoy them" 
Family attractions in Singapore – Overview
In this article, we will discuss the best family attractions in Singapore. Obviously, Singapore is extremely popular amongst all kinds of tourists including, solo visitors, backpackers and those with children. Singapore is also one of the best countries in all of Asia to visit if you have children.
First of all, Singapore is very safe and has a strong sense of security. Whether you are strolling along scenic Marina Bay or taking the MRT, you and your children will feel safe and worry-free. Secondly, the city has an extensive public transport system that makes it easy for you to access family attractions in Singapore. Whether you want to take the bus, MRT or a taxi, you should have no problem getting around. 
Many of Singapore's hotels offer amazing services and amenities for children. For example, you can find all kinds of hotels with large swimming pools and recreational playing areas. Also, many hotels offer free breakfast for children.
There are countless attractions in Singapore that are tailored to families. In this article, we will outline what are some of the most famous and popular places for children to visit. Fortunately, Singapore has an extensive selection of attractions to choose from that are clean, well-managed and safe to visit. 
---
What are the best family attractions in Singapore?
In the section, we will list the best family attractions in Singapore. However, take note that they are in no specific order. Every person has a different opinion about what is fun and enjoyable. Therefore, we will simply share our list and you can choose what suits your travel budget and itinerary.
1. Singapore Zoo 
Everyone loves visiting a zoo, right? 
Well, it's challenging to find a better zoo in Southeast Asia than Singapore Zoo. This is one of the top attractions in the city and for good reason! Over the years Singapore Zoo has won many travel-related awards. Aside from seeing hundreds of cool animals, Singapore Zoo also has multiple activities for children such as:
Wild Animal Carousel
Animal Friends Show
Wet Play Area
Houbii Rope Course
Singapore Zoo is usually open 7 days a week from 8:30 am – 6:00 pm. Also, expect to find interesting souvenirs and eateries at the Zoo. 
---
2. Universal Studios Singapore
Sentosa Island is world-famous because it is loaded with world-class attractions. It is very popular with families living and visiting Singapore. One of the best family attractions in Singapore is ideally located on Sentosa Island – Universal Studios.
Universal Studios is situated within the Resorts World Complex on Sentosa Island. It is a large amusement that features tons of exciting rides and that are themed according to popular movies such as Jurassic Park and TRANSFORMERS. This is where your kids can get the opportunity to meet the real-life version of their favourite movie characters.
Plan on visiting Universal Studios for a whole day if possible. This will ensure that you get the best experience for the money.  
---
3. Adventure Cove Waterpark 
If you are looking for fun in the sun in Singapore then there's no better place to go than at Adventure Cove Waterpark.
You can experience thrilling water slides and close encounters with marine life at Adventure Cove. This is also located on Sentosa Island and minutes away from Universal Studios Singapore.  Unlike average water parks, Adventure Cove allows you to snorkel with over 20,000 fish over a reef. 
It is the 'up close and personal' experience with marine life that makes Adventure Cove Waterpark one of the best family attractions in Singapore. You can get close to sharks and manta rays and then enjoy a tasty lunch at The Bay Restaurant. This features Japanese fusion dishes.
---
4. Sentosa's Beaches: Siloso, Palawan, Tanjong.
Grab your swim shorts, sunscreen and a frisbee and head to Sentosa's beaches with your children. 
Sentosa Island has 3 main beaches that are quite popular with locals and visitors to the city:
Siloso Beach
Palawan Beach 
Tanjong Beach 
Each beach has its own distinct personality that you should know about.
Palawan Beach is located between Siloso and Tanjong. It is a popular choice with families because of two popular 'family-oriented' attractions located along the northern tip of the Beach: Port of Lost Wonder and Animal and Bird Encounters. 
Port of Lost Wonder (POLW) is situated alongside Palawan Beach.  You should check it out if you have small children. It consists of water slides, fountains and tons of pools. You will also find food vendors in case you want to have a snack with your family. It's free to access Palawan Beach but you do have to pay to use the facilities at Port of Lost Wonders.
Siloso and Tanjong are also nice strips of sand. You can play beach volleyball on these beaches. Tanjong tends to be the quietest of the three because it is the farthest from Beach Station. 
If you are staying at a hotel or resort on Sentosa, you might want to check all of them out and decide which one works best for you!
What are the closest hotels to Sentosa's beaches?
Siloso Beach
Shangri-La's Rasa Sentosa Resort & Spa (5-star, 8.6/10 review score)
Siloso Beach Resort, Sentosa (5-star, 7.5/10 review score)
Palawan Beach
Capella Singapore (5-star, 9/10 review score)
Tanjong Beach
Sofitel Singapore Sentosa Resort & Spa (5-star, 8.1/10 review score)
Read More:
---
5. Singapore Night Safari
Singapore Night Safari is without question one of the best family attractions in Singapore. It is a 'must-see' if you are travelling with kids. Not surprisingly, it is a 13-time winner of the 'Best Attraction Award' according to the Singapore Tourism Board.The Night Safari attracts approximately 1.3 million visitors every year and features 900 animals from 100 different species. 
Not only is this a great place for excitement, but it's also a great place to learn about threatened species and the importance of sustainability. Since it opened its doors Singapore Night Safari has all kinds of species including:
Malayan tigers 
Asian lions
Markhors
Asian elephants
Fishing cats
Red dholes
Anoas
Bantengs 
Malayan tapirs
According to the official website, most visitors to Singapore Night Safari spend around 3-4 hours within the park. Since it is open at night make sure your kids get some downtime during the day to rest up for this amazing experience!
---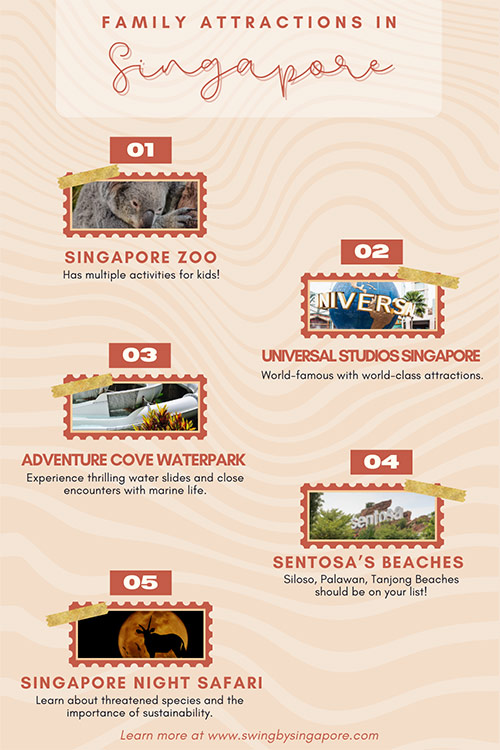 ---
Other family attractions in Singapore worth visiting
AJ Hackett Sentosa is the place to go 'bungy jumping' on the island. Get ready for an adrenaline rush from 47-meters above the ground. You can also experience the 'Giant Swing' and 'Skybridge' at AJ Hackett Sentosa.
A few minutes east of AJ Hackett you will find iFLY Singapore and Skyline Luge.  
iFly Singapore is the best place in Singapore to experience indoor skydiving. It is one of the world's largest indoor skydiving wind tunnels and the perfect place to overcome your fear of heights. It is conveniently located only 100 meters from Beach Station, making it one of the easiest attractions to access on the island. 
Skyline Luge is an exciting attraction that caters to people of all ages. If you are staying at a hotel on the island and wondering what to do on Sentosa at night, consider visiting here. The Luge is open throughout the day and at night. This is where you can speed your way down and maneuver around sharp corners. Consider bringing your whole family!
Some other notable attractions that are housed within Resorts World Sentosa include the Trick Eye Museum, Lake of Dreams, Kids Club and Sunset Sail Royal Albatross.
We really hope that this guide to the best family attractions in Singapore has been helpful to you. If you happen to have additional questions please feel free to send us an email and we would be more than delighted to help you out!