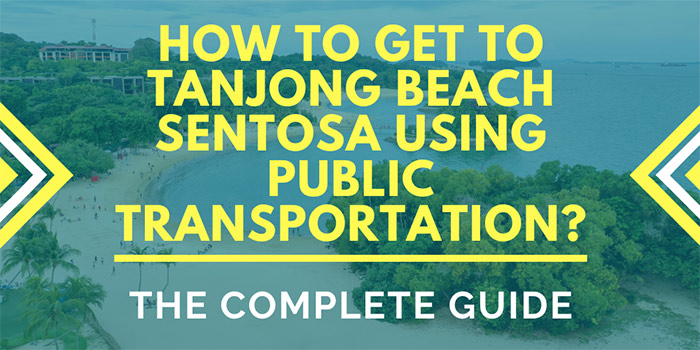 Welcome to the step-by-step guide on how to get to Tanjong Beach Sentosa using public transportation. We have written this article to make this trip to one of Sentosa's most beautiful beaches as stress-free and convenient as possible. You might also save some serious cash by reading this article as well.
In this particular case when we say taking 'public transportation' to Tanjong Beach we mean a combination of using MRT and the Sentosa Express train. Fortunately, Singapore is one of those cities where you can actually completely avoid taxis and private cars if you plan effectively using the exceptional public transportation network that is established.  Singapore is one of the best cities in the entire world when it comes to public transportation and tourism infrastructure.
You can literally land at Changi Airport and not spend a second in a vehicle throughout your trip. Actually, we have travelled from Changi Airport all the way to Sentosa island without spending a minute in a vehicle using the MRT and Sentosa Express.  In this article, we hope to provide you with enough details so that you can easily get to the southern beaches of Sentosa Island without spending a fortune or wasting any time.
---
Why should you visit Tanjong Beach on Sentosa Island, Singapore?
Tanjong Beach is known as Sentosa's most tranquil and relaxed strip of sand. It is located along the southern region of Sentosa Island, east of Palawan Beach and southeast of Sofitel Singapore Sentosa Resort & Spa. 
If you are looking for a quiet place to spend the day and have some fun in the sun that this is an ideal spot in Singapore. Aside from Tanjong Beach Club, there is not much in terms of development directly on this nice strip of sand. That is why it is so relaxing. Strongly consider bringing along your friends and family with some swim shorts and frisbees!
Also, keep in mind that since Tanjong Beach is on Sentosa Island it is naturally located very close to other popular attractions on the island. Sentosa Island is regarded as one of the most popular tourist destinations in Singapore.  Consequently,  you will find an attraction for pretty much any type of visitor here. This includes world-class golf courses, Resorts World Sentosa and historic points of interest such as Fort Siloso.
Conveniently, Tanjong Beach is also within walking distance to some of the best hotels on all of Sentosa Island. Here are a few choices nearby:
The Capella Singapore (5-star, rated 8.9/10)
Sofitel Singapore Sentosa Resort & Spa (5-star, rated 8.1/10)
The Sentosa beach shuttle makes it convenient to access different points of interest on the island, so you can get from Tanjong Beach to other places without any stress. 
---
Getting to Tanjong Beach using MRT and Sentosa Express
Step 1: Get a room within walking distance to an MRT Station in Singapore.
When we get asked about what visitors should think of before they visit Singapore we often tell them that it's very important where your hotel is located relative to public transportation options. 
It's rare to find a city that is so well connected with public transportation in comparison to Singapore. Therefore, to minimize the amount of time that you spend in traffic, and to save as much money as possible, you are best to use the MRT extensively while you are there. 
Fortunately, hotel developers throughout Singapore have made many properties that are literally only a few minutes from MRT stations. Why pay for taxis and private vehicles when the MRT is cheaper and often faster?
There are countless options when it comes to booking a room close to an MRT station in Singapore. However, we've included two very popular choices that are literally a 1-minute walk from their respective stations listed below.
Fairmont Singapore

(8.9/10 Review Score) (

Esplanade Station

)

The Capitol Kempinski Hotel Singapore

(9.3/10 Review Score) (

City Hall Station

)
If these two properties do not suit your budget you might want to consider areas such as Chinatown and Clarke Quay that have more budget choices that are also very close to MRT stations.
---
Step 2: Buy an MRT Ticket to HarbourFront Station
You are staying in the city centre, the first part of your trip to Tanjong Beach will require you to take the MRT to HarbourFront Station. this is the most practical station to go to because you can quickly transfer from it to get on the Sentosa Express. We will discuss the Sentosa Express later in this article.
Before you can get on the MRT you will have to determine what kind of ticket you plan on using. There are three main types of tickets for the MRT in Singapore:
Single journey trip tickets

Stored value cards 

Singapore Tourist Passes
Ticket Options
Single Journey tickets are your standard type of fare.  You can simply purchase these at a ticketing machine when you enter any of the MRT stations in Singapore.   single Journey tickets can be the best option if you plan on using the MRT only once or twice while you are in Singapore. However, if you do plan on using the MRT extensively these are not the best option because they do cost the most per trip. You may also have to spend additional time in line purchasing a ticket every time you want to use the MRT which is a definite disadvantage of these tickets.
The second option is getting a stored-value card. These are very popular with Singaporeans and people spending more than 3 days in the city.  Once you purchase one of these cards you can pop them up with cash. Then, when you enter a station all you have to simply do is just tap to enter and tap to exit.  This effectively bypasses the lines that build up at ticketing machines during peak travel times.
Are you a tourist visiting Singapore?
The third option is getting at Singapore tourist pass. These are marketed towards visitors to the city that are spending one to three days in Singapore.  Once you purchase one of these passes you are entitled to unlimited trips on the MRT and bus Network. Typically, the timeframe ranges from 1-3 days. These passes are the best option if you plan on using public transportation a lot while you were in the city. However, the downside of purchasing one of these cars is that you may feel obligated to travel around more than you actually want to. It is best that you think about how much you plan on travelling and then choose the ticket that works best for your own personal circumstances. 
Once you have decided what kind of ticket you are going to use, you will have to purchase a ticket to HarbourFront Station.
This is the station that you have to first go to in order to reach Tanjong Beach on Sentosa Island. 
---
Step 3: Ride the MRT to HarbourFront Station
HarbourFront Station is located on the North-East Line (represented in purple colour on the train map). The preceding station to HarbourFront is Outram Park. 
It is useful to know what train line Harbourfront is on and what the adjacent station. This information can help to inform you of when you should get off the train.
You can expect to hear verbal announcements on the train to alert you of the next upcoming station. When you hear Outram Park Station being announced you should make your way to the nearest exit because you will be arriving at Harbourfront in a few minutes. 
 Also check out the signs above the exits on the trains to show you where you are on the line.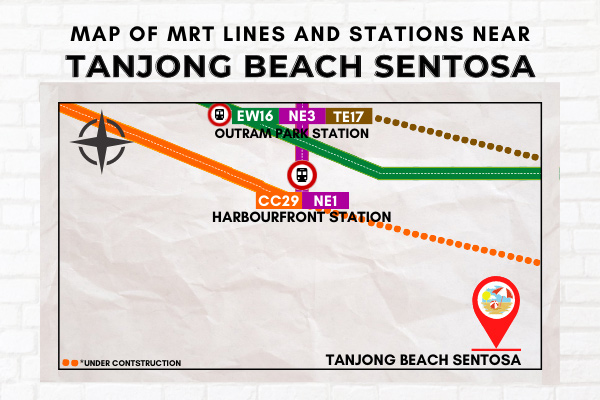 ---
Step 4: Alight at HarbourFront and go to Sentosa Express Monorail Station.
Unfortunately, it isn't possible to take the MRT directly to Tanjong Beach and the rest of Sentosa Island. Instead, one transfer is required at HarbourFront Station to the Sentosa Express Monorail System.
In order to reach the Sentosa Express ticketing area first take Exit E to get out at HarbourFront Station. 
Next, walk over to VivoCity shopping mall.
Follow the relevant signs to the third floor of the mall.
On the third floor, you will find the Sentosa Express Monorail Station. 
*** Note: It is important to note at this point in time that you do not have to take the Sentosa Express to reach Tanjong Beach and the rest of Sentosa Island.  It is possible to walk over to Sentosa Island or you can actually take a shuttle bus as well.  Since Tanjong Beach is located along the southern shoreline of the island it will take you quite a while to walk there from Harbourfront Station.  Therefore, we do not recommend walking if it is really hot out like in the middle of the afternoon. You can also take a shuttle bus.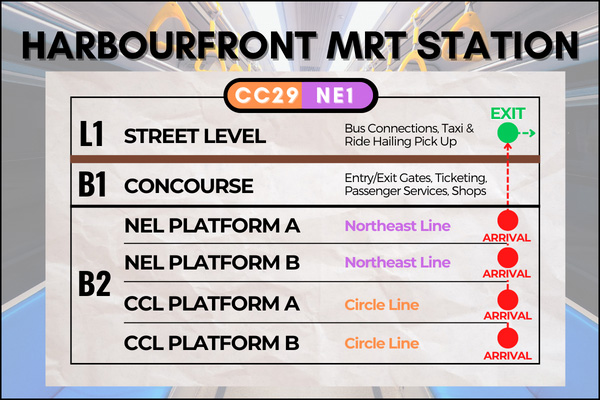 ---
Step 5: Buy a ticket for Sentosa Express train to Beach Station
Next, buy a Sentosa Express train ticket to Beach Station. You can do this in the ticketing office in VivoCity Mall. As its name suggests, Beach station is the most practical option if you want to get to the other beaches along the southern shoreline.
Get on the train and expect a short ride with a few stops along the way. 
Once you arrive at the Beach Station get off the train. 
---
Step 6: Walk, or take the beach shuttle to Tanjong Beach.
When you arrive at Beach Station on Sentosa island you really have two main options to get to Tanjong Beach:
Get on the beach shuttle, or….

Walk to Tanjong Beach
Out of these two options, the most popular one for getting to Tanjong Beach is using the beach shuttle. The shuttles leave every 10 minutes or so and the ride usually takes about 10-15 minutes to reach Tanjong Beach. 
Walking is not the most popular option to get to Tanjong Beach. This is because it is roughly two kilometres from Beach station. This is simply too far for most visitors to Sentosa Island, especially when you consider the afternoon heat that you will experience! 
If you do want to walk and do not want to wait for the beach shuttle, the walk from Beach station to Tanjong beach should take you approximately 22 minutes and the distances is 1.9 km.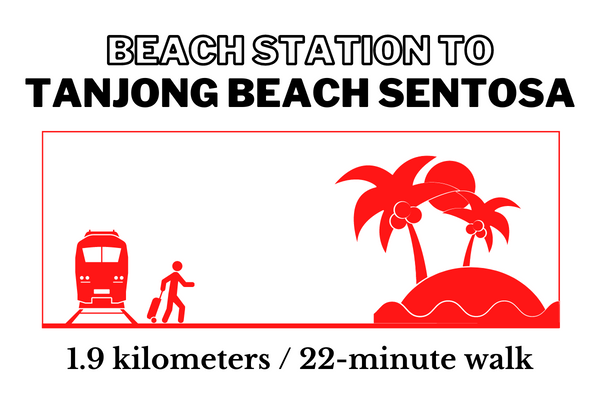 ---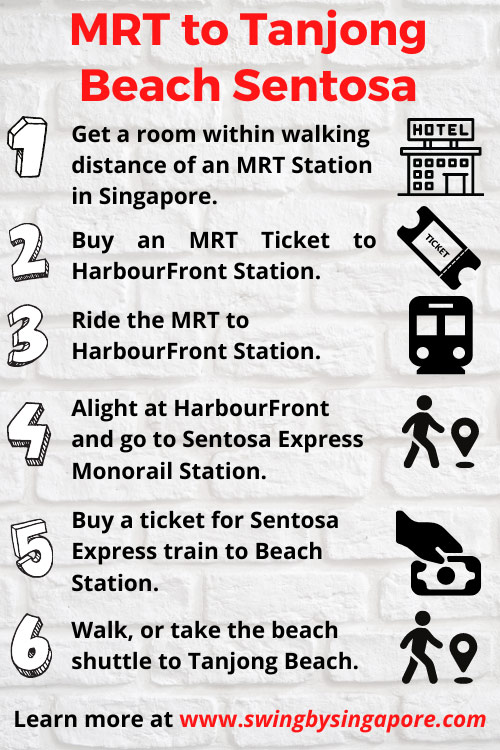 ---
Where should you stay near Tanjong Beach?
Overall, we would say that Singapore requires more planning in terms of where you are going to stay and how much you want to spend in comparison to other cities in Southeast Asia. The main reason for this is because Singapore is a really expensive city in terms of hotel and apartment costs.
The city is loaded with luxury hotels that are indeed very popular with people doing business and tourists spending a few days in the city.  However, many of the properties are expensive for everyday tourists. therefore, we suggest that you budget your trip and decide how much you want to spend per night for accommodation.
Sentosa Island can be a really great place to stay if you want a relaxing location while you are exploring Singapore. It is a great spot for families as well because there are so many attractions that are nearby. The one downside to staying on Sentosa is that the hotels here tend to be quite expensive with very few budget-friendly choices available. If you do have the budget, then you might want to consider staying at one of the properties listed below. We have checked out various properties for their verified guest review scores and included some of the most popular ones for your convenience:
Capella Singapore (5-star, rated 9/10)
Capella The Club Residences Singapore (5-star, rated 8.8/10)
The Outpost Hotel Sentosa by Far East Hospitality (5-star, rated 8.9/10)
W Singapore – Sentosa Cove (5-star, rated 8.7/10)
Alternatively, if you are travelling on a strict budget you might want to consider staying closer to Chinatown, Clarke Quay, or Little India. These areas are well-known for boutique hotels and hostels that tend to be quite affordable in relation to hotels in Marina Bay and Sentosa Island. 
---
Any more questions about your trip to Tanjong Beach using public transportation?
We hope that this guide on how to get to Tanjong Beach Sentosa using public transportation such as the MRT and Sentosa Express is detailed enough for you. However, if you do require more additional information please don't hesitate to send us an email. We would be more than happy to provide you with additional insight into Sentosa island and also the attractions that are offered there.
 A trip to Sentosa island is not complete without a visit to Tanjong Beach and the other beaches along the shoreline. To the west of Tanjong, you can check out both Palawan Beach and Siloso Beach. they are easier to access in comparison to Tanjong Beach and consequently receive more annual visitors. 
Itinerary Considerations
While you are developing an itinerary for Sentosa Island you really have to think about what your priorities are. This island is so well-developed that there are literally too many choices for some visitors. If you are travelling with children you might want to consider checking out the beaches and Resorts World. Golfers will also enjoy the scenic courses on the island. However, you can expect to shell out some good cash for these courses.  They are quite expensive in comparison to other courses around Southeast Asia.