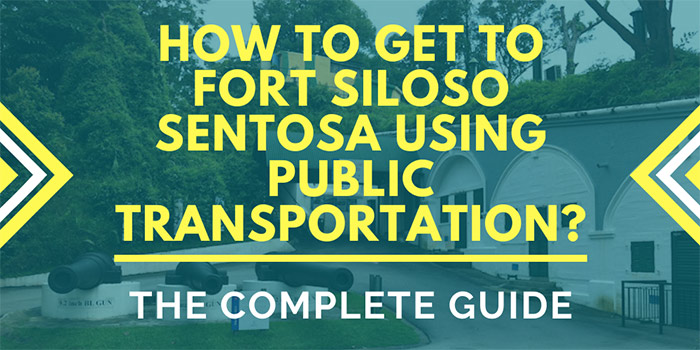 This is the complete step-by-step guide on how to get to Fort Siloso Sentosa using public transportation.  Based on our extensive travel experience in Singapore it is possible to make it right onto Sentosa Island using a combination of MRT and the Sentosa Express.
We went to Fort Siloso and throughout this article, we will highlight the main things that you have to remember along the way. Ideally, the information below should help you to save time, money and even the environment. Regardless of how many times you have been in Singapore, one thing's for certain: Singapore has an amazing public transportation network! 
Upon arrival in Singapore, you can actually make it all the way right onto Sentosa island without stepping foot in a vehicle. Once on Sentosa Island, you can make it to interesting sights such as Fort Siloso by taking the Sentosa Express and either walking or taking the shuttle.
---
Why should you visit Fort Siloso on Sentosa Island, Singapore?
Fort Siloso is one of Singapore's famous historical landmarks that you should consider visiting. It is situated along the northwestern corner of Sentosa Island, minutes from Shangri-La's Rasa Sentosa Resort & Spa and Siloso Beach.  Fort Siloso is considered to be the city's only well-preserved coastal fort that served as part of the nation's defences. 
A visit to this Fort will provide you with a glimpse of the past with a wide selection of WWII memorabilia. Expect to see coastal guns, the remains of fortified military structures, and tunnels. They also have an interactive video documentary, and complete with wax figures of Japanese and British soldiers at the Surrender Chambers. 
Another bonus of visiting Fort Siloso is that it is free to enter! You can, however, pay for a guided tour which is something that we recommend doing.
Since Fort Siloso is located on Sentosa Island you will also have direct access to many other famous attractions and world-class hotels and family resorts. One of the best things to try out is the Fort Siloso Sky Walk. This is the place to capture breathtaking views while soaking up coastal breezes. It is the closest attraction to the Fort. 
---
Getting to Fort Siloso using MRT and Sentosa Express
Step 1: Find a hotel room beside an MRT Station.
If you were planning on sightseeing in Singapore then you should probably think about your budget and possible itinerary ideas. A practical thing that you should consider doing is getting a room as close as possible to an MRT station.  Not only will this eliminate the need for you to get into taxis and private cars, but you will also save some cash and be more environmentally friendly. 
And let's not forget about avoiding traffic jams!
Fortunately, there is no shortage of properties within very close walking distance to MRT stations throughout the city.  This is ideal for people conducting business in Singapore and for those individuals who plan on sightseeing. Before you start planning your trip to Fort Siloso make it a priority to stay near the MRT!
Countless hotels that are located close to MRT stations  But we have included a few examples below to expedite your search.
Fairmont Singapore (8.9/10 Review Score) (Esplanade Station)
The Capitol Kempinski Hotel Singapore (9.3/10 Review Score) (City Hall Station)
---
Step 2: Buy an MRT Ticket to HarbourFront Station
Once your accommodation is sorted leave your hotel and walk to the closest MRT station.
Assuming that you are not staying on Sentosa island, the first component of your trip to Fort Siloso will be to take the MRT to HarbourFront Station. This is the most convenient station by far if you plan on going to Sentosa Island. But before you reach the island you have to make a transfer at HarbourFront.
When you are ready to ride the train you will have to decide what kind of ticket you were going to use for this trip to Fort Siloso. At the time of writing there are three different e-ticketing options that you can choose from:
Single journey trip tickets

Stored value cards 

Singapore Tourist Passes
The type of ticket that you plan on using for public transportation in Singapore really depends on your own budget, itinerary and personal circumstances. 
For example, if you were only spending a few days in Singapore then you might as well just get a single journey ticket to HarbourFront.  These are the best tickets if you plan on using the MRT only a few times while you are in Singapore. They do cost more per trip than stored-value cards, but you don't have to worry about topping up a card or getting a refund because you are not obligated to take the MRT a lot.
Best Option for Long Term Guests?
Stored value cards are very popular with people that are spending more than 3 days in Singapore.  They do have a few clear benefits. For instance, if you have a stored-value card you do not have to wait in line every time you want to access the MRT Network. You can bypass the ticketing lines and simply tap the card every time you want to enter or exit the system.  These tickets also work on the bus lines in Singapore. You will, however, have to top up your card with cash and some tourists have to deal with a refund if they do not use the entire cash balance and want the money back for their initial purchase.
Are you a tourist planning a trip to Singapore?
Tourist passes can be the best option for busy travellers. Meaning that if you plan on sightseeing a lot over a one to three day period this could be by far the cheapest option available. Purchase a tourist pass you are entitled to unlimited rides for a set number of days. This includes both buses and the MRT Network. The downside of a Singapore tourist passes that you might feel obligated to use public transportation more than you originally planned. This pressure can sometimes be something you don't want to deal with.
After you have decided what kind of ticket you are going to use it is time to purchase a ticket to HarbourFront Station.
This is the station that you have to first go to in order to reach Fort Siloso on Sentosa Island. 
---
Step 3: Take the MRT to HarbourFront Station
It is a wise idea to have some familiarity with the line that you will be eventually travelling on to Harbourfront and also the adjacent station to it. These two pieces of information can alert you of when it is the right time to get off the train.
HarbourFront Station is located on the North-East Line (represented in purple colour on the train map). 
The adjacent station to it is Outram Park. When you hear a verbal announcement about stopping at Outram Park it is time to start moving closer to the exit doors on the train. 
Typically, there are verbal announcements that are designed to alert passengers of upcoming stations on the MRT. You can also refer to the signs about the exit doors on the train to show you where you are on a given line.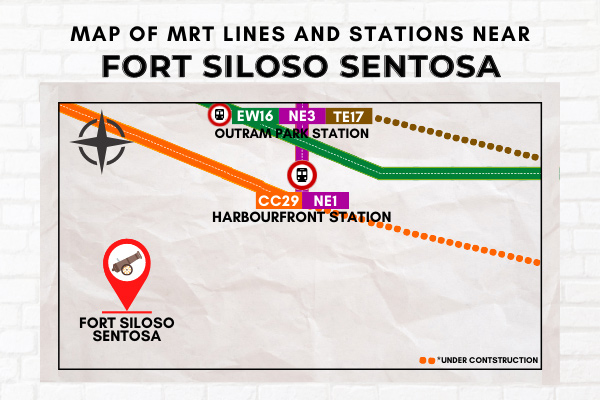 ---
Step 4: Get off at HarbourFront and go to Sentosa Express Monorail Station.
It is not possible to directly access Sentosa Beach and Fort Siloso using the MRT alone.  Instead, you are required to transfer stations at HarbourFront.
You have to transfer from HarbourFront to the Sentosa Express Monorail System. This is a different train line that services Sentosa Island.
In order to reach the Sentosa Express ticketing area first take Exit E to get out at HarbourFront Station. 
Next, walk over to VivoCity shopping mall.
Follow the relevant signs to the third floor of the mall.
On the third floor, you will find the Sentosa Express Monorail Station. 
*** Note: Keep in mind that the Sentosa Express train is not the only way that you can get to Sentosa Island and Fort Siloso. You can also walk or take a shuttle bus as well.  We don't really recommend walking to Fort Siloso from HarbourFront unless your intention is to get a workout. Singapore can get extremely hot in this walk is not particularly short by any means. You can also take a shuttle bus A or C to get on Sentosa island as well, however, this article is going to focus on using the train system.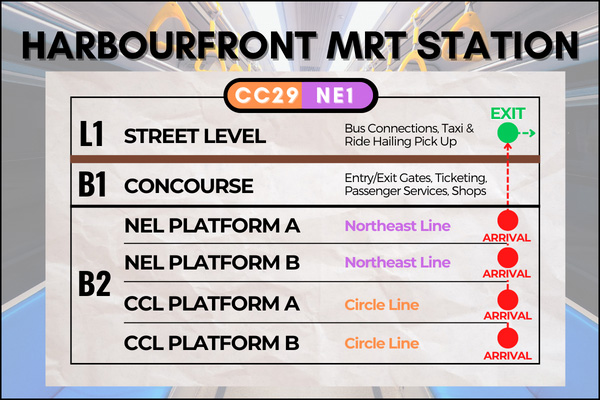 ---
Step 5: Buy a ticket Beach Station on the Sentosa Express
Buy a Sentosa Express train ticket to Beach Station. 
You can do this in the ticketing office in VivoCity Mall. Beach Station is the final station on this monorail line.
Get on the train and expect a short ride with a few stops along the way. 
Once you arrive at the Beach Station get off the train. 
---
Step 6: Take the beach shuttle to Siloso Point
When you arrive at Beach Station on Sentosa island you really have one main option to get to Fort Siloso:
Take the beach shuttle to Siloso Point. 
The shuttle leaves right near Beach Station. Along the way you will pass by Siloso Beach, Siloso Beach Resort and Costa Beach Resort.
---
Step 7: Walk from Siloso Point to Fort Siloso.
Get off the beach shuttle and walk from Siloso Point to Fort Siloso. 
To your left, you will walk past Shangri-La's Rasa Sentosa Resort. 
The walk from Siloso Point to the center of Fort Siloso is 550 m and this should take you about 7-8 minutes.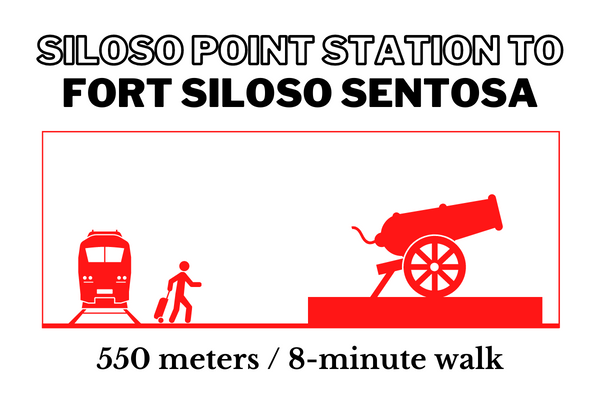 ---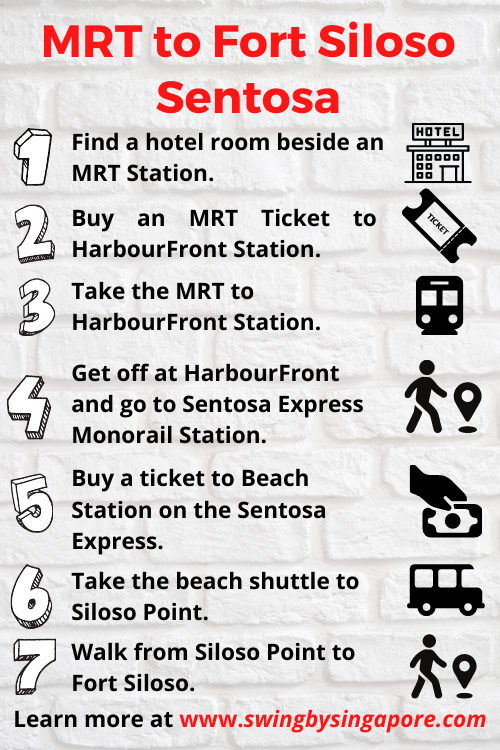 ---
Where should you stay near Fort Siloso?
There is no denying the fact that Singapore is an expensive place to visit. Part of the reason why it is so expensive is that hotels tend to be much more expensive than other major cities in Southeast Asia. There are a lot of affluent travellers that visit Singapore on an annual basis. But there are also a lot of budget travellers as well. 
Currently, the area that you stay and the hotel that you choose really depends on your budget in your personal preferences while you are in the city. In general, Sentosa Island tends to be more expensive in terms of accommodation than some areas of the city. It is, however, ideal for families and it can be super convenient in terms of accessing major attractions such as Resorts World on the island.
Want Convenience?
By far the most convenient property within walking distance to Fort Siloso is Shangri-La's Rasa Sentosa Resort & Spa (5-star, 8.6/10 review score).
The next closest property to the Fort is Siloso Beach Resort, Sentosa (4-star, 7.5/10 review score. Of these two choices, there's no denying the fact that the Shangri-La is the better overall property.  It receives higher review score ratings and it also has better amenities. However, Siloso Beach Resort is popular with families and it is cheaper in comparison. 
There are also some really highly rated properties on Sentosa Island that are located to the east of Fort Siloso.  We have looked at all of the different properties on Sentosa Island and created a shortlist of some of the highest-ranking hotels in terms of verified guest review scores:
Capella Singapore (5-star, rated 9/10)
Capella The Club Residences Singapore (5-star, rated 8.8/10)
The Outpost Hotel Sentosa by Far East Hospitality (5-star, rated 8.9/10)
W Singapore – Sentosa Cove (5-star, rated 8.7/10)
If you are seeking properties that are much cheaper than those options on Sentosa Island then you are best to look at areas such as Chinatown and Clarke Quay.  They both have an extensive selection of mid-range to budget properties that cater to backpackers and budget-oriented guests.
---
Do you have more questions about your trip to Fort Siloso using public transportation?
Ideally, this guide on getting to Fort Siloso using forms of public transportation such as the MRT and Sentosa Express has provided you with sufficient information. However, if you do require more info please reach out to us via email. We are thrilled to provide you with additional insight into Sentosa Island and also the attractions that are offered there. 
 The exciting thing about planning a trip to Sentosa Island is that there are literally things to do for everyone.  If you are interested in golfing there are world-class golf courses on the island.  Resorts World Sentosa is jam-packed with family attractions that attract tourists from all over Southeast Asia. Similarly, the southern beaches (Siloso, Palawan, and Tanjong) are ideal spots to chill out while soaking up some fresh air. 
We suggest making a Sentosa Island itinerary well before your trip so that you know what's worth experiencing, and what isn't. This will help you to prioritize and spend more time at attractions that truly interest you!