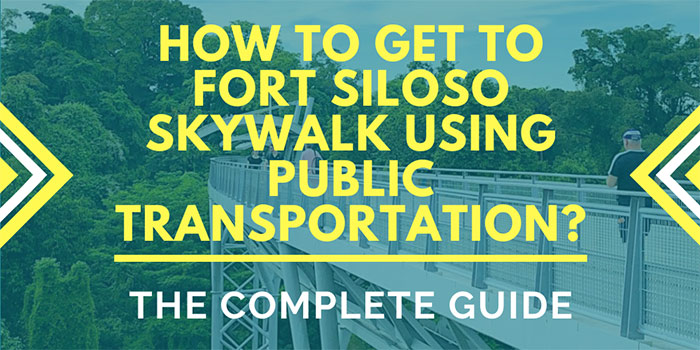 Welcome to the complete guide on how to get to Fort Siloso Skywalk using public transportation.  If you are looking for some outdoor adventure with some breathtaking views this is the place to go in Singapore. In this article, we will outline the steps you have to take to reach this beautiful Skywalk that is situated on Sentosa Island. 
One of the benefits of travelling in Singapore is that the city offers one of the best public transportation networks in the world.  Regardless of whether you are taking the MRT or the bus Network, you can expect efficiency, affordability and convenience. We have visited almost all major attractions in Singapore and we are sharing our personal experience making it to Fort Siloso Skywalk in this article.
---
Why should you visit Fort Siloso Skywalk on Sentosa Island, Singapore?
There is no denying the fact that Sentosa island in Singapore is loaded with attractions. Some of which are tailored towards families, whereas others like the Fort Siloso Skywalk, are designed for nature lovers and photographers. It is situated along the northwestern corner of Sentosa Island, minutes from Shangri-La's Rasa Sentosa Resort & Spa and Siloso Beach.
Fort Siloso Skywalk towers up 11-storeys and stretches 181 meters long. When you visit the Skywalk you will travel along this elevated trail that offers scenic treetop views and access to neighbouring Fort Siloso. As one of Sentosa's free attractions, the Skywalk is perfect if you are travelling on a budget. Also, you can get guided tours to learn more about Singapore and Sentosa's history over the years.
As you travel along the Skywalk you will notice signs that summarize and explain the relevant history of Sentosa and its development.  Also, expect to capture panoramic views of the sea and Singapore's impressive skyline. You can also see the perfect views of Siloso Beach and the neighbouring islands in the distance from the walkway. 
---
Getting to Fort Siloso Skywalk using MRT and Sentosa Express
Step 1: Book a room beside an MRT Station.
Due to the prices of hotel rooms in Singapore, some careful planning is required to make sure that you get a place to stay that is in a convenient environment for sightseeing. The first step is making sure that you book a room within walking distance of MRT station.
Singapore, unlike many cities around the world, allows visitors to use MRT to get to most places for the city. This will reduce the amount of money you spend on booking taxis and getting private cars. Let's also not forget about saving the environment!
It is very much possible to make it right to Fort Siloso Skywalk and the rest of Sentosa Island by taking public transportation. The first step in this process is making sure that you stay at a property that is only one or two minutes from an MRT Station. Remember, Singapore does get extremely hot so you do not want you walking too far during the afternoon hours.
We have included two properties below just to show a few examples of hotels that are popular and within walking distance of MRT stations.
Fairmont Singapore (8.9/10 Review Score) (Esplanade Station)
The Capitol Kempinski Hotel Singapore (9.3/10 Review Score) (City Hall Station)
---
Step 2: Buy an MRT Ticket to HarbourFront Station
The first step of your trip to Fort Siloso Skywalk will be to take the MRT to HarbourFront Station. 
Walk from your hotel to the nearest station and get ready to buy a ticket.
There are three primary forms of tickets that you can use on Singapore's MRT Network: 
Single journey trip tickets

Stored value cards 

Singapore Tourist Passes
Single Journey tickets are your traditional form of a ticket that you can purchase directly at a machine in the station.  The benefits of using single Journey tickets is that you are not obligated to use the MRT extensively while you are sightseeing and in the city. The downside is that they do cost more per trip than stored value cards and you sometimes have to wait in line at ticketing machines before you can access the system.
Singapore Tourist Passes: Right for you?
Arguably the best option for busy tourists visiting Singapore is purchasing a Singapore Tourist Pass.  These cards are designed to allow visitors to have unlimited rides on the MRT and bus Network in a set number of days. This is the best option if you plan on checking out a lot of different areas and attractions while you were in the city. However, you may feel pressured to travel more than you initially intended if you do want to make sure you get your money's worth with these cards.
Stored value cards are very popular with people spending a considerable amount of time in Singapore. These are top-Up cards meaning that once you top them up with cash you can simply 'tap' to enter and exit the MRT Network. The cost for a trip is less than a single journey ticket and you do not have to worry about always waiting in ticketing lines when you get to the station. You do have to make sure that you have a running cash balance on the card and in some cases, you may be entitled to a refund when you leave Singapore.
 Once you finalize the type of ticket that works best for you, get a ticket to HarbourFront Station.
This is the station that you have to first go to in order to reach Fort Siloso Skywalk on Sentosa Island. 
---
Step 3: Take the MRT to HarbourFront Station
HarbourFront Station is located on the North-East Line (represented in purple colour on the train map). The adjacent station to it is Outram Park. 
This information is important to know because you can plan accordingly and get closer to the exit as you approach HarbourFront Station. 
While you were travelling on the Singapore MRT trains there are two pieces of information that can alert you of upcoming stations on the line. The first one is verbal announcements made on the train. They will inform you of what the upcoming station will be. Secondly, you can refer to the signs above the exit doors that will also show you where you are as you were travelling towards HarbourFront Station.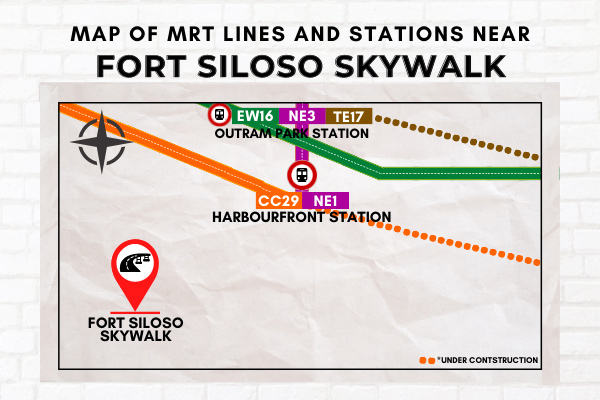 ---
Step 4: Get off at HarbourFront and go to Sentosa Express Monorail Station.
It is not possible to directly get to Fort Siloso Skywalk using the MRT alone. you can either take a shuttle bus, Sentosa Express train or walk.  In this article, we will outline how to take the train to the Skywalk.  
If you are planning on taking the train as close as possible to the Skywalk you will have to transfer at HarbourFront station to the Sentosa Express Monorail service. 
In order to reach the Sentosa Express ticketing area first take Exit E to get out at HarbourFront Station. 
Then, walk over to VivoCity shopping mall.
Follow the relevant signs to the third floor of the mall.
On the third floor, you will find the Sentosa Express Monorail Station. 
*** Note:  As mentioned before it is possible to either walk or take a shuttle bus all the way to Fort Siloso Skywalk. 
Take shuttle bus A or C.  
We don't recommend walking all the way there unless your purpose of the trip is getting some exercise! It is quite far from Harbourfront Station, and it can get super hot in Singapore. 
In this article, we will continue to focus on using the train system.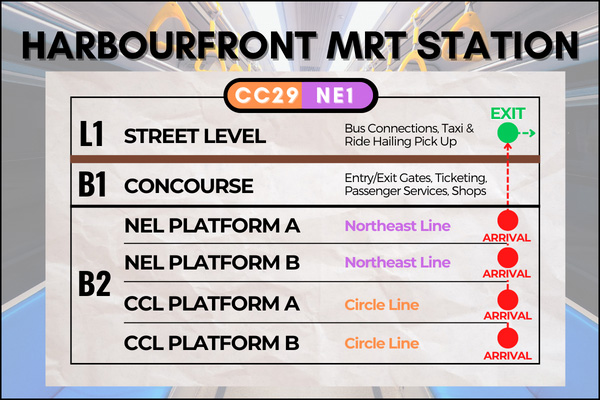 ---
Step 5: Buy a Sentosa Express ticket to Beach Station.
Buy a Sentosa Express train ticket to Beach Station. 
You can do this in the ticketing office in VivoCity Mall. Beach Station is the final station on this monorail line.
Get on the train and expect a short ride with a few stops along the way. 
Once you arrive at the Beach Station get off the train. 
---
Step 6: Go to Siloso Point using the beach shuttle.
Once you are off the Sentosa Express, walk to the beach shuttle pick up area beside the station.  
If you want to get to Fort Siloso Skywalk, get on the beach shuttle ride it to Siloso Point. 
During this short ride you will pass by the following:
Siloso Beach
Siloso Beach Resort
Costa Beach Resort
---
Step 7: Walk from Siloso Point to Fort Siloso Skywalk.
Get off the beach shuttle and walk along the pathway to Fort Siloso Skywalk. 
To your left, you will walk past Shangri-La's Rasa Sentosa Resort and to your right you will see Siloso Point Station. 
The walk from Siloso Point to Fort Siloso Skywalk is about 250 meters and this should take you only about 3 minutes.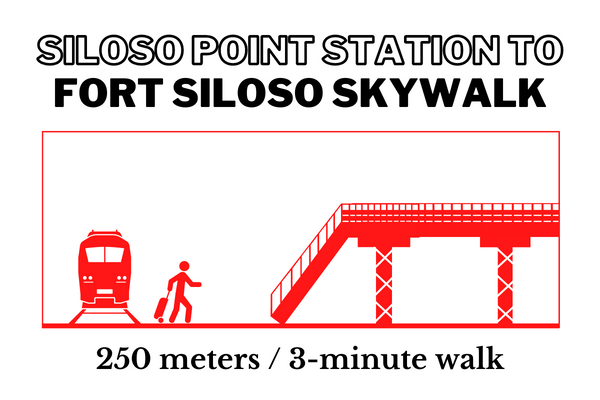 ---
Step 8: Take the elevator or stairs up to Fort Siloso Skywalk. 
You approach Fort Siloso Skywalk you will notice the modern structure that looks like a tower. This is the place where you can either take the elevator or walk up to the actual trail.
Once you are at the top you have reached your final destination!
---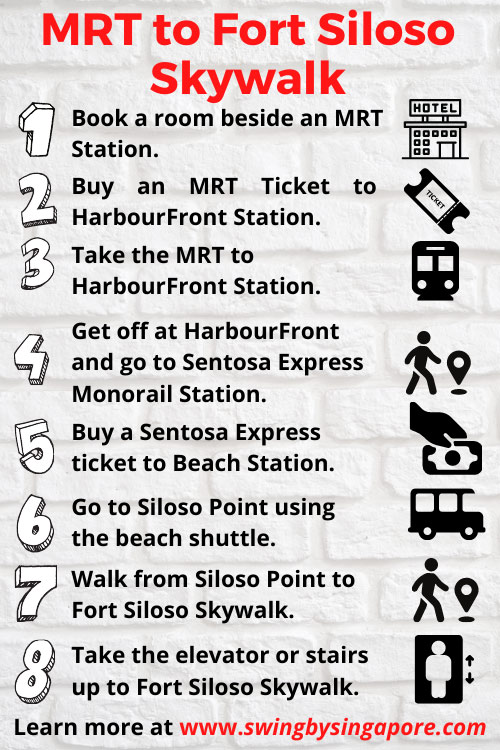 ---
Where should you stay near Fort Siloso Skywalk?
Singapore is regarded as one of the most expensive cities in the world to either live in or visit. Strategically selecting the right hotel for your budget is one of the first things that we recommend for visitors to the city.  A lot of the hotels on Sentosa island are excellent properties, but they do tend to be more expensive than some of the options in the city centre.
We suggest that you think about your budget and whether your priority is saving money or having convenience. If you want a convenience day then you are better off staying directly on Sentosa Island. This will allow you to access sights such as Fort Siloso Skywalk, and other attractions such as Resorts World Sentosa.
Sentosa island is loaded with attractions and things to see and do. If you were travelling with a family then you might want to stay close to the beaches such as Siloso, Palawan, and Tanjong. 
The most convenient option?
By far the most convenient property within walking distance to Fort Siloso Skywalk is Shangri-La's Rasa Sentosa Resort & Spa (5-star, 8.6/10 review score).
Another property not too far away is Siloso Beach Resort, Sentosa (4-star, 7.5/10 review score.  Out of these two properties is quite clear that the Shangri-La is typically more expensive and more positively reviewed.  Siloso Beach Resort is quite popular with families and it is directly beside Siloso Beach which can be very convenient.
If you do have the budget then you might want to consider staying at some of the higher-end properties on Sentosa island. These properties received very high review scores from guests but they do charge quite a bit of money per night.
Highest Rated Options
We have researched all of the different properties on Sentosa Island and created a shortlist of some of the highest-ranking hotels in terms of verified guest review scores:
Capella Singapore

(5-star, rated 9/10)

Capella The Club Residences Singapore

(5-star, rated 8.8/10)

The Outpost Hotel Sentosa by Far East Hospitality

(5-star, rated 8.9/10)

W Singapore – Sentosa Cove

(5-star, rated 8.7/10)
If you are a budget traveller then you are probably better off not staying on Sentosa Island. Instead, you might want to get a boutique hotel room or hostel in an area such as Chinatown or Little India. 
Then, you can utilize this article and public transportation Network to reach the attractions on Sentosa when you want.
---
More questions about your trip to Fort Siloso Skywalk using public transportation?
When we were writing this article about getting to Fort Siloso Skywalk  we wanted to make sure that it was detailed enough that you wouldn't have any questions. However, if you do require additional assistance please do not hesitate to reach out to us. We would be more than happy to provide you with additional information about this journey and making it more convenient for you.
One of the cool things about visiting Sentosa island is that you have a broad range of activities to choose from. Regardless of whether you like golfing or water parks you will be very satisfied on this island. However, there is almost too much choice for tourists. Therefore, we suggest that you plan appropriately and create an itinerary well in advance before you arrive on the island.
This will allow you to determine what kind of MRT ticket you should be using throat or stay and also ensure that you choose the most convenient hotel for your priorities.  It is quite easy getting from Sentosa island to Singapore's downtown area using the MRT Network.  Consequently, if you do need to stay in the city it is quite straightforward to make it to the island on a daily basis.