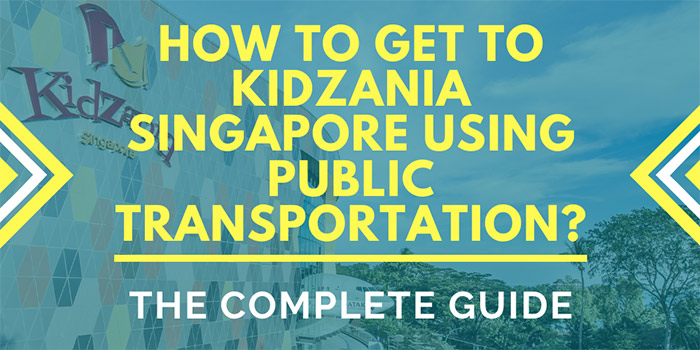 We have written this article to provide you with a step-by-step guide on how to get to KidZania Singapore using public transportation. This is a major family attraction that is situated on Sentosa Island. 
The cool thing about visiting KidZania Singapore is that you can actually make it almost right to the doorstep by using public transportation!
 Although there are a few options on how to get to KidZania on Sentosa Island, this article will specifically focus on using a combination of the MRT and the Sentosa Express monorail train to reach this point of interest. The fortunate thing about travelling in Singapore is that the public transportation system is so extensive. This means that you can get to most areas in the city without using a taxi or private vehicle.
Utilizing the MRT and the train network is one way that you can save money while you are sightseeing in Singapore.  You will also save valuable time by avoiding traffic jams and other unnecessary delays.
---
Why should you visit KidZania on Sentosa Island, Singapore?
KidZania Singapore is a major family attraction that is situated on Sentosa Island. It is located in the central portion of the island and directly beside The Outpost Hotel Sentosa by Far East Hospitality (5-star, 8.9/10 review rating).
As you might imagine, KidZania Singapore is extremely popular with families and children from 4-10 years old.  A visit here allows children to independently explore an 81,000 square-foot 'kid' city that includes buildings, paved streets and vehicles. It even has a functioning economy that can help children learn more about the real world and how things operate. 
Another reason why KidZania Singapore is extremely popular is because it has a clear emphasis on educating children while they experience the joys of playing. A lot of the things to do here allow children to learn about the culture. Also, KidZania Singapore is also famous for being the first KidZania in the world to have a full-wing fuselage of a Boeing 737. The practical learning opportunities here for children are diverse and amazing. 
Surrounded by Family Attractions
What's it doesn't hurt that Kidzania Singapore is surrounded by other famous family attraction on Sentosa Island such as Resorts World and the southern beaches:
Palawan Beach
Siloso Beach
Tanjong Beach
We suggest that you should draft up a family sightseeing itinerary for Sentosa island that includes KidZania and some of the other major attractions well before you arrive. This will make your visit to the island efficient and cost-effective.
---
Getting to KidZania using MRT and Sentosa Express
Step 1: Find a hotel within 1-2 minutes of an MRT Station.
If you are not a permanent resident of Singapore then the first thing that you should do when you were planning your trip to Kidzania is to find a hotel room within walking distance to an MRT station. 
Most tourists that come to Singapore try to use the MRT to get around. However, this makes no practical sense if you are staying at a hotel that is not within close walking distance to an MRT Station. This would naturally force you to continuously book taxi rides and private vehicles to get to and from the station. If you do not use the MRT while you are in the city you can expect to pay a lot more during your entire stay.
It is especially important to stay near the MRT if you are not staying on Sentosa Island.  The good thing about booking a hotel in Singapore is that there are actually a lot of different options within close proximity to MRT stations.
We have included two different properties (below) just as examples on places to stay that are within close proximity to stations:
Fairmont Singapore (8.9/10 Review Score) (Esplanade Station)
The Capitol Kempinski Hotel Singapore (9.3/10 Review Score) (City Hall Station)
---
Step 2: Buy an MRT Ticket to HarbourFront Station
If you want to get to KidZania Singapore using public transportation then the first step is getting to an MRT station and buying the right kind of ticket to suit your preferences.
At the time of writing there are three primary forms of MRT tickets in Singapore:
Single journey trip tickets

Stored value cards 

Singapore Tourist Passes
Single journey trip tickets are quite popular with people who do not want to be obligated to travel a lot while in Singapore.  If you only plan on using public transportation once or twice then this is the best ticket to get. Simply walk up to a ticketing machine in an MRT station and purchase a ticket. The downside of using single Journey tickets is that they are more expensive than stored value cards per trip. Also, you may get caught in some lengthy ticketing lines during peak travel periods on the MRT.
Staying in Singapore longer than 3 days?
Stored value cards are very popular with long-term residents in Singapore and tourists visiting for over three days. As their name suggests, these are cards that you purchase and top up with cash.  Simply purchase a card and then tap to enter and exit each station. If you are only going to use the MRT a few times then stick with single journey tickets. However, if you were going to stay in Singapore for a while and use the system extensively this is the best option.
Singapore tourist passes are designed for short-term guests to the city. Set up getting one of these passes is that you can use them for an unlimited number of bus and MRT rides in a given period of time.  This is by far the best option if you plan on sightseeing extensively while you are in the city. You can save a pile of cash by using these cards. However, these are definitely not the best option if you were only going to use the MRT or bus network once or twice. 
You have to use the system a lot for this to be the best option.
Once you determine what kind of ticket/pass you are going to use, get a ticket to HarbourFront Station.  If you are using a card you don't have to worry about this. However, people using single journey tour tickets will have to select HarbourFront as their final destination.
This is the station that you have to transfer in order to reach KidZania on Sentosa Island. 
---
Step 3: Ride the MRT to HarbourFront Station
Anytime you use the MRT  it is a good idea to know what line you will be travelling on.  Also, know the neighbouring stations are to your station of interest.
In this particular case, HarbourFront Station is located on the North-East Line (represented in purple colour on the train map). 
Since this is the terminal station on the north-east line, it only has one adjacent station of interest: Outram Park. 
When you are riding on the train be prepared to hear verbal announcements to alert you of the next upcoming station on the line.  While hearing 'Outram Park' being announced make sure that you walk closer to an exit because you will be getting off at the next stop.
You can also refer to directly above the exit doors for additional information about where you are on a given line.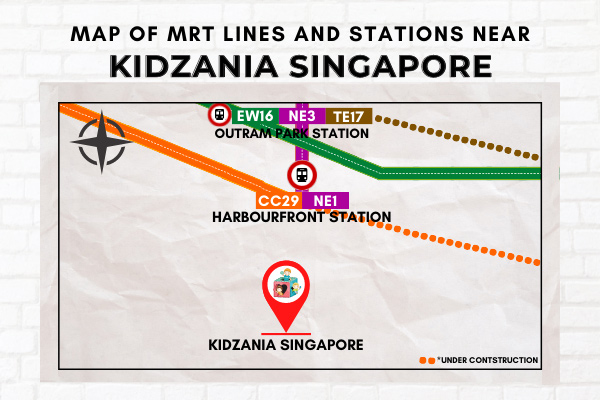 ---
Step 4: Alight at HarbourFront and transfer to Sentosa Express Monorail Station.
KidZania Singapore, unfortunately, cannot be directly accessed by using only MRT. 
Once you arrive at HarbourFront station you have three real choices to get to KidZania.  First of all, you could either walk or bike to this point of interest. However, considering Singapore's heat and the distance involved, this is not a popular option for most tourists visiting the city. If you are up for exercising this could be a viable option, however.
You can also take a bus on the Sentosa to reach KidZania. This article, however, will outline how to take the train.
Getting to KidZania by train requires you to transfer from HarbourFront to the Sentosa Express Monorail service. To buy a ticket for the Sentosa Express you must first take Exit E to get out at HarbourFront Station. 
Then, walk to VivoCity shopping mall. Follow the relevant signs to the third floor of the mall.
Sentosa Express Monorail Station is located on the third floor of the mall.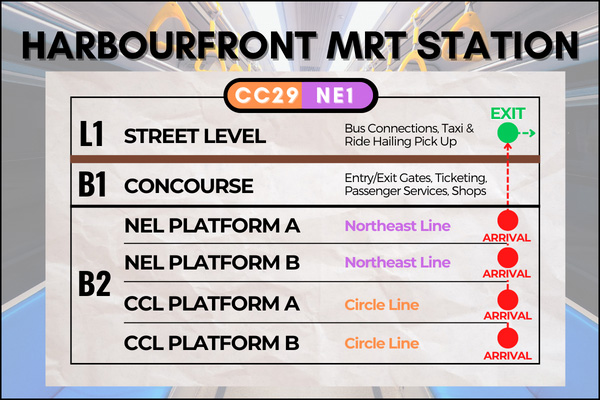 ---
Step 5: Get a Sentosa Express ticket to Beach Station.
Once you are in the ticketing area, buy a Sentosa Express train ticket to Beach Station. Beach Station is the final station on this short monorail line.
The ride to Beach Station should not take you very long. Once you get to the station get off the train and get ready to walk to KidZania.
---
Step 6: Walk from Beach Station to KidZania. 
Once you are off the Sentosa Express, you can walk directly to KidZania. Although it's possible to take the beach shuttle, it isn't practical for most passengers because it is so close to the station!
Walk east of the station and south of the Sentosa Beach Car Park to reach KidZania. 
The walk from Beach Station to KidZania Singapore is about 260 meters and this should take you only about 3 minutes!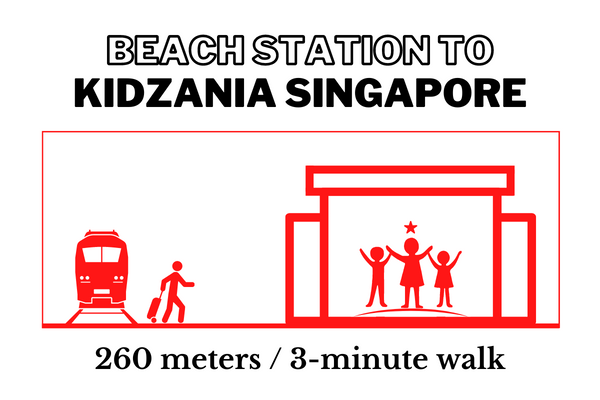 ---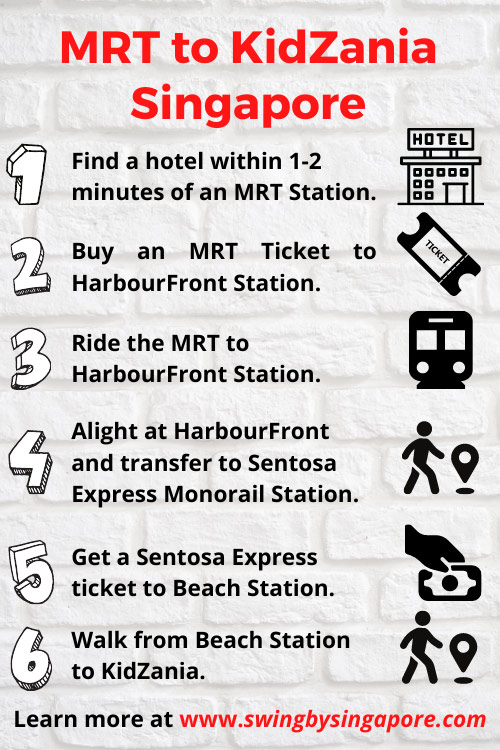 ---
Where should you stay near KidZania?
When you are selecting a hotel or apartment in Singapore you have a few major considerations that you should be making.
If you plan on visiting KidZania on Sentosa Island you have to make a clear decision whether you want to be situated on Sentosa or in the city.  Both have their pros and cons. For example, if you were staying on Sentosa then you will have access to popular attractions such as Resorts World and the beaches. The downside of staying on Sentosa island is that you will have to travel further if you want to see things in other areas of the city such as Chinatown and Little India.
Hotel and resort prices on Sentosa island tend to be a bit more than on the mainland. However, you will be within walking distance to tons of family attractions and breathtaking views of the sea.
We have researched all of the different properties on Sentosa Island and created a shortlist of some of the highest-ranking hotels in terms of verified guest review scores:
Capella Singapore (5-star, rated 9/10)
Capella The Club Residences Singapore (5-star, rated 8.8/10)
The Outpost Hotel Sentosa by Far East Hospitality (5-star, rated 8.9/10)
W Singapore – Sentosa Cove (5-star, rated 8.7/10)
Alternatively, you could stay in the city center or in Marina Bay.  The other areas such as Chinatown and Clarke Quay are quite popular with budget-conscious travellers that want to save some cash while visiting Singapore. If you do want to stay in one of these areas just follow the directions outlined in this article. Then, you should have no problem getting to and from Sentosa Island and attractions such as KidZania.
---
Any more questions about your trip to KidZania using public transportation?
Hopefully, this article on getting to KidZania has been detailed enough to make this a stress-free connection for you while you are in Singapore.  If you do require some more information please do not hesitate to reach out to us. We would be delighted to provide you with more information on KidZania and accessing other attractions on Sentosa Island.
We suggest that you start planning your itinerary for Sentosa Island well in advance of your arrival.  Although the island is jam-packed with attractions for all types of tourists, it can sometimes feel a bit overwhelming. There is simply so much choice out there.  You really have to think about what your priorities are and whether or not you will be travelling with children. If you love the outdoors then you might want to explore the southern beaches which include:
Palawan Beach
Siloso Beach
Tanjong Beach
Also, consider visiting the Fort Siloso Skywalk and Fort Siloso to get some breathtaking views of Singapore Skyline and the surrounding area. KidZania is located to the south of Resorts World Sentosa. Therefore, it's quite easy to visit both of these attractions during the same itinerary on Sentosa Island.