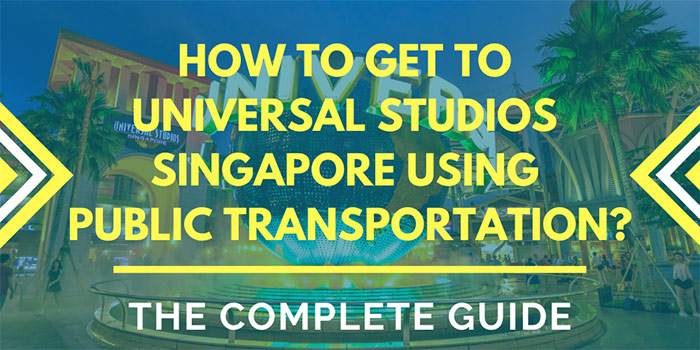 Welcome to the step-by-step guide on how to get to Universal Studios Singapore using public transportation. If you are planning a trip to Singapore Universal Studios it is regarded as one of the biggest attractions in the entire city.  It is extremely popular with families visiting the city and for good reason.
As you read this article you will be provided with information regarding the MRT and Sentosa Express train to reach Universal Studios, and how to book tickets in advance online. Despite the fact that Singapore has one of the best public transportation systems in the world, you cannot get directly to this attraction using the MRT alone. Therefore, we will outline how to transfer from the MRT to Sentosa Express as well.
One of the clear advantages of visiting Singapore is the fact that you can pretty much take public transportation everywhere you need to go. This includes getting into the city centre right from the airport!  Once you book a room near a station, you can take advantage of the efficiency and affordability of the MRT and you will be able to see attractions like Resorts World and Universal Studios without breaking the bank.
---
Why should you visit Universal Studios on Sentosa Island?
Universal Studios Singapore is one of the city's largest attractions.  This is a large theme park located within Resorts World Sentosa on Sentosa Island. If you are not familiar with Sentosa Island this is one of the most well-developed tourist islands in the world. If you visit Universal Studios you can experience all kinds of cutting edge rides, shows, attractions and 'themed zones'. 
To be more specific, Universal Studios Singapore features 28 rides, shows, and attractions in seven themed zones that are based on blockbuster movies and television shows.  Jurassic Park is an example of a theme here. It is the second Universal Studios theme park to open in Asia, only second to Japan. However, it is the first and only one in Southeast Asia. 
After a much-anticipated build-up, Universal Studios Singapore officially opened on May 28th, 2011 and it has been attracting millions of visitors ever since. 
One of the clear benefits of visiting Universal Studios in Singapore is that it is physically located near to many other major attractions on Sentosa island and world-class resorts. You can literally stay at Resorts World Sentosa – Hotel Michael (5-star, 8.3/10 review score) and be within a few minutes of the admission gate. Directly east of the theme park is Serapong Golf Course.
---
Getting to Universal Studios Singapore using MRT and Sentosa Express
1. Find a hotel right beside an MRT Station.
If you want to visit Sentosa Island and Universal Studios then you have to plan early and find a strategically-located hotel. Annually, Singapore gets labelled as a very expensive place to live and visit.  Consequently, if you are travelling on a budget it is important that you maximize public transportation and minimize the time you spend in public vehicles such as taxis and limousines.
Staying close to an MRT Station allows you to literally avoid vehicles during your entire stay in Singapore.  Even Singaporeans try to maximize their time using MRT as opposed to getting vehicles because they also avoid traffic jams!
Fortunately, for tourists visiting the city, it is very easy to find hotels and apartments that are literally one or two minutes from MRT stations. Once you book a room this close you can get to a station very quickly in order to access sights around the city.
We have included two examples below. Both of these properties are popular with guests and they are minutes from the MRT stations indicated below. 
Fairmont Singapore (8.9/10 Review Score) (Esplanade Station)
The Capitol Kempinski Hotel Singapore (9.3/10 Review Score) (City Hall Station)
---
Step 2: Buy an MRT Ticket to HarbourFront Station
Getting to Universal Studios Singapore using public transportation requires you to first take the MRT network to HarbourFront Station.  This is by far the most popular and practical station to go to in order to transfer to the Sentosa Express Monorail Line later.
You can choose from two different types of MRT tickets/passes in Singapore at the time of writing:
Stored value cards 
The type of ticket did you choose really depends on your preferences while you are sightseeing in the city. 
Long term guest or staying just a few days?
Stored value cards are a very popular option with Singaporeans. Also individuals staying for a longer period of time in Singapore.  If you use a stored-value card to get to Universal Studios Singapore then you just simply have to tap to enter and exit the system. You do, however, have to pre-purchase the card and then make sure you have enough cash balance on it. Stored value cards are cheaper per trip than single journey tickets and you also avoid the ticketing lines every time you use the system.
Singapore Tourist Passes are designed for active guests that will be in the city from 1 to 3 days. After you purchase one of these cards that you can use buses an MRT trains throughout the city for an unlimited number of trips. This is by far the best option if you plan on checking out a lot of different attractions and cultural sites while you were in Singapore. However, if you are not planning on using public transportation a lot you might feel pressured to go places. Therefore, make sure that you plan your itinerary carefully and consider how many trips you think you'll be making per day.
We highly recommend buying a Multi-Attraction Pass to visit Universal Studios and other major sights in Singapore. You can then take the MRT to the attractions and enter with discounts up to 52%. So far, more than 200,000 passes have been purchased online!
After you have decided what kind of ticket you want to use, get a ticket/pass to HarbourFront Station.  This is the first step to Universal Studios Singapore.
---
Step 3: Take the MRT to HarbourFront Station
Riding the MRT in Singapore is a really straightforward process.  Once you were on the train be prepared to hear verbal announcements that inform you of the next station coming up on the line. In this particular case, HarbourFront Station is located on the North-East Line (represented in purple colour on the train map). 
The preceding station to Harbourfront is Outram Park. When you hear a verbal announcement for Outram Park this should remind you to get to the exit as soon as possible to prepare to alight at the next stop.
You can also refer to the signs above the exits on the train to alert you of where you are on a given line.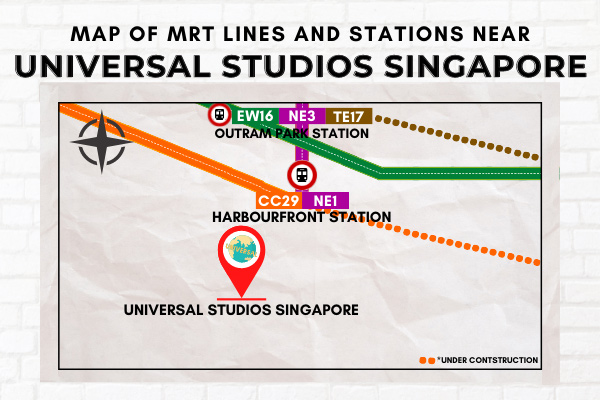 ---
Step 4: Get off at HarbourFront and walk to Sentosa Express Monorail Station.
Universal Studios Singapore, unfortunately, cannot be directly accessed by using only MRT. 
Once you arrive at HarbourFront Station you can transfer to the Sentosa Express. This is a monorail line that is not actually part of the MRT network.  
To use the Sentosa Express you must first take Exit B to get out at HarbourFront Station. 
Then, walk to VivoCity shopping mall. Follow the relevant signs to the third floor of the mall.
Sentosa Express Monorail Station is located on the third floor of the mall. If you need additional assistance getting to the ticketing counter, simply ask someone in the mall. They should know where it is!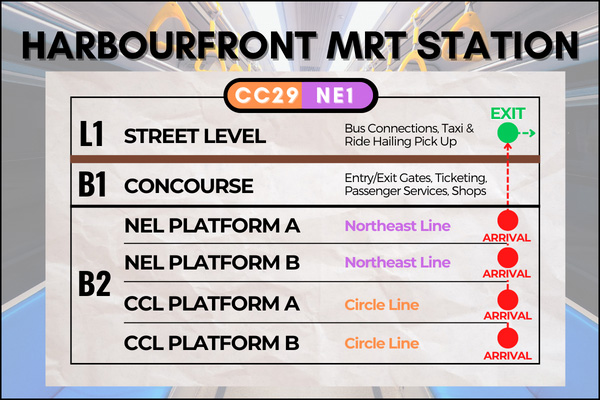 ---
Step 5: Buy a Sentosa Express ticket to Resorts World Station
Once you are in the ticketing area, buy a Sentosa Express train ticket to Resorts World Station (previously called Waterfront Station). You can also use your EZ link (stored value card).
Resorts World Station is the first station on this short monorail line. Therefore, expect a very short ride!
---
Step 6: Walk from Resorts World Station to Universal Studios Singapore.
Once you are off the Sentosa Express at Resorts World Station, you can walk directly to Universal Studios. There is no need for additional public transportation. 
Get off the train and simply follow the signs to the famous 'Rotating Globe' that this attraction is known for. The walk from Resorts World Station to the entrance of Universal Studios should take you about 2-3 minutes and the distance is 200 meters!
You should be there in no time!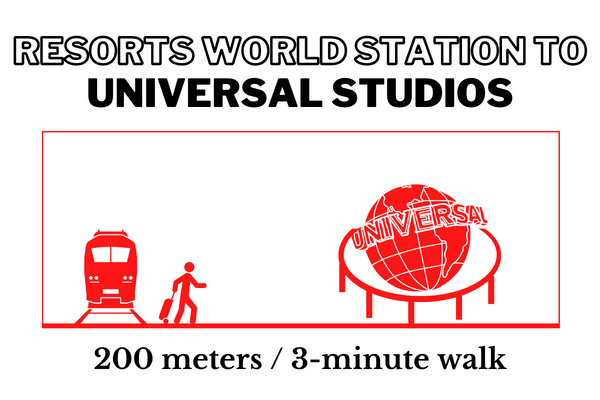 ---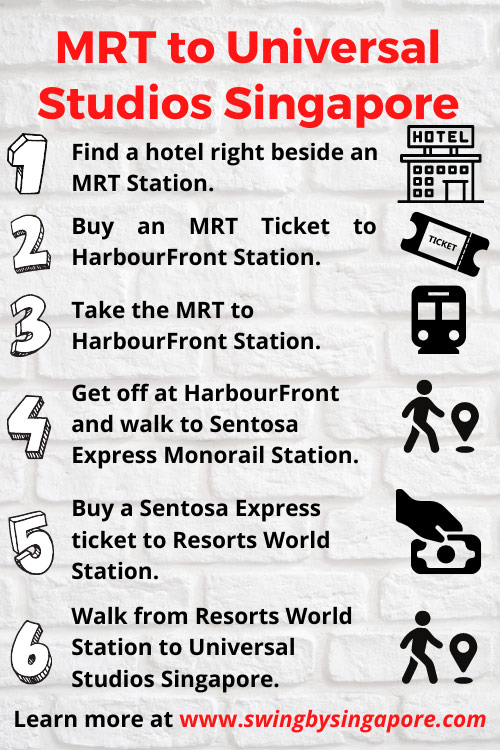 ---
---
Where should you stay near Universal Studios Singapore?
Where you select your hotel in Singapore you really have to think about what your itinerary is going to be and whether or not you are travelling with children. The 'budget' is also a very important factor for a lot of visitors here.
If you do want to stay directly in the vicinity of Universal Studios then there is no shortage of high-end properties. Lots of properties on Sentosa Island are either within walking distance or a short ride away. We have stayed on Sentosa Island before and we have also searched through the properties available to identify the highest-rated resorts based on leading accommodation websites. We have listed them below for your convenience:
Capella Singapore (5-star, rated 9/10)
Capella The Club Residences Singapore (5-star, rated 8.8/10)
The Outpost Hotel Sentosa by Far East Hospitality (5-star, rated 8.9/10)
W Singapore – Sentosa Cove (5-star, rated 8.7/10)
Staying near Universal Studios obviously has clear advantages if you're travelling with children. You won't have to worry about travelling in busy areas of the city. Instead, you will be situated right beside the major attractions on Sentosa Island and can probably walk to most of them.  The downside of this is that hotels on Sentosa island tend to be quite expensive because of their prime location.
If you are budgeting while you are visiting Singapore then you might be better off staying in an area such as Chinatown that offers a wide range of boutique hotels and hostels. You may even find some properties that are hundreds of dollars cheaper per night than those listed on Sentosa Island.
Choosing to stay in the city centre will require you to follow the steps that are outlined in this article to get to and from Sentosa Island.
---
Additional questions about your trip to Universal Studios Singapore using public transportation?
Universal Studios is one of the main tourist attractions in all of Singapore. Consequently, when you do visit this site you have to make sure that you are thinking about the day you are actually going on rides and exploring the different themes.  If you arrive here during peak season or during the long weekend you can expect to have long lines but you may find annoying.
We suggest that you plan out your itinerary for Sentosa island and Universal Studios well in advance. This starts by selecting a strategic property. Then, make sure that you are purchasing the correct type of transportation tickets to suit your budget/preferences.  If you can organize visiting the theme park during the week this is a wise decision. You will obviously have fewer people in line in front of you every time you want to experience something.
Beaches??
Also consider visiting the southern beaches on Sentosa island as well (Palawan, Siloso, and Tanjong).  They offer a different vibe than the extremely busy parks on the island. Many people visit Sentosa as part of a day trip but there are literally enough attractions here to spend a whole week. You can get a bit overwhelming so we suggest that you really think about what your priorities are and select two or three of the top things that you want to do on the island. Otherwise, you may feel overwhelmed by the choice in the number of tourists that are surrounding you.
 If you do require any more information about getting to Universal Studios Singapore please feel free to send us an email. We would be more than happy to provide you with more information about this journey.