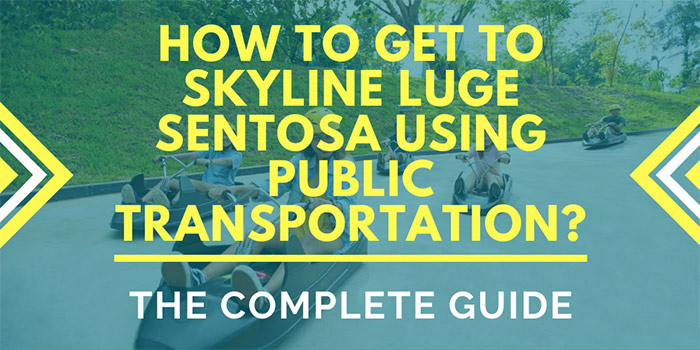 This is the step-by-step guide on how to get to Skyline Luge Sentosa using public transportation such as the MRT system.  If you are reading this article then you are either staying in Singapore or planning a visit to Sentosa island in the near future.
Based on our extensive travel experience throughout Singapore we aim to provide you with enough details about this trip so that you save valuable time and money.  The cool thing about travelling throughout Singapore is that you can visit interesting places such as the Skyline Luge and the rest of the attractions on Sentosa island by taking public transportation options. Actually, Singapore is one of the best cities in the world when it comes to sightseeing using MRT.
Even when you land in Singapore you do not have to step foot in a vehicle. Right from Changi Airport, you can access the downtown area and Sentosa Island via MRT. 
---
Why should you visit Skyline Luge on Sentosa Island?
Skyline Luge Sentosa is one of many popular attractions that are situated on Sentosa Island. This is the first luge ride in Southeast Asia that features four different tracks that are open during the day and at night time for riders. At the time of writing Skyline Luge in Singapore featured four different downhill tracks:
Dragon

Expedition

Kupu Kupu 

Jungle
This is a great location to visit on Sentosa island if you enjoy thrill rides that are family-oriented. You can expect to experience sharp corners, speedy downhills slopes and some adrenaline along the way down these tracks!
You can also combine your ticket for Skyline luge Sentosa with what is called 'The Skyride'. This is a chairlift that offers breathtaking aerial views of the surroundings.
Keep in mind that if you are planning a trip to the Skyline Luge, children must be 6 years of age and 110cm or taller to ride the Luge by themselves. However, children under the age of 6 years can ride tandem with an adult. You might want to consider how old your children are before you plan a trip to Skyline Luge to avoid any disappointment!
---
Getting to Skyline Luge Sentosa using MRT and Sentosa Express
Step 1: Find a hotel right beside an MRT Station.
When you are planning a trip to Skyline Luge Sentosa be sure to maximize the use of public transportation along the way. The first step in making sure that you utilize the MRT Network as much as possible is making sure that you book a hotel room near a station.
This will ensure that you save money on transportation costs getting to and from the station and also help you to avoid traffic jams in the downtown area of Singapore.
Fortunately, people conducting business in Singapore and also tourists have a lot of options in terms of finding properties that are close to MRT stations. There are literally hundreds of properties in Singapore that are within a one to two-minute walk from convenient stations. We suggest that you plan and book your property well in advance to ensure that you get a room that is close to a station in an area that you want to stay in.
We have provided a few examples below of properties that are within 1 or 2 minutes of stations in Singapore.  These suggestions are assuming that you are not going to be staying on Sentosa Island while you are in the city.
Fairmont Singapore (8.9/10 Review Score) (Esplanade Station)
The Capitol Kempinski Hotel Singapore (9.3/10 Review Score) (City Hall Station)
---
Step 2: Purchase an MRT Ticket to HarbourFront Station
Getting to Skyline Luge Sentosa using public transportation is really straightforward.  The first step in this journey is taking the MRT to HarbourFront station.  Once you arrive at your first MRT Station you will quickly have to decide what kind of ticket you plan on using for your trip.
At the time of writing there are three different types of MRT tickets that can be used: 
Single journey trip tickets

Stored value cards 

Singapore Tourist Passes
Actually, it is a wise decision to determine what kind of ticket you use right when you land at Changi Airport.
Considerations you need to think about??
Your decision should really come down to what kind of traveller you are and how frequently you plan on using public transportation while you were in Singapore. Single journey tickets, for instance, are ideal for tourists that are not going to use public transportation a lot. You can simply purchase these at ticketing machines at each station.  These are the most expensive form of ticket per trip,  However, you are not obligated to use transportation extensively if you only get one every time you use the system.
Stored value cards are very popular with Singaporeans and long-term visitors to the city.  Once you buy one of these cards you can top them up with cash and simply tap to enter and exit each station.  These can be convenient because you avoid ticketing lines during peak periods.  Similarly, the cost per trip is less than a single journey ticket.
Singapore tourist passes are ideal for 'busy travellers' that will be in the city from one to three days.  When we say busy we are referring to somebody who plans on using the MRT extensively while they are in Singapore.  If you plan on sightseeing a lot and this is definitely the best option for saving money. However, if you do not plan on seeing a lot of different attractions in Singapore then you might want to just get a stored-value card or purchase single journey tickets throughout your trip to the city.
Regardless of what kind of tickets or pass you are going to use you have to make sure that you are going to HarbourFront Station first.  This is the first step to getting to Skyline Luge Sentosa.
---
Step 3: Travel on the MRT to HarbourFront Station
HarbourFront Station a popular station that is part of the North-East Line (represented in purple colour on the train map). The station before Harbourfront is Outram Park. 
While you are riding the MRT in Singapore there are few ways that you can tell what the next station will be on the line. For instance, you can hear verbal announcements being made on the train to alert you of the next station. Similarly, above the doors on each train, there are signs that can inform you of where you are and where you're heading.
When you hear "Outram Park" station being announced, you might as well start getting closer to one of the exits because you will be getting off at the next stop.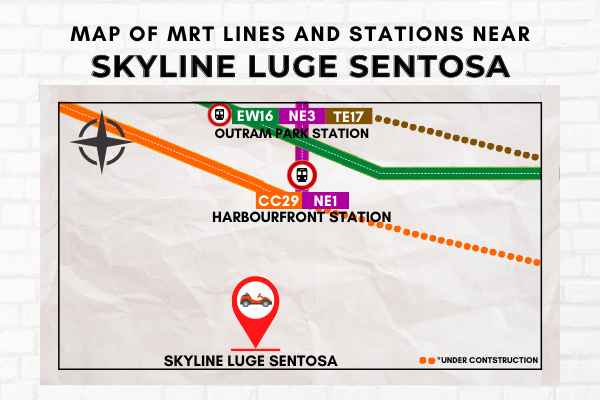 ---
Step 4: Alight at HarbourFront and go to Sentosa Express Monorail Station.
Skyline Luge Sentosa cannot be directly accessed using the MRT Network in Singapore. Instead, if you plan on taking the train the whole way you will have to walk over to the Sentosa Express Monorail Station which is located in VivoCity.
Here are the directions to get to the ticketing office:
To use the Sentosa Express you must first take Exit B to get out at HarbourFront Station. 
Afterwards, walk to VivoCity shopping mall. Follow the relevant signs to the third floor of the mall.
Sentosa Express Monorail Station is located on the third floor of the mall and it is easy to see. However, you do require more assistance getting there just ask somebody working in the mall and they should be able to point you in the right direction.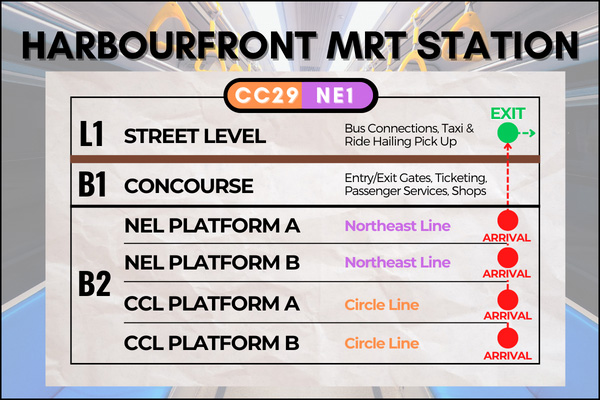 ---
Step 5: Get a Sentosa Express ticket to Imbiah Station
While in the office, buy a Sentosa Express train ticket to Imbiah Station. Alternatively, you can also use your EZ link (stored value card).
Expect this ride only to take a few minutes. It will be the second stop!
---
Step 6: Walk from Imbiah Station to Skyline Luge Sentosa.
Once you are off the Sentosa Express at Resorts at Imbiah Station, you can easily walk directly to the Skyline Luge ticketing office. There is no need for additional public transportation. 
Get off the train and simply follow the signs. You will be walking in the northwestern direction to get to the ticketing office. 
The walk from Imbiah Station to Skyline Luge Sentosa should take you approximately 6 minutes. The distance is only 400 meters.
And there you are!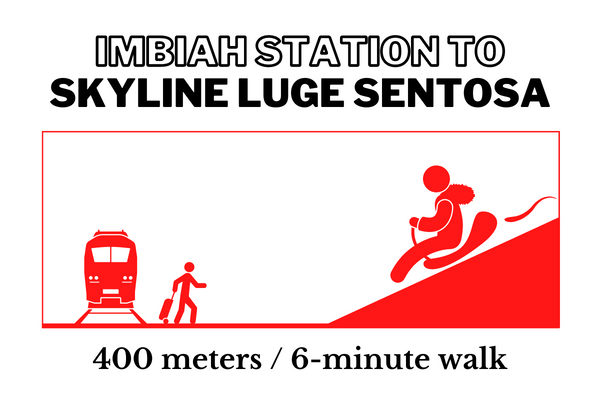 ---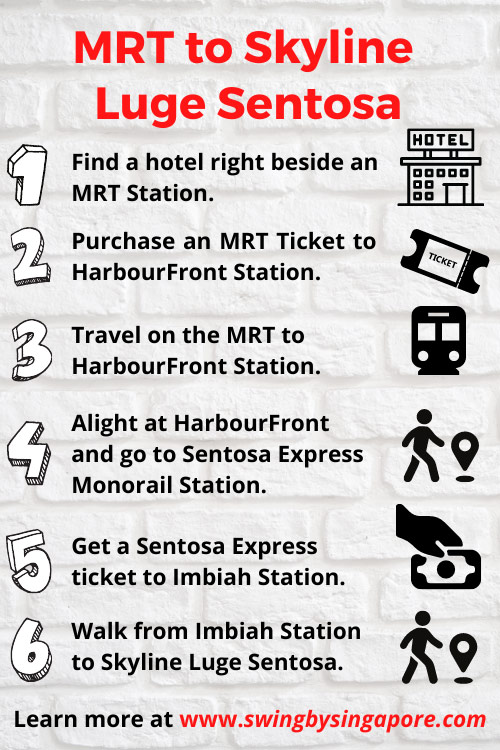 ---
Where should you stay near Skyline Luge Sentosa?
Making the decision to stay near Skyline Luge Sentosa really depends on how much money you want to spend and whether or not you want to be physically located on Sentosa island for your trip to Singapore.
There's no denying the fact that staying on Sentosa Island can be extremely convenient especially if you're travelling with a family and children. You will be very close to other major attractions such as Resorts World and Universal Studios.  The downside of staying on Sentosa island is that the hotels here tend to be a bit more expensive than in the city. You can also expect to pay a pretty good dollar for meals and drinks here as well.
If you do plan on staying near the Skyline Luge Sentosa then we have included some Hotel and Resort recommendations for you below. Open-minded we do not have any dress partnership with these properties. However, we have looked over their review scores and noticed that they are some of the highest-rated properties on the entire Island. This suggests that guests are satisfied with their cleanliness and service standards:
Capella Singapore (5-star, rated 9/10)
Capella The Club Residences Singapore (5-star, rated 8.8/10)
The Outpost Hotel Sentosa by Far East Hospitality (5-star, rated 8.9/10)
W Singapore – Sentosa Cove (5-star, rated 8.7/10)
If you are a budget-conscious traveller then you might not want to physically stay on Sentosa island. In this case, you might be better off finding a hotel or hostel in an area such as Chinatown. Chinatown is quite Central and it has a broad range of budget accommodation choices that receive adequate reviews from guests. If you do decide to stay in the city centre you can just simply follow this article to get to and from Sentosa island without much stress.
---
Questions about your trip to Skyline Luge Sentosa using public transportation?
Although Skyline Luge is a pretty interesting attraction on Sentosa Island, it definitely is not one of the most famous points of interest to explore.  Keep in mind that Sentosa island has Resorts World Sentosa and also Universal Studios. These attractions attract millions of people every year.
To the South, you can also explore some nice beaches such as Palawan, Siloso and Tanjong. These are accessible using the beach shuttle that departs regularly from Beach Station.
Needless to say when you are planning your itinerary to Sentosa Island you have to really think well in advance what your priorities are.  There are so many things to see and do that it can sometimes feel a bit overwhelming for tourists.  We suggest that you write down three or four of your top priorities and then plan your accommodation and transportation around these points of interest.
We hope that this step-by-step guide on getting to Skyline Luge Sentosa has been detailed enough to make this a stress-free journey for you. However, if we have not provided you with sufficient information kindly send us an email and we would be more than happy to provide you with more details. remember to take advantage of the MRT Network because it is fast, efficient and environmentally friendly in comparison to driving through Singapore's traffic.