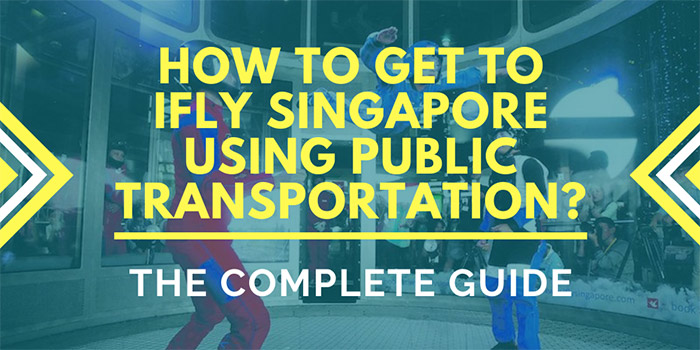 Welcome to the comprehensive guide on how to get to iFly Singapore using public transportation. If you have never visited iFly Singapore before then the first thing that you should know is that it is located on Sentosa Island. 
Tourists that are visiting Singapore wonder whether it is possible to make it all the way to Sentosa island using public transportation? And, the answer to this question is yes it is possible but it does require a transfer between the MRT and Sentosa Express.
In this article, we are going to provide you with all the information that is required to get to the doorstep of iFly Singapore, including which MRT Stations you need to go to and how to transfer trains.  Since we have been to iFly Singapore on multiple occasions, rest assured that this information is accurate and up-to-date.  Our goal is to help you save time and money during this trip to Sentosa Island. 
---
Why should you visit iFly Singapore on Sentosa Island?
iFly Singapore is ideally located on Sentosa Island, directly beside Beach Station. If you want to visit one of the cutting edge attractions in Singapore this is definitely one you do not want to miss!
This attraction on Sentosa island is considered to be the first of its kind in Southeast Asia and the world for that matter. It is a themed indoor skydiving facility that includes a state-of-the-art wind tunnel. If you want to experience what it feels like to fly in a safe, well-maintained environment you should give it a try!
When you visit iFly Singapore you will be impressed by the size of the wind tunnel. It has a height of 56.5 feet and a diameter of 16.5 feet. This makes it one of the world's largest wind tunnels. It is so big that it can accommodate up to 20 flyers at a given time. 
IFly is also an extremely well-managed facility having won five Guinness World Records and TripAdvisor's Certificate of Excellence. 
In case you are concerned about how safe it is, iFly Singapore uses a top-notch safety system from the International Bodyflight Association (IBA). It is proven worldwide to provide a safe environment for all participants regardless of their experience level.
---
Getting to iFly Singapore using MRT and Sentosa Express
Step 1: Book a room beside an MRT Station
The first step in getting to iFly Singapore is making sure that you can easily access the MRT network from where you were staying. We recommend that you should try to book a room as close as possible to an MRT Station. This sets the stage for a convenient trip that is more affordable than continuously using taxis and private vehicles to get around the city.
Also, keep in mind that if you stay close to an MRT Station then you will bypass traffic in the downtown area of the city and also be more environmentally friendly than renting a private car during your stay.
Options?
Conveniently, accommodation developers in Singapore know that there's a strong demand for people wanting to stay close to stations. Therefore, you should have no problem finding tons of different options of where to stay. We have included just two examples of properties that are very close to the station's indicated below in brackets.  We do not have a direct affiliation with either of these properties but we can share that they do have very strong verified guest review scores.
Fairmont Singapore (8.9/10 Review Score) (Esplanade Station)
The Capitol Kempinski Hotel Singapore (9.3/10 Review Score) (City Hall Station)
---
Step 2: Buy an MRT Ticket to HarbourFront Station
Getting to iFly Singapore using public transportation requires two different forms of trains: 
MRT

Sentosa Express
During the first section of this trip, you will be using the MRT to get to HarbourFront Station.  This is by far the most convenient station to go in order to access Sentosa Island and all of its major attractions.
At the time of writing, there are three different types of MRT tickets that can be used to reach HarbourFront. 
Single journey trip tickets

Stored value cards 

Singapore Tourist Passes
Breaking down the types of passes available to visitors.
Single journey tickets are the basic form that you can purchase right at ticketing machines at each station. They are ideal if you are not going to use the MRT extensively while you were in the city. However, they are the most expensive 'per trip' and they sometimes do require you to wait in line at ticketing machines during peak hours.
Stored value cards are very popular with Singaporeans and long-term visitors to the city.  Once you purchase a stored-value card then you can talk them up with cash in and use them to enter and exit each station without having to wait in line. You simply just tap to enter and exit and you are good to go. You probably do not want to get one of these cards if you were only going to use the MRT Network once or twice. However, they are cheaper per trip than getting single journey tickets and you do not have to wait in line. 
Best option for a short, but busy stay!
Singapore Tourist Passes are ideal if you are planning on sightseeing a lot while you are in Singapore for a short duration of time. These passes are typically valid from 1 to 3 days in length. Once you buy one of these passes you can use the bus and MRT an unlimited number of times during a set number of days. These are not the best passes if you are only going to travel a few times on the MRT. Therefore, it really comes down to the itinerary that you planned how busy you want to be while you are sightseeing.
If you are using the passes you just simply have to tap the enter the station and get on the correct MRT line to HarbourFront Station.  Single journey ticket holders will have to make sure that they purchase the ticket to Harbourfront using the machine. 
---
Step 3: Ride the MRT to HarbourFront 
If you are not familiar with Singapore's MRT lines then it is good to get familiarized as soon as possible.  This will make it easier for you to get around the city and also make it easier for you to get to iFly Singapore. 
For this particular trip, you will be travelling along the North-East Line (represented in purple colour on the train map). The station before Harbourfront is Outram Park. 
A few things that are designed to alert you of upcoming stations on MRT lines in Singapore. For instance, you should be prepared to hear verbal announcements that inform you of upcoming stations. When you hear "Outram Park" being announced it is time to move closer to one of the exits because you will be getting off at the next stop.
To look for signs above the exits on each train to inform you of where you are on the North-East Line.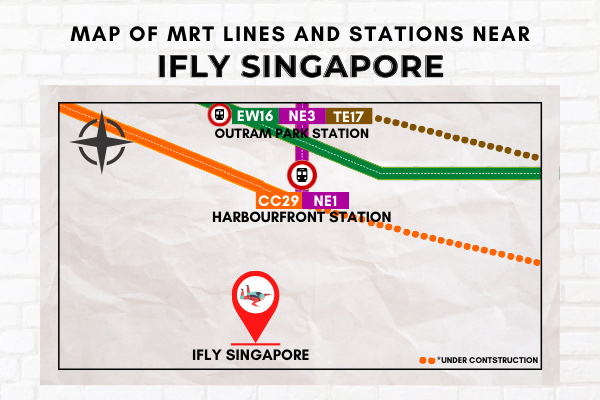 ---
Step 4: Get off at HarbourFront and walk over to Sentosa Express Monorail Station.
As you already know, iFly Singapore cannot be directly accessed using the MRT Network.  Unfortunately, you will have to transfer to a different train line that is called the Sentosa Express Monorail Station. This ticketing office is located in VivoCity mall.
Follow the directions below to get to the ticketing office:
First, take Exit B to get out at HarbourFront Station. 
Follow the signs and walk to VivoCity shopping mall. You will see signs directing you to the third floor of the mall.
The Sentosa Express ticketing office is located on the third floor of the mall and it is easy to see. Just ask someone in the mall if you can't seem to see it!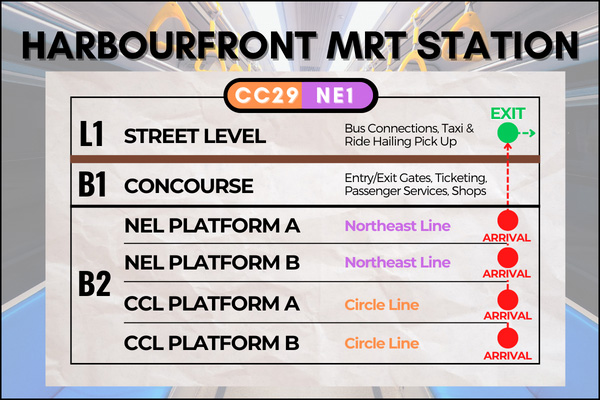 ---
Step 5: Buy a Sentosa Express ticket to Beach Station
While in the office, buy a Sentosa Express train ticket to Beach Station. You can also use a stored-value card such as the EZ Link Card.
Even though Beach Station is the last station on the Sentosa Express you can expect this to only take a few minutes from the Sentosa Express Monorail Station. Get on the train and get ready for some flying!
---
Step 6: Walk from Beach Station to iFly Singapore.
Get off the train at Beach Station. Then, it is super easy to get to iFly Singapore from the station.
When you get out of the station you will be able to see iFly Singapore right away in the northwesterly direction from the Western exit of Beach Station.
You should be able to walk from Beach station to iFly Singapore in approximately 2-3 minutes. The walk is over 200 meters! This should be the easiest part of your trip!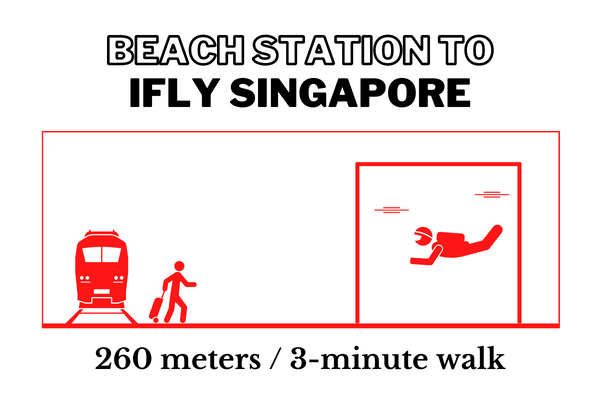 ---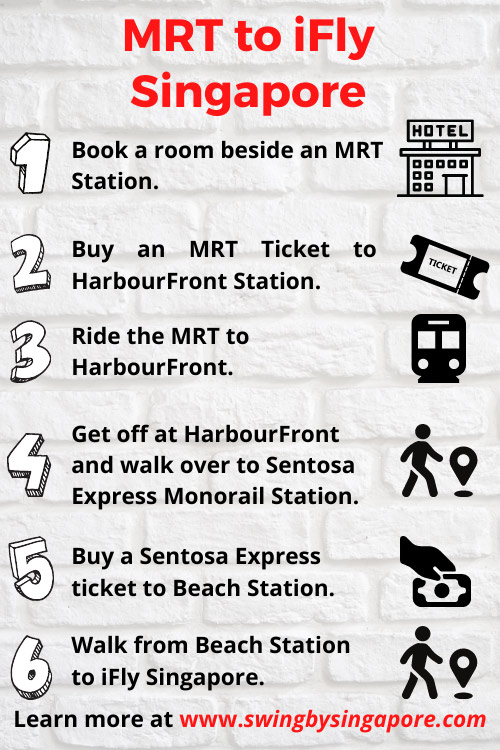 ---
Where should you stay near iFly Singapore?
When you are booking a hotel room on Sentosa island there are a few considerations that you have to make. First of all, are you travelling with children or are you looking for a romantic getaway?
There's no shortage of accommodation on Sentosa island but it does come at a premium in comparison to prices in the city.  There's no denying the fact that if you do stay on Sentosa island you will have convenient access to world-class attractions such as Resorts World Sentosa and Universal Studios. 
We have searched through the various properties on Sentosa island and collected a shortlist of the top-rated properties according to verified guest review scores. All the suggestions below are based on review scores from leading accommodation websites at the time of writing:
Capella Singapore (5-star, rated 9/10)
Capella The Club Residences Singapore (5-star, rated 8.8/10)
The Outpost Hotel Sentosa by Far East Hospitality (5-star, rated 8.9/10)
W Singapore – Sentosa Cove (5-star, rated 8.7/10)
You can get to these from iFly Singapore by either walking or taking the shuttle that makes routine loops of the island. 
If you do want to save some cash then you might want to stay in an area such as Chinatown or Clarke Quay.  These areas tend to have larger selections of hostels and boutique hotels that are more suitable for budget-oriented visitors to Singapore.  If you do decide to stay in one of these areas all you really need to do is just follow the directions outlined in this article to get to and from Sentosa Island.
---
Questions about your trip to iFly Singapore using public transportation?
Most people that visit Sentosa island tend to visit more than one attraction during their stay on the island. The main reason for this is because the island is loaded with different things to see and do.  Actually, it is quite common for some tourists to feel overloaded when they visit Sentosa Island because there is almost too much choice!
Ifly Singapore is without question a cool thing to do while you are on the island but you might want to consider checking out the beaches and other historical sites such as Fort Siloso.
Any time you are planning a trip to Singapore or Sentosa plan your itinerary well in advance.  This can help you to make sure that you stay near an MRT station. This allows you to plan your public transportation and costs. You also will be able to figure out what your priorities are and what are the top three or four things that you want to experience when you are on Sentosa Island.
We hope that this article has shown you how to get to iFly Singapore using public transportation. However, if you do require some more specific information about anything regarding this journey, send us an email!  We would be more than happy to provide you with details on this trip or any other sites or activities in Singapore for that matter.