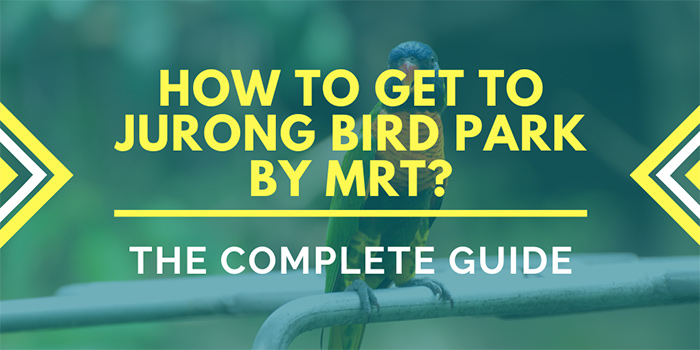 Welcome to the step-by-step guide on how to get to Jurong Bird Park, Singapore by MRT. We have written this article based on our personal experience travelling to the bird park on multiple different occasions.  Our goal is to make sure that you save as much money as possible and avoid traffic jams along the way!
In order to reach Jurong Bird Park, you will need a combination of MRT and the bus network. There are direct shuttle buses that do go to Jurong Bird Park from different places in Singapore, but we will discuss these direct shuttle buses in a different article to suit all travellers. 
Fortunately, if you're planning on using the MRT in Singapore you are in luck. The city is extremely well connected by train. This means that for most connections you can simply take the MRT and expect a very short walk or brief bus ride to get to your final destination – in this case, the bird park!
---
Why should you visit Jurong Bird Park in Singapore?
Jurong Bird Park was originally opened in 1971. It is considered to be Asia's largest bird park that is well worth a visit while you are in Singapore. It is an extremely popular attraction for both foreigners and local Singaporeans. For instance, it welcomes around 850,000 annual guests! 
The park consists of 20.2 hectares of space filled with over 400 different species of birds. In total there are approximately 3,500 different birds in the park which offer all kinds of interesting photo opportunities for visitors. One of the reasons why Jurong Bird Park is so famous is that it contains massive walk-in aviaries. A few notable examples include the Waterfall Aviary and the Lory Loft Aviary.
Equipped with an Avian Hospital and multiple conservation programs, Jurong Bird Park emphasizes sustainability. Consequently, over the years it has received countless awards for tourism and conservation, including multiple 'TripAdvisor' certificates of excellence awards. 
Jurong Bird Park also focuses on educational opportunities as well. You can visit the 'Bird Discovery Centre' where you can learn about the avian world and how birds transition from birth to flying. Also consider checking out other educational opportunities such as guided tours, day trips, overnight camps, learning workshops and wildlife publications.
---
Getting to Jurong Bird Park by MRT and Bus
Step 1: Find a hotel/apartment close to an MRT station.
If you are just visiting Singapore for a short period of time then it is a wise decision to make sure that you book a room close to an MRT station. Regardless of whether you are taking the MRT to Jurong Bird Park or other attractions in Singapore, always try to plan your itinerary around using the MRT.
Right, when you land at Changi Airport you can begin to use the MRT.  We recommend that you get your tickets ordered early and plan an itinerary around maximizing this very efficient and affordable mode of transportation.  Fortunately, hotel developers in Singapore have built a lot of high-quality properties that are within only one or two minutes of stations throughout the city. This will allow you to avoid paying hefty taxi fees and additional transportation charges.
Properties close to stations
Although there are countless examples of properties that you could stay at to avoid vehicle traffic in Singapore we have included two examples below that receive very high review scores from verified guests. We are not directly partnered with these properties but recognize their convenient location.
Fairmont Singapore (8.9/10 Review Score) (Esplanade Station)
The Capitol Kempinski Hotel Singapore (9.3/10 Review Score) (City Hall Station)
---
Step 2: Buy an MRT Ticket to Boon Lay Station.
While you are figuring out how to get to Jurong Bird Park by MRT, you first need to think about the type of pass/ticket you plan on using for this journey. 
It is not possible to access Jurong Bird Park by using only the MRT. You also have to take a short bus ride to get there!  
Consequently, you should consider what type of ticket works for both the MRT and buses in the city.  At the time of writing, there are three different ticketing options for the MRT in Singapore.
Types of tickets available in Singapore
Single Journey Tickets

Stored Value Cards 

Singapore Tourist Passes
 There are pros and cons associated with each one of these tickets. However Briefly summarize the benefits we would like to say that single Journey tickets are the best option if you are not going to travel a lot while you were in Singapore using the MRT. Similarly, you have to purchase one of these every time that you get on a new train. 
Stored value cards are very popular with locals and long-term visitors.  Once you top up these cards you can use them for multiple trips and avoid ticketing lines. They work for both the MRT and bus network which is super convenient when you are trying to get to Jurong Bird Park.
 The third option is getting a Singapore Tourist Pass.  These work well if you plan on sightseeing a lot in Singapore for a short period of time (1-3 days).  This is the best option if you want to use the MRT and bus network a lot while you are in the city.
***Must Read: Learn more about purchasing MRT tickets with this comprehensive guide.
Regardless of what kind of ticket you are going to use to get to Jurong Bird Park, you have to realize that Boon Lay Station will be your terminal stop.
---
Step 3: Ride the MRT Boon Lay Station
The next step is getting on the train and taking the MRT westbound along the East-West MRT line to Boon Lay Station (EW27). The East-West Line is represented in green colour on Singapore's train map. 
Take note that you should expect to hear verbal announcements on the train along the way. These are designed to alert you of upcoming stations on the line. The preceding Station to Boon Lay is Lakeside Station. When you hear Lakeside being announced you should make your way closer to an exit.
Also, keep in mind that they have signs over each exit that can show you where you are on a given line.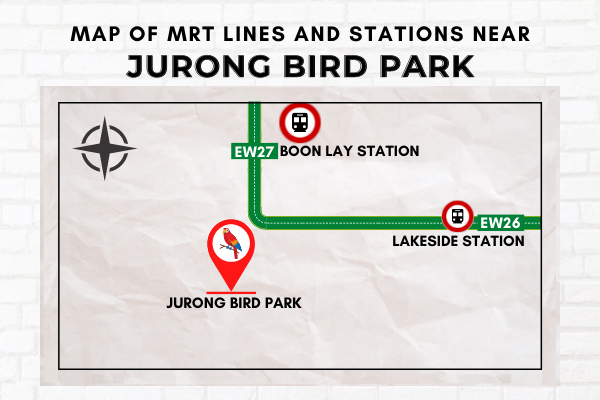 ---
Step 4: Get off at Boon Lay Station and walk to the bus exchange.
As we have already mentioned you cannot get directly to Jurong Bird Park by only taking the MRT.  You are also required to transfer to a bus.
In order to transfer to the bus alight at Boon Lay Station and exit the station using exit C, D, or E. 
Exit E has wheelchair accessibility.
The bus exchange is located in Jurong Point – a shopping mall that is located directly north of Boon Lay station. Follow relevant signs and ask someone in the mall if you need more support.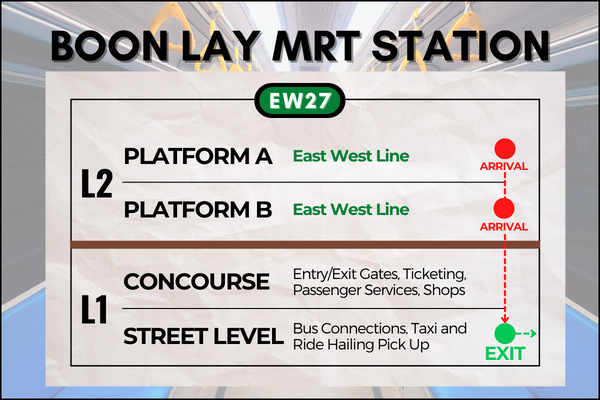 ---
Step 5: Take Bus No. 194 to Jurong Bird Park from the bus exchange.
Once you are in the Boon Lay bus exchange you have to take bus 194 to Jurong Bird Park.
This bus will bring you right to Jurong Bird Park.
Although not a popular option, if you are keen to walk from the MRT Station to Jurong Bird Park is approximately 3 kilometres away and it should take you about 30 minutes. It is geographically south of the MRT Station.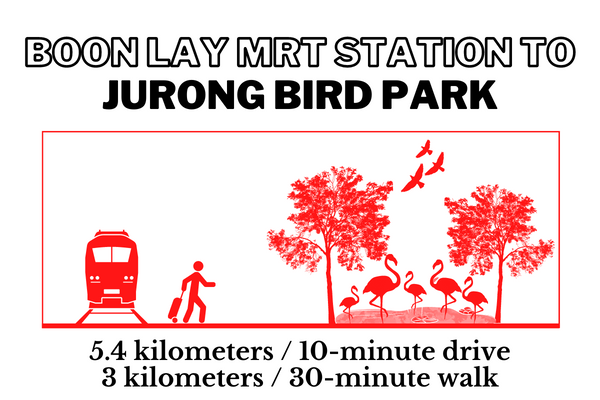 ---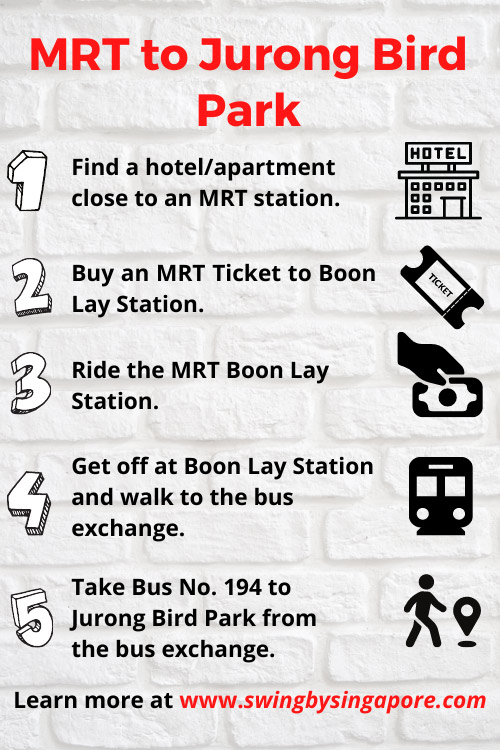 ---
Should you stay at a place near Jurong Bird Park?
If your priority is sightseeing while you were in Singapore, then you probably don't want to stay in the direct vicinity of Jurong Bird Park.  The reason why we say this is because it is located quite far southwest of the city center.  This would not really make it much more challenging to see other attractions that are located near the waterfront. 
To put its location into perspective, it is a 22-km drive from Marina Bay Sands Resort to the Jurong Bird Park. This would take you at least 20 minutes to drive in a private vehicle with no traffic along the way. 
We recommended that visitors stay closer to Marina Bay or Chinatown. 
Then, you can visit Jurong Bird Park by following the directions outlined in this article. Alternatively, you could also take a bus directly to Jurong Bird Park. 
Important Considerations
Where you decide to stay in Singapore really depends on what your budget is and your priorities while you are travelling to different places. For example, if you are celebrating an anniversary or a special event then you probably want to stay at a luxury hotel such as Raffles Singapore or the Fullerton Bay Hotel.
However, if your priority is saving money while still having the ability to sightsee throughout Singapore, then we suggest that you stay in an area such as Chinatown or near Clarke Quay.  There are lots of boutique hotels and hostels in these areas that are quite close to MRT stations.
We stayed at the following property near Clarke Quay Station that was well-managed and affordable relative to luxury hotels in the city:
Hotel Bencoolen @ Hong Kong Street (4-star, rated 8.4/10)
Please take note that we do not have a direct partnership with this hotel but we did enjoy our experience there and that's why we are sharing their information with you! 
---
Any more questions about your trip to Jurong Bird Park using MRT?
We do really hope that this article has been insightful and informative. If however,  you require more information about getting to the bird park or seeing other attractions in Singapore please feel free to send us an email and we would be happy to get back to you.
Jurong bird park is one of Singapore's best family attractions. Regardless of your age, you will likely enjoy the wide variety of birds that are on display here.  The aviaries are very impressive and world-class. Please remember to bring along a good camera because there are lots of photo opportunities available here!