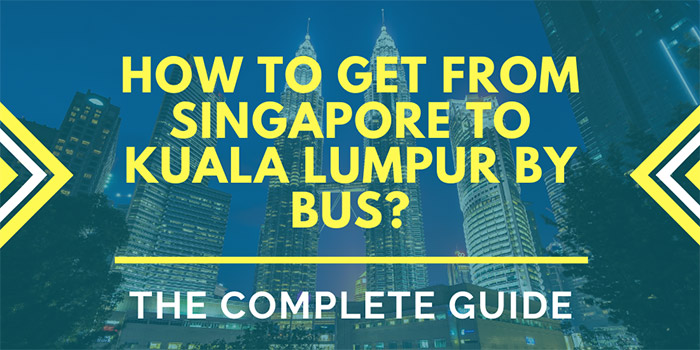 We have written this article to provide a step-by-step guide on how to get from Singapore to Kuala Lumpur by bus. All the information included here is based on our own personal journeys to Singapore to KL on multiple occasions. 
Singapore is considered to be is considered by many to be one of the nicest cities in the world. Singapore is such a fascinating place to visit is the fact that it has a rich culture, beautiful sights, world-class restaurants and one of the nicest skylines in the world. 
Most people that travel through Southeast Asia tend to visit both Singapore and Kuala Lumpur during the same trip. This makes sense from a geography perspective, but also from a financial perspective as well. Kuala Lumpur is often considered to be a bit less polished than Singapore, but it still has amazing cultural attractions, world-class hotels and some of the best food choices in the world.
---
Why should you consider visiting Kuala Lumpur if you are in Singapore?
This article explains how you can take the bus from Singapore to KL. But it is first important to note that this is not the only way that you can get between these two cities.  You can also get between Singapore and Kuala Lumpur by train or by flying.
The fastest option in terms of travel time is flying. The flight time is often only 30 minutes in the air between the two cities. This raises a few important considerations that you must think about before you book your trip from Singapore to Kuala Lumpur.
So, why consider the bus if flying from Singapore to KL is faster?
One of the biggest benefits of taking the bus from Singapore to Kuala Lumpur is comfort.  You can relax during the journey. You don't have to worry about turbulence and other in-flight discomforts along the way. Buses from Singapore to depart the city on time.
You also must consider the amount of time required to check-in for flights to Kuala Lumpur from Singapore. When you add up all of the time at the airport and the flight itself you really have to wonder whether flying is really worth the added expenses? 
The biggest difference between flying and taking the bus from Singapore to KL is the price. You can indeed find some really good flight deals throughout the year between the two cities, but on average, taking a bus between these two cities is the cheapest option.  This makes it a very good option for families and budget-conscious travellers that want to see these fascinating cities without breaking their budget.
Read below to learn more about travelling from Singapore to KL by bus. We have completed this trip many times so this information is based on personal travel experiences. The info included focuses on the costs, accommodation tips, resources, and expected travel times for this journey.
---
Here is a step-by-step guide on how to get from Singapore to Kuala Lumpur by bus:
Step 1: Book your Bus tickets well before your trip
The first thing you need to do is to select your date of travel and book your tickets well in advance. This is to make sure you get the seats and 'class of seats' that you want.
The potential risks of not booking your bus tickets from Singapore to KL early include not getting your preferred seats, paying more, missing bus departures from your hotel, and not getting your ideal departure time.
When should you be concerned about buses selling out?
If you don't have much experience travelling throughout Malaysia and Singapore, then take note that religious and cultural holidays are often the busiest for travellers. Therefore, always make sure to check whether your trip from Singapore to Kuala Lumpur falls within a holiday period.   Chinese New Year, and Hari Raya, for instance, tend to be extremely busy between these two cities. Many locals go home for holidays and they tend to book their tickets well in advance. Expect fully sold out buses during these peak travel times.
Singapore to Kuala Lumpur Bus Services
When you are booking your train tickets from Singapore to KL you don't want to waste time trying to find agents or random websites. Instead, you can refer to the reputable suggestions below. 
Aeroline: Airline is a very reputable bus company that provides buses from Singapore to Kuala Lumpur and vice versa. It typically runs as an independent company meaning that is not listed on some of the other bus booking sites in Southeast Asia. The service standards are very high and the drivers drive very safely. Typically they do not speed during their trips and they take pride in departing on time. 
We have personally gone on Aeroline buses from Kuala Lumpur to Singapore and Singapore to Kuala Lumpur on more than 10 occasions and have been extremely satisfied with their service standards.
Easybook: If you are looking to buy a bus ticket from Singapore to Kuala Lumpur and you want to compare prices of various different bus companies than Easybook is a popular website that you can try out. So useful if you want to travel from a specific area of Singapore to a specific area of Kuala Lumpur. In other words, it lists different departure points from Singapore and different rival points in Kuala Lumpur. 
This can be helpful if you are trying to book a hotel in a specific area of Kuala Lumpur once you arrive in the city.
---
Step 2: Prepare your immigration documents
One thing that you have to remember when you are taking the bus from Singapore to Kuala Lumpur is that you will have to pass through customs and immigration at the Singapore Malaysia border.  What this means is that you will have to bring along your wallet, personal identification cards, passport and any visa documentation that you have. 
Also keep in mind that depending on your nationality, you may also have to bring your return ticket along to show that you will not stay in Malaysia beyond your passport stipulations. 
---
Step 3: Check out and leave for the bus station 
Assuming that you have purchased your ticket from Singapore to KL your next step is to leave your hotel room in Singapore. Check out early and make sure the traffic to the station is okay. If you are a resident of Ottawa, just simply pack your bags and head to the station.
Although some cities around the world may only have one Central bus station, Singapore has various departure points for buses heading to Malaysia and Kuala Lumpur.  Consequently, it really depends on where you are staying in Singapore and what bus service you want to take. 
Aeroline, for instance, has a station beside HarbourFront MRT Station.  In the past, we have taken the MRT to Harbourfront and then boarded the bus for Kuala Lumpur from there. 
Make sure that you check prior to leaving for the station to make sure that you are going to the right spot. 
---
Step 4: Check-in for your Singapore-KL bus ride and enjoy the ride!
One of the benefits of taking the bus from Singapore to Kuala Lumpur as opposed to flying is the check-in process.  This is typically much less stressful and also faster than flying.  You also, in most cases, will get a larger luggage allocation by taking the bus.
When you arrive at your bus station you will be required to check-in some luggage that typically is placed underneath the bus or at the back of the bus. Similar to flying, you can bring a personal bag to the seat with you. 
If you have printed your boarding pass for your bus trip to Kuala Lumpur then the bus company personnel will scan it or check it off before you board the bus. If the bus company that you were travelling with allows digital copies of your boarding pass then you may not be required to print it and simply get the barcode scanned.
Be sure to check that you are seated in the correct seat once you get on the bus. Most of the bus operators from Singapore to Kuala Lumpur assign seat numbers as you purchase your tickets online.
---
How long does it take to travel from Singapore to Kuala Lumpur by bus?
There are some important variables to consider before you can determine how long your trip from Singapore to Kuala Lumpur by bus will take. For instance, if you are departing from downtown Singapore, you can expect this to take a different amount of time than departing near the border.
Also, be mindful of whether or not the bus company that you're travelling with stops along the way for toilet breaks and food breaks.  If the bus stops on multiple occasions this cannot up to an additional hour of travel time for this bus journey.
Another factor that you must consider is the amount of time that you will spend passing through customs and immigration at the Singapore-Malaysia border.  During peak times you may have to wait for an hour or even more trying to get across the border. In some circumstances, you may arrive at the border and have no line-up and you can directly proceed through immigration.
---
The Singapore-Malaysia Border
During our travel experiences, it is often hard to predict when the Singapore border will be busy. If you arrived and 5 other buses directly in front of you you can expect to wait. That being said, you can expect the fastest bus travel time between Singapore and Kuala Lumpur to be roughly 4 hours and 30 minutes under ideal conditions.  This means very few stops along the way and no line at the border.
We have also been on bus trips between Singapore and Kuala Lumpur that took almost 7 hours because of longer than expected immigration lines and traffic getting out of Singapore and into downtown Kuala Lumpur.
On average, expect the bus trip from Singapore to Kuala Lumpur to take approximately five and a half hours. The travel times listed on your ticket or post it online or approximation but nobody can really predict the traffic nor the line at the border.
---
$$$

How much does the bus cost from Singapore to KL?
There are many factors that influence the price of bus tickets from Singapore to Kuala Lumpur. For example, if you are a senior citizen travelling this journey you can expect to pay a different price possibly than a normal adult. Children also may have different prices.
Prices can also differ depending on what class of bus you book, how many stops it makes along the way, and which bus company you are travelling with.  
A perfect example of this would be are Aeroline. 
As mentioned before, Aeroline has one of the best reputations amongst bus providers in Singapore and Malaysia. They serve meals during the trip and have personal screens so that you can enjoy entertainment along the way (movies, etc.).
Premier bus services from Singapore to Kuala Lumpur cost $50 Singaporean dollars and up. Standard bus services with basic service standards usually cost anywhere from $20 Sing dollars up to $50 Singapore dollars.
You are better to use these costs as approximations because these prices can fluctuate according to many different variables. 
---
Step 5: Arrive, collect your luggage and find accommodation in Kuala Lumpur
Once you arrive in Kuala Lumpur be sure to collect your check-in luggage from your bus service provider.
Kuala Lumpur has hundreds upon hundreds of high-quality hotels that are spread throughout the downtown area. Be sure to check on a map where you are going to get dropped off relative to the hotel that you were staying at.
Kuala Lumpur also has an MRT, LRT, taxi services and GrabCar to get you where you want to go.
---
---
Selecting the best area to Stay in Kuala Lumpur
Purchasing a bus ticket from Singapore to Kuala Lumpur is only the first step in terms of planning this trip. You also should be considering where you want to stay in Kuala Lumpur to have convenient access to attractions and other public transport options.
Some of the best areas to stay in Kuala Lumpur include the following areas with relevant hotel summary links:
KL Sentral
Bukit Bintang
KLCC
Chinatown
Chinatown and Bukit Bintang are considered to be more budget-friendly for backpackers and other guests that want to save a bit of money during their trip to Kuala Lumpur.
KLCC is the area surrounding the world-famous Petronas Twin Towers.  This area tends to be more expensive than Chinatown and Bukit Bintang but it is also cleaner and easier to walk around if you have children.  Hotels around the Petronas Towers tend to be clean, well-managed properties with world-class service standards.
Trader's Hotel is a perfect example of a hotel that is located near KLCC that offers exceptional panoramic views of the city skyline.  These four and five-star hotels around the Petronas Towers tend to be over $100 USD per night.
---
Where did we stay in Kuala Lumpur after this trip?
We have spent considerable time staying in Kuala Lumpur over the last 15 years. Therefore, we have stayed at various properties in many locations around the city. A few examples are listed below:
Pacific Regency Hotel Suites: We have stayed here on over 5 different occasions. Very large rooms and a great location near KL Tower. One of the best-priced hotels in the KLCC area. 
OHO Suites KLCC: We stayed here because it is only five minutes (walking distance) from KLCC. Big apartments with okay prices. Good for groups or families. 
Concorde Hotel Kuala Lumpur: We've stayed here a few times. This is a smart choice if you want a really good breakfast, good prices and easy access to KLCC and the Monorail.  This is one of the most popular business hotels downtown because it is cheap for the location.  Some of the rooms are not particularly large but if you are outside seeing all day that may not be your priority!
***Please keep in mind that we have no direct partnership with these hotels. This is our honest opinion based on our experience. There is no guarantee that you will have the same experience. Double-check recent reviews before booking.
The next time that we visit Kuala Lumpur we are going to either stay at the Traders Hotel by Shangri-La or at the Mandarin Oriental. Both of these are ideally located downtown and offer jaw-dropping views of the Petronas Towers.
---
More questions about your trip from Singapore to Kuala Lumpur?
This has been a step-by-step guide on how to get from Singapore to KL by bus. 
When you are making your decision whether or not you want to take the bus from Singapore to Kuala Lumpur or fly you really have to consider how much money you want to spend relative to the convenience that you will get in return. If you don't care about the money, fly if you can get to Changi Airport. 
But if you don't mind spending more time on the bus you may enjoy the experience of seeing more of Peninsular Malaysia along the way, while saving some cash.
Please contact us via email if you require more information. We would be happy to provide you with additional information.