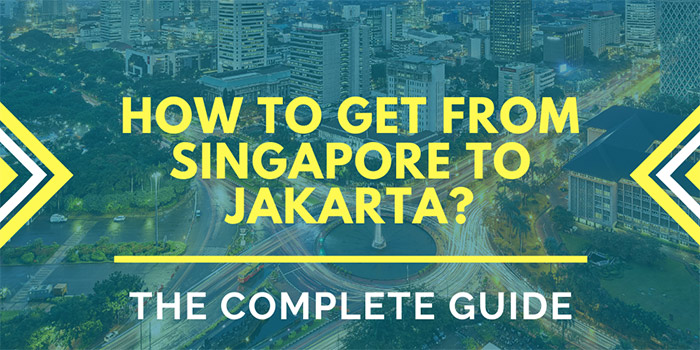 This article is designed to provide you with a step-by-step guide on how to get from Singapore to Jakarta.  The information below is based on our own travel experience travelling between these two large cities in Southeast Asia.
Regardless of your travel experiences, it is hard to deny the fact that Jakarta and Singapore are two completely different cities.  Jakarta is currently one of the world's largest cities that seems to extend for miles upon miles. Singapore is widely known as one of the most beautiful cities in the world but also one of the most expensive places to visit. Despite their differences, there are many travellers and people conducting business but travel between these two cities on a daily basis. 
Indonesia is growing, with rapid population expansion across the country. This offers many businessmen and businesswomen the opportunity to create alliances with Indonesian companies.
---
Why should you consider visiting Jakarta if you are in Singapore?
This article explains how you can get from Singapore to Jakarta. Despite the fact that Jakarta and Singapore are geographically not too far from each other, they are worlds apart in terms of culture, tourism and economic developments. 
Interestingly, it is the difference in culture between Singapore in Jakarta that makes visiting each place worthwhile.  If you happen to be sightseeing in Singapore you can expect to see completely different markets and attractions in Jakarta. Recently, Jakarta has built its first-ever MRT line that has opened up itinerary ideas that never existed before. Consequently,  when you travel from Singapore to Jakarta you want to stay as close to the MRT as possible to cut down your time in Jakarta traffic.
Aside from the Monas in the central portion of Jakarta, there are also fascinating areas such as Kota Tua and Chinatown that are definitely worth checking out while you are in Jakarta. Modern attractions such as Museum MACAN and Jakarta Aquarium are also extremely popular. 
---
Here is a step-by-step guide on how to get from Singapore to Jakarta:
Step 1: Book your flight tickets well before your trip
The first thing that you must realize about the trip from Singapore to Jakarta is that by far the most practical way of getting between these two cities is to fly.  
Although you could get creative with road trips through Sumatra and extensive ferry options, these simply are not practical options for most travellers. If you want to backpack through Sumatra then that can take considerable time and planning. 
Assuming that you just want to get from point A to point B, the first step is to purchase your flight ticket from Singapore to Jakarta. This obviously raises a few questions such as which airlines provide service between these two cities, and also which airlines tend to be the most affordable? 
You might also want to think about when is the best time to book your ticket to avoid price surges during peak travel times.
Some major holidays that you may want to consider when you were booking your flights between Singapore and Jakarta include Chinese New Year and Hari Raya. These tend to be the busiest flight periods in Indonesia and Singapore. Also keep in mind that flight prices can increase when students and families are able to go on trips. School holiday. tend to be busier and result in higher flight prices.
Airlines Flying from Singapore to Jakarta
If you are planning on flying from Singapore to Jakarta then you have to consider which airline you want to fly with. Fortunately, this is a popular flight route and there are a variety of different airlines that you can choose from.
Competition is a healthy thing for passengers because it keeps the price is relatively stable and reasonable. The last thing we want is a monopoly on flights between these two cities. 
Options??
At the time of writing these were the following airlines providing direct flight services between Singapore and Jakarta: 
Garuda Indonesia
Jetstar
Indonesia AirAsia
Scoot
Singapore Airlines
Lion Air
Batik Air
Of the airlines listed above, there is no denying the fact that Singapore Airlines and Garuda Indonesia are the tope ones. This is in terms of service standards and worldwide reputation.  
The other airlines listed tend to have cheaper fares than Garuda and Singapore Airlines, but you do have to pay additional expenses for luggage and seat selection.
Really, what it comes down to is how much you want to pay and what kind of service do you want to experience?
Singapore Airlines is consistently rated as one of the top airlines in the entire world. Therefore if you do fly with them you can expect high quality, well-trained pilots and crew with the highest safety standards.  Lion Air, to the contrary, is well known in Southeast Asia for affordable prices, but they have been criticized for poor safety standards in comparison to the leading airlines worldwide.
---
Step 2: Prepare your immigration documents
Once you purchase your flight ticket from Singapore to Jakarta, the next step is to make sure that you have all of your immigration documentation in place. 
Singaporeans and Indonesians currently have a Visa waiver agreement where they can stay in each respective country for a set period of time.  This, of course, is under the assumption that each individual traveller has enough financial resources to support their stay and their dependant's stay. 
Anytime you were flying into Indonesia it is also a wise decision to make sure that you have your ticket either downloaded or printed so that you can show the immigration staff .  This will ensure that you can make it through immigration and customs faster and will help you avoid any complications.
Not all of the immigration officers in Jakarta speak English. Therefore, the more paperwork that you have printed the easier it will be for you to deal with any complications that may arise.
---
Step 3: Check-in for your flight and leave for Changi International Airport
Assuming that you have booked your flight ticket and you have your documents in order, it is time to check-in for your flight and check out of your hotel in Singapore and head to the airport.
Typically all of the airlines listed above offer advanced check-in using their respective websites.  Just remember to bring either your printed or electronic boarding pass to Changi Airport.
The flight from Singapore to Jakarta will not require you to arrive at the airport quite as early as long haul flights to Europe for example. But, you will have to be there a few hours in advance to check your bags and go through security and immigration. 
Fortunately, Singapore has excellent public transport options available that can make your trip to the airport very affordable. For example, if you are staying near Clarke Quay or near Marina Bay Sands, for instance, you can take the MRT directly to Changi Airport.
You can also take a taxi directly to Changi Airport. But you can expect to pay a lot more than public transport options such as the MRT. You plan on driving or taking a vehicle to the airport in Singapore be sure to use your GPS map software to check the traffic in advance.
This can give you an indication of how long your trip should take to reach the airport.
---
Step 4: Get on the plane and enjoy the flight to Jakarta
Follow the boarding announcements and get on the plane. Double check that you are in the right spot and then relax. You should be there in no time!
How long does it take to fly from Singapore to Jakarta?
The time it takes you to travel from Singapore to Jakarta depends a lot on where you are staying in Singapore and where you plan on going once you land in Jakarta. travel time will also depend on how you get to the airport in Singapore and how you depart the airport in Jakarta.
Assuming that you were taking the MRT in Singapore from Marina Bay or Boat Quay, for example, you should plan for the trip to take approximately 45 minutes to 1 hour.  Then, once you're at the airport you can reserve a couple of hours for checking in and clearing immigration at security.
The flight time between Singapore and Jakarta also will vary depending on weather conditions.  but based on our experience flying between these two cities you can expect the trip in the air to take anywhere from 1 hour and 10 minutes to 1 hour and 30 minutes. Keep in mind that your travel time will also depend on which aircraft you were flying on.
Once you land in Jakarta you have the option of taking a bus, airport train, taxi, or private vehicle into the city centre.  The airport train is one of the most convenient options that get you right downtown to BNI City Station. This is minutes away from Dukuh Atas MRT Station. 
When to take the train?
The train is a good option if you're travelling by yourself but if you are travelling with a lot of people and you arrive at an eye on cheek time it is cheaper to take a bus or a taxi.
 If you want additional information about getting to central Jakarta from the airport you can read these additional informative articles:
How to get from Jakarta Airport to Bundaran Hi in Central Jakarta using the Airport Train?
Jakarta MRT Guide
Jakarta MRT Map
How to buy tickets for Jakarta MRT?
Jakarta Airport Train Guide
$$$

How much does a flight cost from Singapore to Jakarta?
There are many factors that influence the flight price from Singapore to Jakarta.  If you decide to fly with Garuda or Singapore Airlines you can expect to pay more. Also during peak travel times like Chinese New Year expect inflated flight prices. 
Your flight prices can also differ depending on how much luggage you bring, whether you bring sporting equipment and whether you have drinks and beverages during the flight.
It is also possible to mix match airlines between these two cities.  You could take Air Asia from Singapore to Jakarta and then take Garuda from Jakarta back to Singapore. Since there are so many different airlines servicing this route you do have a lot of possibilities for finding the cheapest flight prices.
In general, however, if you can get a flight that is round-trip with a budget airline for around $100 Singaporean dollars that is a very good deal for this trip.  Once you start buying luggage and start selecting seats then you can expect to pay closer to $200 Singapore dollars for this round-trip journey.
If you do want to fly with Garuda or Singapore Airlines you can expect it to cost $300 Singapore dollars round trip and up.  Keep in mind that Garuda and Singapore Airlines often offer better luggage options than the budget carriers.
---
Step 5: Arrive, collect luggage and find accommodation in Jakarta
When you land in Jakarta, clear immigration, collect your luggage, and clear customs. They are porters at the airports in Jakarta to help you if you have a lot of luggage.
If you are taking the Jakarta airport train into the city centre just simply follow the signs to the airport railway station.  From there it takes approximately 40 to 45 minutes to reach central Jakarta.
The driving time into central Jakarta can vary significantly depending on when you land. Jakarta is notorious for heavy traffic and you also you always have to think about what time you will land and how that will affect your strategy for making it into the city. If the roads are super busy you might want to consider taking the train.
It is a good idea to have the address of your hotel ready when you land in Jakarta.  Keep in mind that a lot of drivers in Jakarta do not speak fluent English.  Just showing them the address with the general area of the city will definitely speed up your journey to your hotel.
---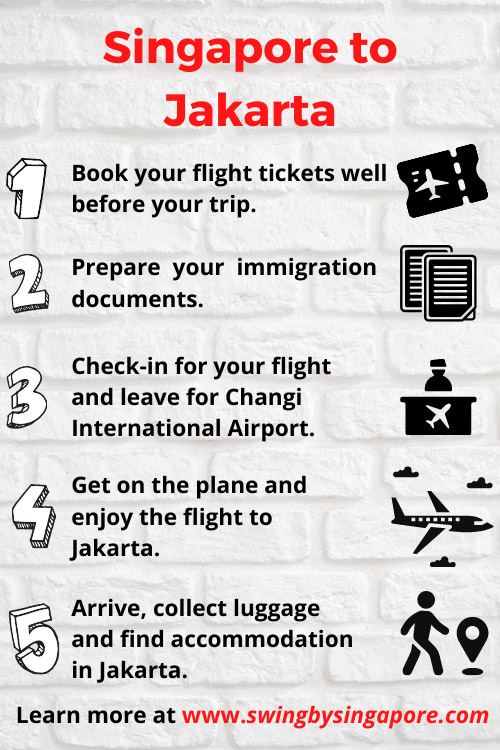 ---
Selecting the best area to stay in Jakarta
If this is your first time staying in Jakarta  then you will be pleased to hear that it has a wide range of excellent accommodation options to choose from.  Actually, Jakarta is one of the best places to find good accommodation deals online.
Now that the MRT has been built in Jakarta it is a wise decision to stay is closest possible to MRT stations if you want to cut down your time in traffic. 
Some of the most popular and convenient areas to stay in central Jakarta include Thamrin, Senayan and Kuningan.  Thamrin is particularly popular because many of Jakarta's best hotels are situated around a very popular roundabout called Bundaran HI.
If you stay in this area of Jakarta you will have the choice of hotels such as the:
Mandarin Oriental
Hotel Kempinski Indonesia
Grand Hyatt 
All three of these hotels have excellent, world-class service standards and beautiful views of central Jakarta. 
---
Where did we stay in Jakarta????
Fortunately, we have had the opportunity of staying in Jakarta on many different occasions over the last 15 years. We've stayed in over 20 different properties throughout the city and therefore we can provide some pretty good suggestions on where the best hotels are located.
Some of our favourite places that we have stayed include the following properties in Jakarta:
Ritz-Carlton Pacific Place:  Ritz-Carlton Pacific Place is ideally located right in the main business district of Jakarta. It is only about 200 M away from Gloria MRT Station.  this is without question one of the top five hotels in all of Jakarta in terms of service standards amenities and location. We would definitely recommend this property to all guests if you can afford it.
Mandarin Oriental Jakarta:  The Mandarin Oriental in central Jakarta is a classic hotel that we felt had excellent service standards during our stay. It is directly across from Grand Indonesia and Plaza Indonesia. These are both extremely popular shopping malls right in the heart of central Jakarta.  You can also walk to Bundaran HI in about 5 minutes from the hotel which is super convenient.
Hotel Kempinski Indonesia: This is one of the most famous and historic hotels in all of Jakarta.  It is located directly across from the Mandarin Oriental and it is physically attached to Grand Indonesia Mall. You can expect exceptional views of Bundaran HI and excellent service standards here as well.  Some of the things that we really liked at Hotel Kempinski were the rooftop gym, spa and buffet breakfast.
An Affordable, but well Managed Option
Yellow Hotel Harmoni: this is a really nice budget-friendly hotel that is located between the Monas and Chinatown.  It is usually ranked as the top three-star hotel in all of Jakarta.  This is a great property if you want clean rooms and very good service standards for an affordable price.  It is also located in a convenient position if you want to do some sightseeing downtown and also in Chinatown and Kota Tua.
***Please keep in mind that we have no direct partnership with these hotels. This is our honest opinion based on our experience. There is no guarantee that you will have the same experience. Double-check recent reviews before booking.
There are few hotels in Jakarta that we have never stayed at that we would like to stay at during our next trip.  One of these is the Fairmont Jakarta and the other is Raffles Jakarta.  Both of these are considered to be in the top five of Jakarta's luxury hotels.
---
More questions about your trip from Singapore to Jakarta?
This has been a step-by-step guide on how to get from Singapore to Jakarta. 
We hope that the information that we provided within this article is detailed enough to ensure that you have a convenient and efficient journey between these two cities.  As we mentioned before, these are two cities that are completely contrasting in terms of culture and social dynamics.
Make sure that you spend adequate time checking and comparing prices.  You can also expect flight prices to be more expensive on Friday and Sundays. This is because it is common for people to travel just for the weekend between these two cities.  
Always double-check that you have considered how much luggage will cost in your fare. Some of the budget Airlines do offer cheaper tickets during your initial search but once you add seats flights and meals they tend to be quite comparable with some of the more expensive airlines.
Feel free to send us an email if you require additional information. This includes any questions about our experience staying at hotels or using public transportation options in either city.